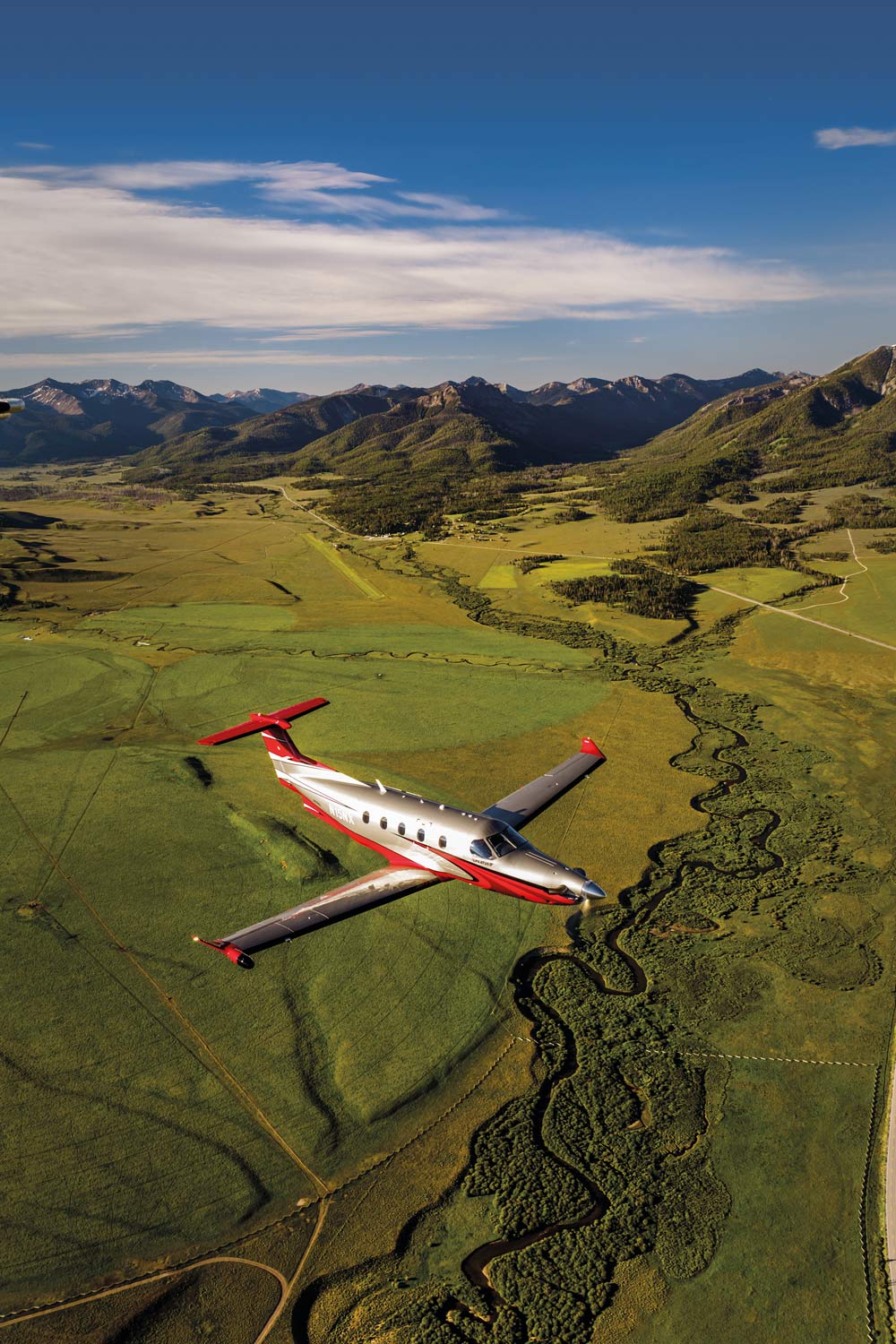 Ontario-to-Buffalo is six minutes by car—unless, however, you're talking about California's Ontario Airport and Buffalo, Wyoming. Emergency physician Brian J. Bearie made that trip with his wife and six children last year by plane, flying commercially to spend a week at Paradise Ranch, a dude ranch outside Buffalo. Between stops and layovers, the Bearies spent 15 hours getting there and another 15 getting back.
They didn't enjoy the travel but they loved the ranch so much, they decided to go again—"it's City Slickers 2" Bearie jokes—last month. This time, the trip took three-and-a-half hours door to door. They flew in Bearie's new Pilatus PC-12.
A pilot for more than 20 years, Bearie purchased the 10-passenger turboprop in April from Tempus, a private aviation company based at Colorado's Centennial Airport. He upgraded from a Piper Malibu Mirage and couldn't be happier. "It's a much bigger, heavier and faster plane," he says. "It takes turbulence like a champ; it goes right through it.  There's an amazing difference in the speeds and height level, as well. You're up there with the heavy iron—the airliners—and getting clearances unlike the general aviation."
Bearie, who owns seven urgent-care clinics, purchased the brand-new plane through his corporation, enabling him to depreciate 50 percent of its entire value in the first year. In addition to the tax benefit, the plane permits him to spend more time on his family, his clinics and his golf game. The Pilatus pilot has already taken his sons salmon fishing in Washington State and his wife for an overnight in Sonoma. His golf buddies can't wait to load their bags and head to Mesquite, Bandon and other destinations.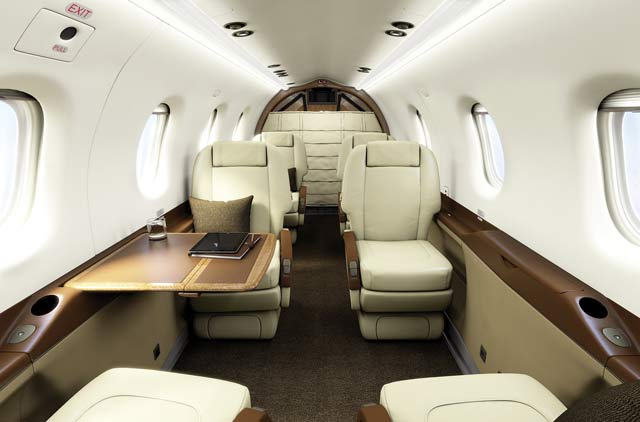 "The plane allows me to strengthen relationships," Bearie explains. "Plus, without it, each of those trips would mean an additional day or two of travel—days I'd be out of the office or exhausted. Piloting leaves me refreshed."
"What it really boils down to is, what is your time worth?" says Tempus President and CEO Jack Gulbin. "Time is the most valuable asset in anyone's portfolio, and this gives you more of it. The PC-12 and PC-24 are game changers. They're time machines."
They're also business assets. Gulbin cites the tax advantages and the value to developers, attorneys, entrepeneurs and other business executives who can meet face-to-face with personnel and customers in multiple locations instead of relying on email, Skype and conference calls. "And, if you can do three trips in one week instead of two weeks," he says, "think of the operational efficiencies and savings."
Bearie did his research. It led him to Tempus and to Colorado. "They hand-held me through the process. I showed up at Centennial Airport and took delivery," he recalls. "They have the plane under warranty—spinner to tail—and a service center close to me. They arranged for a factory pilot from Switzerland to train me."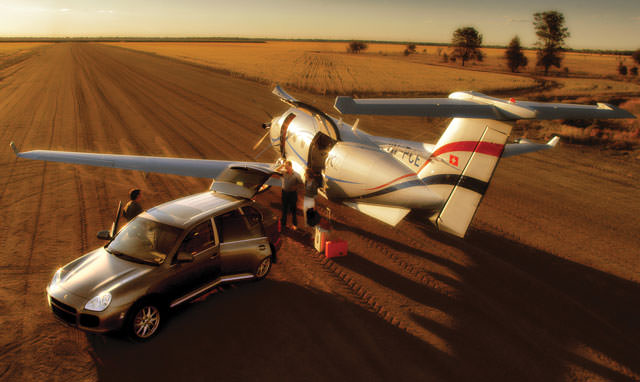 These planes are "super economical and easy to fly," Gulbin says, Few of us, however, are licensed pilots—or can spare the time (that word again!) to become one.
That's where private jet charters come in. Tempus and a number of other companies at Centennial and Rocky Mountain airports offer charter services—some of which, like FlexJet and NetJets, involve fractional ownership of a plane and all the concomitant tax benefits.
The acquisition fee depends on the type of plane you buy and the size of the share (1/16th is the smallest, giving you 50 hours per year) after including monthly maintenance, airport surcharges and other fees, you're looking at each hour in the air running between $7,000 and $8,000.
Other companies, such as JetSuite and OneFlight International, offer membership clubs that drop the above hourly rates by around $2,500. OneFlight also features the flexibility of non-expiring hours and month-to-month membership. JetSuite operates out of Rocky Mountain Airport in Broomfield, OneFlight out of Centennial.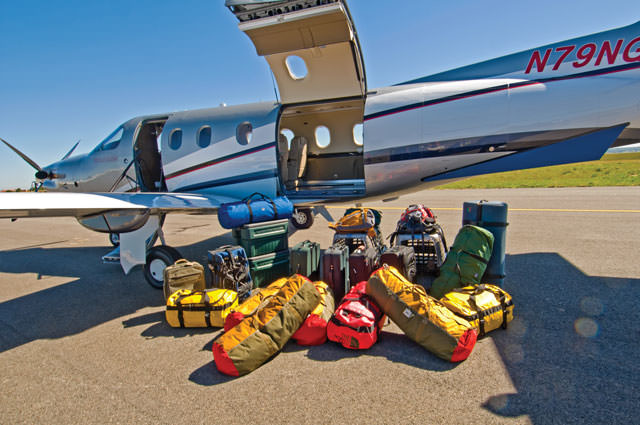 Also based out of Centennial, XJet prides itself on "seven-star luxury" and being a "lifestyle solution." Founded, owned and operated by pilots, XJet occupies its own 50,000-square-foot aviation campus, with a lavish terminal, two state-of-the-art climate controlled hangars, auto storage and auto spa facilities, passenger lounge, executive conference room and ultra modern pilot lounge.
XJet doesn't advertise its membership rates. It does partner with Mountain Aviation, a local charter company that hangars three of its planes at Xjet and charters them from $100 to $200 per minute, depending on the type of aircraft, offering further proof that time is indeed money.
Tempus Jets
tempusaircraft.com; 303-799-9999
XJet
xjet.com; 303-649-9538
JetSuite
Jetsuite.com; 866-779-7770
OneFlight International
oneflightinternational.com; 888-990-5387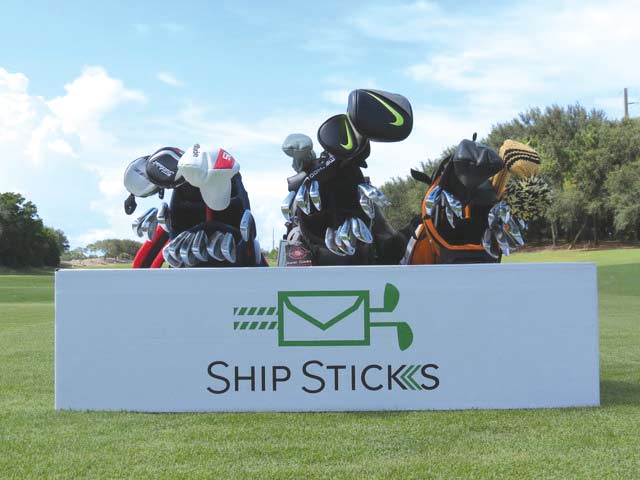 Play Pick-Up Sticks
Lugging your clubs through airports, paying extra to check them, waiting at the oversized baggage to claim them and, of course, hoping your 14 closest friends arrived safely is enough to make you leave them home and rent. Instead, leave them with a club-shipping service. The cost varies depending on the distance and how immediately you need your clubs (overnight, two or three days). Ship Sticks will pick up the clubs at your home or office and have them waiting at the appointed golf facility upon your arrival. The fully insured service, which has shipped more than 3 million clubs via UPS and FedEx, provides step-by-step instructions on packing and labeling. You can track your clubs online and receive notification of their arrival. The one-way cost to ship clubs from Denver to Scottsdale ranges between $50 (3 days) and $140 (overnight). The timesaving simplicity of the service has produced more than 250,000 happy customers in its 5 years in business. shipsticks.com
---
This article appears in the August 2016 issue of Colorado AvidGolfer. Subscribe today!
Browse the stories and features below to get a glimpse into the good life from our August 2016 issue:
Craig Stadler: Living Large in Evergreen
The High-Country High Life: 5 Colorado Resort Destinations
Carving a Niche: 10 of the Best in Denver Steakhouses
Local Customs at Carbon Putters
Spirited Away: A side-by-side chart of bourbon, gin, rum, scotch, tequila, vodka and whiskey
Driving for Dough: Luxury Autos
Private Jets are Time Machines
Gear Plus: Simulators, Luxury Carts, Watches, Technology and more
Colorado AvidGolfer is the state's leading resource for golf and the lifestyle that surrounds it, publishing eight issues annually and proudly delivering daily content via coloradoavidgolfer.com. Follow us on Twitter, Facebook and Instagram.