Sim You Later
As Topgolf has proven, golf is about more than just golf; it's about entertainment. And ironically, in the world of residential golf simulators, the one simply called aboutGolf turns out to be the most entertaining of all. The Official Golf Simulator Provider of the PGA TOUR and Exclusive On-Air Simulator Provider for Golf Channel, aboutGolf's products clearly have the game to help you improve—high-def stop-motion video swing-plane analysis using its aG Flix technology; balance breakdown employing the aG Balance Pro; and a launch monitor producing a statistical encyclopedia of swing and ball speeds, angles, trajectories for every shot and club analyzed for easy comprehension using 3Trak. aboutGolf gives you more than a better golf game—it gives you fun golf games. Play rounds with friends on the 29 courses that come standard or on the premium destinations of St. Andrews, Pebble Beach and the TPC network. You can also compete with your pals—as well as a non-golfer spouse and kids—at MiniGolf, Skeeball, Closest to the Pin and numerous range and short-course contests. Proving it's not just for mancaves, the aboutGolf simulator provides family entertainment. Its aG Portal enables it to deliver television, movies, music, web and social media content, apps and more in an HDTV home theater setting. Call 800-445-GOLF for model pricing and installation. aboutgolf.com
---
For the Walker…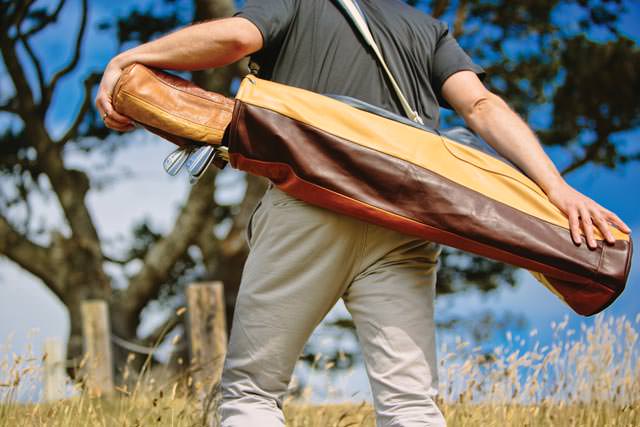 Suggesting the bag Eddie Lowery carried for Francis Ouimet during the 1913 U.S. Open, the Original MacKenzie Walker ($1,095) is anything but pedestrian in its design. Handcrafted from fine leather in Portland, Ore. for more than 30 years, these elegant totes come in nine different color-and-trim options and feature two large pockets— one for balls, tees and accessories; the other for the windshirt, rainpaints and whatever else you need on that trip to Ireland, Bandon or Ballyneal. You can also monogram or customize one with a club logo or school emblem. Although the eight-inch diameter bag features no club dividers, double-shoulder strap or kickstand, it's an easy carry. For those looking for more personalized flair, the Specialty MacKenzie Walker (1,850–$2,195) comes in patterns such as argyle, patchwork, stripes and harlequin, all in classic colors of your choosing. themackenziewalker.com

---
…and the Rider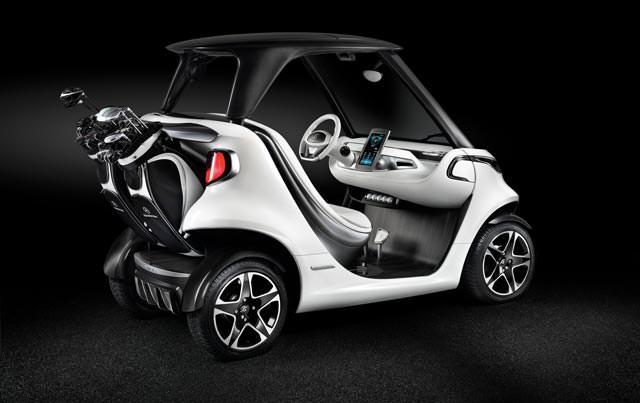 Bubba Watson drives a Garia. So does Paula Creamer. And the Danish golf car company recently partnered with Mercedes-Benz to create what they're cheekily calling "a real sports car," The Mercedes-Benz Style Edition Garia Golf Car. Defined by innovative Scandinavian design and superior materials, the 10-year-old company's U.S. models include the street-legal Via and Via 2+2 (with two additional rear-facing seats). The electric vehicle comes with a spacious cabin; hand-stitched leather seats in a choice of colors; 10-inch tires with aluminum rims; heating and air conditioning; a heated glass windshield with washer/wiper; an air scoop for added ventilation; 45-degree golf bag attachment; ball, tee and cup holders; waste bin; front and rear mudguards; a charging port; and a netted tailgate and lockable storage space. A speed switch lets you toggle between "eco" (16 mph) and "sport" (25 mph) modes. Upgrades include a built-in stereo system, 41-degree refrigerator, rear-view mirrors and a superlight Lithium 2 battery with a 45-mile range and 10-year lifespan. The Mercedes edition also features wood finishes and an integrated onboard touchpad with course GPS information and scorecard. Starting at roughly $15,000. garia.com
---
A Sound Investment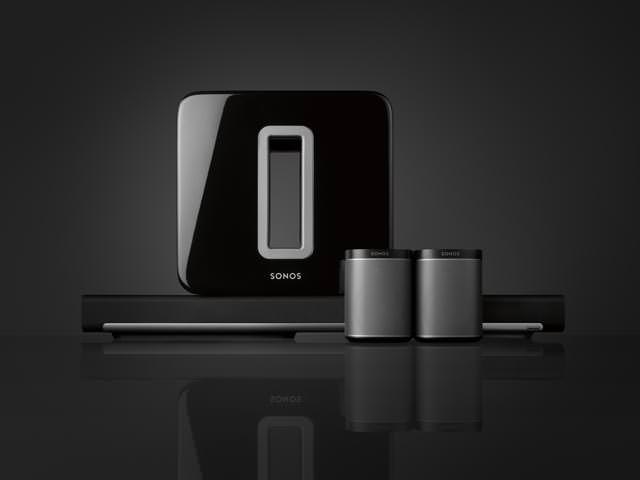 With the Sonos 5.1 Wireless Surround Sound System, you could have probably heard Dustin Johnson's ball move during the U.S. Open. Sonos transforms watching television or listening to music into an epic, multisensory experience. With nine amplified speakers, its Playbar floods the room with powerful, realistic sound for everything connected to your HDTV, including games and music. Preloaded with more than 1,000 internet radio stations, the Playbar also doubles as a stand-alone music-streaming device from your iTunes library and the web. Its wireless SUB subwoofer adds soul-shaking bass without rattle or buzz; its two PLAY:1 surround speakers bring full-theater surround sound to your HDTV. Other cool features include "Night Sound," which dynamically compresses the audio to avoid any bangs or crashes from waking the family, while making quieter sounds more audible. You can boost the frequency of range of the human voice so you never annoy your family with "What'd he say?" during critical dialog. Upgrade to SonosNet, and you'll be able to connect wirelessly to up to 16 computers and simultaneously play different music in every room of the house. Or the same song in every room without the annoying echo or delay. The best part of all this? You can control it all wirelessly by free apps for your smartphone or iPad. sonos.com
---
Your Hour of Knead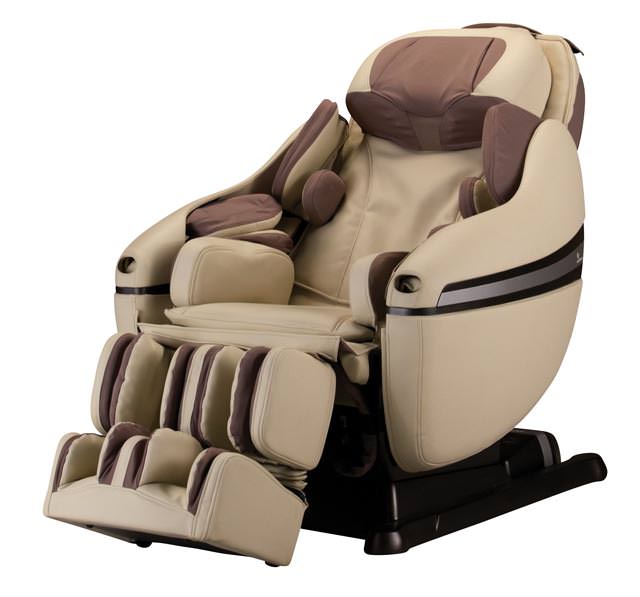 The world's best golf massage doesn't come with fragrant essential oils or a chatty bodyworker. It comes from a magical chair that intuitively knows how to press, knead, pull, roll and stretch away soreness from every inch of your body in cosseting comfort. The aptly named Inada DreamWave represents the latest and most innovative product created by the company founded by visionary Nichimu Inada. For more than 50 years Inada has combined the principles of shiatsu with handcrafted excellence, engineering superiority and a relentless commitment to health and wellbeing.
Operated by a handheld remote, the DreamWave features 16 pre-programmed massage choices, 15 Manual Massage types and more than 1,000 possible massage combinations. Its proprietary scanning technology locates your individual shiatsu points. The rhythmic compressions of 100 air cells work your arms, neck, calves and feet, while heat, vibration and rollers tend to your upper and lower back, shoulders and buttocks. Aching hips and thighs get gently pulled inward and outward to melt away tenderness and fatigue.  Other functions include Shiatsu Pull-Kneading and Full-Body Stretch. The DreamWave's Deep Relaxation Setting  calmly undulates in a figure-eight motion, delivering hypnotic relaxation.
An inspired marriage of form and function, the DreamWave comes in five colors and stands three feet wide and four feet high, with a fully reclined length of nearly seven feet. The extremely durable product can massage you every day for the next 24 years. Visit the Inada showroom in Boulder or Healthstyles Exercise Equipment stores in Denver, Fort Collins, Boulder and Glenwood Springs. $9,499. healthstylesexercise.com
---
Two Times the Watch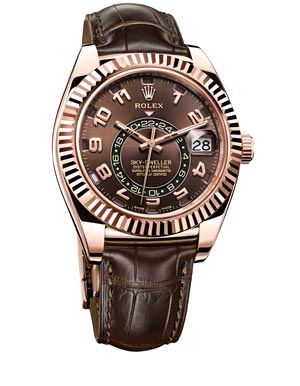 How does Australian Adam Scott, who lives in the Swiss Alps, know the best time to call his mates in Adelaide? The Rolex Perpetual Sky-Dweller elegantly helps those who travel the globe—including top professional golfers like Scott—immediately know the time in two places. One of the Swiss company's most revolutionary designs, the Sky-Dweller features dual time zone, with the conventional center hour, minute and seconds hands telling the local time, and a second reference time display in 24-hour format rotating in an off-center second disc visible on the dial. The watch also boasts an innovative annual calendar named Saros—after the astronomical phenomenon of the same name—that requires only one date adjustment a year, when the month changes from February to March; additionally, 12 discreet apertures around the circumference of the dial reveal the month.  Thanks to its innovative display and simple operation, the Sky-Dweller allows the traveller to adjust the watch to different time zones during a journey, while benefitting from a constant, clear display of reference time. $39,550. rolex.com
---
Bagging a Classic
Walter Hagen might have used a bag like The Stateroom Weekender when he boarded the Aquitania to win one of his four Open Championships. Perfect for a three-day getaway, Mission Mercantile's spacious, distinguished carrier features a historically admirable silhouette drawn from the golden age of ship and train travel while satisfying today's airline carry-on requirements. A solid leather bottom with brass feet, heavy-duty zipper and fully lined, easily cleaned interior ensures durability. The 100% full-grain, vegetable-tanned leather guarantees no two bags will age the same way. $695 missionmercantile.com
---
Hat's All, Folks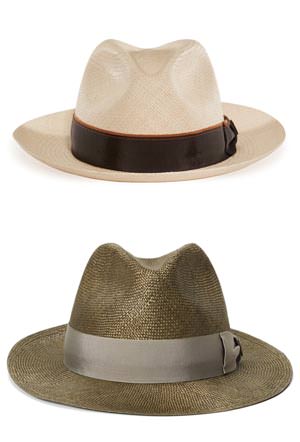 Among the many unfortunate style trends popular today—Rasputin beards, untucked shirts, head-to-toe tattoos—one of the brighter spots is the return of the fedora, trilby and other classic hats. Credit Don Draper, Walter White or maybe even Nathaniel Rateliff. And what better place to don a topper than a classic shop like Goorin Bros.? The company started 120 years ago in Pittsburgh and has grown to 30 stores, including ones in Denver and Boulder, where Victorian furnishings, vintage accouterments, framed photos and upholstered furniture suggest quaint words like "haberdashery" and "millinery." A tip of the hat to Goorin for surviving the hatless half-century after JFK's 1960 inauguration and thriving now. goorin.com
---
Browse the stories and features below to get a glimpse into the good life from our August 2016 issue:
Craig Stadler: Living Large in Evergreen
The High-Country High Life: 5 Colorado Resort Destinations
Carving a Niche: 10 of the Best in Denver Steakhouses
Local Customs at Carbon Putters
Spirited Away: A side-by-side chart of bourbon, gin, rum, scotch, tequila, vodka and whiskey
Driving for Dough: Luxury Autos
Private Jets are Time Machines
Gear Plus: Simulators, Luxury Carts, Watches, Technology and more
Colorado AvidGolfer is the state's leading resource for golf and the lifestyle that surrounds it, publishing eight issues annually and proudly delivering daily content via coloradoavidgolfer.com. Follow us on Twitter, Facebook and Instagram.
This article appears in the August 2016 issue of Colorado AvidGolfer. Subscribe today!