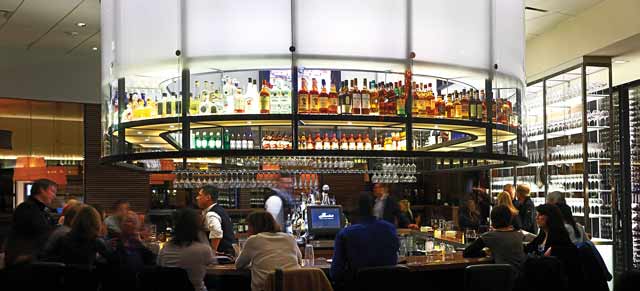 Shanahan's Steakhouse
The opulent surroundings at Shanahan's—named for and co-owned by former Denver Broncos head coach Mike Shanahan—rate as eye-popping, from a bar area teeming with glassware to a 25-foot-tall granite fireplace to abundant dark wood and leather pizzazz everywhere. The kitchen expertise is applied to Shanahan's signature bone-in steaks—the meat next to the bone is more tender and cooks a little slower, and some folks swear that a charred bone adds a distinct flavor to the meat. The side dishes, especially the savory creamed spinach, are excellent, too. August Fridays bring evening concerts on the patio. The extra point is at the hostess stand, where the collection of championship rings and trophies amassed by Coach Shanahan shines from the glass cases.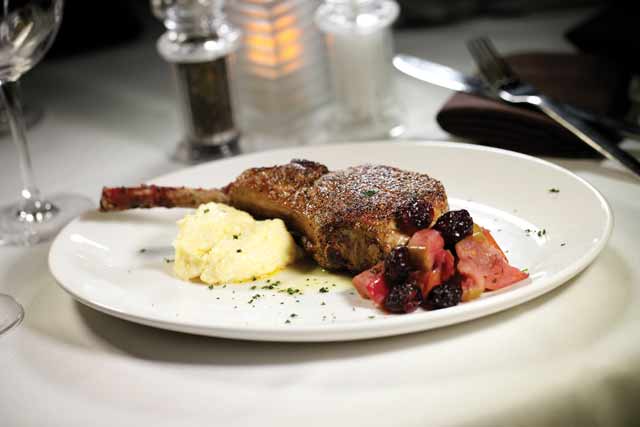 5085 S Syracuse St., Denver
shanahanssteakhouse.com; 303-770-7300
---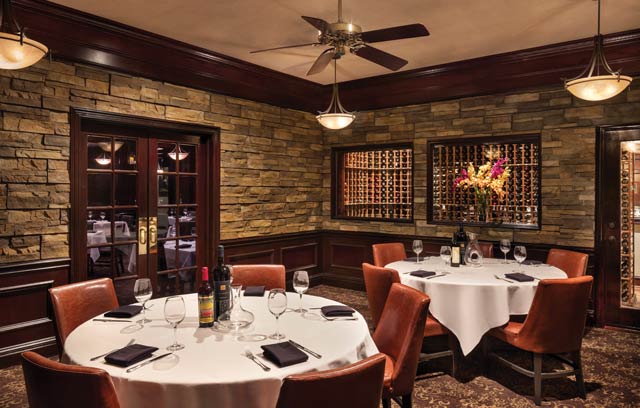 Del Frisco's Double Eagle Steakhouse
Del Frisco's swank atmosphere centers around the thriving bar (killer martinis and after dinner drinks) and cigar lounge with live music (an elegant space with luxurious sofas), a comfortable environment that gives off a DTC deal-making vibe—business casual to formal attire gets you in the door. The steaks—the porterhouse, the filet mignon, the rib-eye—are a meat lover's delight. The servers win style points when they all come over to deliver the food; one always asks you to cut into your steak and ensure it is perfectly cooked. Del Frisco's is also a fine choice for lobster, lamb, or even salad for smaller cravings (the steak salad is a fabulous way to enjoy broiled and sliced filet mignon).
8100 E Orchard Rd., Greenwood Village
delfriscos.com; 303-796-0100
---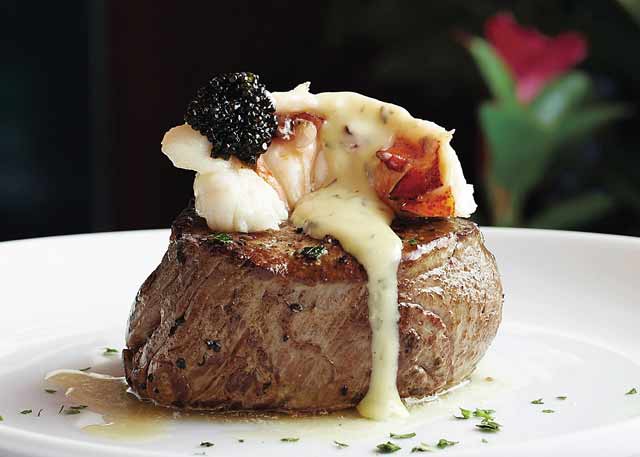 Fleming's Prime Steakhouse
Aging is the process of letting the natural enzymes and microbes of meat break down the connective tissue to tenderize it. Generally, the public seems to prefer wet-aged, which "ages" faster in a vacuum-sealed bag, which doesn't allow the meat to breathe, reducing the amount of water weight lost. But connoisseur carnivores choose the bolder, richer taste of dry-aged, the old way of handling beef—hung or racked in near freezing temperatures for several weeks. Fleming's dry-aged steak option is a Prime rib eye, aged a minimum of 21 days. Fleming's award-winning roster of wines is demystified with the WiNEPAD, a dedicated Apple iPad that allows diners to navigate the extensive list through a variety of sort functions.
191 Inverness Dr. W., Englewood
flemingssteakhouse.com; 303-768-0827
---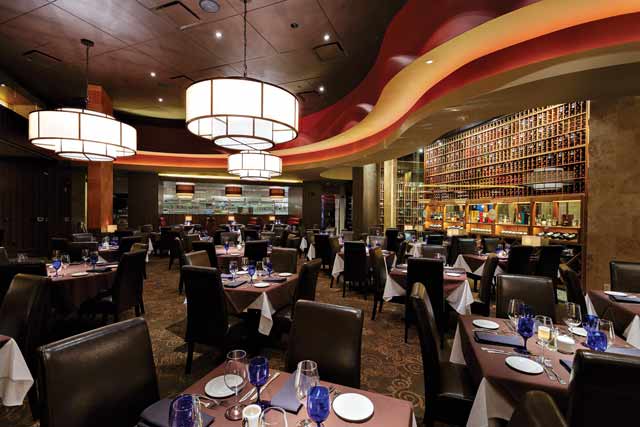 Perry's Steakhouse and Grille
The Texas-based chain's first Colorado restaurant features gorgeous modern design touches—a towering wine wall, sleek yet gentle lighting and an island bar. Perry's takes pride in menu items that aren't normally found in a traditional steakhouse, from the house-made Polish Sausage to Chateaubriand. But you have to try the seven-finger-high Pork Chop, a carnivore's delight. It's a hand-selected prime chop, rubbed with proprietary seasoning, dry-aged for two days, cured for another two, then slow smoked 4-6 hours. Upon order, it's glazed and broiled for a bit of caramelization, then carved tableside and plated as five pieces. For a deal, try the Friday lunch special, a smaller 5-finger chop with whipped potatoes for $14.95.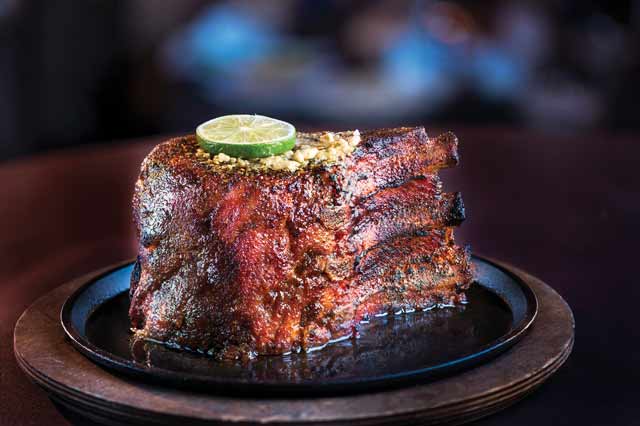 8433 Park Meadows Center Dr., Lone Tree
perryssteakhouse.com; 303-792-2571
---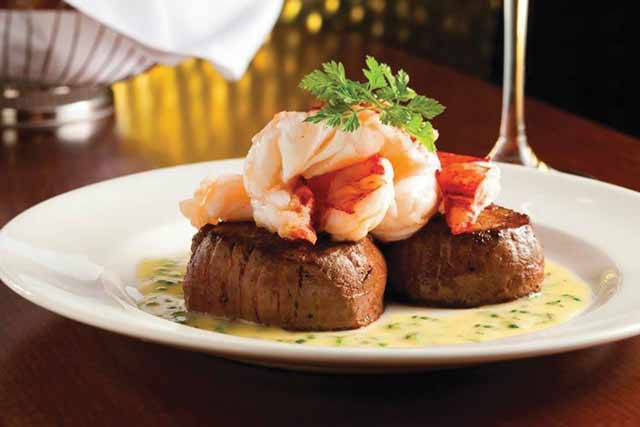 Capital Grille
For an all-around refined experience, the Capital Grille is top-notch, from the beautifully appointed dining area to the niceties of valet parking on Larimer Street. The attentive front-of-house staff puts together all of the sharp little touches of fine service, classy without being too corporate—the manager says hello, waiters attempt to learn your name, the service is unrushed. The food is excellent, notably the signature Porcini Rubbed Bone-in Ribeye with 15-year Aged Balsamic—the spice of the unique delicate ground mushroom crust plays together with the light drizzle of the sweet premium balsamic and the salty seasoning of the Delmonico steak (pair it with a bottle of Stags' Leap Winery Petite Syrah).

1450 Larimer St, Denver
thecapitalgrille.com; 303-539-2500
---
Lagniappe
Elway's:
With two locations in Denver, one in Vail and one at DIA, the restaurant remains a luxe spot not only for its steaks (including an 18-ounce Wagyu ribeye) but for its wide-ranging salads, inspired fish dishes and encyclopedic wine list.
Multiple locations; elways.com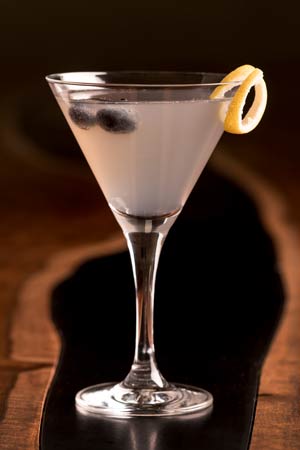 Guard and Grace:
An enormous, sleek space at the base of the CenturyLink Tower, Troy Guard's ambitious, award-winning take on the modern steakhouse features fiery grills, charcuterie, an oyster bar and a posh, walk-in, floor-to-high-ceiling glassed wine cellar containing 4,000 bottles.
1801 California St., Denver
guardandgrace.com; 303-293-8500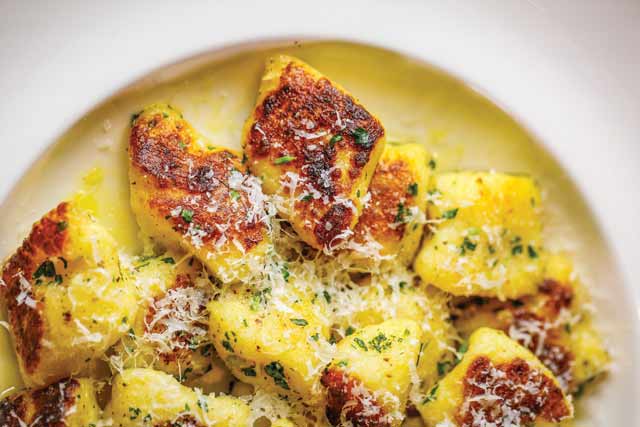 It's worth the trip to Colorado Springs to savor the fantastically charred steaks and chops, creatively turned starters and seafood, and decadent desserts served in the most elegant restaurant ever to grace a golf clubhouse. Too, uh, stuffed to drive home? Sleep at the club's swank Lodge.
1880 Weiskopf Point, Colorado Springs
flyinghorseclub.com; 719-487-2635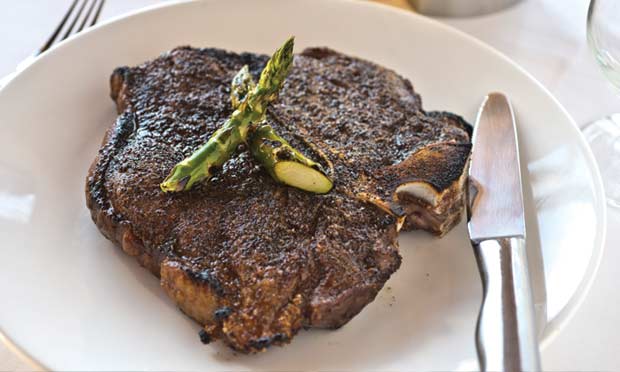 Steakhouse 10:
The Saganaki appetizer and Gangster Steak (with peppers and Kalamatas) add a Greek flair to this intimate spot off W. Hampden.
3517 S. Elati St., Englewood
thesteakhouse10.com; 303-789-0911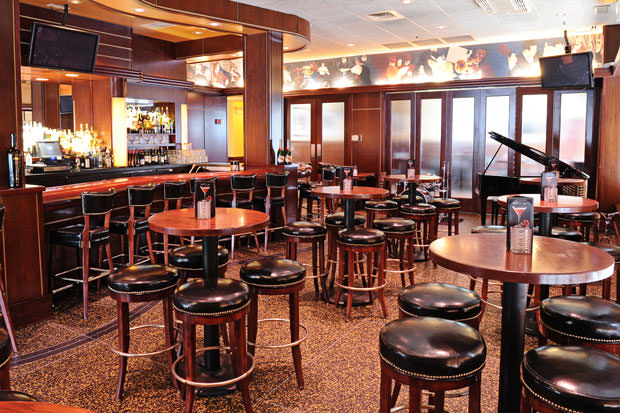 ---
This article appears in the August 2016 issue of Colorado AvidGolfer. Subscribe today!
Browse the stories and features below to get a glimpse into the good life from our August 2016 issue:
Craig Stadler: Living Large in Evergreen
The High-Country High Life: 5 Colorado Resort Destinations
Carving a Niche: 10 of the Best in Denver Steakhouses
Local Customs at Carbon Putters
Spirited Away: A side-by-side chart of bourbon, gin, rum, scotch, tequila, vodka and whiskey
Driving for Dough: Luxury Autos
Private Jets are Time Machines
Gear Plus: Simulators, Luxury Carts, Watches, Technology and more
Colorado AvidGolfer is the state's leading resource for golf and the lifestyle that surrounds it, publishing eight issues annually and proudly delivering daily content via coloradoavidgolfer.com. Follow us on Twitter, Facebook and Instagram.