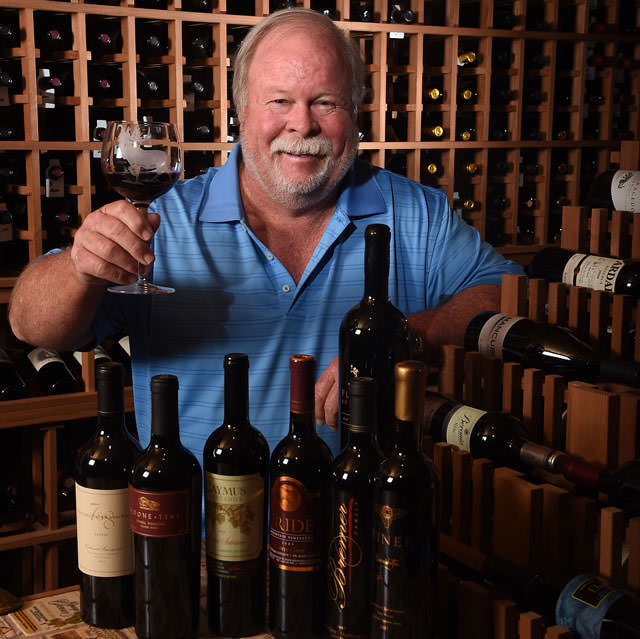 As the Substantial wooden door to Craig Stadler's home opens, the jangle of sleigh bells sound more like Christmas than the last day of June.  The cool brume shrouding the tall pines outside the house reinforces the unseasonal suggestion, as does the sight of a stocky white-bearded gentleman welcoming me inside.
Casually clad in a t-shirt and shorts, his trademark goatee more tusk-like than ever, the PGA and Champions Tour player nicknamed the Walrus greets me with a warm smile and handshake; his wife, Jan, with a hug.
The couple got married on the back deck looking out on Mount Evans six years ago, four years after Craig and his first wife, Sue, divorced. Their wood-and-stone house brims with rich, bespoke furnishings and the rewards—trophies, plaques, wines and artwork—generated by Craig's 40 years of professional golf success. Good-natured banter and happiness fills the air (and in a 7,600-square-foot home, there's a lot of air to fill).
The Walrus, as many remember, was famously temperamental as a young player. Mercurial with the media, he'd stew over missed shots and fling clubs. During a conversation these days, he'll still get animated when he says he expects more from his game, but at 63, he's having a blast picking and choosing where and when he'll play and filling the remaining time pursuing his many passions.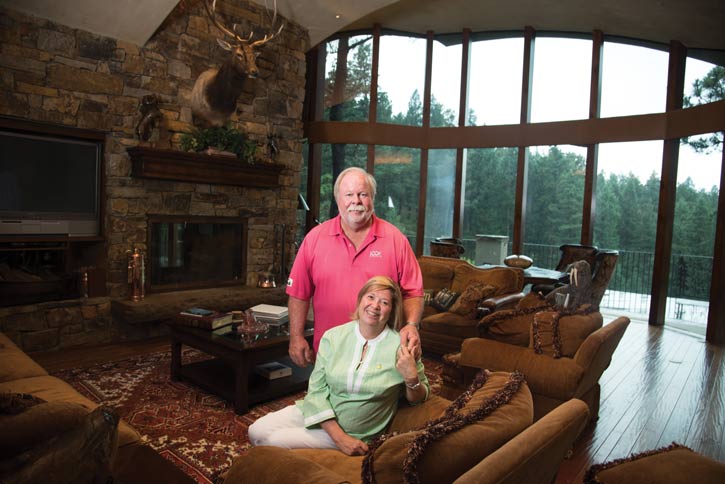 From So-Cal to Colorado
If you were to make a movie about Stadler today, it wouldn't be called The Walrus in Winter, but It's a Wonderful Life.
Of course, the San Diego native has had some wonderful moments before now. By the time he moved his family (Sue and sons Kevin and Chris) to Colorado from La Jolla in 1994, he had already achieved golf stardom, winning the 1973 U.S. Amateur Championship, 11 PGA Tour events and, most famously, the 1982 Masters. That same year, he was also the Tour's leading money winner. He played on two winning Ryder Cup teams ('83 and '85).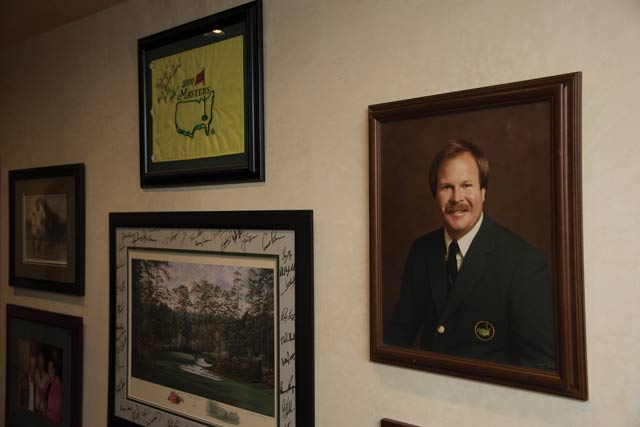 By 1994, traveling to and from the West Coast had taken its toll. "More than half the time I'd layover in Denver for two and a half hours," he remembers. "I finally figured out that if I just got off there, went home and left from there, it'd probably save me six or eight hours of travel every time."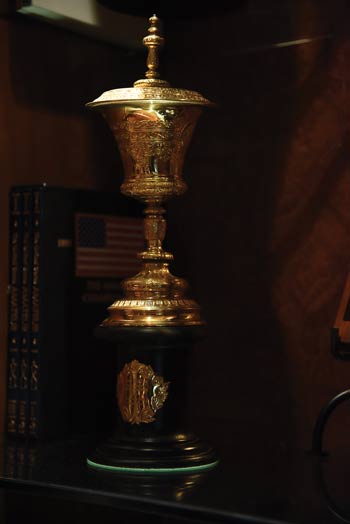 Plus, the family had for five winters rented a house in Beaver Creek and skied 30 or 40 days. 
After first living in Cherry Hills Village, the Stadlers moved in 2001 to Evergreen. The wood and stone manse nestles high in the trees on close to 10 acres, with a floor-to-ceiling view of Colorado's highest mountain—that is, when the ponderosa pines in the backyard do their best to block it.
At the time of the move to Evergreen, Craig says, "I was playing horrible, missing cuts and when I made them I was right at the bottom. I really wasn't having much fun." After carding a 44 in the first round at Harbour Town in the 2003 MCI Heritage, he withdrew and took off two months until he turned 50 and qualified for the Champions Tour.
"It was kind of like a new life," he says. "New venues, smaller fields, no cuts. And all of a sudden I started playing pretty decent again." He won a major in his third start, the Ford Senior Players Championship, and with no event the following week, he played on a sponsor's exemption in the PGA Tour's B.C. Open. "And I won that. Back-to-back wins on two tours. That was really cool, considering a month before I couldn't play dead. All of a sudden, I'm exempt from the regular tour for two years. But I decided I preferred the no-cut thing, playing against guys I can beat up on once in a while."   
And he did, winning eight times in 2003 and 2004. He wouldn't get his ninth until 2013, at age 60, in the Encompass Championship, setting a record for the longest time between victories on the senior PGA circuit.
Trophy Life
It's nobody's business why people get divorced, but when she first came to the six-bedroom house, Jan says she saw few, if any, of Craig's golf trophies or photos on display. Mementos of a career that had paid for the house sat in boxes or salted away in another room. Sue had done the decorating.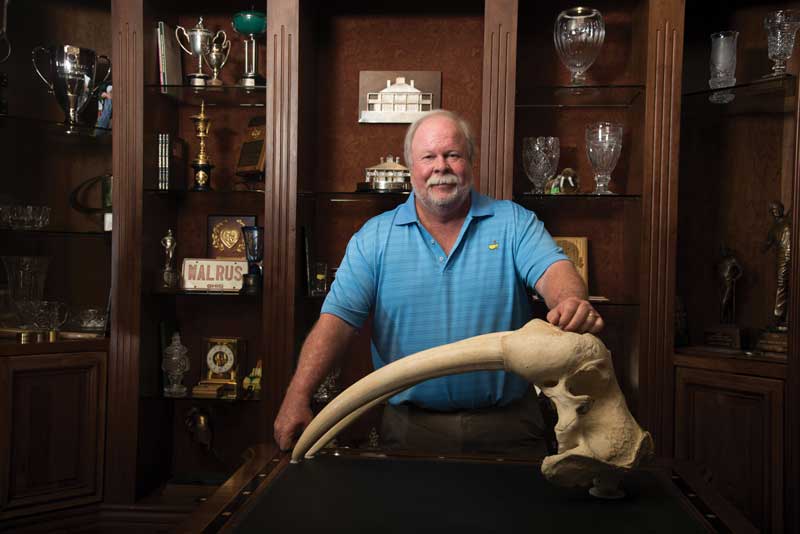 Much of the plush furniture she selected remains in the great room. It now shares space with one-of-a-kind objects such as a stunning bowl that an artist carved from a fallen hackberry tree at Augusta National. In the adjacent study, formerly a library, dramatically lit shelves gleam with dozens of trophies and awards, highlighted by the replica Masters trophy (the original stays at Augusta) Craig won in 1982. On the floor nearby, stands a guitar signed by the Eagles to Jan for her 50th birthday. Atop the oak table in the center of the room is his plaque from the Colorado Golf Hall of Fame, into which he was inducted in May, and a huge walrus skull, tusks and all.
"Jack (Nicklaus) said he found it on a hunting trip in Canada, and I don't think Barbara wanted it," Stadler remembers. "We were at their house and they wanted me to take it and I said no. Barbara kept calling, then Jack. I said I didn't want it. So last year, when he flew in for that Century of Golf event and we weren't in town, guess what they brought to be delivered?"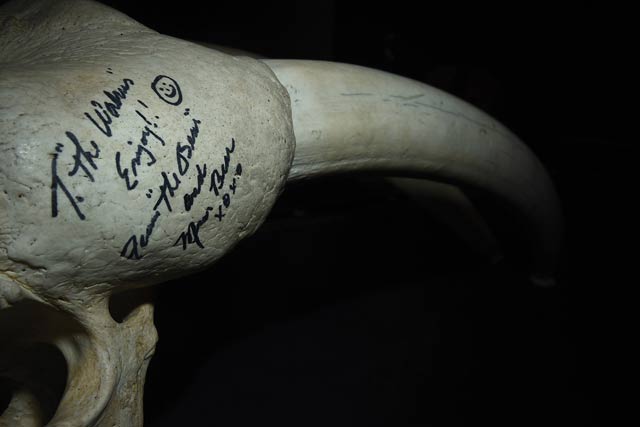 Stadler laughs at the memory. "Tusker" has company. Here and there sit walrus statuettes, stuffed toys, framed sketches and even a fossilized forearm-length baculum.   
Other animal trophies command space as well. Stadler took the first of his dozens of hunting trips, to Alaska, in the early Eighties, and bagged a perfect Dall sheep after a long climb in the Brooks Range. Its head and those of two others stare from the large stone chimney near the vestibule. Trophy elk and deer mounts glare from high above the great room. A cape buffalo shot in Zambia presides over his home office, as do three other African ungulates—a sable antelope, oryx and kafue lechwe—in the master bedroom.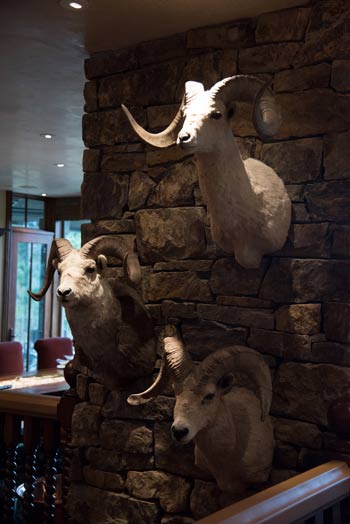 "Have you seen the other master bedroom?" Jan asks. She directs me to the other side of the house. Filling the walls of the room are framed, signed Masters flags and photographs and artwork from Augusta. On the dresser sit Objects Unlike Any Others.
Going and Giving
Stadler's interest in wing shooting brought him to Argentina and a 26-year relationship that resulted in his election to the Argentine Golf Hall of Fame. In 1991, he wanted to shoot doves near Salta, and his new agent, Lynn Roach, negotiated a $25,000 deal for him to play in the Argentine Open, which had a total purse of $20,000. Stadler shot more than a few birdies, finishing second to Jay Don Blake. At the awards ceremony, each had to address the gallery.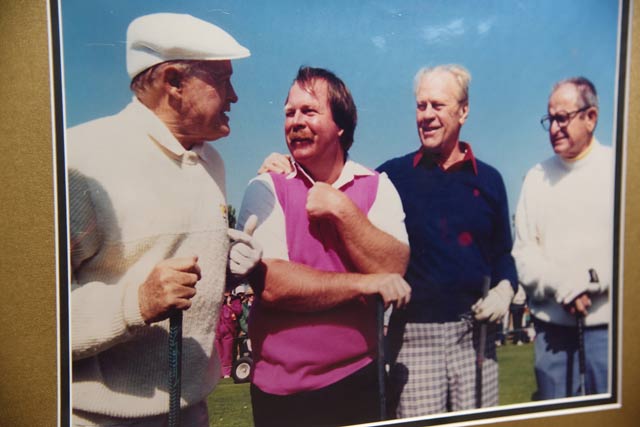 Stadler, who hadn't spoken a word of Spanish all week, held forth en español for 10 minutes, endearing himself to the national golf association. The man known there as "La Morsa" won the event in 1992 and started bringing other PGA Tour players; five years later the purse had jumped to $685,000 (it's since dropped to $175,000). Son Kevin won in 2005. "Since 1993, the number of the courses around Buenos Aires has gone from five to 25," he says. "It's great to see the growth and all the talented young players like Emiliano Grillo."
[quote]"It was kind of like a new life," he says. "New venues, smaller fields, no cuts. And all of a sudden I started playing pretty decent again."[/quote]
Craig and Jan fly to Argentina a few times a year, visiting friends and shopping the San Telmo market. They recently returned with gorgeous handmade copper objects and shipped back plenty of wine.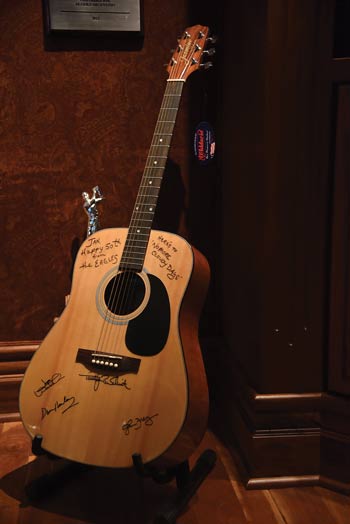 Although they travel when Craig competes (including in this year's Senior British Open at Carnoustie), they take most trips for pleasure. Next year, it's to New Zealand, one of the few places Craig's never been.
They often go to their home in Ponte Vedra Beach, and to Napa, where this September Craig will participate for the 13th consecutive year in Wine to Water, the pro-am he co-founded. Held annually at Silverado Country Club (with a pre-golf dinner and auction at Flora Springs Winery), the event grosses between $500,000 and $600,000 for waterhope.org, an organization that drills wells and builds cisterns and water collection systems to bring fresh water to communities in Africa, Asia and Central America. 
"That's the charity dearest to my heart," he says. "I spend probably 30 days a year working on that, getting sponsors."  He devotes an estimated 30 days to other charities. He hosts events for the Peoria Children's Home Association in Illinois and the Princess Margaret Hospital in Toronto. Folds of Honor, Disabled Sports USA's Warfighter Division, Special Olympics and numerous other programs have all benefited from Stadler's involvement.
"I work so much harder for things I don't get paid for," he says. "I enjoy doing it, not because it's a feel-good thing or it goes on my résumé I just enjoy helping where I can."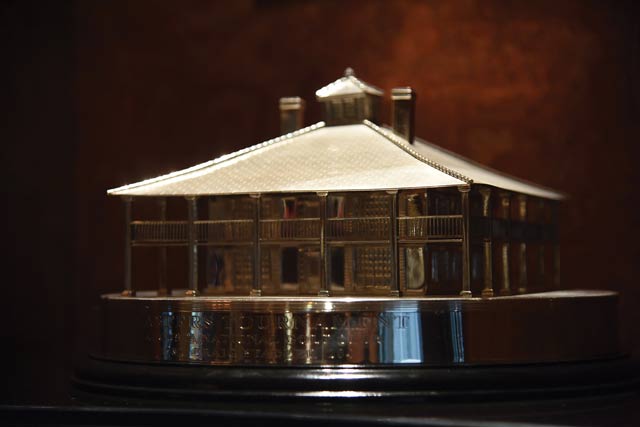 Stellar Cellar
A cadre of beautifully painted Wine for Water bottles seemingly stands sentinel outside the door to the Stadlers' wine cellar, where roughly 4,000 bottles climb to the ceiling and cascade down a center display. Stadler credits fellow Tour player Jeff Sluman for introducing him to wine collecting.
Few chardonnays or other whites make the cut; cabernets and Bordeaux predominate. The shelves groan with jeroboams of Far Niente and Miner cabs—the latter of which has Jan's and Craig's May 15, 2010 wedding day personally inscribed by vintner Dave Miner, who in 2006 also created a private-label signature Walrus cabernet.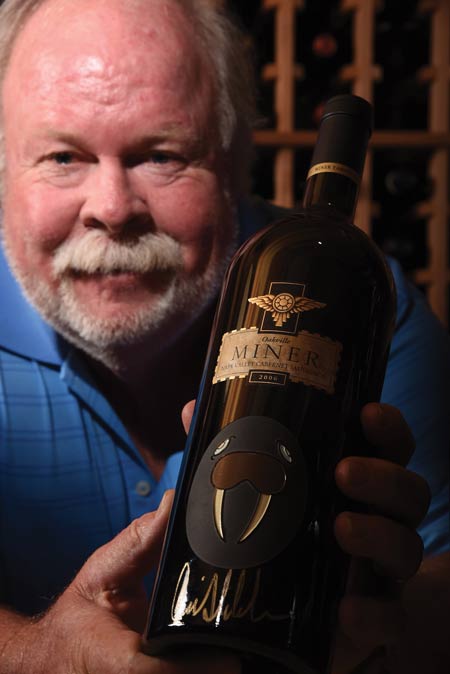 Other sentimental bottles include a bottle of 1982 Château Lafite Rothschild purchased at Augusta National to commemorate the year of his Masters triumph and six bottles of an Australian wine called The Hattrick, each signed of a different star from 2001 Stanley Cup Champion Avalanche, his favorite sports team. He bought a 2000 Château Petrus because, well, he could.
Back upstairs, Craig says he plans on playing eight Champions Tour events after the British Senior. "But I don't want to go out there hoping to play well instead of knowing I'm going to play well," he says. "That never turns into any success."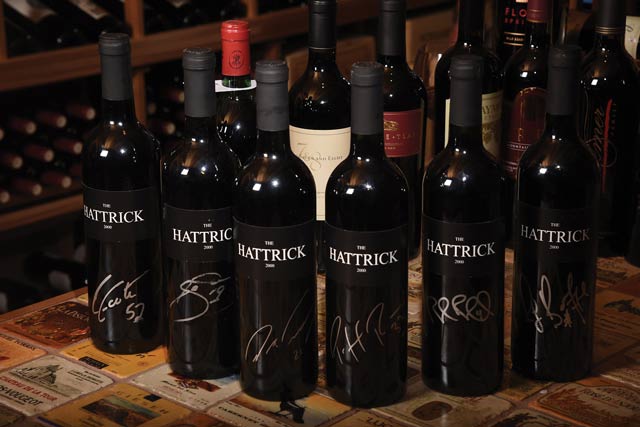 Stadler understands the path to success. Whether it's the yard he cleared of fallen pines, a room full of trophies or a cellar full with wines, he enjoys being surrounded by expressions of accomplishment. Sharing those with someone who appreciates them—and him—makes it all the richer.
"I haven't had many three-putts here," he says, a kind smile forming behind his bristly whiskers.
Jon Rizzi is Colorado AvidGolfer's editor.
---
This article appears in the August 2016 issue of Colorado AvidGolfer. Subscribe today!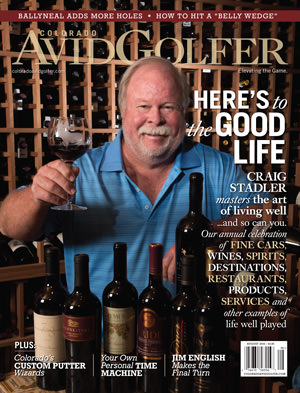 Browse the stories and features below to get a glimpse into the good life from our August 2016 issue:
Craig Stadler: Living Large in Evergreen
The High-Country High Life: 5 Colorado Resort Destinations
Carving a Niche: 10 of the Best in Denver Steakhouses
Local Customs at Carbon Putters
Spirited Away: A side-by-side chart of bourbon, gin, rum, scotch, tequila, vodka and whiskey
Driving for Dough: Luxury Autos
Private Jets are Time Machines
Gear Plus: Simulators, Luxury Carts, Watches, Technology and more
Colorado AvidGolfer is the state's leading resource for golf and the lifestyle that surrounds it, publishing eight issues annually and proudly delivering daily content via coloradoavidgolfer.com. Follow us on Twitter, Facebook and Instagram.