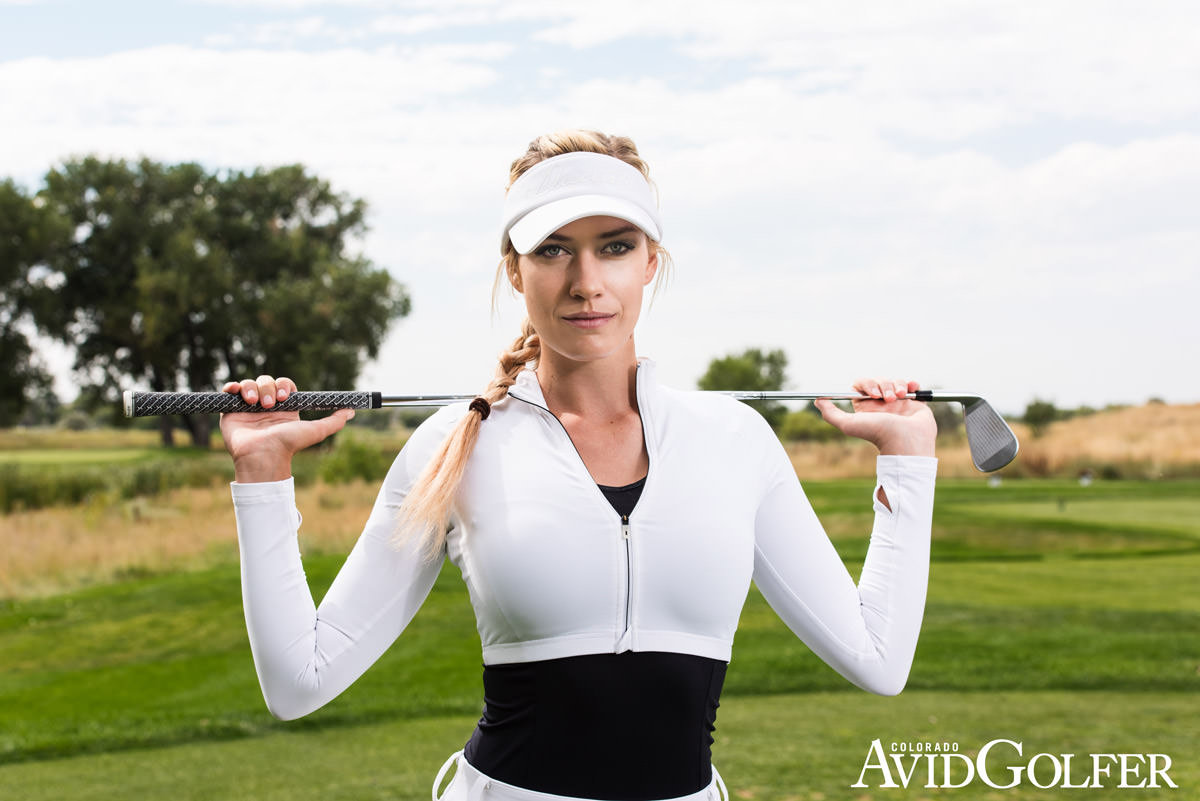 All seems perfect in Paige Spiranac's millennial world. She's a 23-year-old, affianced, extremely attractive and physically fit woman whose striking appearance has lured 900,000+ Instagram followers, with another 113,000+ on Twitter. More than a half-million YouTube subscribers have viewed "Paige Spiranac's How to Make a Viral Golf Video."
And that's the catch. Spiranac is first and foremost a professional golfer—and her reputation on the links isn't trending as high or as quickly as she would like.
That was evident at Green Valley Ranch Golf Club during the third and final round of last summer's CoBank Colorado Women's Open. When she teed off at 8:05, Spiranac had three followers: her parents, Annette and Dan Spiranac, and a reporter wondering if the Monument native was an over-hyped Web sensation posing as a golfer, or a true golf talent who looks like a fashion model.
True, she wasn't in one of the day's final pairings. Thanks to an opening-round 74—which could be partially attributed to her failure days earlier to advance in the first stage of LPGA Qualifying—and a second-round 71, Spiranac found herself tied for 16th with two-time Colorado Women's Golf Association Player of the Year Somin Lee.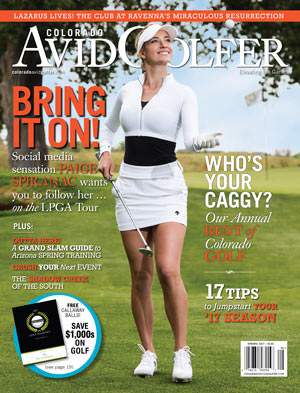 Paired with Lee, Spiranac proved she was every bit the golfer. Producing powerful swings with her driver and 3-wood, she consistently split fairways, then flushed solid irons to reach the first five greens in regulation. However, she birdied only two, tweeting on the second and fourth.
When her 12-foot birdie attempt burned the edge of the fifth hole, Paige's mother, Annette Spiranac—a former Pittsburgh Ballet Theatre dancer once deemed "The Bodyguard" for shielding boys from Paige at junior golf tournaments—immediately started walking towards the sixth fairway.
Paige Spiranac gets plenty of hits on her social media accounts, but she also takes plenty of hits there. "A lot of people say that what I post is provocative or unbecoming of a young lady," Spiranac says during an interview at Green Valley Ranch days after the tournament. "My parents look at everything I post, and if they approve, then I think what I'm doing is OK. They're very religious—and I am, myself. A lot of people don't realize that.
"I've turned down offers that would have me pose in a bikini or something like that. I dress how 23-year-olds dress these days. I don't see anything wrong with that.
"I feel like when I'm on the golf course I respect the game. I think that's what you need to preserve with golf, the sportsmanship. It's not what I wear. It's not the fact that I'm having fun—I mean, seeing me have fun on the golf course, is that so wrong?
"I think people need to have more fun, and that's why golf is struggling right now. The younger generation wants to go out on the course and have fun, but they're criticized for not wearing nice pants and a polo.
"I wish more younger players would be comfortable getting out there. But even I feel uncomfortable going to courses sometimes with the way the men look at me—and not in a sexual way. It's hurtful because they seem to think I'm not a good player."
Watching Spiranac play golf, and listening to her speak so vibrantly about it, one sees that she craves attention not for being the game's hottest player but for being good enough to compete on the LPGA Tour.
"I don't think a lot of people take me seriously and that's what hurts the most because I'm grinding every single day to be better," says Spiranac, who was a team captain at San Diego State, where she earned academic all-American, all-Mountain West Conference and Dean's list honors. 
"I'm not overconfident, but my mentality is that I want to prove myself—and I think that's more powerful," she says. "If I didn't have that mentality, I probably would have quit by now."
And that she is. Spiranac, who was home-schooled, won the 2010 Colorado Women's Golf Association's Junior Stroke Play championship and in 2015, she triumphed in the 100th CWGA Match Play in an epic duel with Brittany Fan.
[quote]"I feel like when I'm on the golf course I respect the game. I think that's what you need to preserve with golf, the sportsmanship. It's not what I wear. It's not the fact that I'm having fun—I mean, seeing me have fun on the golf course, is that so wrong?"[/quote]
Dan Spiranac never saw the missed putt at No. 5 at Green Valley Ranch because he turned his back. He's unable to watch whenever his youngest daughter has the putter in her hands. A walk-on football player at the University of Pittsburgh, Dan played safety on the same 1976 championship squad that featured Pro Football Hall of Famer and Heisman Trophy winner Tony Dorsett.
Paige inherited her will to compete from her father. "We are a competitive family—too competitive sometimes," Dan muses.
"We actually were banned from playing videogames together when we were little," says Spiranac's older sister Lexie, who was a Colorado Class 5A state champion high-jumper at Lewis-Palmer High School. "We'd end up ripping bloody blisters on our hands from trying to beat each other at Mario Party.
"Paige is so competitive. She's also very shy and introverted—which I think surprises people because of her online persona. We've always been a really tight-knit family. I think for Paige, when everything started taking off with Instagram, we all knew we wanted to help her because it's a unique situation."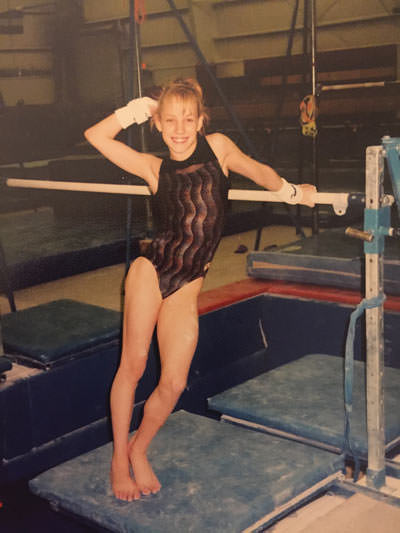 "The entertainment aspect of all this … I understand,'' Dan Spiranac explains. "People don't understand how much energy she puts into it. One of her main goals is to bring eyes to the LPGA. She wants people to know she can play. It's hard for her to take the criticism, and it's hard for us to watch as parents."
"My parents are great," Paige says. "I was a really high-level gymnast and the goal was the Olympics. But it got to the point where they could sense that I wasn't happy. Unlike other parents, they never pushed me. But they gave me the advice I needed to hear."
She gave up gymnastics at age 12 after two fractured kneecaps. She first tried tennis, but after two weeks with her mother's sister, former professional tennis player Bonnie Gadusek, Spiranac crossed the sport off her to-play list.
Paige's switch to golf almost mirrors Gadusek's to tennis. Also a gymnast, Gadusek at age 12 in 1976 broke her neck on the uneven parallel bars. She took up tennis as part of her therapy, and by 1982 was the WTA Tour's Rookie of the Year.
The world's eighth-ranked player in 1984, Gadusek earned the nickname "Animal" for her aggressive approach to practice drills. Spiranac often posts videos of her workouts, to show how intense she is about keeping fit.
"I don't want to do something unless I know I'm working as hard as I can to be as good as I can be," Paige says. "I think my Aunt Bonnie had that same mentality, and she got to a very high level by focusing on herself and working as hard as she could."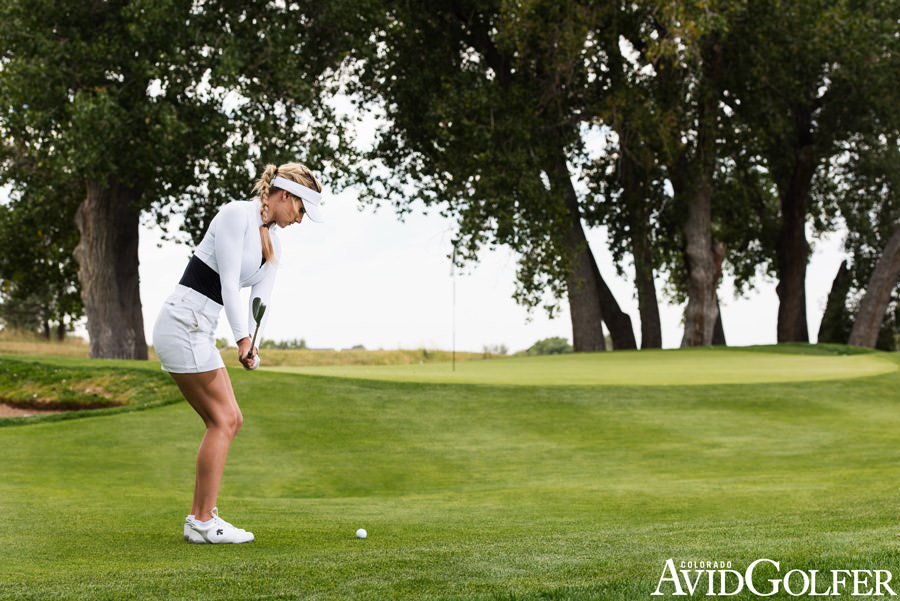 Last June Spiranac posted her first professional win, on the Cactus Tour. It was a far better outcome than her first professional outing—when she missed the cut at the Ladies' European Tour's 2015 Dubai Ladies Masters. Spiranac's invitation to play in that event—and the organizers' use of her to promote it—was heavily questioned by LPGA Tour veterans and golf fans. Her performance intensified the negative reaction.
"I had a pretty tough tournament in Dubai," Spiranac remembers. "Christina Kim and Natalie Gulbis both reached out to me and gave me so much great advice. Natalie and I have had similar experiences, as far as our images. So I really respect what she says.
"When you get negative feedback, you feel like the whole world is against you. I thought everyone on the LPGA hated me and thought I was a joke. It meant so much to have someone at a high level in the golf world be so supportive. If I didn't receive that support I don't know if I'd still be doing this."
But haters will keep on hating. "Negative comments would stick with me for a while," she admits. "I've learned not to look at them… but sometimes I feel I have to respond.
"Usually it's something like a dad saying I'm a bad role model for young girls, or that I don't take golf seriously, or that I'm privileged. So I will respond, and they often apologize. They see I'm not as bad as they think I am. But there are people who just want to bring someone down, and that's sad and hurtful."
With a final-round 70, Spiranac tied for ninth in the 2016 CoBank Colorado Women's Open, finishing a respectable one-under-par. Then, trolls be damned, in December she returned to the Dubai Masters. She missed the cut but came home with hardware more significant than any trophy—an engagement ring from boyfriend Steven Tinoco.
"I know at the end of the day golf is what I'm passionate about and something I love," she says. "But there's more to life, and I always try to keep that in perspective. Maybe that's why I'm not where I need to be golf-wise right now. But I'm very happy with what I've accomplished so far."
What Spiranac has accomplished is quite remarkable. Her social media success landed her on the cover of last May's Golf Digest as one of "the innovators and influencers who are pushing the boundaries of the game."
But she knows she needs to push the boundaries of her game in order to be mentioned in the same sentence as past LPGA Tour "beauties" like Jan Stephenson. "The most important part of my career is what I shoot, not what I look like," said Stephenson, who scored 16 LPGA Tour victories.
Paige Spiranac doesn't have to hear that advice to heed it. Like all millennials, she lives on social media, but she refuses to allow her generation's obsession with it to photo-bomb her destiny as a professional golfer.
[box]
ALSO SEE: 
Behind the Scenes with Sam Adams and Paige Spiranac
[/box]
Contributor Sam Adams is an award-winning journalist and standup comedian.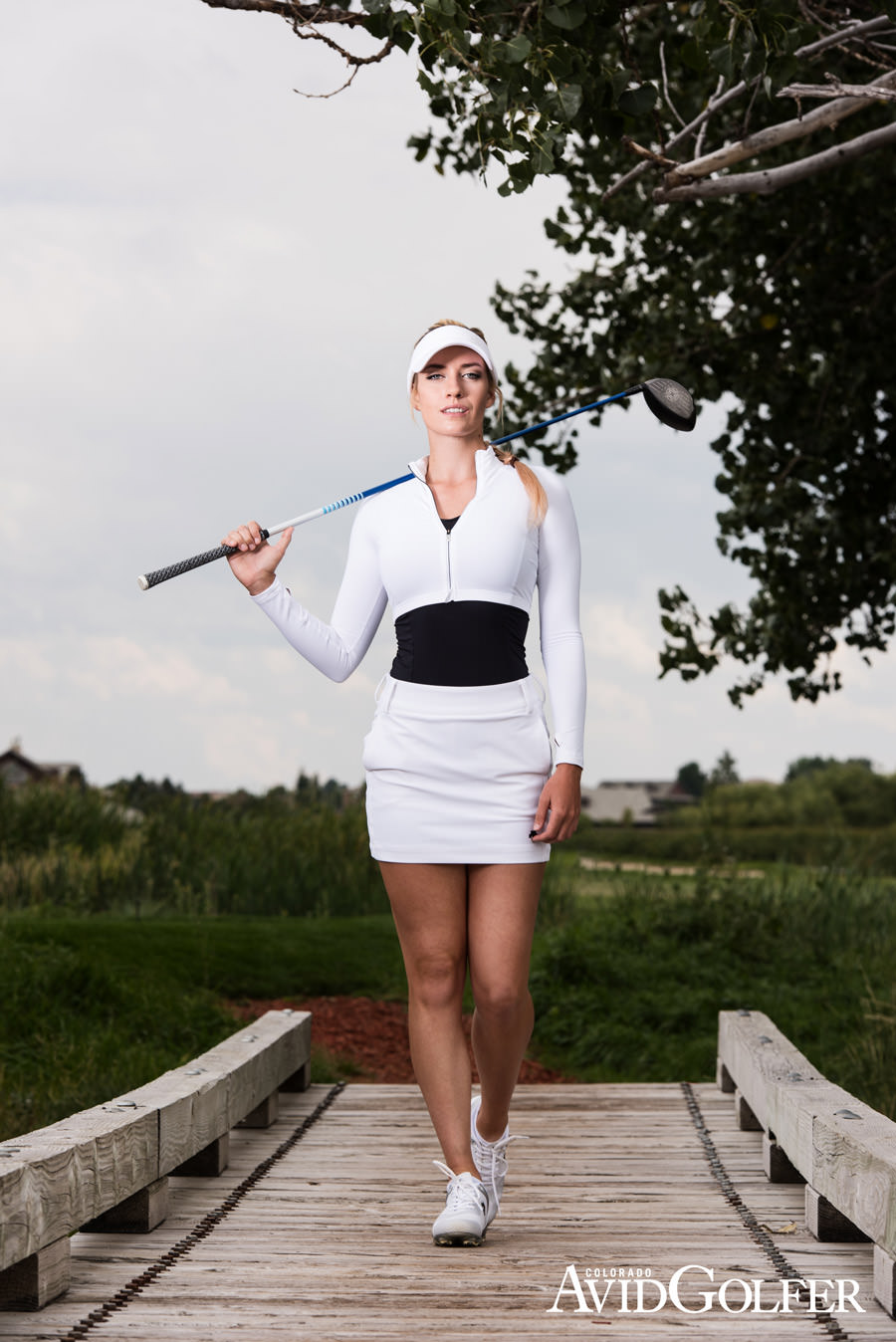 ---
This article appears in the Spring 2017 issue of Colorado AvidGolfer. Subscribe today!
More from the Spring Issue:
See the 2017 CAGGY Award Winners
The Rise and Rise of the Club at Ravenna
2017 Tournament Guide pres. by Cheyenne Mountain Resort
17 for '17: Tips from Colorado's Best Instructors
Colorado AvidGolfer is the state's leading resource for golf and the lifestyle that surrounds it, publishing eight issues annually and proudly delivering daily content via coloradoavidgolfer.com. Follow us on Twitter, Facebook and Instagram.