As the world becomes more complicated, so do our options for traveling it. VRBO, AirBnB and countless travel booking sites create endless choices. "I feel like I spend as much time hunting for deals as I do on the actual vacation," says frequent traveler Joseph Grant of Denver, who likens his behavior to that of a day-trader. "But I'm not looking for luxury; I'm looking for economy."
Some of us, however, seek the exact opposite. While we care about saving money, we care more about savoring experiences. Ensuring the location, services, ambience, activities and amenities meet our standards—and those advertised online—is worth the added expense. We want wherever we stay to feel like a second (or third or fourth) home and will even pay extra to have our lodging preselected and our vacations curated.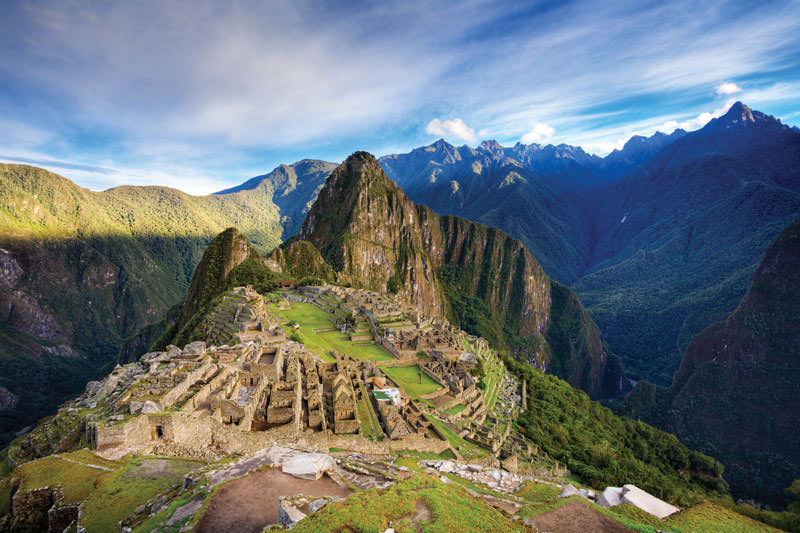 This explains, in part, the popularity of destination clubs such as Exclusive Resorts, Quintess and Inspirato—all of which sprang up earlier this century and headquarter in Colorado. Similar to the country club model, membership in a destination club requires a one-time deposit and annual dues. None of these clubs provides members with equity or fractional ownership. And unlike country clubs, where your dues cover your green fees, you still have to pay per night to rent one of the homes in the club's collection. The homes, which average $3.5 million in value, rent on average from $1,143 per night (Inspirato) to $2,666 (Exclusvie Resorts) to $2,821 (Quintess).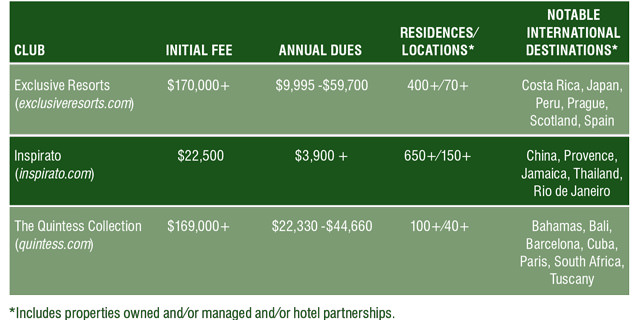 The variety of properties metropolitan penthouses to tropical retreats to ski in/ski-out chalets. Clubs often strategically partner with other hotels and tour companies to expand their offerings and create value-added "adventures" and "experiences" such as visiting Antarctica or Machu Picchu. These involve different membership upgrades—all of which makes apples-to-apples comparisons between clubs difficult. However, the snapshot below offers information culled from their media kits and the 2016 edition of Sherpa Report's Destination Clubs: A Guide For Prospective Members. Contact the clubs directly for more information.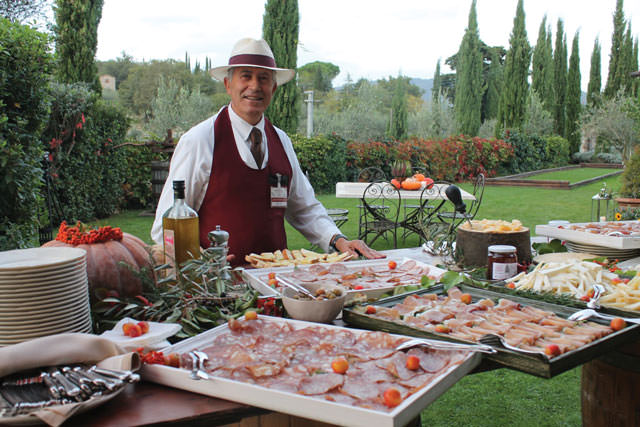 The Cuvée Way
"We're not Exclusive Resorts or a membership club of any kind," says Susan Farrugia, the chief of staff of Cuvée, a Denver-based ultra-luxurious travel and lifestyle brand she co-founded with CEO Larry Mueller in 2002. Cuvée owns or exclusively manages all 28 of its exceptional properties, which include the spectacular Vue De Rêves in St. Barts ($6,428-$23,572 per night), Cuvée Hualalai Estate on Hawaii's Big Island ($5,500 – $12,500), four homes in Cabo ($3,500-$6,500) and 15 more in Vail, Aspen and Beaver Creek ($1,600-$17,250).
"The key benefit of traveling with Cuvée is knowing the quality of property is going to be the best available," says Farrugia. "You're entrusting us to deliver the best location in the best destination with the best services. We control every detail— from selecting the most desirable places to curating the décor to buying the art on the walls to stocking the refrigerator with your favorite foods before you arrive. We go in and remodel properties to bring them up to Cuvée quality."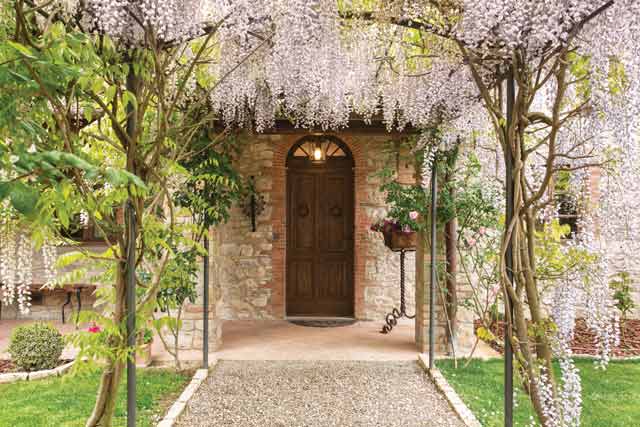 Cuvée guarantees this "high touch" service with its personal destination managers—concierges who are intimately connected to the property and the place. "They're experts at the destination," Farrugia explains. "They do all the pre-arrival planning, arranging for the ski lessons, private chefs, kid activities, dinner reservations. They've interviewed the renters beforehand and tailor everything to their preferences because they know everyone and everything about the area."
Creating local partnerships ensures elite, one-of-a-kind experiences. Cuvée's two properties in Tuscany, for example, greet guests with bottles of freshly pressed olive oil from the property next door. An organic garden, tended by Property Manager Paolo Ceccherini, produces tomatoes, arugula and other vegetables that renters can pick themselves or have harvested. Fresh eggs arrive every morning, courtesy of six hens. Francesco Barone, the destination manager, arranges private tours of wineries, castles and other places of significance.
Farrugia also gets involved. "I noticed where a renter in Tuscany was going to arrive July 2nd, and I advised her to come a day earlier so she wouldn't miss the palio in Siena," she says. "She did, and she was thrilled. That's the type of relationships we have."
She's right. And when you consider the company's extraordinary customer satisfaction statistics (99.9%), it's safe to say Cuvée's clients do, after all, comprise a very exclusive club. cuvee.com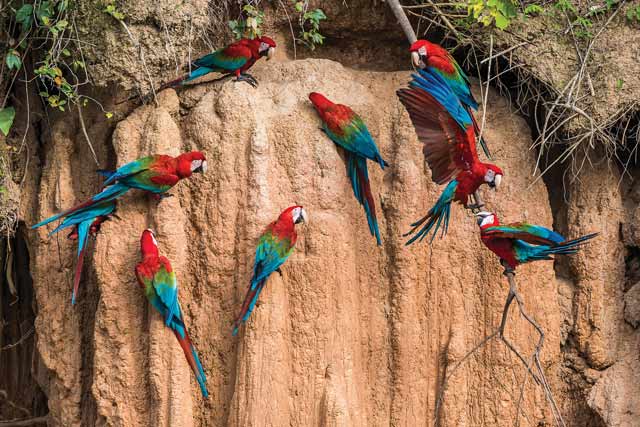 ---
Browse the stories and features below to get a glimpse into the good life from our August 2016 issue:
Craig Stadler: Living Large in Evergreen
The High-Country High Life: 5 Colorado Resort Destinations
Carving a Niche: 10 of the Best in Denver Steakhouses
Local Customs at Carbon Putters
Spirited Away: A side-by-side chart of bourbon, gin, rum, scotch, tequila, vodka and whiskey
Driving for Dough: Luxury Autos
Private Jets are Time Machines
Gear Plus: Simulators, Luxury Carts, Watches, Technology and more
This article appears in the August 2016 issue of Colorado AvidGolfer. Subscribe today!
Colorado AvidGolfer is the state's leading resource for golf and the lifestyle that surrounds it, publishing eight issues annually and proudly delivering daily content via coloradoavidgolfer.com. Follow us on Twitter, Facebook and Instagram.