This article appears in the August 2016 issue of Colorado AvidGolfer. Subscribe today!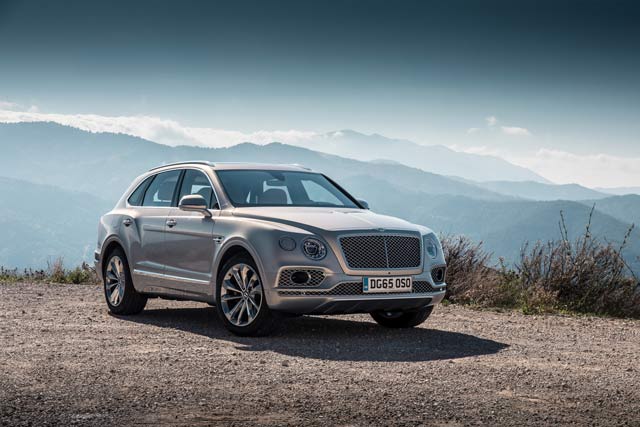 Bentley Bentayga
Just when you thought the crossover had reached its apogee, along comes a game-changing off-roader that vividly illustrates the extraordinary levels one-upmanship can go. Completely sold out at a cool quarter mil each and blessed with a superbly engineered chassis and unique 600hp W-12, the Bentayga lives up to Crewe's tradition of hand-finished wood, wool and leather opulence—all wrapped in a practical, do-anything, go-anywhere body. Of course, you probably have a better chance of seeing a Sasquatch than a Bentayga on your next adventure into Colorado's unpaved backcountry. From $229,100; bentleymotors.com
---

BMW M2
BMW builds a wild and wooly 1M successor that's also refined, fast and predictable, even as its flared rear arches, filled to bursting with fat rear Michelin boots, succumb to the turbocharms of its 365hp motor. Its mid-50s price makes it seem a bargain—too bad they command $10-20k premiums on the open market. As may be, this is one of M Division's greats, proving BMW can still build a truly great driver's car. From $51,700; bmwusa.com
---

Cadillac XT5
Cadillac's roster of top talent and category-eclipsing dynamics finally realizes its potential in the XT5, which hits the target dead on: perfect size, styling that works great in the metal, and a lovely interior with some wonderfully fresh detailing. Now that the CUE infotainment system works, Caddy has a winner on its hands—and a very credible alternative to the best-selling Lexus RX series. From $38,995; cadillac.com
---

Jaguar F-Pace
Lesson One in How to Double Your Sales: Build a crossover. Jaguar show's how to do it with the new F-Pace; based on the same components as the XE and XF sedans, it has 2-liter diesel or 3-liter supercharged V6 power, dynamics to almost match the Porsche Macan, and more space than that class leader. Competitive pricing, charming looks and best-in-the-business warranty certainly don't hurt. From $40,990; jaguarusa.com
---

Lexus LC500
The outré styling themes with which Lexus has been toying these past few years cohere in the LC500, and it's déjà vu all over again: they're about to reset the bar on how a luxurious GT should look, just as the first SC models did back in the early nineties. 467hp gasoline and even a hybrid version are coming; the carbon fiber, magnesium and aluminum body cloaks an interior of surpassing loveliness. Here next year. From $100,000 (estimate); lexus.com
---

Mercedes AMG S63 Cabriolet
The German firm's first large four-seat convertible since 1971 presents the only credible alternative to a Bentley Continental soft top. Mercedes' swooping shapes find their best expression yet on this AWD, 557hp Ode to Capitalism. A gorgeously redolent reminder of the Gilded Age and a decent driver's car, it stands as an elegant antidote to a market seemingly obsessed with blocky SUVs as statements of success. From $176,400; mbusa.com
---

Porsche Carrera 4 & 4S 991.2
Every Porsche 911, bar the GT3 track special, is now turbocharged, whether or not it says so on its sensual derrière. While the electric throttle response of yore is gone forever, we now have the kind of midrange muscle to make sense of a Carrera's superlative dynamics at our altitude, and still revel in the rush to the redline that was hard to achieve before in the normal cut-and-thrust of urban traffic. From $110,300; porsche.com
---

Volvo V90
For those who want an antidote to crossovers and SUVs yet still need a huge load area and all-weather capabilities, Volvo's captivatingly sleek new V90 wagon comes in three flavors: 250hp turbocharged T5, 300hp turbo/supercharged T6, or as a 400hp plug-in hybrid T8. The latter two have standard AWD, along with maybe the nicest interior of any vehicle under $100,000 and cost less than the XC90 with which they share a platform and powertrains.Available 2017; volvocars.com
---

Tesla Model S and Model X P90D
Earlier this year, more than 400,000 leading-edgers put down deposits on the Electric Car Company's make-or-break, entry-level $35,000 Model 3. That vehicle is pretty basic in spec and short of range; the one those people really want will run closer to $60,000—and whether they'll pony up when it debuts in 2018 is anyone's guess, including Tesla's. The publicly traded company recently missed two consecutive quarterly projections and one of its autopiloted vehicles crashed in May. Despite these major speed bumps, permutations (including the top-level P90D) of the powerful Model S sedan and gull-winged Model X crossover (above) continue to show that the most courageous car company in decades intends to make good on its charge to change the world. From $110,000; tesla.com.
---

Lapping Up Germany
With 100 corners and 1,000 feet of elevation change spread over 13.8 miles of rollicking tarmac, the legendary Nürburgring ribbons through Germany's Eifel mountains and ranks as the most challenging racetrack in the world. Virtually every car company in the world tests there, both to hone its vehicles and for lap time bragging rights. While you can drive the Nordschleife (north loop) on any open lapping day, you'll probably spend half your time sitting in the pits waiting for the latest accident to be cleared up. Much better to go there on a private tour, in a properly prepped track car, with professional guidance enabling you to get your fix in a safe manner.
Local racer—and Pikes Peak International Hill Climb winner—Chris Lennon runs such a tour through his company, Winding Road Adventures. In addition to the time spent on track at the 'Ring, the eight-day experience includes a behind-the-scenes look at the Nürburgring Grand Prix track and private tours of museums and factories that aren't open to the public, including those of Porsche, Audi and Mercedes-Benz. You'll also visit another legendary German track, the Hockenheimring (135 miles south, near the Golf Club St. Leon-Rot, where the United States won the 2015 Solheim Cup).
In between there's superb food and beer and overnights in area high-end lodgings for the limited number of guests, all connected by 100 mph-plus blasts between towns on the Autobahn. This year's adventure runs September 5-12. windingroadadventures.com
---
Isaac Bouchard is owner of Bespoke Autos, an auto brokerage that helps people save time, money and hassle when buying or leasing vehicles. Since 1991 he has helped his clients save over $1 million dollars. He has written extensively about getting the best deal possible when buying or leasing a vehicle, arranging financing or trading in a car. Isaac has been a professional automotive journalist as well for over 12 years, having reviewed most all types of car, truck and SUV.
Visit our Nice Drives section for more car reviews and comparisons.
Browse the stories and features below to get a glimpse into the good life from our August 2016 issue:
Craig Stadler: Living Large in Evergreen
The High-Country High Life: 5 Colorado Resort Destinations
Carving a Niche: 10 of the Best in Denver Steakhouses
Local Customs at Carbon Putters
Spirited Away: A side-by-side chart of bourbon, gin, rum, scotch, tequila, vodka and whiskey
Driving for Dough: Luxury Autos
Private Jets are Time Machines
Gear Plus: Simulators, Luxury Carts, Watches, Technology and more
Colorado AvidGolfer is the state's leading resource for golf and the lifestyle that surrounds it. It publishes eight issues annually and proudly delivers daily content via www.coloradoavidgolfer.com.