Tiger Woods once frustratingly said that "his glutes weren't activating" and "firing." As that quote circulated throughout the golf world he became the, shall we say, "butt" of a joke that many weekend hackers used with buddies to explain a poor shot or round.
The truth is that limited mobility or soreness in your glutes can impact your swing and your game. Chronic injuries in your chest and shoulders can also wreak havoc both on your scorecard and your ibuprofen supply.
Kambeitz Chiropractic continues their series on helping get golfers back on the course and out of pain with this series of three videos illustrating stretches for the lats, pecs, and yes…the glutes. Take a look and try these stretches before your next round and your glutes will be firing on all cylinders. Your game? Well, it might just start to come around as well.
Thomas DuBois of Kambeitz Chiropractic demonstrates the stretches and specializes in Active Isolated Stretching/Strengthening (AISS). AISS is a complete form of bodywork that optimizes the performance and function of our muscles by quickly enhancing flexibility, nerve conduction, and control in our musculature. The result is better mobility, blood flow, enhanced waste removal and quicker firing speed to each individual muscle group that is treated.
How to effectively stretch your Latissimus dorsi, a common upper body muscle where many golfers experience soreness.
How to stretch the glutes for the golf swing
How to effectively stretch your pectoral muscles with an emphasis on the golf swing.
Dr. Kambeitz has been practicing Chiropractic for 18 years. Located in Centennial Colorado, Kambeitz Chiropractic Health & Wellness Center, P.C. has a full variety of services to help you achieve your wellness goals.
Learn more at kambeitzchiropractic.com including how to get a complimentary consultation to discuss your health and wellness goals and 20% off golf performance analysis exclusively for Colorado AvidGolfer Golf Passport members!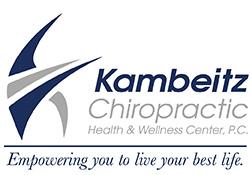 Visit our Instruction area for more golf tips, instruction, and lessons.
RELATED ARTICLES:
Neck and Shoulder Pain Treatments for Golfers
The Cause and Diagnosis of Lower Back Pain
The 15th Club: Annual Guide to Health and Fitness
Colorado AvidGolfer is the state's leading resource for golf and the lifestyle that surrounds it, publishing eight issues annually and proudly delivering daily content via coloradoavidgolfer.com. Follow us on Twitter, Facebook and Instagram.