Swing Like a Kid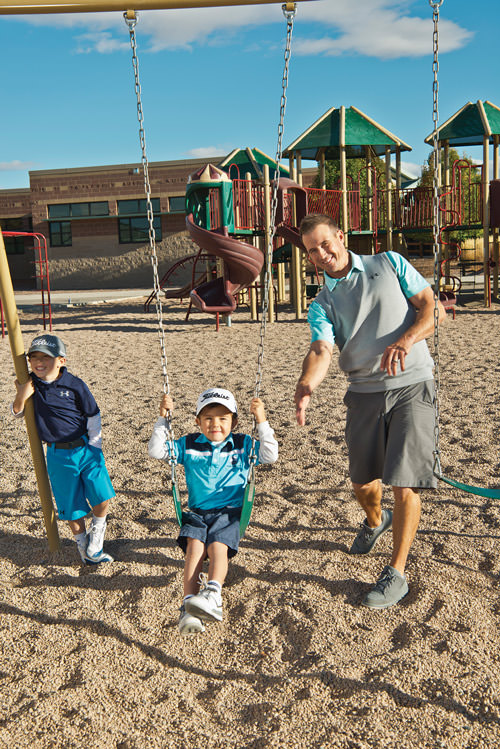 Parents of small children often complain of not having enough time to practice golf. I agreed—until I tried to push my 6-, 4- and 2-year old boys from behind and I realized I could not create any leverage.After watching them swing, I realized how similar it was to the "motion" of a golf swing. Watching my boys go backward and creating width to get speed, I never noticed them once go "up" and "down." It was always smoothly backward before allowing the momentum to create them to allow the "motion" to carry them forward.
Which means you can practice the motion while pushing the kids on a swing.For a right-handed player, stand on the left side of your child and wait until they get to the apex of their backwards motion, catching them for a moment, you will feel your right arm have maximum external rotation of the humerus area, which should open your chest while your lower body prepares to push your child forward.As you push your child forward with your right arm your body naturally responds and gets out of the way staying off your toes. While he/she swings forward you wait for them on the return and do it again.
Jason Witczak, PGA Director of Instruction, Green Valley Ranch Golf Academy, Denver
Pick up the April edition of Colorado AvidGolfer or check back here for the second part of "17 for '17." Our final five instructors will provide tips on bunker play, chipping and other scoring shots on and around the green. The story will be part of our 15th Anniversary celebration. Issues hit the racks April 1.
RELATED:
[related_posts limit="7″]
Colorado AvidGolfer is the state's leading resource for golf and the lifestyle that surrounds it, publishing eight issues annually and proudly delivering daily content via coloradoavidgolfer.com. Follow us on Twitter, Facebook and Instagram.