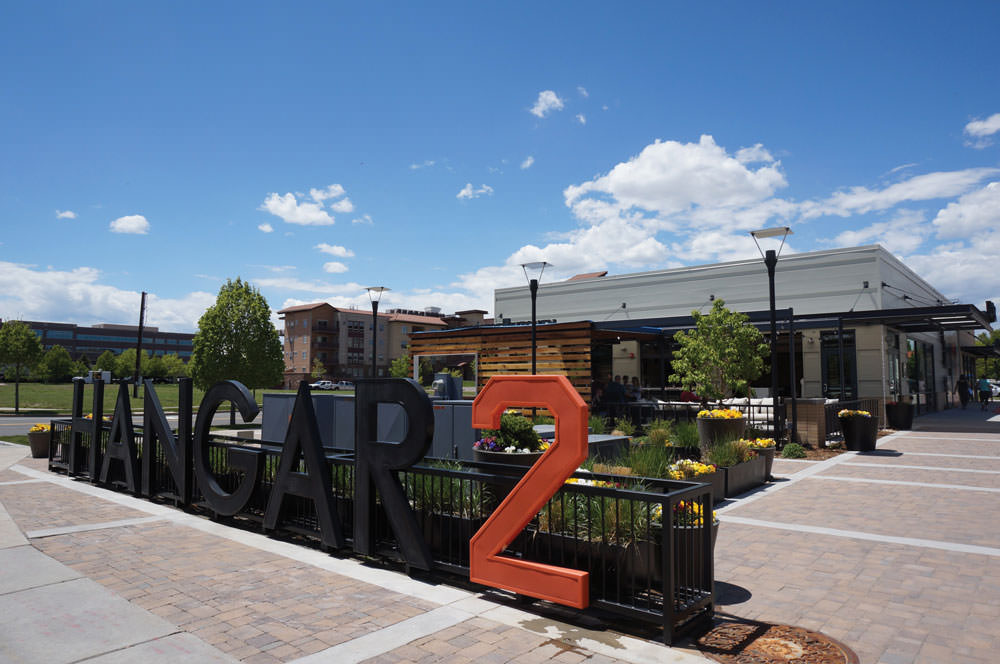 Upon being seated at Café Mercato, I looked out the window and experienced a sudden craving for crayfish, also known as "rock lobster." It made sense. A restored B-52 stood on display at the front door of the Wings Over the Rockies Air and Space museum—and, well, the B-52s first hit single was 1978's catchy "Rock Lobster."
Forgive my music/food free association. This was my first visit to the Lowry Dining District, located just two miles west of CommonGround Golf Course in a mixed-use development that once held planes inside Hangar 2 when the area served as a military base. The concept: local, chef-driven restaurants built from the ground up, affording Lowry residents four eating choices all within a stone's throw from each other. Café Mercato joins such establishments as North County, Masterpiece Kitchen and Lucky Cat.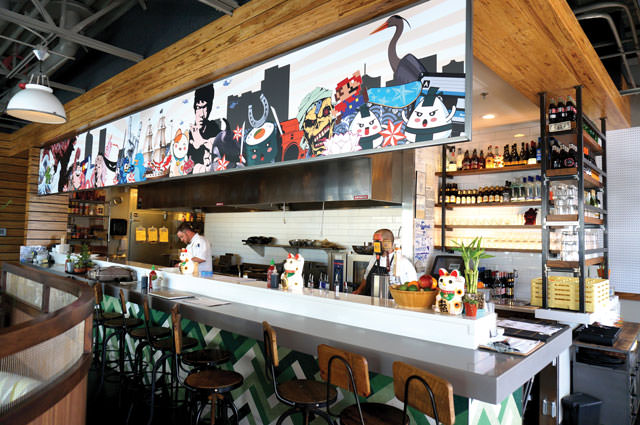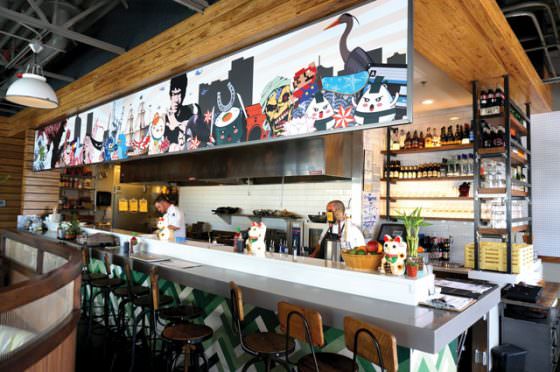 You want heritage? Café Mercato is owned and operated by a true paisan, Giancarlo Macchiarella of Locanda del Borgo, the fabulously Sicilian room in Crestmoor. It features the same hallmarks—cozy atmosphere and modern design, attentive but not intrusive service—with an open kitchen.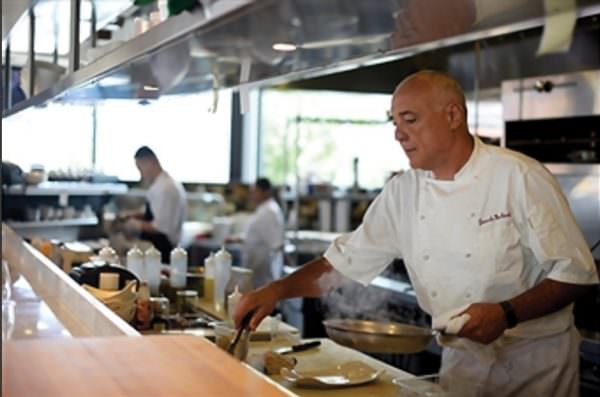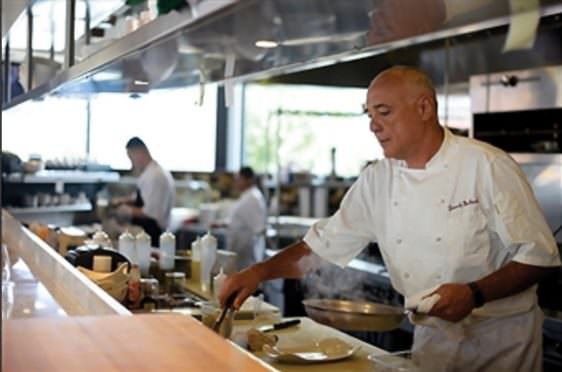 "Locanda del Borgo is traditional; it caters to older clientele," Macchiarella says. "Café Mercato is a brand-new building—airy, full of windows, a modern design—so that dictated a menu with a little different presentation. But it's still my style of cooking!"
The seasonal menu naturally skews to southern Italian dishes. That is, the food embraces a beautiful simplicity—tangy tomato sauces, olive oil and fresh steamed seafood. Fresh ingredients are paramount, and Macchiarella uses local suppliers when possible.
"Actually, southern Italian is a concept that was born in the United States," Macchiarella explains. "In Italy, we never think of our food in terms of southern and northern. In reality, it's more regional, based on the ingredients that we grow, from tomatoes in Sicily and Calabria to the herbs and spices as you go north to Florence and Milano. We use cream in Sicily as well as in Milano, but Milano uses butter more than olive oil for a cooking base. That's regional."
This is true cucina italiana. Café Mercato does a sharp job with pizza (from a giant wood oven imported from Italy) and pastas (made in house—my favorite is the Tagliatelle, thin ribbons in a nest of homemade sausage, porcini mushrooms, garlic, white wine and shaved Pecorino Toscano cheese).
Authentic touches abound. A Burrata appetizer—fresh semi-soft mozzarella filled with even softer, stringy curd and cream—arrives with roasted red peppers and arugula on toasted ciabatta. The addition of avocado and extra lemon in the dressing elevates the basic Caesar salad.
There are quintessential dishes—a Traditional Italian Meat Lasagna (with a rich slow-braised sauce), Chicken Parmigiana (is there a better comfort food?) and authentic risottos. The Clams and Mussels comes perfectly spiced in a tomato and white wine sauce that's ideal for la scarpetta (Italian for "the little shoe" formed by the piece of bread used to sop the plate clean). Dinner patrons rave about the Fish Trio, the chef's choice of three seasonal fish (i.e., halibut, tuna and salmon, or salmon, tuna and butterflied shrimp) seasoned and cooked on the grill, and served with roasted vegetables.
Throw in housemade gelatos and desserts (I caved for a pistachio cheesecake in a chocolate crust), an inviting wine library and a Sunday brunch, and Café Mercato is an unprecedented treat for Lowry neighborhood residents, golfers from CommonGround and B-52 fans visiting Wings Over the Rockies.
7561 East Academy Blvd.
cafemercato.com; 303-366-1315
---
Lucky Cat

With Lucky Cat, his "unconventional" take on Asian fare, give ubiquitous chef Troy Guard credit for enduring the potential easy laughs (hey, a Lucky Cat is one that's not the main ingredient!). He's masterminded fare that is more Pan-Asian than Chinese in style, a variety of noodles, sushi and "new style" sashimi—where sauce and hot oil is poured over the thinly-sliced raw fish just prior to serving). For a rare treat, with a few days notice, you can order a whole Peking-style roasted duck. Prices in general are a tad high so Happy Hour is a draw. luckycatdenver.com
---
Masterpiece Kitchen

Masterpiece Kitchen takes the best elements of chef Justin Brunson's Masterpiece Deli and Old Major, factoring in a neighborhood vibe with reasonable price point to create outrageous gourmet sandwiches such as a Truffle Egg Salad for $10. Your entry level entrée is the House-made Pastrami, a pile of cured, smoked meat oozing with melted Swiss cheese, coleslaw and just enough creamy Russian dressing on toasted rye—East Coast artery-clogging goodness! Bonus points for the polished dining space and the cleaver door handles in the bathrooms! masterpiecekitchen.com
---
North County

North County celebrates SoCal bounty, with a menu of fish tacos (natch), ceviches, tortas and salads—all complemented by an extensive collection of libations, from craft beers to spiked sodas to handcrafted cocktails. The house margarita is superior, made with Exotico Reposado tequila, triple sec and lime agave sweet and sour, served in a mini cocktail shaker. A few of those at the bar with some charcoal-grilled oysters will put you in a shorts-and-flip-flops state of mind.
northcountydenver.com
---
Read more of Contributor Gary James' Fareways columns:
Carving a Niche: The Best in Denver Steakhouses
South of the Border on South Broadway
Mountain Gumbo: The Lost Cajun
Colorado AvidGolfer is the state's leading resource for golf and the lifestyle that surrounds it, publishing eight issues annually and proudly delivering daily content via coloradoavidgolfer.com. Follow us on Twitter, Facebook and Instagram.