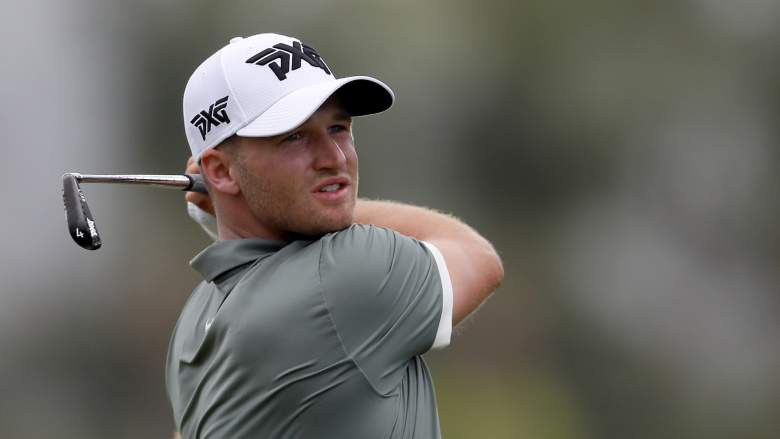 When the PGA TOUR returns, it'll be 90 days since Wyndham Clark and Mark Hubbard last competed—and the game will look and sound much different.
By Jon Rizzi
During the PGA TOUR's preemptive three-month shutdown, made-for-TV charity events featuring the likes of Tiger, Phil, Rory and Rickie will provide a much-needed golf fix.
But for the vast majority of PGA TOUR players, 90 days without competition equals 10 missed paydays. Their only made-for-TV golf event is whatever happens to be airing on Golf Channel.
Count among those golfers Colorado's Mark Hubbard and Wyndham Clark, neither of whom has won on the TOUR, but who have both played well enough this season to rank, respectively, 33rd and 81st in the FedExCup standings.
We talked to both Denver natives about how they spent the layoff, what they've done to stay sharp and what to expect when the season resumes at the Charles Schwab Challenge (better known as "The Colonial") without fans.
Hangin' with Hubbs  
The 30-year-old Hubbard, who lives in The Woodlands north of Houston, is making the most of his second PGA TOUR stint. This season, on the strength of a runner-up finish in October's Houston Open, the Korn Ferry Tour product has already won $1,388,415, which is $173,425 more than he totaled between 2014 and 2017.
With gyms closed due to the pandemic, Hubbard has kept in shape with free weights, yoga and other flexibility work in the apartment he shares with his wife, Meghan. To work on his game, he heads to The Woodlands Country Club, "where the number of stalls has been cut in half for social distancing, and you can only use them 15 minutes. But I'm not a range rat anyway. I work on my short game there, and the rest I do on the course."
He was particularly annoyed when the TOUR canceled March's Zurich Classic of New Orleans, a  two-man event in which his partner  Sebastian Cappelen "selected walk-up music for the first tee, and I'd gotten us tear-away warmups," the former Colorado Academy basketball star says.
"It's going to be the weirdest for the big names, because they're so used to those galleries," Hubbard says of the unpopulated courses on which the PGA TOUR events will initially take place. "The majority of guys at my level—journeymen, if you will—we're pretty used to it because we played the Korn Ferry Tour. Even though the tour did a great job with the events, they were often in smaller towns."
That said, Hubbard believes the lack of a gallery gives shorter hitters like him an advantage over players such as Brooks Koepka, who have raised concerns about the lack of fan "help" (intentional or injurious) with errant shots. "When I miss fairways, I don't create that much speed, so my shots tend to go no more than five feet into the rough," Hubbard explains, adding that he supports having spotters and shorter rough—"say 2½ inches instead of 3½, not because of lost balls, but because of pace of play."
Perhaps most exciting to him is the prospect of playing the PGA Championship at TPC Harding Park in San Francisco. "I'm pretty close to qualifying," he says. "It would be my first major, and it's not far from San Jose State, where I went to school and met my wife."
For the Wyn

In contrast to Hubbard, whom the 26-year-old Clark outdrives by an average of 13.2 yards, Clark foresees "a lot more big numbers" without galleries. "For guys like me who are taking different lines, on certain holes you rely on fans to show you where that ball is. I really hope we have spotters. I think guys will hit a lot more provisionals."
No matter, he says, he's "willing to do whatever it takes to get out there," adding, "It's going to be like going back to college golf, with just a few people on every hole."
Clark graduated from the University of Oregon in 2017 and has since moved to Scottsdale. He had earned $726,253 before the season went on hiatus, bringing his career earnings to $2,288,177. As a rookie, he finished 64th in the final FedExCup ranking.
"What's been great is that in Arizona, the courses have never closed," Clark says. "I get to practice on the ranges. You just need to be really mindful of distance from other people."
Even so, he says, he didn't play much golf during the first month of the time off, instead joining his brother and roommate in some home remodeling work, fishing, hiking and riding dune buggies in the desert.
"It wasn't until about mid-April, when they announced we were coming back, that I started working out every day between 7 and 9 a.m. with my trainer in Las Vegas via FaceTime," Clark shares.
He also works with his instructor, Boyd Summerhays, mostly on short game. "Your full swing doesn't change too much when you take time off," he says. "It's your 'feel' shots, your chipping distances and your putting."
Playing at Colonial excites him, but what really amps him is "Jack's event," The Memorial at Muirfield Village, in which he has yet to compete as a professional (last year he was an alternate). "But it will be interesting since there will be no fans."
And if he gets his first PGA TOUR win there—or at another gallery-free venue? "It'd be weird," he admits. "If I could choose to do it in front of a huge gallery, I would, but it would be awesome, no matter what."
---
For more of the latest Colorado golf news, visit our NEWS & PROFILES PAGE.
Colorado AvidGolfer Magazine is the state's leading resource for golf and the lifestyle that surrounds it. CAG publishes eight issues annually and delivers daily content via coloradoavidgolfer.com.