One of the Korn Ferry Tour's top players, Denver's
MARK HUBBARD
will arrive at the

TPC Colorado Championship at Heron Lakes

as a lock to regain his PGA TOUR card.
By Jon Rizzi | Photographs by Justin Tafoya/Clarkson Creative
MARK HUBBARD HAS a secret. "To be honest, I think golf is my third favorite sport after basketball and skiing," the 30-year-old Denver native shares in an equably droll manner. "But I didn't grow to be 6-foot-6, and I kind of missed my peak as a ski racer."
Standing a svelte six feet, Hubbard looks like he could still drain three-pointers the way he did when he starred on the Colorado Academy basketball team. But he now makes a living draining putts, and that's certainly not by default.
The former Colorado Junior Player of the Year has drained enough of them to earn nearly $2 million in the sport that this month will bring him to the Korn Ferry Tour's inaugural TPC Colorado Championship at Heron Lakes in Berthoud.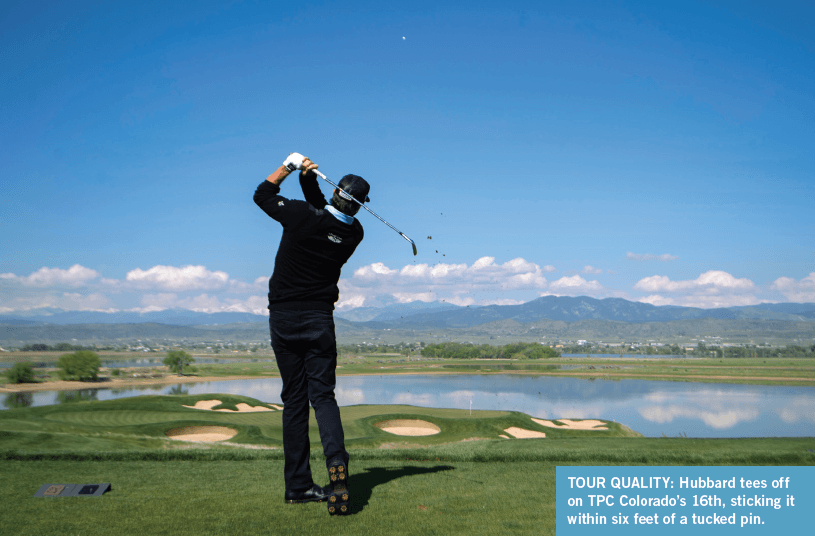 It's his second spin on the Korn Ferry Tour. The first, in 2014, resulted in him qualifying for the PGA TOUR by virtue of finishing 18th in the Web rankings, seven ahead of the 25th and final qualifying spot. From 2015 to 2017, he made the cut in 61 percent of his PGA TOUR starts, once finishing as high as 15th, but by 2018 he found himself back on the developmental circuit.
As of June 17 of this year, however, he ranks fifth among The 25, his return ticket to the PGA TOUR all but punched. This means Hubbard's first Tour event in Colorado since he turned professional in 2012 could also be his last for a while.
He says it'll be great to be back in the Centennial State, but he feels "no pressure" about performing in front of hometown fans. "I have to be diligent about thinking it's just another event for me and just go about my normal routines," he says. "I just have to be conscious of doing what I do well."
OPENING HOLES
Hubbard says golf has been "a part of my life for as long as I can remember," but it goes back even further. His parents, Melissa and Bruce, let him nap in a baby carrier as they took lessons at The Club at Rolling Hills in Golden.
He'd soon ride along in the golf car, and, once old enough, take lessons, too. "Golf was always something we did for fun and when we traveled," Melissa, a Denver attorney, says. "We emphasized education, education, education, and involved Mark in every sport we possibly could to keep him busy in his spare time."
"They never pushed me into golf growing up," Mark says. "I played it for fun, like I played a lot of sports."
Participating in everything from soccer to football to basketball to swimming allowed Mark's natural athleticism to express itself. It also prevented him from burning out on a single sport—a fate that all too often befalls kids groomed from an early age to specialize.
"For many reasons, I cherish the way I was raised as a multisport athlete," he says. "My parents always made sure it was fun."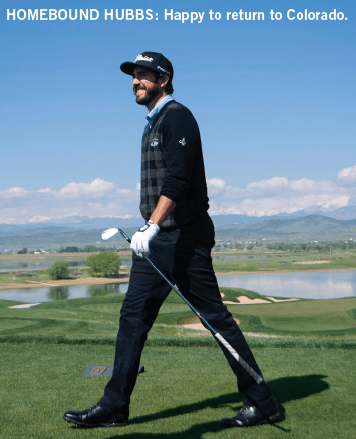 He contends his first two favorite sports—skiing and basketball—have paid off in golf. "The skiing helped my balance and separation between my upper and lower body movements," he says.
And basketball? In addition to the hand-eye coordination required to put the ball in the hole ("in both I aim for as small a target as possible"), Hubbard says hoops helped him establish a pre-shot routine.
"Before I'd shoot a free throw, I'd toss the ball in the air twice and spin it in my hand," he reveals. "Before I take a shot in golf, I take two practice swings and twirl the club in my hand as I set up to the ball. That twirl is a tension reliever and the trigger that locks me in."
"HOMELESS HUBBS"
Hubbard says his parents also helped him by divorcing when he was five, calling the event "probably the best thing that ever happened to me because they were better parents and people apart." He split time equally between Bruce's home in Cherry Creek and Melissa's in Genesee—and, after she remarried, Southwest Denver.
"I am very proud of the way they raised me and how they handled the situation," he says. "I got to grow up in two loving homes and got a whole new family from my stepdad's side. I think going back and forth between homes groomed me a bit for the pro golf lifestyle because I was used to being adaptable and living on the road in a way."
Case in point: In 2013, playing on his first professional tour, the developmental Mackenzie Tour Canada, he found himself sleeping in billet homes, on people's floors, on couches and even in his 2001 Volvo as he traveled from British Columbia to Nova Scotia. "And he was fine with it," remembers Melissa. Hence his nickname and Twitter handle: "Homeless Hubbs."
Mark's easygoing adaptability also manifested itself in middle school. After sustaining three concussions while playing quarterback and having competed in Colorado Junior Golf Association events from age 11, he switched his fall-season sport from football to golf.
His coach at CA, Beth Folsom, remembers a player with more than just a great swing. "He had those intangible qualities you don't teach people—athleticism, attitude, willingness to work and an intense competitiveness tempered by the ability to let go of things pretty easily," she recalls. "That demeanor served him well. Still does."
"He's a hard worker, one of the best competitors I've ever coached," adds John Kennaday, Mark's head coach at San Jose State University. "But he's also a properly grounded young man with a perspective on life and golf and family and friends that's extraordinarily healthy. He's also the first to laugh at himself and doesn't take himself too seriously."
REMAKING HIS MARK
Now living full time in The Woodlands near Houston, where he works with his longtime coach, Master PGA Professional Kevin Kirk, Hubbard has clearly been locked in during the 2019 Korn Ferry Tour season. After finishing 2018 ranked 72, he won February's LECOM Suncoast Classic in Florida and has notched three Top 10s.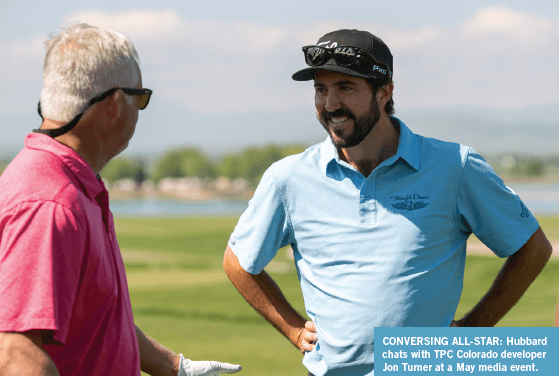 "The three years I was there, I was good enough to be there, but mentally not ready to get into contention to win," he philosophizes of his first PGA TOUR go-round. "You don't dream about being 45th, you dream about being in the mix. I wasn't ready for that. I had to learn to win again. The only way to do that is to do it—and do it often."
Hubbard won some big tournaments as an amateur, including the prestigious 2006 Optimist International Junior at PGA National in Florida, the 2007 Colorado Junior Golf Association Match and Stroke Play Championships (one of only three ever to accomplish it in the same year), the 2010 Mark Simpson Colorado Invitational and the 2011 Western Athletic Conference Championship.
Prior to this year's Korn Ferry victory in Florida, his last professional win had come at the 2013 Wildfire Invitational on the Mackenzie Tour.
"The 200 guys on the PGA TOUR aren't the 200 most talented guys, but the guys who know their game the best," he says. "I've become much more efficient. I've always been a very instinctive, 'feel' player, so it's a weird mentality to know I don't have to play my best, but play correctly—do x, y and z—and be disciplined. But that's what being a professional is. You take things unemotionally, objectively.
"I've done a good job of learning something new every round, every tournament, every year. I play my best when I'm focused on the process."
Hubbard's 287.5-yard driving average ranks 123rd on the Tour, but he's more than comfortable hitting the Big Dog off the deck—a feat he niftily pulled off on TPC Colorado's monstrous 773-yard 13th during a May media event. "It's my secret weapon," he confides. He hits nearly 70 percent of his fairways and is "money" from 140 to 200 yards in. He ranks in the top 25 in putting and birdie average.
"Mark is one of best putters I've ever had," says Kennaday. "Putting is kind of a reflection of how grounded you are."
Kennaday recruited Hubbard on the recommendation of former University of Denver men's golf coach Eric Hoos and San Jose State alum Mark Wiebe, the PGA TOUR player who'd watched his son Gunner compete tenaciously with Mark in golf and basketball throughout high school.
"Mark's always been a good driver and a good putter," Wiebe, the 2013 Senior British Open Champion, says. "If you're solid with those two clubs and your wedge, you have a shot at making it as a pro. But you also need to be the guy who wants to take the shot when time's running out. He has that self-belief and self-confidence."
Hubbard revealed that self-confidence to a national audience on the first day of the 2015 AT&T Pebble Beach National Pro-Am. After finishing his round in the final group, the 24-year-old PGA TOUR rookie walked toward his girlfriend Meghan McCurley as the leaderboard on the gigantic electronic scoreboard dissolved into the words "Meghan, will you marry me?"
Although Hubbard ultimately didn't make the cut in the event, he certainly made a lasting impression. He could very well also make one in Berthoud this month and on the big tour come September. With Mark's continued strong play and attitude, his wife's hand won't be the only thing he'll have won on the PGA TOUR.
Jock Of All Trades

Editor's note: This story refers to the PGA TOUR's developmental circuit as the Korn Ferry Tour. However, the July issue of Colorado AvidGolfer magazine refers it as the Web.com Tour. Between the time this story went to press and appeared in print, the PGA TOUR's developmental tour changed title sponsors from Web.com to Korn Ferry. We apologize for any confusion.
Jon Rizzi is the editor of Colorado AvidGolfer.
---
This profile appeared in the 2019 July Issue of Colorado AvidGolfer.
Colorado AvidGolfer Magazine is the state's leading resource for golf and the lifestyle that surrounds it, publishing eight issues annually and proudly delivering daily content via coloradoavidgolfer.com.