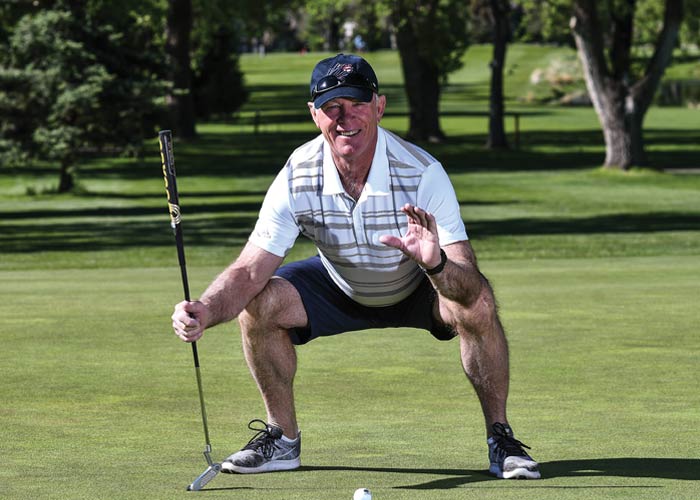 A hard-hitting star in football and baseball, John Stearns remains an impact player on the golf course.
By Scott Gardner
BEFORE THERE WAS Deion "Prime Time" Sanders, there was John "Bad Dude" Stearns—the Denver native who arrived at the University of Colorado in 1969 with a baseball bat in one hand and a football in the other.
Fourteen years later, when the dust settled on Stearns' college football and professional baseball careers, the favorite son would be welcomed into both the Colorado Sports Hall of Fame and the University of Colorado Athletic Hall of Fame.
In 1973, Stearns led the NCAA in home runs and the Big Eight in batting average. However, longtime University of Colorado football fans fondly recall him from the 1971 college football season, when the Big Eight Conference ran roughshod over the college-football landscape.
I sat down with Stearns recently at Beantree Coffee in Aurora and traveled in a time capsule to the 1971 college football season.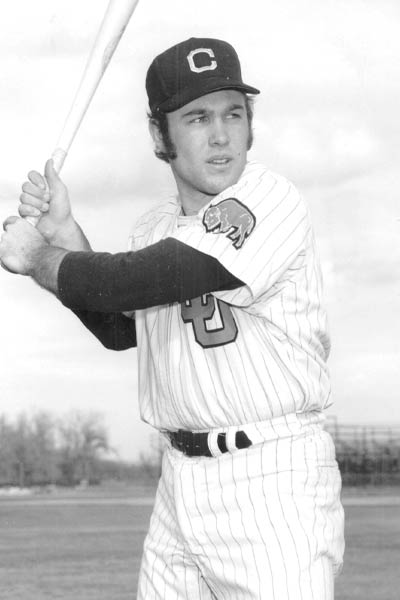 Played in the Houston Astrodome, the Astro-Bluebonnet bowl featured the 7th-ranked University of Colorado Buffaloes against the 15th-ranked University of Houston Cougars.
The Astrodome's scoreboard showed ten minutes left to play in the fourth quarter with CU protecting a 23-17 lead. The Cougars drove the ball down to CU's 10-yard line against a weary Buffaloes' defense. On fourth down, Houston quarterback Gary Mullins threw a pass towards the future Denver Broncos tight end Riley Odoms.
The ball arrived in Odoms' hands a split second before CU's fresh-faced sophomore defensive back John "Bad Dude" Stearns, who'd raced in from the secondary, knocked the ball free, eliciting a collective groan from the Cougar faithful.
"I played guard on the 1967 Thomas Jefferson state championship basketball team and that eye-hand coordination served me well as a defensive back," Stearns explained. For the record, despite playing only three years because of freshman-ineligibility rules, Stearns still holds the CU career interception mark with 16.
Four minutes later in that same game, with the Buffaloes forced to punt from their own end zone, Stearns pulled off one of the gutsiest plays in CU football history. The crowd noise in the Astrodome was deafening as Stearns, the punter, awaited the snap and glanced downfield at the first down stakes a Texas-mile away on the 20- yard line. The center snapped the ball low and Stearns had to rely on his catcher's instinct to snatch the ball off his shoelaces.
When Stearns rose back up to kick the football, he was surprised to see the Houston rushers peeling back to set up a return. Seizing an opportunity, he tucked the pigskin under his arm and took off towards the right hash line. Five seconds later, Stearns dove out of bounds at the CU 22-yard line for a first down that broke the Cougars' back. The Buffaloes rolled out with a 29-17 victory and a 10-2 record. Colorado finished the season third in the national rankings, behind Big 8 rivals Nebraska and Oklahoma.
What's In a Name?
Stearns was a "Bad Dude" before he had even played a down at CU.
"For me to earn a starting defensive back position at CU I needed to hit harder and be tougher than the other guys," Stearns remembered. "So when a Sports Illustrated writer asked me how I'd like to be described on the field, I replied, I'd like to be known as a 'Bad Dude.'"
The nickname stuck like flypaper.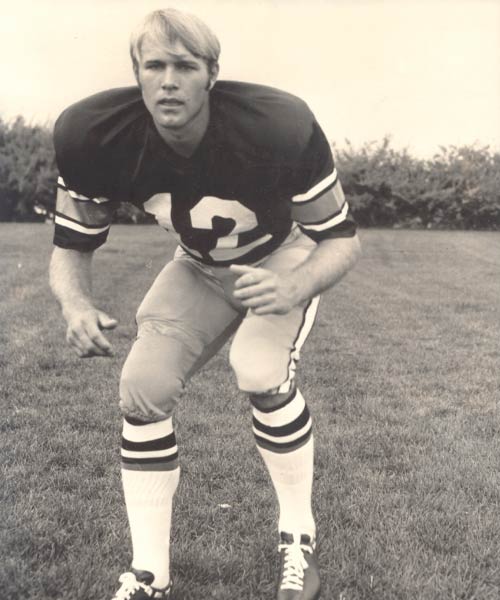 Today, Stearns, the father of a grown son who lives and runs a successful mortgage business in California, admits he's been trying for thirty years to shed the "bad dude" persona he shouldered during his playing days. However, looking across my coffee rim at the Hall-of-Fame athlete with the blue grey eyes and the square athletic jaw, I wondered just how much of the "bad dude" still lurks behind the congenial exterior. So I invited Stearns to complete my foursome that weekend at Aurora Hills Golf Course.
Stearns learned to play golf as a child while caddying for his mother at Wellshire Golf Course. His payment for toting mom's bag was being allowed to play the par-5 18th hole.
Playing golf with Stearns is a team sport. He's interested in everyone's game, keeps his eyes out to find lost balls, gives sincere compliments after solid shots and laments and rejoices with the good and bad bounces that are part of the game. He plays fast and crushes the ball off the tee—around 300 yards with a swing that is part caddy-yard and part three-hole batter.
"I've been as low as a two and I'm about a six right now," the 68-year-old Stearns shared about his handicap. He plays courses all around the Metro area: Meadow Hills, Lone Tree, Wellshire, Aurora Hills.
He also thinks through his shots and isn't too proud to call one here or there: "I'll hook this sucker around the tree," or "This drive needs to start right and draw to cut the dogleg." Vernacular from decades spent in locker rooms occasionally bleeds onto the course, offending some, but entertaining others. I personally found it refreshing.
On the twelfth tee box I asked Stearns about his famous home plate collision with Dave Parker of the Pittsburgh Pirates in 1978. We cleared off the tee box to give the former New York Mets catcher room to recreate the scene.
"We were playing in Pittsburgh on Astroturf; it was the bottom of the ninth with two out and Parker planted on third base. The Pittsburgh batter hits a shot out to right field. It's not too deep and our right fielder Joel Youngblood, who's got a good arm, catches it and rifles it back in to home plate. At this point I've tossed off my mask and stand three feet in front of the plate. I catch Youngblood's throw and dive on top of home plate. Dave Parker, who is sixfive, 240 pounds and fast, slams into me at top speed, knocking me 15 feet behind home plate in a cloud of dust. I gather my senses and, to my surprise, the ball is still nestled in my mitt like a sleeping baby. I showed it to the umpire and the game was over. I looked over at Parker and he was still on the ground moaning from a fractured jaw."
The former football star was never shy about mixing it up on the baseball field—and not only with opponents. He once tackled the Atlanta Braves' mascot "Chief Noc-a-Homa" during his pregame war dance. A few years later, he overpowered two field-storming fans as they evaded the police.
Solid Player
Between 1975 and 1982, Stearns appeared in four All-Star Games for the Mets. As a rookie, he caught 12 times for Hall of Fame pitcher Tom Seaver, who went 9-1 in those games. "He never shook me off once," Stearns boasts. Seaver would win his third Cy Young Award that year, with a won-loss record of 22-9.
Before we talked more baseball, we finished playing the par-5 12th. On the green, I grabbed my wedge and putter and headed over to my ball, which was semi-buried in tall grass ten yards off the putting surface. I popped the ball up onto the green and watched it roll toward the flagstick, where Stearns happened to be standing, sizing up his putt. Instinctively, he grabbed the flag and was about to pull it out when the ball clanked into the hole.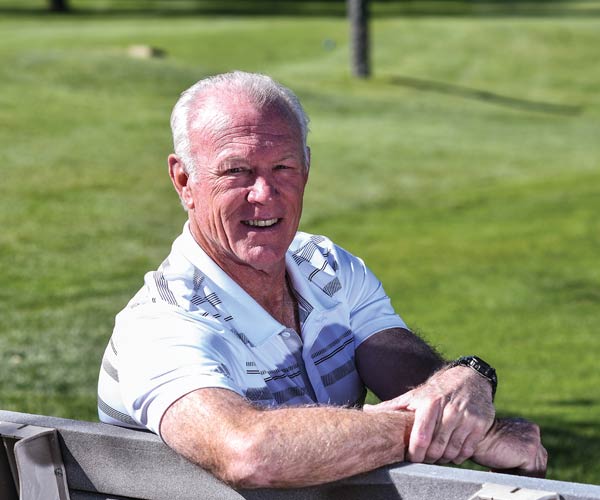 "YES! YES! YES! She said 'YES!'" Stearns yelled, mimicking an old jewelry commercial before pulling my ball from the hole and rolling it back to me.
On the 13th tee box I asked Stearns if he partied with Joe Namath back in the day in the Big Apple. "I didn't know Joe personally; however, I did enjoy going to Broadway Joe's, his restaurant." The logical follow up question was how Bad Dude did with the ladies in the city that never sleeps. We huddled around the cart and waited while Stearns gathered his thoughts.
"I used to get to ballpark an hour early, even when on the road, and there were plenty of pretty faces in the stands before first pitch." The three of us inched closer. "I would go up to the first pretty girl I met and introduce myself and let her know the name of the hotel and room number where I was staying. Later that night after the game, I'd get back to the hotel and almost always there'd be a knock on my door." We leaned in even closer for the salacious details.
"Okay, who's up?" he said with a sly smile as he popped out of the cart.
After the round, Stearns, who might be Denver's biggest sports fan, stayed for an iced tea. He didn't want to talk about the respectable 81 he'd just shot, but about Nolan Arenado ("the best third baseman in the Major Leagues—better than Mike Schmidt was") and about how pitchers no longer throw complete games. "They don't expect to. Can you imagine a manager pulling Seaver during a shutout just because of his pitch count?" he asks incredulously. "It would start a fight."
---
Scott Gardner is a CAG Contributor.
This article appeared in the 2019 July Issue of Colorado AvidGolfer.
Colorado AvidGolfer Magazine is the state's leading resource for golf and the lifestyle that surrounds it, publishing eight issues annually and proudly delivering daily content via coloradoavidgolfer.com.