Golf, like gambling, involves risks and rewards—and

Las Vegas

' got both.
Jack Attack
Skillfully stringing together 18 holes from the more than 5,000 designed by Jack Nicklaus, Bear's Best Las Vegas offers a 7,194-yard peek into the Golden Bear's private portfolio. Holes from Castle Pines, Desert Highlands, Desert Mountain, PGA WEST, Las Campanas, Cabo del Sol and El Dorado converge 10 miles west of The Strip, united by flawless conditioning, stellar views and a country-club-for-a-day atmosphere. bearsbestlasvegas.com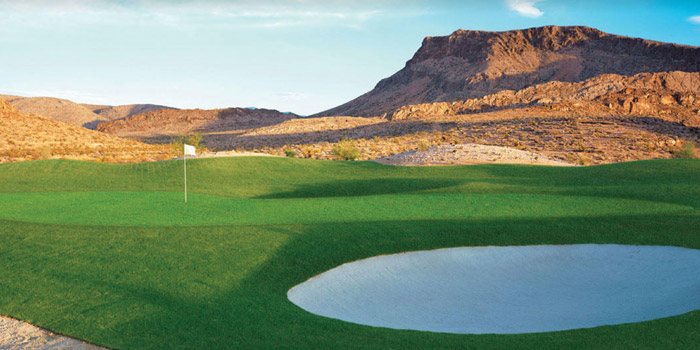 For the Wynn
A good run of luck could prompt a $550 round at Wynn Golf Club, just off The Strip. The high-end Tom Fazio layout—which opened in 2005 and closed in 2017 to make way for a $3 billion development—dodged the dozers to reopen this October as a redesigned (again by Fazio) par 70 that's 300 yards shorter than it was. The waterfall by the 18th green remains huge, though the par-4 finisher now plays as a par-3. wynnlasvegas.com
West of Bear's Best
Highlighting the view from Jack's Grille at Bear's Best Las Vegas and encompassing 200,000 acres within the Mojave Desert, Red Rock Canyon National Conservation Area features the 13-mile Scenic Drive, 26 hiking trails, myriad petroglyphs and mighty vistas from High Point Overlook. redrockcanyonlv.org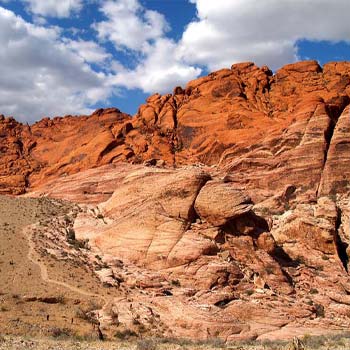 In the Red Zone
Three miles north of Bear's Best lies the four-diamond AAA-rated Red Rock Resort and its 800 rooms and suites, 25,000-square-foot spa, 11 restaurants, huge pool area, movie theaters, bowling and gaming. Its sister casino has a familiar name but a Nevada address: Green Valley Ranch in Henderson. redrock.sclv.com
Good Walks Spoiled and Unspoiled
Hikes in Las Vegas are as out of place as ice cubes in beer. But Summerlin, one of Nevada's most affluent areas, also features the most comprehensive and efficient trail systems in the southwest—nearly 200 miles of dedicated pedestrian and bicycle ways that connect the urban core to the foothills of the Red Rock Canyon National Conservation area. summerlin.com
The popular par-60 executive layout at Eagle Crest Golf Course tucks into the side of a mountain, showcasing exciting city vistas and championship-caliber holes in a time-sensitive layout. golfsummerlin.com
Stroll the active urban hub of Downtown Summerlin (DTS), a diverse, worldly and local mix of shops, restaurants and indoor and outdoor venues, including the NHL's Golden Knights practice facility. summerlin.com
Summerlin Came Blowin' In…
Notable for the TPC Summerlin, which annually hosts the PGA TOUR's Shriners Hospitals for Children Open, Las Vegas's Summerlin neighborhood lies less than 10 miles west of the Strip at the base of the Charleston Mountain range. The community features three well-conditioned Billy Casper/Greg Nash-designed courses managed by Golf Summerlin—Highland Falls, Eagle Crest and Palm Valley—that partner with the nearby Suncoast Hotel & Casino to provide the most affordable stay-and-play packages in the Las Vegas region. Enjoy the same valley views and playing conditions as the TPC for half the price. golfsummerlin.com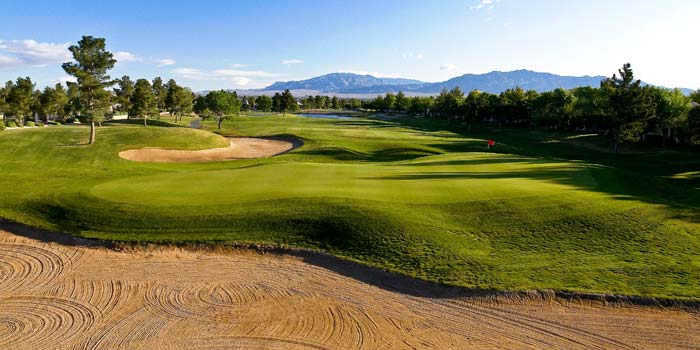 Highland Fling
Spectacular conditions, dramatic elevation changes and views of the Las Vegas Strip make the 6512-yard, par-72 Highland Falls Golf Club a favorite among out-of-towners, and for the last three years, readers of the Las Vegas Review-Journal have awarded it three Gold Medals as "Best Golf Course in Las Vegas." The rolling hills of the front nine become steeper on the back side, addiing the challenge of uneven lies to those of strategically placed bunkers and testy but fair greens. golfsummerlin.com
Palm Pilot
Celebrating its 30th anniversary this year, Summerlin's oldest, longest and most challenging course, Palm Valley, features wide, mature, gently undulating fairways bordered by pines and palms. The undulant bentgrass greens make every two-putt a test. A total of 68 bunkers keep things interesting. golfsummerlin.com
A Three-Way Dye
"One-of-a-kind can now come in threes," the World Golf Hall of Fame architect Pete Dye joked while designing the trio of 18-hole courses— Snow Mountain, Sun Mountain and The Wolf—at Las Vegas Paiute Golf Resort. Opened in 1995, the first multi-course facility built on Native American land lies 26 miles northwest of the Strip. An absence of housing, lodging or gaming distinguishes it from the area's countless resort casinos. With impeccable service and playing conditions, a well-stocked golf shop, 50,000-square-foot clubhouse with a dynamite grill and 5,000-square-foot event space, Paiute truly wants for nothing. lvpaiutegolf.com
Nu-Wav-Kaiv, Tav-Ai- Kaiv and Kwetoo-Unuv
If you think remembering the above Paiute names for the Snow Mountain, Sun Mountain and The Wolf courses is challenging fun, try playing them.
Paiute's shortest course at 7,164 yards, Snow Mountain features a collection of striking par 3s and water on seven holes—including the gauntlet of three left-doglegs to finish.  lvpaiutegolf.com
At Sun Mountain, Pete Dye arranged his signature bunker railroad ties to suggest rays shining from the sand. The 7,112-yard course unfurls against a mountain backdrop with sweeping slope changes.  lvpaiutegolf.com
The longest course in Nevada at 7,604 yards, The Wolf is also Paiute's fiercest (76.3/149). Its brawn, severe undulations, alternate landing areas and Sawgrass-like island green help sharpen its fangs. lvpaiutegolf.com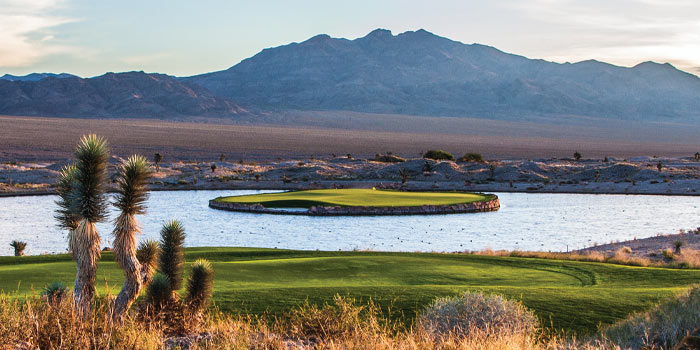 Fuel Up
After 36 holes of golf, the road between Paiute and dinner can look endless. It's not. Five miles south on US 95 towards Las Vegas proper, you can savor the zesty Zapoteca flavors of Ben'Zaa Cantina de Oaxaca (benzaacantina.com), the joys of Greek-style pomegranate chicken at the Market Grill Cafe (marketgrillecafe.com). Even if you don't relish the idea of an all-you-can-eat buffet, you can't beat the nigiri sushi, teriyaki, tempura and other Japanese specialties at the surprisingly authentic Umami (no website; yelp.com).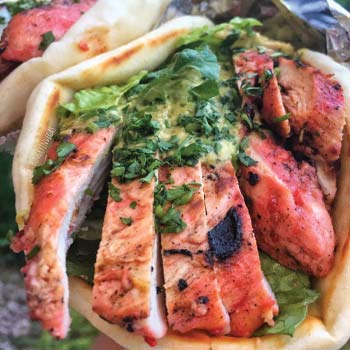 Going Gangster
G-Men and made men share the spotlight at Las Vegas' Mob Museum. Located in the same downtown courthouse that held one of the 1950 U.S. Senate hearings exposing organized crime, the museum uses rare artifacts, exhibits and interactive displays to explore the mob's historical impact on society—and law enforcement's efforts to stop it. themobmuseum.org
The Call of the Coyote
Cradled by mountains in every direction, Coyote Springs Golf Club has drawn universal raves ever since debuting 11 years ago in the high desert 50 miles north of Las Vegas. The Jack Nicklaus Signature course stretches from 5,349 to 7,471 yards, bringing 11 lakes into play as it rolls and climbs through specatularly scenic terrain. Arrive early to dial in your game on the facility's 22-acre practice area with more than 100,000 square-feet of tee area, 13 target greens for numerous club selections, a bunkered short-game chipping and pitching green and 10,000- square-foot practice green. coyotesprings.com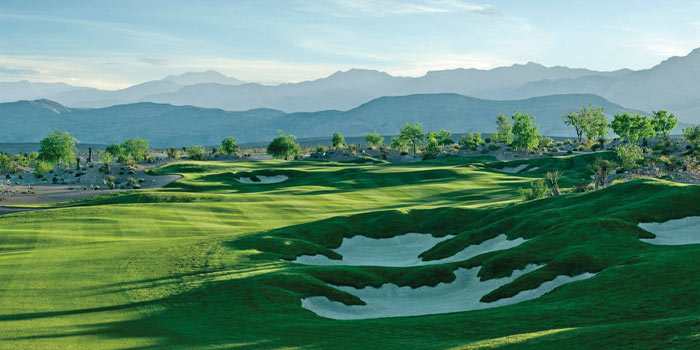 A Hot Dog and Muddy River To Go
Unlike other 19th holes, the satisfying Mitch's Bar & Grill at Coyote Springs isn't named for a pro golfer, benefactor or even a Caddyshack punch line ("night putter" Mitch Cumstein). Mitch is a yellow Heeler who was rescued by the course as a puppy in 2008 and displayed his loyalty and bravery until he passed around the time the eatery opened in 2016. His photo hangs in the grill, where you can still order the Egg Mitch Muffin, Mitch Big Dog Nachos and "The Mitch"—an all-beef hot dog loaded with chili, cheese, onions and mustard. coyotesprings.com
A shortcut from Coyote Springs to the golf meccas of Mesquite and St. George runs through the wee town of Moapa, where T-Bones, chops, and chicken-fried steak dot the menu at the Muddy River Bar and Grill, which features a separate gaming room and stocked bar. muddyrivermoapa.com
Get Fired Up
Equidistant from Coyote Springs and Las Vegas sprawl the 40,000 acres of bright red Aztec sandstone outcrops of Valley of Fire State Park.Hit the Visitor Center for some info on the geology, ecology and history of the park—and to figure out which of the many trails to take. Trailheads are accessible by car and the trails average less than three miles in length with moderate difficulty. Favorites include Rainbow Vista, Natural Arches, Balancing Rock, Prospect, Mouse's Tank and Elephant Rock. parks.nv.gov/parks/valley-of-fire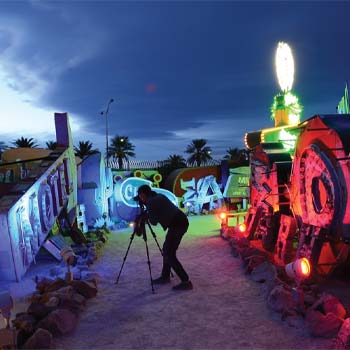 A Brilliant Idea
Neon has played as much of a role in defining Las Vegas as gambling has. With a visitor center in the old motel lobby, the Neon Museum treats the glowing signs in its vast collection as national treasures. Tour the signs in the Neon Boneyard Main Collection and North Gallery and then catch "Brilliant!," a nocturnal extravaganza of sight and sound. neonmuseum.org
---
This section appeared in the 2019  Fall Issue of Colorado AvidGolfer.
Colorado AvidGolfer Magazine is the state's leading resource for golf and the lifestyle that surrounds it, publishing eight issues annually and proudly delivering daily content via coloradoavidgolfer.com.