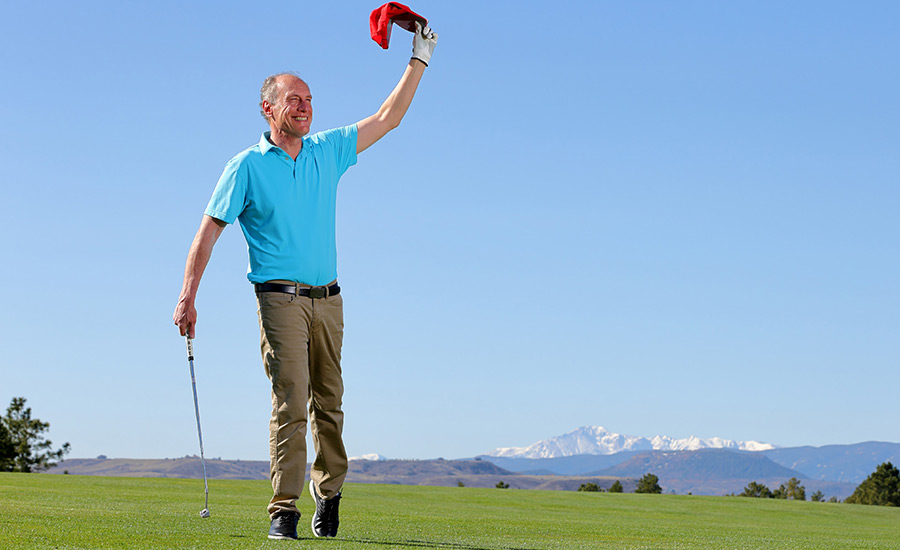 Colorado AvidGolfer Founding Editor Jon Rizzi says goodbye after 18 years.
By Jon Rizzi
WELL, THESE REALLY must be unprecedented times if I'm the May subject of Colorado AvidGolfer. Even though this is my final issue as the only editor the publication has ever known, I'm far more comfortable writing a story than being one.
I've always believed life is one long lesson in humility. So I initially resisted the urgings of staff, friends and colleagues to hog the spotlight, à la Oprah on the cover of her magazine. I just wanted to finish on 18—appropriately, the exact number of years we've been publishing, as of last month's issue—and head to the metaphorical 19th hole.
It turned out to be a COVID-19 hole, the vortex of which has sucked in everyone. In the same way the pandemic has altered many people's fitness routines, it also altered our routine of publishing a May health and fitness issue. Producing that particular edition would be putting writers, photographers and fitness instructors into now-proscribed settings.
Since we have some smart, pandemic-related articles, we could have gone with a cover shot of golfers wearing masks or a variation of the digital "corona-ball" graphic that Art Director Chelsea Oglesby whipped up for our website. But why add to the weltschmerz? Besides, we've always distinguished ourselves by putting people on the cover.
Fortunately, some people I know—Clarkson Creative's Jamie Schwaberow and Justin Tafoya—were willing to mask up and photograph me from a socially-distanced six feet away. And a valued friend, Castle Pines Golf Club General Manager Keith Schneider, let us stage the shoot at that iconic course. Thank you for making it happen.
Thus ends the latest and longest chapter in a publishing career that began in the galleys of Esquire in 1984. By then, the magazine's first editor, Arnold Gingrich, had already been dead for nearly a decade, but remained on the masthead as founding editor, an honor that endured well into this century.
Mr. Gingrich wrote a memoir of Esquire's salad days entitled Nothing But People. Since future CAG issues will now list me the founding editor, it seems only appropriate that I should acknowledge the people who helped make Colorado AvidGolfer the success it has been and will continue to be.
I apologize that the following may read like one of those Oscar speeches that stops only when the music begins, but were it not for these people—and countless others—we would be indeed nothing. And I also apologize in advance to anyone I may inadvertently omit.
I first and foremost owe eternal thanks to our principals, Don, Ray and Dick Baker, for entrusting me with publishing a regional golf lifestyle magazine with the quality of a national title. I tip my golf cap to Allen J. Walters, the publisher who became president and has always supported my editorial vision, and his wife, Nancy, who tirelessly worked on fortifying the Golf Passport and created events back in our early days. Props to Chris Phillips, our associate publisher, whose sales skills have kept on the lights during dark economic times, and to Cindy Palmer, the world's most competent, kindhearted office and operations manager.
Huge shout-outs go to 18 years' worth of art directors—Kate Glassner Brainerd, Tiffany Weaver, Ric Nepomuceno, Dana Barak, Jeremy Cantalamessa, Jani Duncan Smith and Chelsea Oglesby. I deeply cherish our creative collaborations. I also have to hand it to the multitasking marvel Melissa Holmberg (and her predecessors Ryan McLean and Vanessa Miranda), for cheerfully managing our circulation, special events and Golf Passport over the last few years.
In the spirit of paying things forward, I take pride in saying our current staff boasts two former interns: the exceptional Digital Strategist and Content Manager Drew Kort and our aforementioned art director, Chelsea Oglesby. Both give Millennials a good name. They follow in the rather large footsteps of Jake Kubié, a scratch golfer who between 2003 and 2011 blossomed from a youthful intern into an accomplished editor and writer and now serves as director of communications for the Denver Zoo.
Speaking of communicators, I'd be lost without the incomparable talents of writers Sam Adams, Andy Bigford, Tom Ferrell, Isaac Bouchard, Kim McHugh, Ted Johnson, Tony Dear, Kaye Kessler, Denny Dressman, Chris Duthie, Barbara Hey, Theresa Smith, Suzanne Brown and John Lehndorff. And I can't praise more highly the photography skills of E.J. Carr, Dick Durrance, Barry Staver, Todd Langley, John Leyba, Phil Mumford, Chad Chisholm, Ehren Joseph, Jamie Schwaberow and Justin Tafoya.
The work of many of these contributors has also enhanced the pages of AvidLifestyle, the beautiful monthly magazine we launched last year with the inspiring team of Creative Director Jani Duncan Smith and Editor Kendall Kostelic.
I consider more than "transactional" my relationships with hundreds of members of the Colorado golf community whom I've gotten to know over the last 18 years. Again, at the risk  of overlooking someone, I won't single out anyone (otherwise, I might forget to recognize such friends as Eddie Ainsworth, Ed Mate, Gary Potter, Lana Ortega, Russ Miller, Keith Schneider, Elena King, Jim Engh, Rupert O'Neal, Dave Hensley, Allison Scott, John Curlander, Glenn Jacks, Dee Tidwell, Mark Kelbel, Stan Sayers, Dan Hogan, Scott Gardner, Janet Moore, Kevin Laura, Scott Radcliffe, Gary Leeper, Vance Wagner, Karen Hart, Kevin Hood and Lynn and Mark Cramer).
And I can't forget to mention my favorite playing partner and son, Henry Rizzi.
I express deep gratitude to each and every company that has seen Colorado AvidGolfer as a great way help to build its business. We're more than a magazine. We're also an event company, and events can't happen without great sponsors—and we've had too many of them to list here.
Over the years, those events have been, well, eventful. They've included the Golf Train to Grand County  (highlighted by two players so engrossed in conversation that they forgot to detrain and nearly wound up in Glenwood Springs); our 24-player Media Madness competition (won consecutively by Tom Green, Lynn DeBruin and Jon Lawrence); the launch of CAG's Long Iron Lager (courtesy of Breckenridge Brewery); the Beaver Creek Women's Invitational (once featuring World Golf Hall of Famer Hollis Stacy as guest speaker); the Cordillera Golf Experience (where my non-golfer wife once sank a 30-foot putt); our Tournament Series (now in its 15th year); and our flagship event, the Schomp BMW Cup—formerly known as the Corporate Cup, now in its 15th year and scheduled for Aug. 10-11 at the Country Club at Castle Pines.
We've had great sponsors—and great turnouts—for all of those. But did you know, in our first year, Colorado AvidGolfer stroked a $30,000 check to be presenting sponsor of the 2002 Colorado Open? With father Craig on the bag, Kevin Stadler won the Open at Sonnenalp Golf Club.
I'll bet you didn't know, either, that the magazine started as a premium for purchasers of the Golf Passport. We've never completely flipped that script, but both products have grown significantly.
Originally consisting of 13 courses offering free rounds at certain times, the Golf Passport now includes more than 60 courses delivering amazing deals not only on golf but on restaurants, retail and more. Likewise, Colorado AvidGolfer has evolved from a saddle-stitched publication into a perfect-bound one that has earned dozens of local and national awards.
I've personally received a number of those honors, but no prize compares to the daily reward that is my supportive and loving wife, Jo Anne.
So what's next? My main post-CAG assignment will be to edit a 20-volume series entitled On Record by my good friend G. Brown, The Denver Post's longtime music writer. I'll remain on the board of the Colorado Golf Hall of Fame and appear biweekly on KCOL's "Morning Cup of Golf" with Stan Fenn and Doug Perry. You may yet see my byline—but not my photo—in these posts.
Ultimately, it's not about me. It's about the people with whom I've worked—and for whom I've worked: that's you, dear readers. I have utter confidence that my successor, the talented, experienced Anthony Cotton (meet him on the post, "Play Away, Sir…"), will take a similar approach.
Thank you for indulging this extended meditation. Saying goodbye is never easy. It's been an amazing 18 years. I'll see you on the course. You'll recognize me from the cover.
---
This article was also featured in the May 2020 issue of Colorado AvidGolfer.
Colorado AvidGolfer is the state's leading resource for golf and the lifestyle that surrounds it, publishing eight issues annually and proudly delivering daily content via coloradoavidgolfer.com.