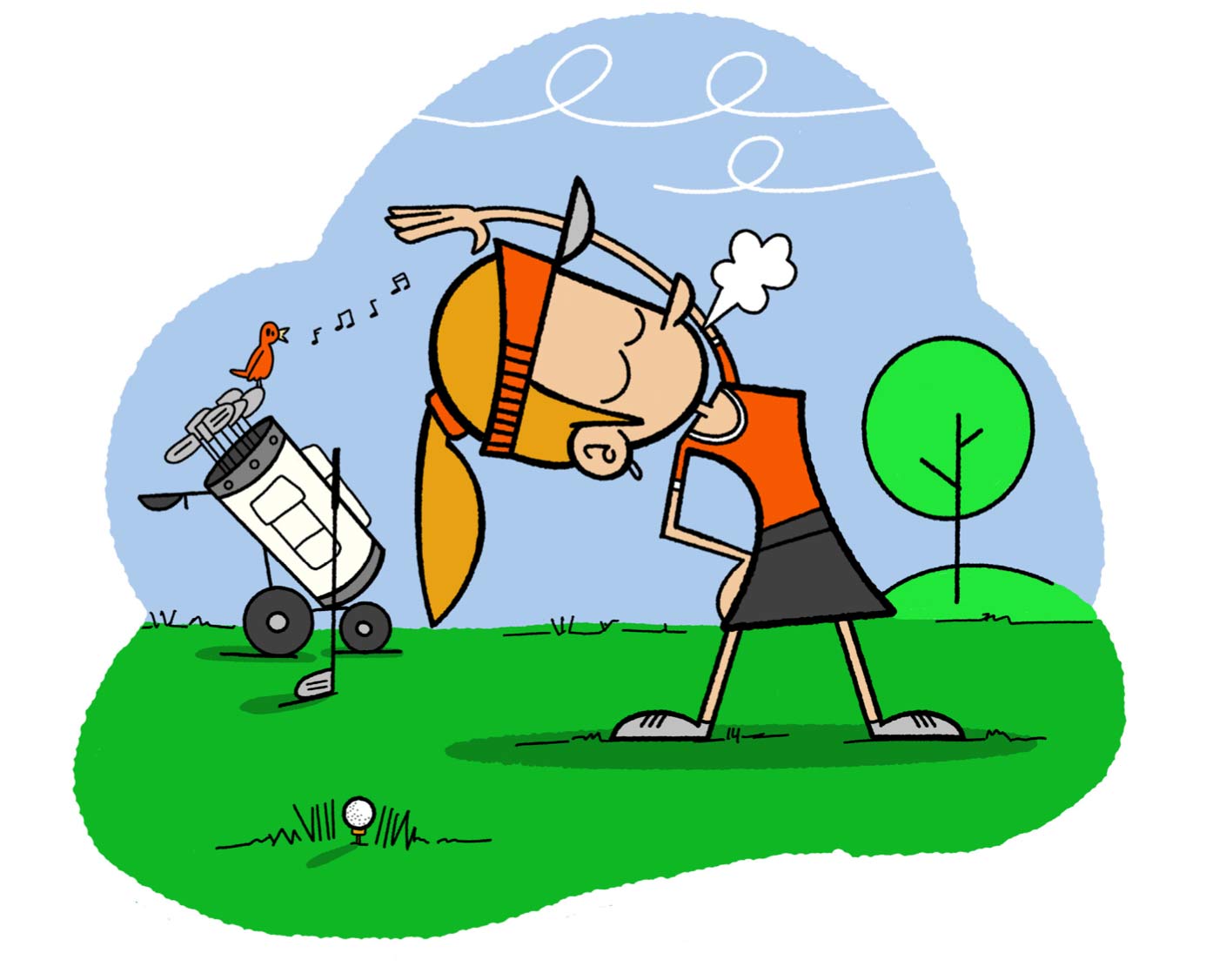 Tips for improving your game, wherever you tee it up.
By Elena King
Green Valley Ranch is the home of the CoBank Colorado Opens, where golfers must overcome pressure—and a number of daunting shots—to succeed. But that's really no different than the jitters you face out on the course every weekend. Here is a look at some of the toughest decisions players at GVR have to make—and how to practice and apply them to your game, no matter where you're playing.
NO. 1: FIRST TEE NERVES
Do you get nervous on the first tee? Notice your heart rate speed up and hear those evil voices in your head saying negative things, like Don't mess this up, What if I embarrass myself?, or Hope I get it over the junk, don't top it?
If this happens to you, guess what? You are a normal golfer! I tell my students that I would be concerned if this didn't happen to them. The doubt, fear and anxiety all show up in your swing as tension and a quick tempo, inhibiting your ability to make a natural swing and causing errant shots.
At Green Valley Ranch, the opening hole can be a daunting shot right out of the gate. It's a par-4 that can range in length from 226 to 426 yards. As you stand on the first tee, you are staring at a long carry over native grass at eye level; this can get your mind and heart racing quickly and raise your anxiety.
Here are ways to improve your shots when you are feeling nervous or anxious:
Stretch and make sure your body is warmed up before you get to the first tee.
Slow down your walking pace.
Most importantly, slow down your breathing—take long inhales through your nose then exhale through your mouth.
Focus your mind on something in the present: look to your target, listen to the wind or birds, stand on one foot to feel your balance, sing a song—anything that you can hear, feel or visualize to bring you back to the present. This is important to practice on a regular basis, so you can access it quickly.
PAR-3 TEE HEIGHT WITH AN IRON
A common question instructors get asked is: Should I tee it up on a Par-3, and if so, how high should I tee it?
In my opinion, if you can have perfect lie, why wouldn't you take it? So yes, I recommend you tee it up on a Par-3.
A mistake we see while coaching is that students tee the ball up too high, causing it to hit too high on the club face. This causes ball speed loss due to not hitting the center of the club face (the sweet spot). It also launches the ball too high up into the air, what I like to call the "poof ball."
Instead, tee the ball up so it's resting even with the top of the grass or slightly above. Experiment on the range with different heights for you! Everyone is different and how you practice can set you up for better distance control on Par-3s and better scoring overall.

NO. 12: BIG HOG, LITTLE PIG
Aggressive or conservative, when is the right time to be a big hog or a little pig?
No. 12 at GVR is a Par-5, dogleg right that tempts the aggressive player. It has a large angled lake to carry and bunkers on the far side. If you do not have the right angle and carry combination, the numbers can add up! The shape of the lake is deceiving from the tee box, and the more right you aim, the farther you must carry the ball. The more left you aim, you bring the fairway bunkers into play. As you stand on the tee box, it is very tempting to aim right to cut yardage and be too aggressive. No. 12 at GVR tempts us on numerous occasions, but on any hole, the question you have to ask yourself is: What is the risk vs. the reward?
To answer that, here are some questions you should ask yourself on the tee box:
Where is the pin placement and where is the best place to approach from for that day's pin placement—remember each day is different!
If you take the aggressive line, what benefit does it give you? Can you get there in two? Or is it a 3 or 4-shot hole for you anyway?
Which way is the wind blowing and how strong? Most players underestimate how much the wind affects ball flight.
How confidently are you swinging today?
Do you really know how far you need to carry the ball and are you capable of doing it today with plenty of room to spare?
What instructors find is that people take unnecessary risks on the course that result in big numbers. If you are feeling good and you can get there in two, it may be worth the risk that day. If it will not benefit you to be more aggressive, then play it safe and do not waste shots. If you play it safe, play it way safe! There is nothing more frustrating than playing it safe and still having extra shots! The key is to decide and be 100 percent committed to it!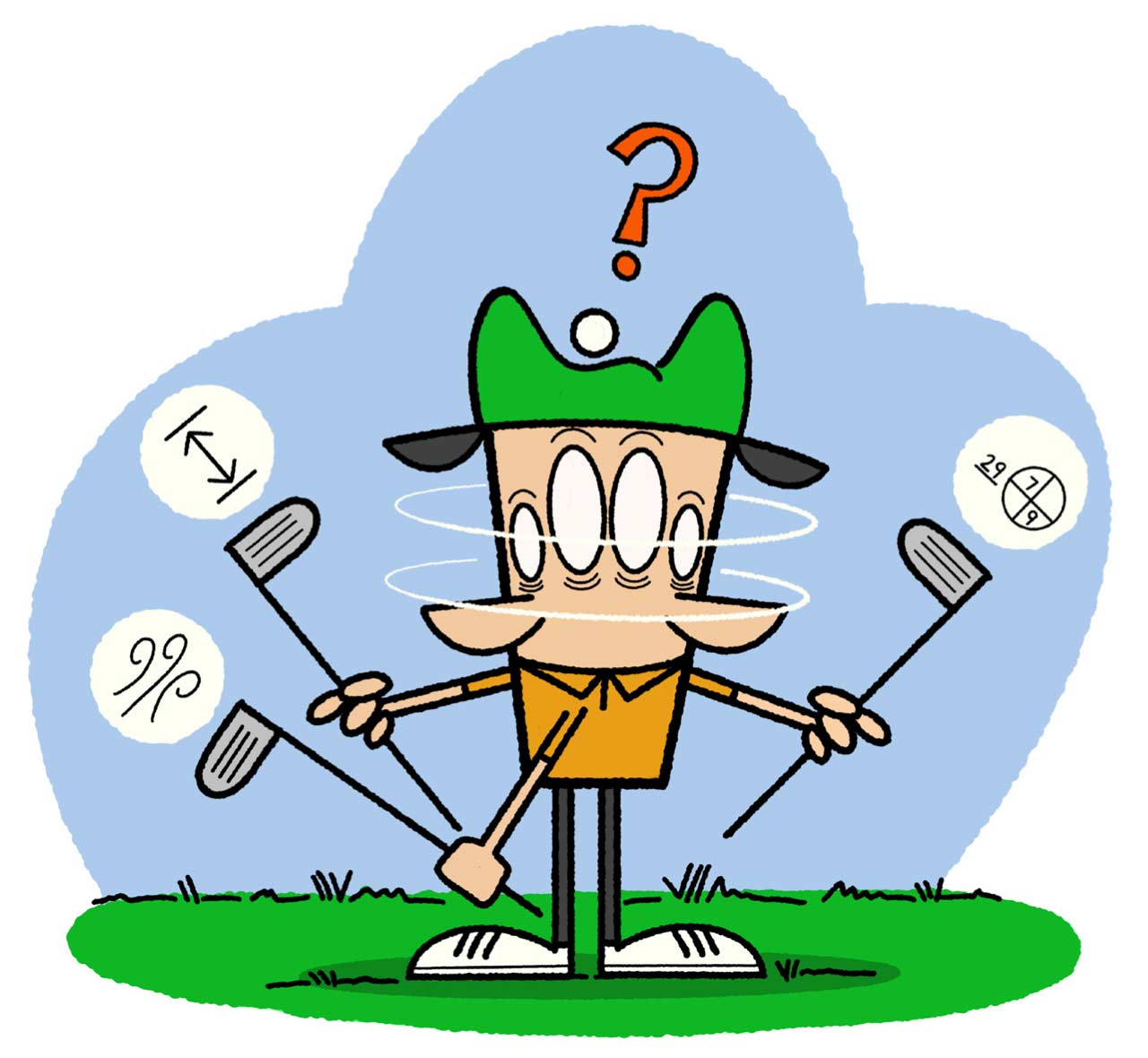 NO. 13: CLUB SELECTION AND PIN PLACEMENT
GVR has some of the toughest par-3s in the state, and No. 13 is a perfect example of the importance of having the proper club and distance. No. 13 is a beautiful hole from an elevated tee box, over water and surrounded by bunkers with a narrow landing area, whether the pin is up front or in the back. From the tips, it measures 171 yards; not the longest of holes, but it can be one of the most challenging— especially when the wind is blowing.
There are so many factors to consider other than just the yardage to the middle of the green when choosing the appropriate club for that day:
Where is the pin? Most golfers just look on the ground or the card and see the yardage to the middle of the green, never considering pin placement, wind, temperature, altitude, etc.
What tees are you playing? At GVR, the depth of the greens on No.13 is 30 yards… if the pin is either front or back it can become a 3 to 4-club difference! For example: If the card says it's 125 yards to the middle of the green and the pin is 15 yards back of center, the tee markers could be 5 yards back of the yardage marker and now it is all carry over the bunker. So, your 125-yard club just turned into 140-yard carry and we haven't even factored in wind or temperature yet! There is a huge difference in club selection when landing it on the front of the green, rolling the ball up to 125 yards or carrying it another 25-30 yards for a total of 140-150 yards.
When in doubt, take an extra club—most golfers play the club that measures out to their best shot. We recommend you know your average carry distance and choose that club vs. choosing the club that you hit once for your Sunday best!
These are all things you can practice on the driving range. Your practice sessions need to have a purpose instead of just beating balls aimlessly:
Pick a target and vary your clubs and target regularly.
Practice your routine of being present by focusing on your breath or listening to the sounds around you, something you can stay present to and focused on.
Experiment with tee height of your irons on the range, practice and find where you make the best contact.
Visualize being on your own Par-3s and measure how far you carry each club on average, or find your favorite teaching professional who owns a launch monitor. Good luck and have fun!
–Elena King is President and Founder of ExperienceGolf and Director of Instruction at CommonGround Golf Course. She is an LPGA Top 50 teacher and has been named one of Golf Digest's Best in State. Reach her at 303-503-0330 or www.experiencegolf.biz
---
This article was also featured in the June 2020 issue of Colorado AvidGolfer.
Colorado AvidGolfer is the state's leading resource for golf and the lifestyle that surrounds it, publishing eight issues annually and proudly delivering daily content via coloradoavidgolfer.com.