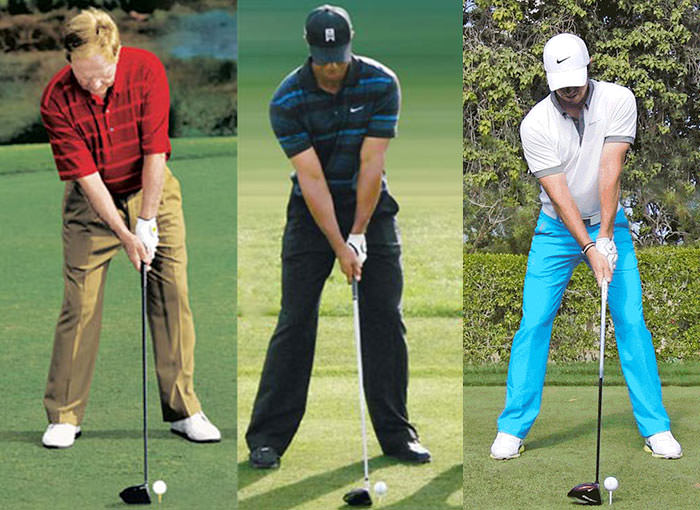 The setup to the ball is essentially GOLF 101. It's probably the very first thing you learned during your first lesson, whether that was with a PGA professional or your mom or dad in the back yard.
But when your drives start going wayward and you've tried every tip, trick, and desperate attempt at hitting it straight, it can be time to get back to basics.
So what are the basics? Look no further than the image above. Not only are Jack Nicklaus, Tiger Woods, and Rory McIlroy obviously three of the greatest players of all time but also three of the greatest (and straightest) drivers ever at their respective peaks.
Even a non-golfer can see the similarities in these setups. Balanced weight? Check. Ball inside the left heel? Check. Upward tilt in shoulders? Check. Millions of dollars in career winnings and endorsements? Check (well, multiple checks).
Sure, there are dozens of other factors that contribute to a great golf swing, but what chance do you have if you don't have the first steps locked in?
Here are four simple checkpoints for a solid setup. As Jimmy Hanlin explains in the video below (shot at Chambers Bay), in order to hit it consistently in the fairway you have to set up and approach the ball the same way every time.
BALL POSITION: The ball should be inside the left heel (as noted where many amateur golfers make mistakes)
TILT: An upward tilt in shoulders can help ensure a proper swing path
BALANCE: The weight should be over the top of the shoelaces with an athletic stance
INSIDE: Swinging the golf club from the inside will drop the club down in the correct slot (and help avoid slices)
See the explanation of these simple methods…
Visit our Instruction area for more golf tips, instruction, and lessons.
RELATED:
How to Boom it Like Rory
5 Steps to Be a Better Driver
See Jason Day's Warm Up Routine
Does the Happy Gilmore Swing Really Work?
How to Hit Your Driver Farther
Colorado AvidGolfer is the state's leading resource for golf and the lifestyle that surrounds it, publishing eight issues annually and proudly delivering daily content via coloradoavidgolfer.com. Follow us on Twitter, Facebook and Instagram.