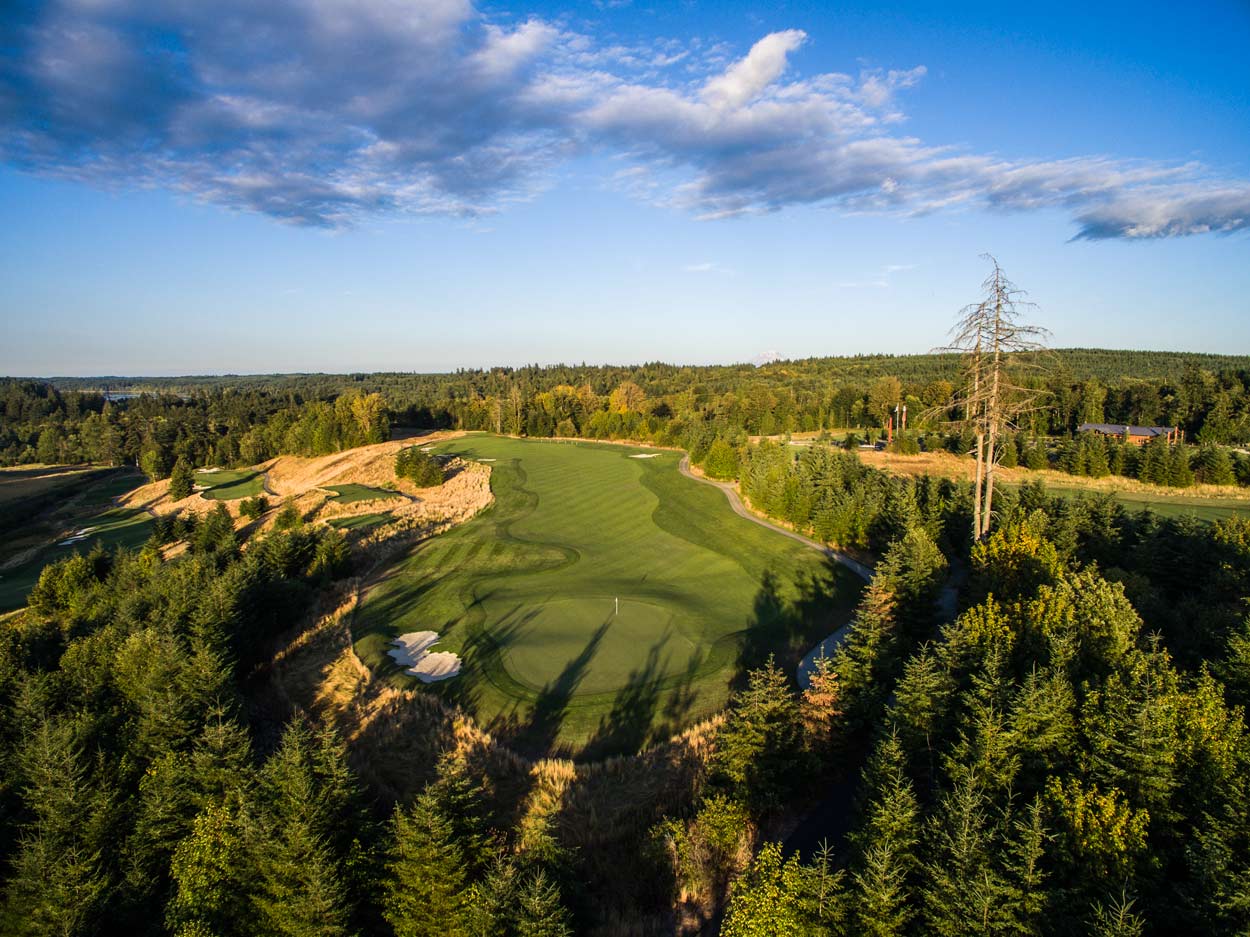 The rotting economy did for the first four hotel proposals at Chambers Bay in 2008/9. Then, in 2014, a Californian developer by the name of Bob Sonnenblick, submitted a $120m plan for a five-story, 258-room hotel, several other amenities, and a second golf course. But Pierce County ultimately rejected the idea, saying a second course might jeopardize its chances of landing a second US Open, and the hotel was probably too big anyway. Sonnenblick said the County's desire for something much smaller 'made no sense', and that what it was planning was an 'inconsequential development we're not interested in'.
The search for a development that ticked all the necessary boxes resumed earlier this year, but only two submissions were received. Chambers Bay Development LLC, fronted by local builder Absher Construction, and accountant Dan Putnam (Michael and Andrew's father), put forward a $45m proposal that included an 80-room hotel and a 200-seat Tom Douglas restaurant, while Valiant Washington, a Florida company owned by businessman William Haberman made a $50m pitch involving a 124-room hotel, a 20,000sqft restaurant, and 30,000sqft clubhouse.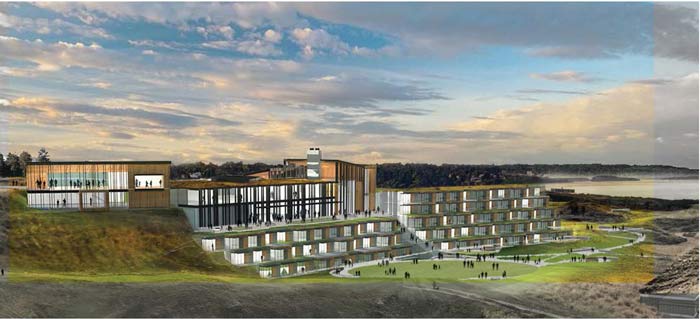 Pat McCarthy who succeeded John Ladenburg – the man whose idea Chambers Bay was – as County Executive in 2009, recently selected the Chambers Bay Development bid and, assuming the County Council votes in favor of the plan, construction should begin next spring with an end date in spring/summer 2019.
Just as the recently-opened Inn at Gamble Sands has done for the course there, the hotel development at Chambers Bay would make a multi-day trip to the course/area so much easier. It's good news for golf travelers whose nearby lodging options are currently rather limited.
If you've not been to Chambers Bay yet, it could be watching the US Amateur in 2010 and last year's US Open scared you off – the concrete-hard, 7,600+-yard monster with the crusty, blotchy greens and glutinous rough didn't look much fun after all.
[box]
Photos of Salish Cliffs
Click for larger. All photos courtesy of Brian Oar.
[/box]
Don't worry though, the color returned to Chambers Bay just a few weeks after Jordan Spieth was crowned champion, and though the greens are currently being cut at the same height as they were for the championship – 14 hundredths of an inch, irrigation and rain (yes, rain in the Pacific Northwest – it can happen) has made them far more accommodating than they were in June 2015.
Chambers Bay is a thrilling round full of the sort of shots you so rarely get to play on flatter, inland courses. It's a challenge you have to take on at least once, and it pairs very well with the spectacular Gene Bates-designed Salish Cliffs, an hour's drive west on I-5. Cut from a deep, evergreen forest, the look is typical PNW, but the course conditions are a little less common. Superintendent Bob Pearsall produced some of the very best putting surfaces in the region this summer, a result, he says, of sound spring preparation. "It starts with a successful spring aerification," he adds "We frequently roll leading up to aerification to compact the greens to get a good pull of the cores."
Soil compaction may sound like a bad thing to the layman, but Pearsall obviously has the process down to a fine art because his A1 Bent greens this year were something else.
The Little Creek Resort adjoins the course and actually serves as an excellent base for a PNW golf trip taking in Salish Cliffs and Chambers Bay, plus a few more Northwest classics – McCormick Woods, Trophy Lake, Gold Mountain, White Horse.
Salish Cliffs operates Dynamic Pricing so doesn't publish a rack rate. The green fee this summer hovered between $69 and $109 which is cracking value for a course this good. The non-resident summer rate at Chambers Bay this year was $275 which isn't inexpensive but you do see, hit, and feel things you've probably never seen, hit or felt on a golf course before.
chambersbaygolf.com
salish-cliffs.com
[box]
RELATED:
Bandon Confidential: 10 Insider Tips For Your Bandon Golf Trip
Go Play: America's Spectacular Northwest
2016 CAGGYs: Travel Winners
5 Reasons to Make Your Way to Mesquite This Winter
Mexico's Next Great Place
[/box]
Colorado AvidGolfer is the state's leading resource for golf and the lifestyle that surrounds it, publishing eight issues annually and proudly delivering daily content via coloradoavidgolfer.com. Follow us on Twitter, Facebook and Instagram.