There is no shortage of chipping tips and advice for your short game on this site (see here, here, here, here, here just to name a few).
When you find yourself missing a green in regulation, you also have no shortage of decisions to make. You need to choose the type of shot to play, the club with which to make it, your desired landing area, your order the next time the beverage cart comes around…so many choices!
[quote style="boxed"]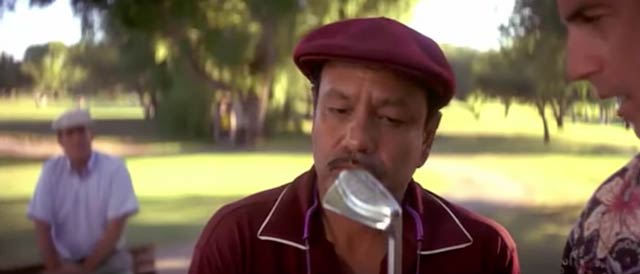 "Then there's the 7-iron. I never miss with the 7-iron. It's the only true and safe club in my bag." – Tin Cup
[/quote]
For short chips and pitches, why not try your 7-iron (or other mid-iron of choice)? Hey, if Tin Cup can par out with the 7-iron, who's to say you can't hit a decent chip with it?
Here are some simple tips for learning how to chip with your 7-iron:
Place the ball back in your stance for short chips, and move it progressively forward for longer chips and pitches
Keep your weight balanced 50/50
Move the handle forward slightly
Make a steady, consistent motion similar to putting
Chipping with an iron rather than a lofted wedge can help eliminate those frustrating mistakes, blades and shanks around the green. You are simply giving yourself more room for error, and it's a lot easier to land the ball directly in front of you and let it run out rather than picking a specific spot 10, 20, or 30 yards ahead.
Jeff Haney, PGA Golf Teaching Professional in Clearwater, FL, shows two examples of 7-iron chipping…

In this instructional video, PGA Master Professional Gary Alliss shows a similar method and how to "putt with loft"

So there you have it. Take your 7-iron out at the practice green and try it for yourself. You may still want to keep those wedges handy, but you just might find a new favorite shot around the greens.
Visit our Instruction area for more golf tips, instruction, and lessons.
How to Hit the Perfect Flop Shot
How to Get Backspin on Your Wedges
Master the 50-yard Pitch Shot
A Recipe for Collared Greens
Chipping: Choosing the Right Club
Colorado AvidGolfer is the state's leading resource for golf and the lifestyle that surrounds it, publishing eight issues annually and proudly delivering daily content via coloradoavidgolfer.com. Follow us on Twitter, Facebook and Instagram.