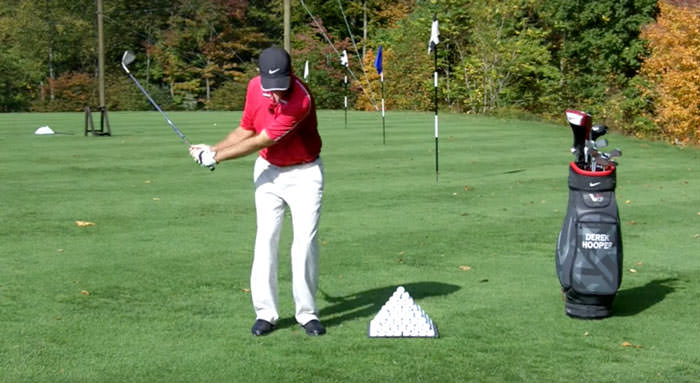 Accuracy and consistently around the greens is no doubt something that can keep 20-handicappers from becoming 10-handicappers, and 10-handicappers from becoming single-digit handicappers. No matter your skill level, wouldn't you love to be able to manage your distance control around the green just a little bit better?
If the answer to the above is an emphatic YES(!), then instructor Derek Hooper can help you in just two minutes with tips for your pitching and chipping. One of the keys? Before you can improve your accuracy with your distances, you first must improve your understanding of your distances. Many amateurs reach for the same club with nearly all chips. While this works for some (The PGA TOUR's Jimmy Walker opts for his 60-degree wedge with most all of his short game shots), the vast majority of professionals use a variety of clubs around the green.
Dave Pelz helped create a pitching distance matrix that Hooper quickly demonstrates in the video below. Simply take the three clubs you chip with and have three different swings with each club. The result? 3×3=9.
And it couldn't get much easier to remember. Your three swings can be a "hip-to-hip" swing, a "chest-to-chest" swing, and a "shoulder-to-shoulder" swing. Simply take a few minutes at your favorite practice area, and chip/pitch enough solid shots with each swing that you have a good understanding of your distance.
Now you have 9 shots ready with which to conquer the green. In fact, it might looks something like this…
| | | | |
| --- | --- | --- | --- |
| Club | Hip Swing | Chest Swing | Shoulder Swing |
| P Wedge | 30 yards | 60 yards | 90 yards |
| 56 Degree Wedge | 20 yards | 50 yards | 80 yards |
| 60 Degree Wedge | 15 yards | 25 yards | 40 yards |
Ready to try it? Here's an empty table you can print out and use.
| | | | |
| --- | --- | --- | --- |
| Club | Hip Swing | Chest Swing | Shoulder Swing |
| | | | |
| | | | |
| | | | |
Derek Hooper is the Director of Instruction at the Royal Oaks Golf Academy, Houston, Texas. For more info visit derekhoopergolf.com.
RELATED TIPS AND ARTICLES:
Chipping: Choosing the Right Club
How to Hit the Perfect Flop Shot
Master the 50-Yard Pitch Shot
How to Get Backspin on Your Wedges
Watching Your Weight on Pitches and Chips
A Recipe for Collared Greens
Cleveland's New RTX-3 Wedges Could be a Game-Changer
Is Odyssey's New Chipper a Short-game Savior?
2016 Gear Guide: Wedges
Colorado AvidGolfer is the state's leading resource for golf and the lifestyle that surrounds it, publishing eight issues annually and proudly delivering daily content via coloradoavidgolfer.com. Follow us on Twitter, Facebook and Instagram.