Kim Eaton needs one victory to become the winningest woman in state history, and nobody wants her to get it more than Kris Franklin, the player who has repeatedly thwarted her.
By Jon Rizzi
IN MAY OF 2018, all signs pointed to Kim Eaton easily breaking the all-time record for wins by a woman in Colorado state amateur championships…
Partnering with fellow Colorado Golf Hall of Fame member Janet Moore, the Greeley native had just won her seventh Brassie Championship—a four-ball stroke- play event—at The Club at Flying Horse in Colorado Springs. The victory marked the 25th in her 43-year career, tying her with the great Carol Flenniken for most Colorado Golf Association victories by a woman.
And with that year's CGA Women's Senior Stroke Play taking place at Greeley Country Club—the home course of her youth and the site of her victory, by 16 shots, in the 2012 edition of the same event—the stars seemed aligned for Eaton to triumph in a championship she'd won five previous times.
But win No. 26 didn't come at Greeley. Nor did it happen at the following year's Senior Stroke Play at the Country Club of Colorado or at the 2019 or 2020 Senior Match Play events at Firestone's Saddleback Golf Club.
In all four instances, Eaton lost to Kristine Franklin, a one-time professional player who'd returned to competitive golf in 2017 after an 18-year hiatus. Their first stroke play went to a playoff; a single shot decided their second. Their two match-play finals produced identical 3 & 2 scores.
Whispers now circulate that Franklin has gotten into Eaton's head. As a fellow competitor said after watching the two battle at Saddleback in July, "Kris has Kim's number."
If so, that number might be seven—as in the years separating the 54-year-old Franklin from the 61-year-old Eaton. "I would love to get the record," said Eaton, who now lives in Mesa, Ariz. "It's not out of sight, but I'm getting older and the competition is younger."
And healthier. Since turning 50 in 2009, Eaton has had a torn rotator cuff, a bilateral knee replacement and three cervical vertebrae ablated. She suffers from arthritis so severe that she hasn't walked 18 holes since 2015, and the USGA has given her an exemption to use a golf car during competitions.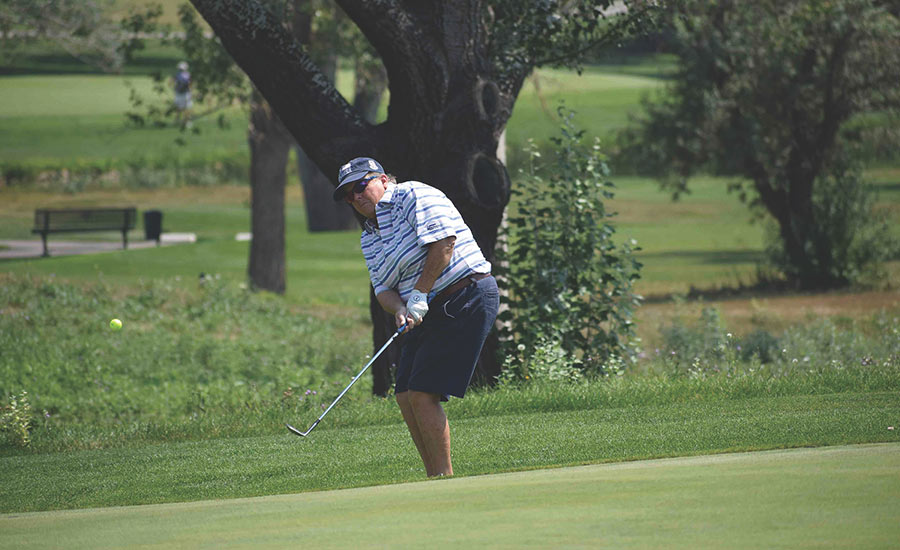 Despite those injuries, during this time she's won 10 senior championships in Colorado and 18 in Arizona. She also played in August's Senior Stroke Play with a completely torn left biceps tendon—and still carded the lowest final round in the field. "My body is saying 'give up competitive golf,' but my mind isn't listening," Eaton jokes. "While those two battle it out, I take a Percoset and go play."
"Each year as a senior isn't just a year," Franklin says. "There's more difference between a 54-year-old and a 61-year-old than between a 23- and a 30-year-old, which is what makes Kim playing at her level so remarkable. Can you imagine how much tougher she'd be if she were completely healthy?"
Franklin insists she gets no pleasure from playing the role of the spoiler to Eaton's quest. "I really think the world of Kim," she says. "She is always so kind to me, and she accepted me when I started competing again."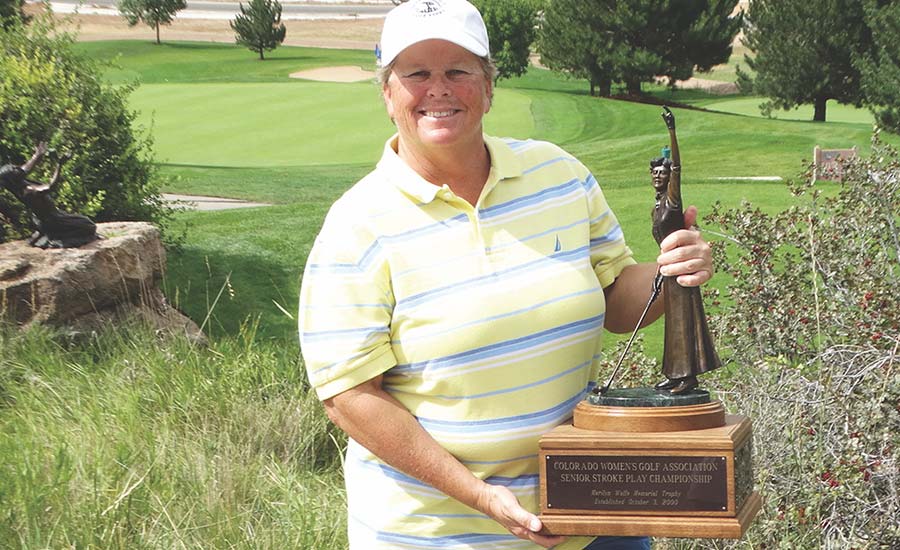 Prior to 2017, Franklin hadn't competed since losing the 1999 Colorado Women's Open in playoff, shortly after which she had her amateur status reinstated and started a family. Nor had she won a state amateur event since taking the 1986 Colorado Women's Golf Association (CWGA) Stroke Play when she was a 20-year-old known as Kris Hoos.
In 1979, Eaton won the same CWGA event—also at the age of 20. The parallels between the two women's careers don't stop there.
Both come from strong golf pedigrees. The niece of Colorado Golf Hall of Famer Larry Eaton, Kim was a prodigy who "had more mothers than I knew what to do with," referring to Flenniken, Katie Fiorella, Lynn Larson, Eleanore Pellegrini and the other iconic women golfers who nurtured her talent. Kris and her brothers—Jon (a former club pro) and Eric (who coached the University of Denver men's team for 15 seasons)—had for a father George Hoos, the legendary golf coach at Boulder's Fairview High School. "Flatirons Golf Course was daycare," she says.
Eaton played for the University of New Mexico before spending seven years as an LPGA professional, winning the 1982 LPGA Western Sectional Teaching Division Championship and making the cut at the 1983 U.S. Women's Open. By 1994, she'd become a police officer for the City of Evans, regaining her amateur golf status and winning CWGA events.
Franklin also headed southwest for college, competing for the University of Arizona before she, too, spent seven years as a professional golfer. While playing on the Japanese LPGA Tour, she met Brent Franklin, a future Canadian Golf Hall of Famer who would become her husband, golf coach and the father of their two sons, Jaxon and Walker. Both boys excelled as prep golfers, with Walker earning a scholarship to the University of Louisville.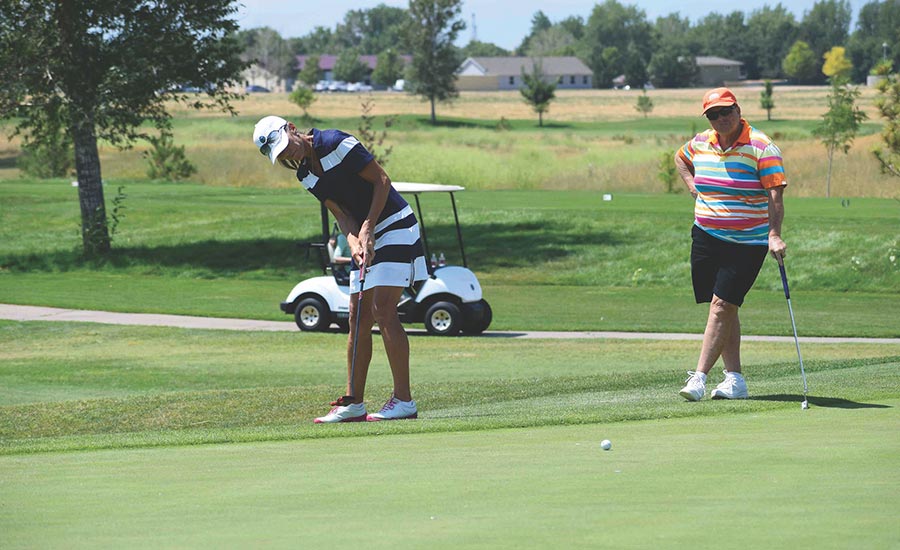 Knowing the pleasure it brought her to watch her boys shine as junior players, Kris recalled the joy her father took in watching her and her brothers compete. It took a little coaxing from her former Arizona teammate and two-time U.S. Senior Women's Amateur champion Lara Tennant, but with George battling leukemia, Franklin returned to competition as an amateur in 2017. The following year, she defeated Eaton, bringing home the Senior Stroke Play trophy—and a huge smile to her father's face—a month before he passed away at age 84.
Above all, both players share a respect for each other and for the game.
"Kris is so courteous and encouraging," Eaton says. "Her play is so steady, you can't make a mistake against her."
"I really think the world of Kim," Franklin counters. "She has a great heart. Golf is her badge of honor, her passion. I really want her to achieve the record."
She told Eaton as much during August's CGA Senior Match Play at the Olde Course in Loveland. Going into the 36th and final hole of competition, Franklin had a one-stroke lead over Eaton … only this time their battle was for runner-up to Marilyn Hardy, who stood six shots clear of the field.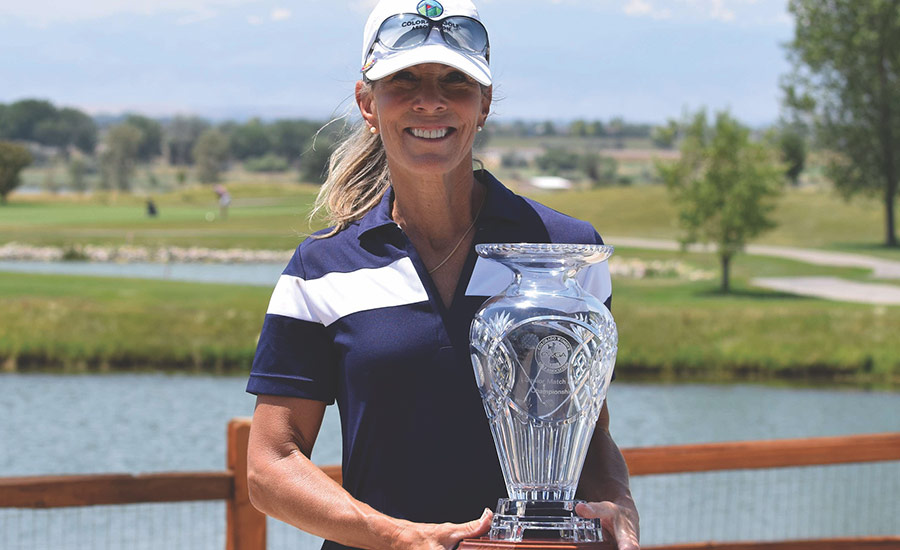 Ever since tying Flenniken's victory total, Eaton insisted she wanted to set the outright record in an individual event. But as she and Franklin headed to the green on the par-3 finisher, her rival asked whether all her titles were individual ones. When Eaton said 15 came as an individual and 10 in partner events—and that they all counted the same—Franklin popped the question.
What if the two of them joined forces next year in either the CGA's Mashie (four-ball match play) or Brassie (four-ball stroke play)?
As if a giant weight had been lifted from her injured shoulders, Eaton promptly sank a 15-foot birdie, drawing even with Franklin, who parred.
"Next year, Kris and I are going to be partners," Eaton now says with anticipatory enthusiasm.
"Watch out for this senior team!" Franklin cautions.
–Jon Rizzi is the founding editor of Colorado AvidGolfer.
---
This article was also featured in the Fall issue of Colorado AvidGolfer.
Colorado AvidGolfer is the state's leading resource for golf and the lifestyle that surrounds it, publishing eight issues annually and proudly delivering daily content via coloradoavidgolfer.com.