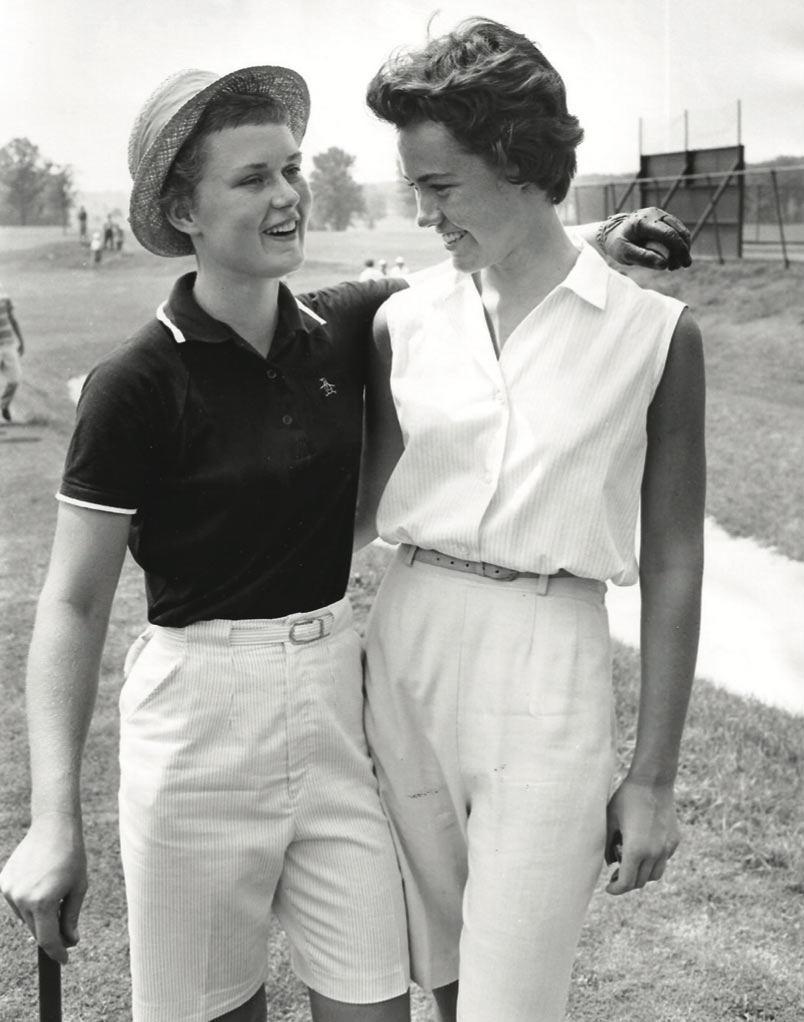 With laser iron play, Carol Flenniken dominated women's amateur golf, then brought her gifts to Colorado.
By Andy Bigford
HALL OF FAME quarterback Bart Starr had a solid year back in 1964, leading the Green Bay Packers in the runup to what would become a record-setting five NFL and Super Bowl titles under Vince Lombardi. The season was good enough to earn honorable mention in the media voting for Wisconsin Athlete of the Year—an award that went to a feisty, 5-foot, 3-inch golfer named Carol (née Sorenson) Flenniken.
"Little ol' me," laughs Flenniken, now 77 and a Colorado resident for roughly the past 50 years. It is hard to imagine what 21-year-old Flenniken accomplished on her first trip abroad in that fall of 1964; let's just call it the "Sorenson Slam." First, she scored the clinching point in the U.S. team's Curtis Cup win over Great Britain and Ireland at Royal Porthcawl Golf Club in South Wales. Next, she became the youngest player to win the British Ladies Amateur (now called the Women's Amateur) at Royal St. Georges in Sandwich, England, going 37 holes in the final match.
From there she crossed the channel to score medalist honors in the inaugural Women's World Amateur Team Championship outside of Paris, where she tied at 294 with World Golf Hall of Famer Catherine Lacoste (hailing from the crocodile family dynasty, three years later she would win the U.S. Women's Open as an amateur). Back on home soil, Flenniken had won the prestigious Trans-Mississippi title earlier that summer to round out the Slam.
"She was the absolute best with long irons," says Lynn Zmistowski, a nationally ranked Minnesota amateur who had befriended Flenniken before they both ended up in Colorado—and in the Colorado Golf of Fame. "If you can hit your 2-iron perfect, hitting the rest of the clubs is pretty easy. She could stick it, all the time, every hole, 5 or 10 feet."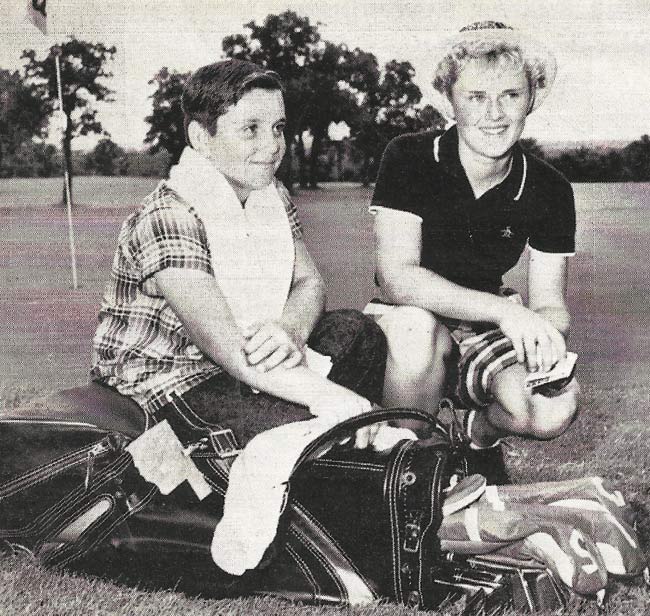 Today, that track record would tee up any golfer for a lucrative career on the LPGA tour. "I thought about it," Flenniken says. "I think I could have made it out there."
But this was a different era; she didn't want the travel or the lifestyle, and the purses were paltry. The total payout for U.S. Women's Open in 2019 was $5.5 million; back in 1964, it was $10,010.
The LPGA's loss would be Colorado's gain. After she married Bill Flenniken and moved to Colorado in 1966, she won 11 of the 20 state stroke or match plays contested by the CWGA from 1968-77 (while missing more than a handful). She also dabbled at higher levels, taking medalist honors in the 1972 U.S. Women's Amateur and leading after the first round in an LPGA event that was held in Denver back in the 1970s.
But mostly she played "just for fun," and for the camaraderie.
"She's a great person to play against. No attitude, a good sport. We always laughed at our bad shots," recalls Zmistowski.
Flenniken's resume includes three wins in the early 1970s in the state scratch best ball with her mother, Hazel, an 18-handicapper. "She helped on the par-3s," recalls Flenniken, who was named the Colorado Women's Golf Association (CWGA) Player of the Century in 2016 at the CWGA's 100th anniversary, recognizing her then-record 25 state titles. Flenniken was inducted into the Colorado Golf Hall of Fame in 1975, and has been similarly honored in Wisconsin.
Growing up a "tomboy" in the southern Wisconsin town of Janesville, Flenniken played all sports "with the boys" until about 7th grade, when organized teams and a distinct size disadvantage relegated her to the sidelines. With only field hockey and half-court intramural basketball available to girls at the time, she channeled her energy into golf. It helped that her father, Ted, who ran the local school system's physical education department and coached the high school golf team, had introduced her to the game at age 6, meticulously following Byron Nelson's Winning Golf, first published in 1946.
At the Janesville Country Club, founded in 1894, the members took Ted's daughter under their wing, granting her unlimited playing privileges and drafting her into their $2 Nassaus. "They were so good to me," says Flenniken, and the hilly layout provided the perfect training ground, with every kind of awkward lie imaginable. She won the Janesville city title at age 10, collected the first of two Wisconsin girls titles at age 13 and then reeled off four wins in the women's state amateur.
She arrived on the national scene in 1959 when she won the Women's Western National Junior, then won the U.S. Girls Junior the next year when it was held at Oaks Country Club in Tulsa. The field included Sandra Haynie, who would go on to win 42 LPGA titles. Flenniken was extended to extra holes in four of the five matches in Tulsa.
This summer marks the 60th anniversary of the win, and the event was fittingly set to be played in July at the Eisenhower Blue Course in Colorado Springs, but was canceled due to the coronavirus.
The Girls title helped propel Flenniken to Arizona State University, where she won the 1962 national individual championship and led four national title teams. It was a different time, when ASU only had two women's golf athletic scholarships to grant. She first landed there on an academic scholarship, then took Joanne (Gunderson) Carner's spot when she graduated; Flenniken's also in the ASU Sports Hall of Fame.
While in Tempe, she also met her husband, who was working as an assistant pro at Arizona Country Club; when they moved to Colorado, Bill held various club pro positions at Pinehurst Country Club, The Club at Rolling Hills, and Windsor Gardens (now called Emerald Greens). They also spent three years at the challenging Eugene Country Club in Oregon, host to numerous USGA and NCAA tournaments, where Carol recalls shooting 67—from the men's tees.
Working alongside Bill, Carol usually handled the books and did all the buying for the pro shop, which included overseeing a dramatic reinvention of the business model as discount golf shops emerged.
Both passionate bird hunters, they found land in Hillrose, northeast of Brush, to build a home. They made the move permanently in 2001 along with their bird dogs. Bill helped out at the local course in Brush, now city-owned and known as the Course at Pettey Park. He passed away in 2013. Carol still hunts duck and pheasant "with the guys," and plays golf at the 9-holer, often walking with just three clubs (no putter). She still carried an 8.1 index up until a few years ago but battles a bad back, which has required three surgeries.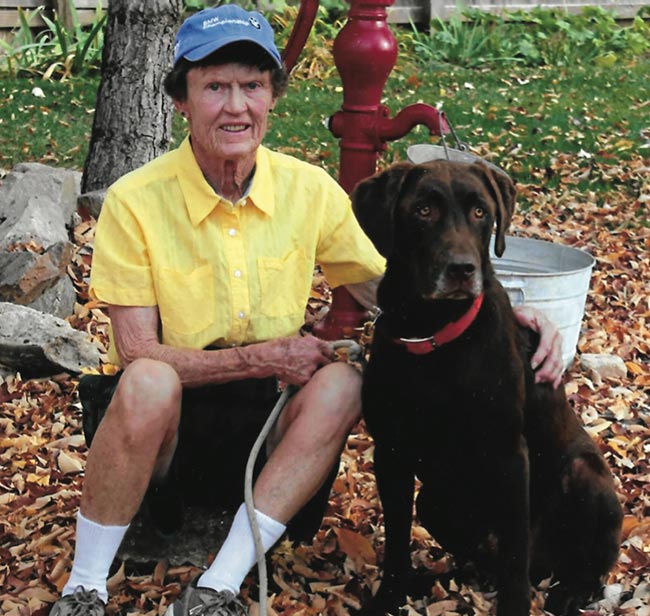 When Flenniken starts to tell stories, they cover the progression of world-class women's golf, from her encounter as a wide-eyed 12-year-old with Babe Zaharias in 1953, to competing successfully against the likes of World Golf Hall of Fame inductees Mickey Wright, Patty Berg, Carner, Haynie, Lacoste, and Judy Rankin, and even into the next generation with Nancy Lopez, Amy Alcott and Hollis Stacy.
"There is no other sport where you bond as much as golf," says Flenniken, as she unspools another tale.
–Andy Bigford, a Colorado AvidGolfer contributor, is working on the third installment in the Ski Inc. book series with Chris Diamond.
---
This article was also featured in the June 2020 issue of Colorado AvidGolfer.
Colorado AvidGolfer is the state's leading resource for golf and the lifestyle that surrounds it, publishing eight issues annually and proudly delivering daily content via coloradoavidgolfer.com.