After reading (and writing) herself the riot act, Becca Huffer is ready to rebound from a troubling 2019 season—whenever the pandemic allows it to happen.
After a 2019 season that—with one glorious/trainwreck of an exception—didn't go as planned, Becca Huffer, pen in hand, sat down for a little chat.
With herself.
"I can hit it to 15(ft) + in always, just trust and believe it," she wrote, in what one can only imagine was a self-flagellating, no-holds-barred battle with her journal. In the next breath, angry end-of-the-season Becca went for the knockout over timid, 2019 Becca, imploring her to change in 2020 and be "out for blood/taking no prisoners—no doubt that I can win and I deserve to."
So, all in all, not a really good LPGA Tour debut.
Some might suggest Huffer, the Denver native who has captivated golf fans in Colorado with her play seemingly since birth, shouldn't be so hard on herself. After all, how many "prodigies" flame out before high school? That wasn't the case for Huffer, who went on to win a pair of state championships at Littleton High School. Then, after scuffling through numerous, pesky injuries during her collegiate career at Notre Dame (most notably a gnarly sounding ganglion cyst), and years toiling in women's golf's minor league circuit, Huffer managed to break through in 2018, finishing 10th in the qualifying tournament to earn her shot at the big time, a berth on the LPGA Tour.
What followed wasn't pretty—Huffer missed the cut in the first 12 events she played. When she finally broke through and played over the weekend—at the almost mockingly-named Marathon Classic—she finished 76th, dead last in the field. Perhaps not surprisingly, Huffer was unable to build on that slight glimmer of hope, missing cuts in her final two events of the season, which ended with just $3,298 in official earnings.
But what disgusted Huffer more than the unblinking harshness of those numbers was the process that led to them. It wasn't that Huffer felt overwhelmed by the competition—"It wasn't like people were being weird and trying to intimidate you out there; everyone hopes that you play well; they're just also hoping that they play better"—or discovered that the golf ball somehow didn't carry as well at the LPGA stop in Australia as it did a year earlier in Auburn, Ala. out on the Symetra Tour.
No, the problem was more internal, and try as she might, Huffer could never get a grip on it. For the season, Huffer shot just four rounds under par. As a result, whenever professional golf can safely resume amid the novel coronavirus, Huffer will find herself back on the minor-league Symetra Tour.
"I am better than that," she chastised herself in the journal.
Batter Up
"You keep going out there, but golf is brutal," says Huffer's brother Zach, who caddied for Becca for most of the season. "You gotta keep (picking yourself) up, but you also keep putting more pressure on yourself, and it's not like baseball, where you get so many chances every day if you go into a slump—in golf you've only got the first two days of a tournament to try and get yourself out of it."
As Huffer wrote in her journal, putting the ball near the hole on her approach shots has always been her strength. But last season, what was normally a 15-footer for birdie stretched out to 25 feet, an exponentially more difficult proposition, especially when she knew she had to make said putt to put herself inside the cutline. And then on the next hole, she wondered why her approach was offline on the previous one. So instead of just settling over the ball and striking it pure, her mind was consumed by approach angles and club positions—which often resulted in another shot that, while not screaming over the green or endangering spectators in the gallery, nonetheless wasn't good enough to pay the rent.
"I definitely got in my own way; just trying too hard, and thinking too much out on the course and hovering around cutlines way too much," Huffer says. "It was one of those things where I knew what I was doing but it was hard to get out of the habit. I would be, 'Okay, here's your chance,' but I knew I needed to play well, so there was more pressure going on.
"It wasn't the best situation. You hoped for that one good tournament—I know a couple of the girls out there that were rookies, and they had their good tournament and now they're all set for this year. That would have been great obviously, but it didn't happen."
An Empathetic Experience
Huffer says she enjoyed life on the LPGA tour, especially the travel, which, besides Australia, led her to "really cool" places like Los Angeles and San Francisco. But the best week of her year actually took place last May, back home in Denver. At the CoBank Colorado Women's Open at Green Valley Ranch Golf Club, Huffer was having the "good tournament" that proved so elusive on the LPGA Tour. Even so, it seemed Huffer, the 2013 tourney champ, was destined for a runner-up finish—she trailed 17-year-old Yealimi Noh of Concord, Calif. by three shots entering the final hole in the third and final round.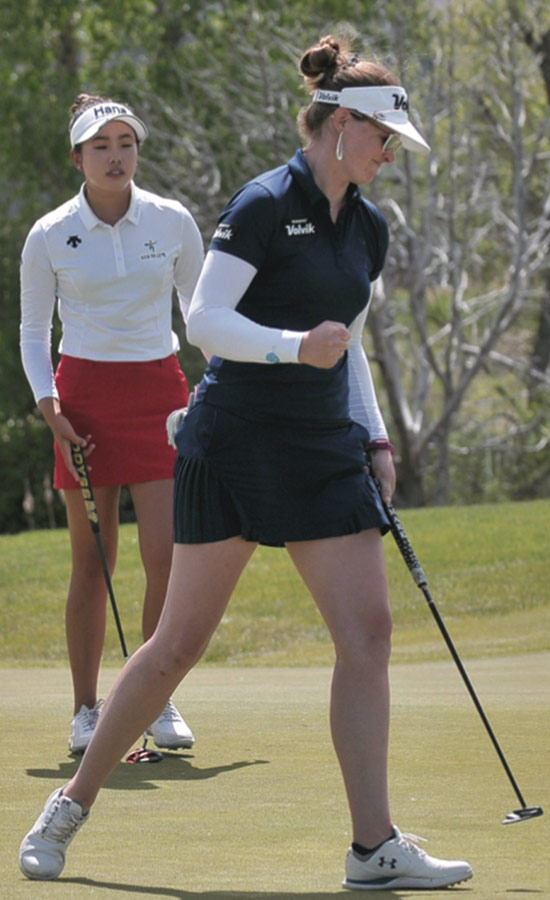 "Zach was caddying for me, and I laid up on the last hole (a 545-yard par-5), and I'm going, 'Okay, this is nice, I had a good round, second's nice, whatever…' I was very content; she was playing great—and then all of a sudden, balls are going into hazards and you're looking around going, 'What the heck is going on?' It was very unexpected."
In what can only be described as a Twilight Zone flashback to Jean van deVelde's 1999 British Open in which he blew a three shot lead on the final four to lose the Claret Jug, Noh—to the astonishment of everyone on the grounds—would eventually finish the hole with a quadruple-bogey 9. Those absolutely flabbergasted by the experience included Huffer—who actually could have won the tournament in regulation but holed out with a bogey.
The subsequent playoff put both players back on the 18th hole. This time, Noh reached the green in regulation—as did Huffer. But unlike her woes on the LPGA Tour, this time around, Huffer's approach ended up just five feet from the cup. After a miss by Noh, Huffer sank her near-gimme, and with it, won the tournament—and a check for $50,000.
Ironically, Huffer's 2013 CoBank Colorado Women's Open victory came in a similar manner.
"It's kind of scary how they mirrored each other," she says. "Not only was it a playoff, it was also the same score…it was just weird…and (the 2013 win) came at a time when I hadn't gotten through Q-school and I was thinking, 'Okay, I'm done,' but then you come out and win the Colorado Open and it's, 'Okay, maybe I can play.'"
At The Crossroads?
Indeed, seven years later, Huffer finds herself having a similar internal conversation. As strange as it may seem for those who remember the adorable little girl who belted drives out into the nether regions of local golf courses, Huffer is about to turn 30. The CoBank Colorado Women's Open win, coming eight events into her string of 12 straight missed cuts on the LPGA Tour, was a welcome oasis amid the parchedness of her Mad Max-level drought, both financially and competitively. But how likely is it that lightning will strike a third time for Huffer at GVR? Short of that, angry words aside, is she ready for the challenge of clawing her way back (when the global pandemic hit she had no status) onto the LPGA Tour, or is it, as the Bible verse says "time to put away childish things?"
Asking Becca Huffer if she indeed is at the crossroads of her career draws a mixture of emotions: a little wistfulness, some anticipation—and enough passion to make you feel like you were the latest entry to be blistered in her journal.
"It's funny," she says, "That's one where, I have to say, if I were playing on the PGA TOUR, would that ever be a question? The women's game is so much younger; I guess if you get up towards 30, it's like, 'If you're not in the Top 10 in the world you might as well quit.' But I look around, and there are so many people who I see out there who are around my age and in my situation, and you're going, 'You're a really good player— you're just not making it work.' But then it just clicked in and they got it going.
"If I looked at last year and thought I couldn't compete, or that there were too many things in my game that I couldn't improve, maybe, but I don't think that— it was, "Here's five shots that you lost just because you were being dumb.' If I thought I couldn't compete against the best, that would change my mind completely, but I don't think that…the part that I like the best is competing—now I'm just hoping that I get the chance to go out there and play."
And when that happens, she's hoping it will be her clubs that have the final word.
---
This article was also featured in the June 2020 issue of Colorado AvidGolfer.
Colorado AvidGolfer is the state's leading resource for golf and the lifestyle that surrounds it, publishing eight issues annually and proudly delivering daily content via coloradoavidgolfer.com.