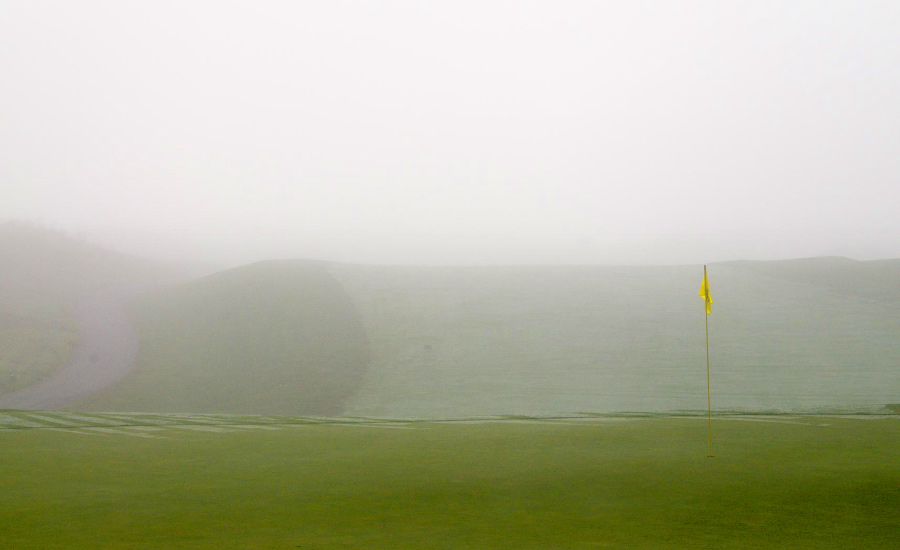 Although his time in Oregon was brief, the CSU All-American says he's better for the experience.
You might think that, after shooting an 81, followed by a 74—not coming close to advancing to the match play portion of last week's U.S. Amateur—that Davis Bryant would be anxious to expunge anything related to Bandon Dunes Golf Resort from his memory.
You would also be mistaken.
"I pretty much remember every shot that I hit for both days, and I'll remember every one of them for a long time,' Bryant said.
By the time Tyler Strafaci emerged from the fog on Sunday, rallying from an early five-hole deficit in the 36-hole final match to win the spectacularly entertaining tournament, Bryant was long gone from Oregon, headed back to Colorado, where he's about to begin his sophomore year at Colorado State University. With the Rams' fall season already cancelled because of the novel coronavirus, Bryant golf schedule will consist of but a handful of scattered events.
Even so, he said he's anxious to incorporate some of the lessons he took away from the Amateur into his game.
"I would say just being mentally tougher; knowing you're going to make some mistakes—a course like that is going to bring out some flaws and errors in everyone's game. I mean, there were so many great players on that first day who just shot really high scores (Charles Osborne, who would eventually advance and face Strafaci in the championship match, shot a 77 in his opening round)…
"Looking back, I wish I would have been a little more prepared, I wouldn't say for a disaster, but just realizing that if I were three over par through six holes, it's not great but it could be worse—I just needed to be more aware of some of the possible outcomes. Obviously I was disappointed and wanted to play better, but I think I was almost in shock at how I was playing."
Bryant arrived at Bandon Dunes on Thursday evening, and, after checking in, was tested for COVID-19. Afterwards he said he tried to allay some nerves by spending about a half hour on a nearby putting green. The next morning he walked the Dunes course, where he would play his opening round of stroke play, before participating in a par-3 contest with his CSU teammate A.J. Ott (Ott fared better than Bryant in the two days of stroke play, missing out on advancing to match play by just two shots). Later, Bryant would also walk the Trails course, the second venue used for the tournament—"I must have walked something like 35,000 steps that day," he mused.
While he would eventually get to play practice rounds on both courses, that still didn't prepare Bryant for what he faced in Monday's opening round—a howling wind that left him spent mentally and physically.
"It was blowing at least 25 to 30 miles an hour the whole time and it was a factor in every single shot: putting, chipping from around the greens—on the tee you'd have to hit driver 40 yards to the left and let the wind bring it back to the middle of the fairway," he said. "There were so many things that you had to consider before you could hit a shot—your number, whether the shot was uphill or downhill.
"I would say it was the biggest challenge I've faced in golf; it was just exhausting. You're tired and worn out; it would have been easy to just give up—it was just something that I had never played in before… There was one time, I had a 4-iron that I needed to carry somewhere like 220 or 230 yards—and it went out to 290. It was dealing with stuff like that the whole round."
After his opening round 77, Osborne, the eventual finalist, shot a 64 to secure his place in the top 64 players and advance to match play. While four shots worse, Bryant said he was envisioning a similar comeback.
"I figured I would have to shoot a 63 or 64; I went into it like, 'Let's just get to four- or five-under and see what happens," he said. "I played better; the course was easier and there was very little wind, but I didn't give myself a lot of birdie looks—there were only a handful of times I had a reasonable chance… you're not going to make those 35-footers very often."
Indeed, Bryant failed to make a birdie in the round. Even so, he said his 3-over 74 felt closer to a 70, the optimistic viewpoint indicative of the indelible memories he brought back with him to Colorado.
"Not to say that something different would have happened if I'd had a different draw; maybe if I played in a little less wind, I'd have a different outcome, but you can't look back and say 'What if'," Bryant said. "It was just a great experience—even that first round; I've told a couple of people that, looking back, it was the most fun that I've ever had shooting an 81."
---
For more of the latest Colorado golf news, visit our NEWS & PROFILES PAGE.
Colorado AvidGolfer Magazine is the state's leading resource for golf and the lifestyle that surrounds it. CAG publishes eight issues annually and delivers daily content via coloradoavidgolfer.com.