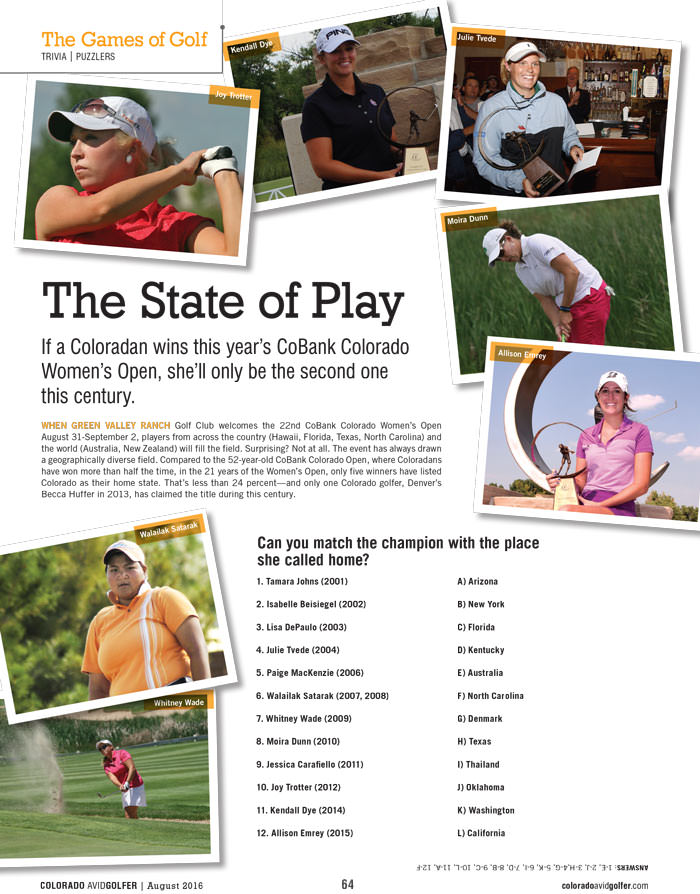 When Green Valley Ranch Golf Club welcomes the 22nd CoBank Colorado Women's Open August 31-September 2, players from across the country (Hawaii, Florida, Texas, North Carolina) and the world (Australia, New Zealand) will fill the field. Surprising? Not at all. The event has always drawn a geographically diverse field. Compared to the 52-year-old CoBank Colorado Open, where Coloradans have won more than half the time, in the 21 years of the Women's Open, only five winners have listed Colorado as their home state. That's less than 24 percent—and only one Colorado golfer, Denver's Becca Huffer in 2013, has claimed the title during this century.
1. Tamara Johns (2001)
2. Isabelle Beisiegel (2002)
3. Lisa DePaulo (2003)
4. Julie Tvede (2004)
5. Paige MacKenzie (2006)
6. Walailak Satarak (2007, 2008)
7. Whitney Wade (2009)
8. Moira Dunn (2010)
9. Jessica Carafiello (2011)
10. Joy Trotter (2012)
11. Kendall Dye (2014)
12. Allison Emrey (2015)
a) Arizona
b) New York
c) Florida
d) Kentucky
e) Australia
f) North Carolina
g) Denmark
h) Texas
i) Thailand
j) Oklahoma
k) Washington
l) California
Scroll down for answers…
This article appears in the August 2016 issue of Colorado AvidGolfer.
Test your knowledge by visiting our Games of Golf section for more fun golf quizzes..
Colorado AvidGolfer is the state's leading resource for golf and the lifestyle that surrounds it, publishing eight issues annually and proudly delivering daily content via coloradoavidgolfer.com. Follow us on Twitter, Facebook and Instagram.
ANSWERS: 1-e, 2-j, 3-h,4-g, 5-k, 6-I, 7-d, 8-b, 9-c, 10-l, 11-a, 12-f