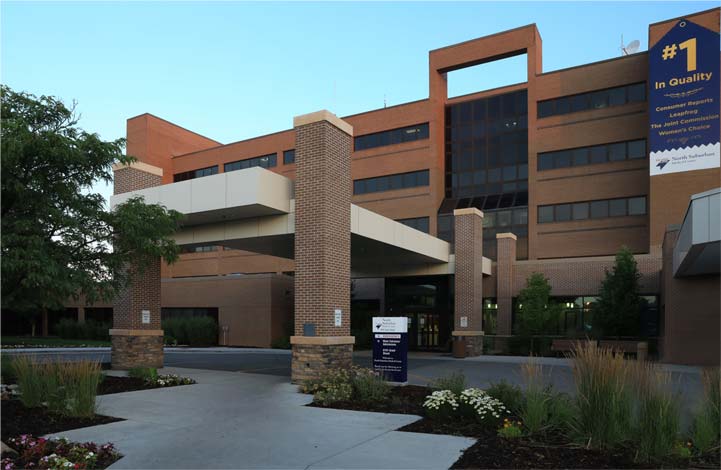 Flexibility and well-balanced muscles are key factors to have a strong golf game and help to prevent injuries. That's why stretching and an appropriate warm up are an important start to any day out on the green.
At any age, our joints and muscles appreciate a nice warm up and stretch to prepare for a day of physical activity. Stretching increases flexibility, which not only helps with your golf swing, but can also prevent injuries.
"Cold muscles are more prone to injury, which is why you should stretch and prepare your body for the activity," says Dr. Jared White, orthopedic specialist with OrthoONE at North Suburban Medical Center. "Golf involves a number of muscles, so stretching and warming them up is important."
Dr. White encourages the following stretches to get you warmed up and ready for a day of golfing.
Shoulder stretch: Take one arm and pull it across your chest and hold for a count of ten seconds. Repeat with the other arm. Hold one of your favorite clubs, and swing it back a forth for a few times for a nice shoulder warm up and stretch in one.
Trunk rotation: Hold your driver across your chest. Keep head and neck straight, plant your feet shoulder width apart, and move your body side to side.
Hamstring stretch for legs and back: Spread your feet to shoulder width and keep your knees straight with your weight on your heels. Bend over as far as you can go without bouncing. Try to hold this position for at least ten seconds.
Arms and wrists: Hold your driver with both hands in front of you. Arms straight and shoulder height. Bend your wrists up and down to stretch.
"To keep your muscles and joints ready to play, hit a few balls at the driving range before jumping into a full game of golf," said Dr. White.
Going through the motion of hitting some golf balls will help you understand where your body is at that day. Listening to your body is important.
"If a certain activity causes you pain, pay attention and don't expect the pain to just stop. If you have an issue and you keep doing the same activity that caused the problem to begin with, that could lead to an injury that could have otherwise been prevented," said Dr. White. "Instead, address the issue when the pain first starts. Talk with your doctor or seek out an Orthopedic specialist if it doesn't improve."
Dr. White treats many patients with sports-related injuries at his OrthoONE office at North Suburban Medical Center. The hospital, located near I-25 and Grant, provides a number of medical services including orthopedic care and surgical interventions for orthopedic related conditions. In addition to the orthopedic services, North Suburban also provides labor and delivery services; neonatal intensive care; three emergency departments; vital health screenings such as mammograms; cardiovascular care; cancer care; minimally invasive and robotic surgery; wound care and hyperbaric medicine; and neurosurgery services.
In 2018, the hospital was awarded the Women's Choice Award for Emergency Services, attained a 5-Star Healthgrades rating for vaginal deliveries, received the Get with the Guidelines Stroke Gold Plus Award and received an "A" rating by the Leapfrog Group for patient safety/quality for the ninth consecutive time. Most recently, in spring 2019, North Suburban received its tenth consecutive "A" from The Leapfrog Group, was recognized by Healthgrades as a five-star hospital for vaginal deliveries for the second year in a row, and received the Get with the Guidelines Stroke Gold Plus Honor Roll Elite Award. North Suburban is also Colorado's first hospital to achieve Sepsis certification from The Joint Commission.
Dr. Jared white has an office at North Suburban Medical Center and in Westminster at 112th and Sheridan. For more information, visit OrthoONEDenver.com
For more information about North Suburban, visit NorthSuburban.com
---
For more on life around the greens, visit our LIFESTYLE PAGE.
Colorado AvidGolfer Magazine is the state's leading resource for golf and the lifestyle that surrounds it, publishing eight issues annually and proudly delivering daily content via coloradoavidgolfer.com.