No, it's not a flashy driver or shiny set of irons. Heck, it's not even a groovy wedge, or pricey putter. It's just a humble ball…and not a terribly distinguished one.
By Tony Dear
Two thousand and nineteen was a pretty barren year for me equipment-wise. Yes, I got to hit plenty of impressive new hardware (the last time I wrote a really negative club review probably wasn't during the 2010s), but I didn't actually buy any. It wasn't a 'buy' year. I don't update equipment half as frequently as I did in my youth, and 2019 just happened to be one of those years when nothing really needed renewing.
You certainly won't find the latest and greatest of everything in my bag (regular readers might recall my Cleveland 588 56-degree sand wedge has been in service for 20+ years and will only be replaced if something irregular happens to it at an airport or my slowly-becoming-interested-in-golf children misplace or break their own sand wedges and make the very grave error of believing dad won't mind if they borrow his before leaving it on, at or up the team bus/friend's house/a tree.) and, to be honest, I don't need it. I'm just happy with what's currently in there.
The desire to update one's driver grows stronger with every passing launch and spiffy marketing campaign, of course (I'm only human), and I did begin giving it some semi-serious thought last month. But then I used a rental set on a business trip and had such a successful time with the driver I made a note of the shaft and am now having my current driver shaft replaced–the thinking being that's probably all the updating it needs…for now.
Really, the only gear I spent money on this year was a few new grips, a couple of shirts, two gloves, some course logo hats, a pair of low-profile sneakers that double-up just fine as golf shoes, and…balls, lots of balls.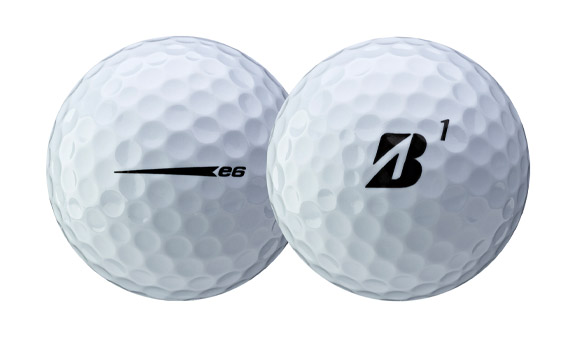 I suppose I'm approaching that point in life where the first ball that comes out of the bag is the ball that gets teed up (unless it's an old Molitor or Penfold of course – don't ask why I still keep the things –  in which case I rummage for something a little more modern). But I became increasingly comfortable this year with Bridgestone's e6 ball, and see it very much as a keeper for the time being.
As my swingspeed continues to decrease, so the need for greater assistance is rapidly increasing. I 'discovered' the e6 just prior to writing a Father's day gift guide in June, and while there have certainly been times when the loose Titleist, Callaway, or Srixon came out, I definitely had better results on those occasions when I purposefully hit the Bridgestone e6.
With a compression of just 44, it feels incredibly soft which I love on and around the greens–who doesn't? – and because it's easier to compress it's behaved nicely on approach shots. It's also managed perfectly agreeable distance, with the irons in particular.
It's not a Tour ball of course, not even a higher-cost intermediate ball. It's just an ugly, two-piece, $22/dozen outcast. But as I become more and more comfortable using the equipment I should be using rather than the equipment I still wish I could use, it will more than do for me.
And, I suspect, a number of you too.
---
For more on the latest and greatest gear in golf, visit our GEAR PAGE.
Colorado AvidGolfer Magazine is the state's leading resource for golf and the lifestyle that surrounds it, publishing eight issues annually and proudly delivering daily content via coloradoavidgolfer.com.