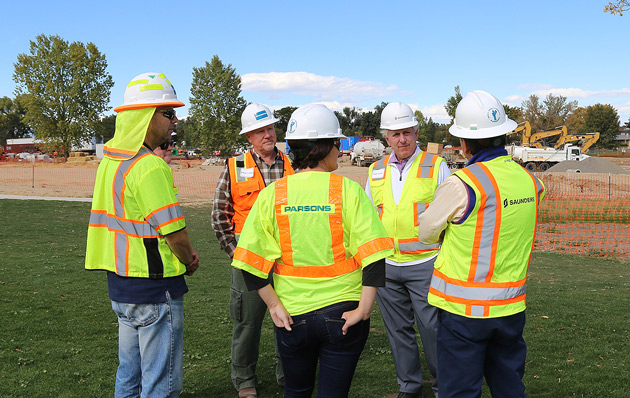 Saunders Construction, Inc.,and the City and County of Denver hosted three-time U.S. Open winner Hale Irwin to provide key design input on the City Park Golf Course Redesign project. Serving as design advisor in collaboration with iCon Golf Studio's Todd Schoeder, Irwin visited with the program team to provide his professional insight to the playability and strategy of the new 18-hole course.
"It is exciting to physically see the progress being made on the City Park Golf Course project," said Irwin. "When completed, this will not only be a place for us all to enjoy now, it will be a place we would encourage our children to come and play golf. This project is a legacy for the future."
Once complete, the City Park Golf Course Redesign project includes an updated 18-hole golf course with a full-size driving range, a dedicated 4-hole course for The First Tee of Denver, a new clubhouse designed by Johnson Nathan Strohe, a new maintenance facility, stormwater detention that provides increased flood protection to thousands of homes and a reforestation program with a net gain of 500 trees. The basis of design for this project was developed from an iterative, collaborative process with a cross-section of members within the community. The redesign maintains the sweeping vistas and park like feel of the course's original design.
"I think golfers are going to find a lot of similarities in that over half the holes follow the exact corridors that previously existed," Schoeder explained during an earlier tour given to Colorado AvidGolfer. "It's going to feel very déjà vu. However, we've modernized the golf course, making it more strategic, interesting and engaging."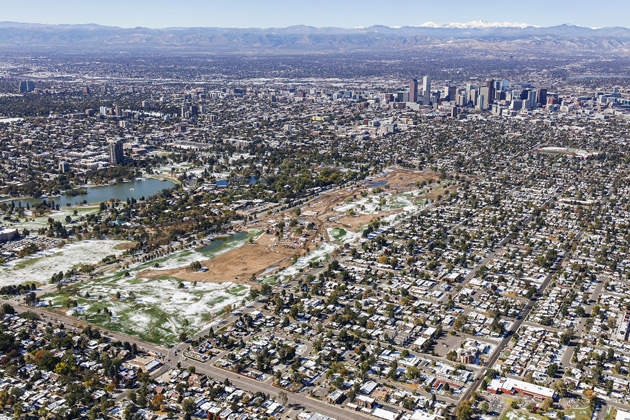 He kept many of the holes playing east-to-west and west-to-east. That said, the new sixth and eighth holes will play north-to-south, while the new Nos. 7 and 12 will play south-to-north. Holes one, nine, 10, 11, 14 and 16 will face west, with holes two through five, and Nos. 13, 15, 17 and 18 playing east.
Irwin, who as a youth competed in one of his first tournaments at City Park, played a central role in creation of The First Tee Denver complex, sharing his insights with Schoeder on the layout. The result is a challenging, instructional course of four holes ranging from around 55 yards to 100 yards.
"He's a good friend, a great advisor and a big supporter of The First Tee program," Schoeder says of the World Golf Hall of Famer. "From a routing and playability standpoint, and how The First Tee Denver wanted the course to work, Hale's input was invaluable."
With The First Tee Denver having its own space in the new clubhouse, it is easy for parents to drop off their kids, who can then walk out the west doors to the short course.
Construction of the City Park Golf Course remains on schedule. The next phase of the project includes completing seeding operations, building of the new clubhouse, planting of new trees, and construction of the new 23rd Avenue intersection.