As Joe Sakic's annual Sanctuary tournament helps to provide its 21-millionth meal for needy kids, the Sedalia club will pass an equally notable philanthropic milestone.
By Jon Rizzi
---
[easyazon_infoblock align="right" identifier="B06XPN58QF" locale="US" tag="coloradoavidg-20″]During his Hall of Fame NHL career, Joe Sakic scored 1,641 points, with every goal and assist coming as a member of the franchise for which he now serves as executive vice president and general manager. Yet as gratifying as it was for him to put 625 pucks into the net for the Avalanche, putting more than 20 million meals in the stomachs of hungry children carries even more significance for the man appropriately known as "Super Joe."
Those 20 million meals have resulted from funds raised at the Joe Sakic Celebrity Classic Golf Tournament, which will take place August 16 for the 21st consecutive year at Sanctuary, the breathtaking golf course in Sedalia owned by RE/MAX founders Dave and Gail Liniger that devotes itself wholly to hosting charity golf events.
Sakic's tournament benefits Food Bank of the Rockies, which reports that one in every six Colorado children suffers from "food insecurity"—in other words, they don't know where their next meal is coming from. "Ten years ago, that number was one in four," says Kristina Thomas, the Food Bank's Community Engagement Manager. "So we're making progress."
Sakic got involved with the Food Bank in 1998, the year after Sanctuary opened, when a "neighbor friend" approached him about helping the children's programs. "I did my homework, met the people and it was an easy decision to do the tournament," he says. "We're all really privileged to lead the lives we do, and we need to do what we can to give back. Everybody's really proud to help the kids who really need our help. They're the future, and we know how important nutrition is."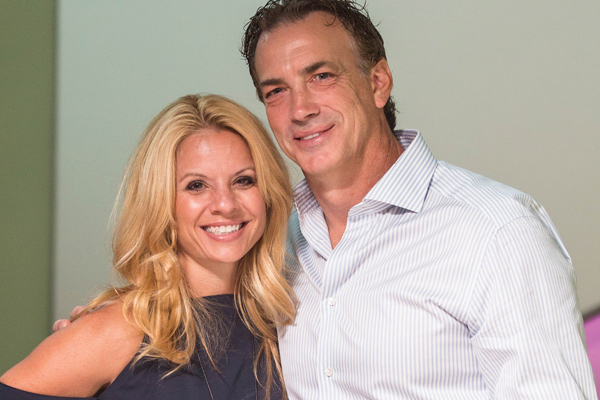 His commitment to ending childhood hunger is real and sincere. "Joe occasionally drops in unannounced at Food Bank board meetings and he's served pizza to kids at Food Bank events at schools and Boys & Girls Clubs," says Mark Boshoven, a senior VP at RBC Wealth Management and Food Bank of the Rockies board member, who has chaired every tournament since 1998 "and here we are,
$5 million later."
The tournament sells out every year. To get more people involved, on the following day The Hangar at Stanley Marketplace in Stapleton will host the Joe and Debbie Sakic Bringing Hope to the Table Celebration. The $250-per-person event, which has a history as long as the tournament's, has evolved from a small cocktail party and autograph session into a gala dinner and auction presented by CoBank and RBC Wealth Management and featuring comedy by Jake Johannsen.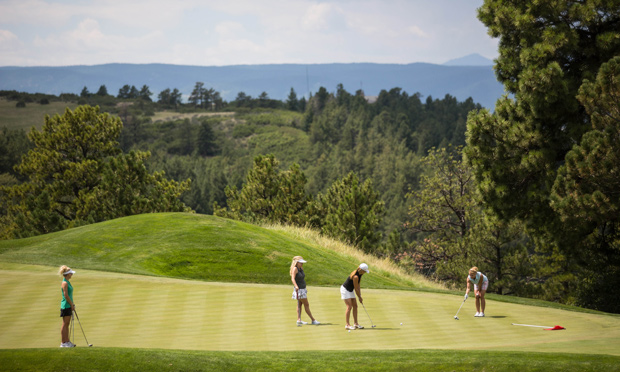 "I look forward to those two days every year, because it's so great to see so many people give to a greater cause," says Sakic. "At the end of the day you realize how important it is to help kids out. Imagine the happiness it brings to a kid knowing he or she is being fed due to the kindness of strangers."

The tournament and gala raise enough money for the Food Bank of the Rockies to provide more than one million meals to at-risk children through programs like FBR's Kids Cafe, which last year served 621,000 meals to children identified as at-risk of hunger at 78 sites during the school year and 59 sites over the summer. FBR also provided more than 175,000 Totes of Hope on Fridays to children who otherwise would go without until school on Monday, as well as more than 200,000 after-school snacks containing at least two of the four basic food groups.
"Every year we raise one million meals for the kids," says Sakic. "It's a great accomplishment, but hunger's not going away and we have to keep doing more."
Doing more for the public good is what inspired Dave and Gail Liniger to turn their surreal  Jim Engh-designed golf course, which opened in 1997 into a venue devoted exclusively to hosting charity events.
"Our companies made us wealthy and this was an opportunity to give back to the community where we founded them," says Dave Liniger, who in 1997 challenged the 12 charities he and Gail had selected from more than 300 applications to net $100,000 during their one-day golf event. "We said, 'It's free of charge. You don't have to pay cart fees or green fees and you keep what you net.' It evolved to what it is today."
Today, between 25 and 30 charities annually hold their events at Sanctuary, including Children's Hospital and Anchor Center for Blind Children, which have both hosted an event every year since 1997. The Food Bank and Craig Hospital have the next longest run, hosting an event every year beginning in 1998.
With the average Sanctuary event raising $190,000, a week before the Joe Sakic Celebrity Classic—which usually nets upwards of $250,000—Sanctuary should eclipse $100 million in donations.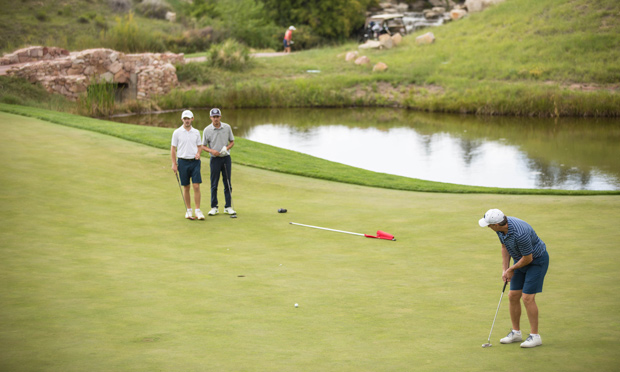 "The $100 million is significant and the Linigers have contributed to those groups," says Rudy Zupetz, the one and only PGA Professional Sanctuary has ever known. "But what's really cool is they've inspired the community to multiply their contributions by four times, five times. That's just phenomenal. They could write a check to these organizations and call it good, but they've created a facility that multiplies that money and benefits many worthy organizations in the Rocky Mountain Region and on a national and global scale."
Dave Liniger credits the charitable milestone to the "thousands upon thousands of golfers and companies who have sponsored and given the money to their favorite charities. Gail and I have the property but it is the community that has given all the money."
He concedes that selecting which charities to host is a "difficult task but a very rewarding part of our life."
"It's a wide range of beneficiaries in terms of the arts, children, health care and crisis management," Zupetz explains. "Our goal is not to have the charities bumping up against each other seeking the same sponsorship dollars." Limiting the number of events each year also keeps them "special" and maximizes the amount of money raised.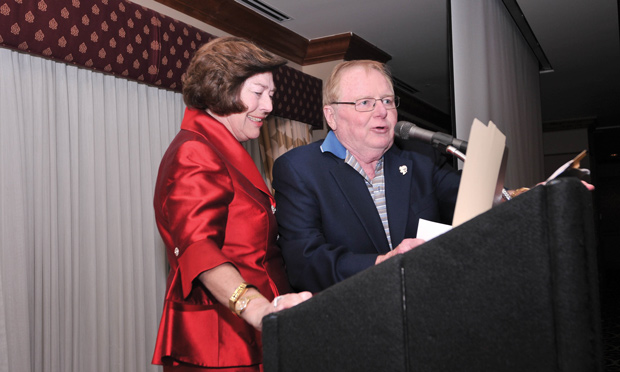 The Linigers also annually make available for auction "a number of foursomes to worthy organizations that maybe don't have the horsepower to maximize a full day out here," Zupetz says. "Mr. and Mrs. Liniger will review approximately 600 applications and they'll donate approximately 80 to 100 foursomes, each requiring a minimum bid of $1,600. That money goes straight to each charity's bottom line."
Liniger praises Zupetz, Catering Manager Brad Thompson and Course Superintendent David Hare—all of whom have been at Sanctuary for its entire existence—for making it a place to which people want to come back. After all, when a charity holds its tournament at the same place every year, it runs the risk of getting stale or repetitive.
A big part of why they want to return, Zupetz elaborates, "is because with the facilities, vision and resources that the Linigers have provided to Sanctuary, our staff is able to take care of some of the things that can sidetrack charities. Here they can focus on raising those dollars, knowing that the day of the event will go smoothly."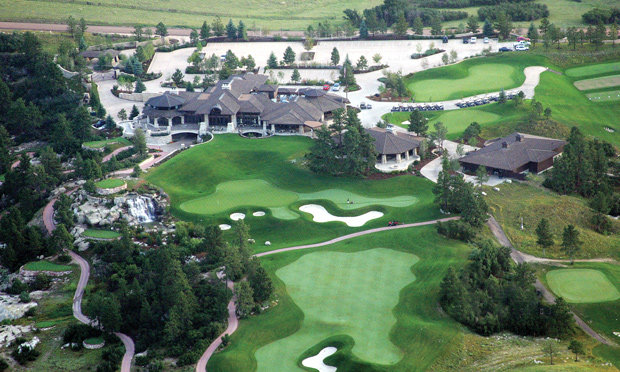 Plus, you won't find a more spectacular and serene golf setting in all Colorado.
"It never gets old," Sakic says. "The course sells itself. We always have a great time. Dave and Gail have been so supportive of the Food Bank and the community. What they do at Sanctuary and what they give back speaks volumes about the kind of people they are."
To learn more about the Food Bank of the Rockies, visit
foodbankrockies.org
.
---
Colorado AvidGolfer Magazine is the state's leading resource for golf and the lifestyle that surrounds it, publishing eight issues annually and proudly delivering daily content via coloradoavidgolfer.com. This article appears in the August/September 2018 issue of the publication.