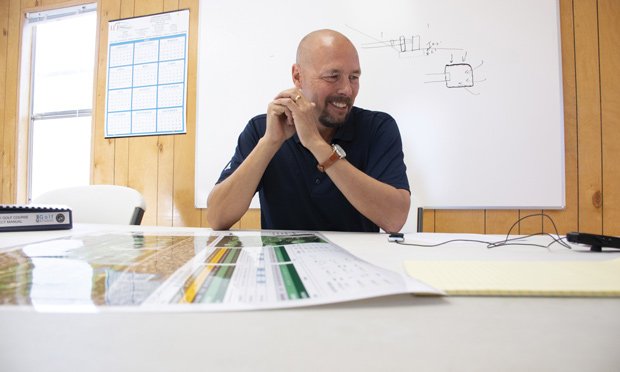 A guided tour of course architect
Todd Schoeder's

t

houghtful redesign

of Denver's

City Park Golf Course

portends a golf experience worthy of its storied past and sparkling future.

By Kim D. McHugh | Photographs by E.J. Carr
---
I am standing on eight inches of loosely tilled soil, mindful of a massive dump truck lumbering towards me, its bed brimming with earth. To my right looms a ginormous dirt pile some 20 feet high, 30 feet wide and 60 yards long. It is one of a half-dozen I see on my tour of the construction zone at Denver's City Park Golf Course.
This isn't just any dirt. It's hallowed ground to millions of golfers—among them such local legends as Tom Woodard, Ed Mate, Joan Birkland, Jonathan Kaye, Dan Hogan and Babe Lind—who learned and played the game here.
City Park is also where millions of dollars changed hands during big-time money games, a community icon where women's leagues flourished, thousands of inner-city kids made their first swings and the East Denver and City Park Players clubs took root.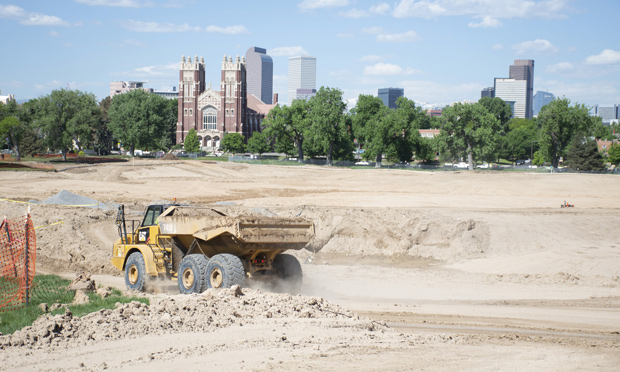 As the dump truck noisily rumbles past, it isn't lost on me that this construction may not have happened if not for a "yes" vote from the Denver City Council—and more importantly—the clack of a Denver District Court judge's gavel giving the go-ahead to a storm water mitigation plan that necessitated the course's comprehensive renovation. Able to withstand often fierce opposition to the drainage plan, including the filing of a lawsuit to halt it, the project saw the arrival of earthmovers last February, along with golf course architect, Todd Schoeder, whose design is taking shape before my eyes.
After stopping to explain the logic of moving the first hole to its new west-facing location, Schoeder takes off at a brisk pace, continuing to speak animatedly about the redesign of the 105-year-old layout. As he explains his vision behind the renovation, he abruptly stops, inviting me to take in the amazing westward view.
A FLOOD OF CHANGES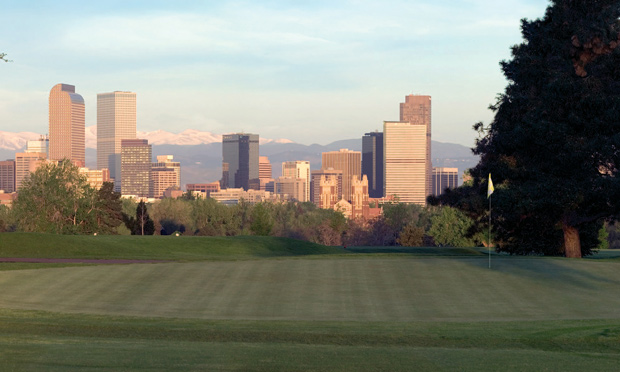 "We took to heart the importance of highlighting the view of downtown Denver and the Front Range," says Schoeder. "This was a classic Tom Bendelow design, where he incorporated vastness and a big, wide open fetch to look across. We paid a lot of attention to that in our approach."
Schoeder, whose Broomfield-based firm iConGolf Studio was awarded the project in the summer of 2017, was tasked with creating a design that would give a nod to Bendelow's 1913 layout and, more importantly to the City and County of Denver and Denver Parks and Recreation, incorporate a reliable storm water mitigation system.
To accomplish as much, Schoeder assembled a team that includes as a course design adviser Hale Irwin (with whom he also collaborated on the Glacier Club's spectacular Mountain Course in Durango), Martin/Martin Engineering; golf-course construction and irrigation services firm Aspen Corporation; LRDG Water Resource Management; and Saunders Construction to facilitate the makeover. As we walk hole-by-hole—with bulldozers, earthmovers and more fully loaded dump trucks rumbling around us—Schoeder further articulates his reasoning for re-building the old course.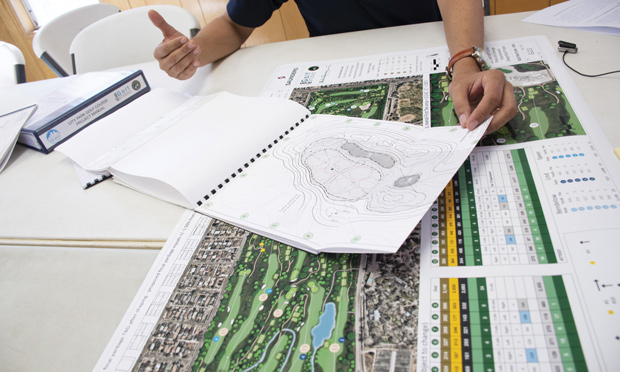 "This project didn't come about as a golf course restoration, it was first and foremost a project to solve flooding issues, and as a result, the golf course needed to be remodeled," he explains. "We had to take advantage of every square foot on 135 acres to fit in 18 holes, a clubhouse, a maintenance facility, a parking lot, a full-size driving range and practice area, and four-hole First Tee complex."
One of the city's requests was to have returning nines, where the first and tenth holes start at the clubhouse and, at the busiest times, management would have the flexibility to start players off both the first and 10th tees. Schoeder recalls his iConGolf Studio team producing at least 25 different routings internally, which were narrowed down to eight or so before the selection committee chose the current one. Given the decades-long flooding issues on the corner of York Street and 26th Street—the lowest part of the property and site of the old clubhouse—one of the firm's first decisions in determining the re-routing was to build a clubhouse not only on higher ground, but also where those stunning 180-degree vistas would be magnified.
"The position of the new clubhouse isn't the highest point on the golf course, but it's close," says Schoeder. "Because height limitations had to be met, it is a low-profile building with an all-glass, west-facing wall. It is going to be spectacular."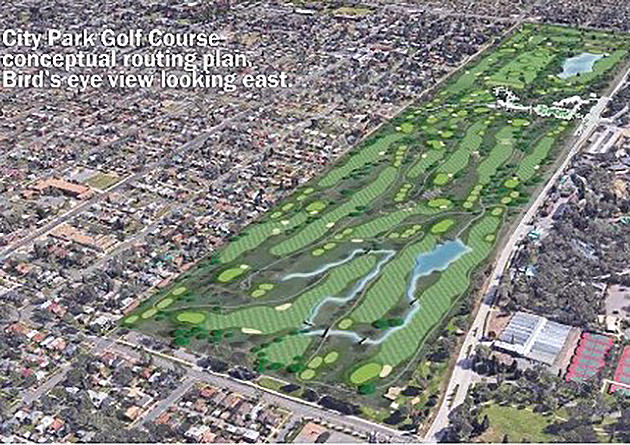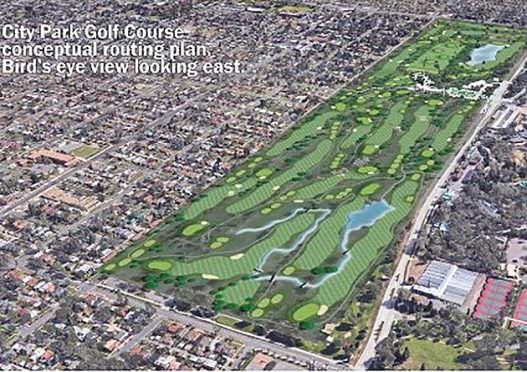 Appearing on the master plan in basically the center of the course, the approximately 11,000-square-foot building will be designed using a combination of metal, glass, stone and wood. The clubhouse configuration will accommodate golfers, as well as serve as a venue for weddings and other social functions. The City and County of Denver enlisted the architectural expertise of Denver-based Johnson Nathan Strohe for the building, the opening of which is penciled in for late summer or early fall 2019.
IMPROVING ON THE PAST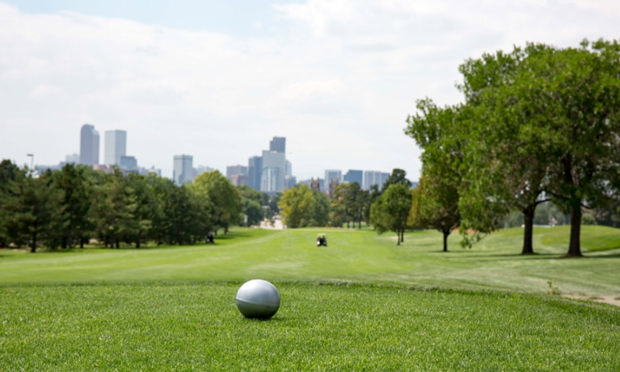 As we walk, Schoeder speaks to the preservation and relocation of numerous existing trees, as well as to the city's plan to plant more than 750 new ones. The trees and drought-tolerant grasses will be kept hydrated using reclaimed water applied by a state-of-the-art, flow-managed irrigation system that will save thousands of gallons of water annually.
Though the primary mission is for the par-71 course to assist in successfully managing storm waters, Schoeder and his team never lost sight of offering a terrific golf experience. Keenly aware of the loyalties so many golfers still have for the original layout, he kept many of the holes playing east-to-west and west-to-east. That being said, the new sixth and eighth holes will play north-to-south, while the new Nos. 7 and 12 will play south-to-north. Holes one, nine, 10, 11, 14 and 16 will face west, with holes two through five, and Nos. 13, 15, 17 and 18 playing east.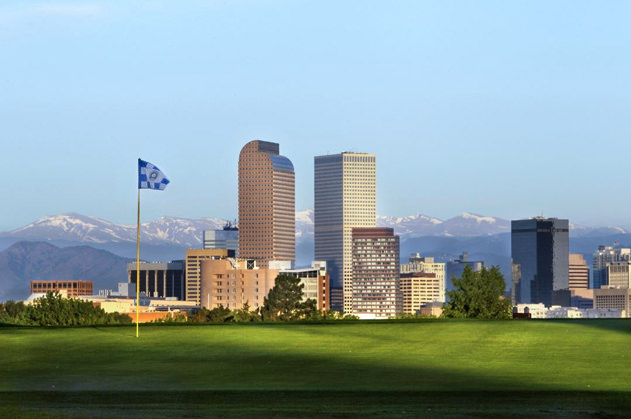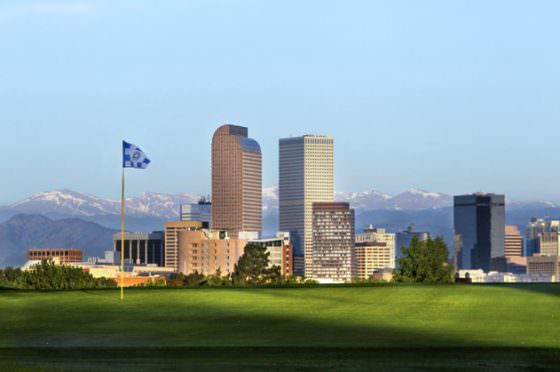 And then there are new hazards.
"The ones I think stand out are the water features," Schoeder comments. "We have two large ponds that come into play on three holes; one is on nine and the other is between 11 and 13. Then we have a meandering stream that is going to affect your strategy on holes 11, 13 and 14."
Measuring about 1,800 feet, the serpentine stream is actually a low flow channel put in place to help neutralize storm water events, but it was integrated into the design in the spirit of "Rae's Creek", which famously fronts the par-3 12th at Augusta National Golf Club. Opening in 1913 with 110 bunkers—a tactic employed by U.K. course architects like Tom Bendelow, Donald Ross and Alister MacKenzie to make a treeless course more befuddling—that number had dwindled to 24 by the time the tree-lined course closed last fall.
"By way of modern standards, and considering the advances in ball and club technology, a lot of those remaining bunkers didn't work anymore where they were located," Schoeder explains. "We're now at 35 bunkers, and where they are located was done with a purpose and a reason."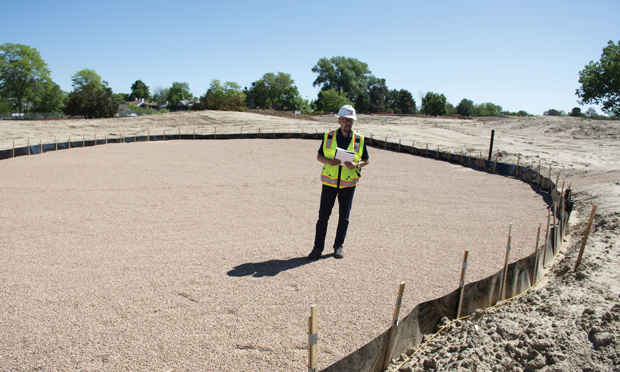 He and the team had a checklist of why they'd want a bunker on the course. Did it create an opportunity for risk-reward play? Did it strategically align a shot? Did it keep a ball from entering an area you didn't want to be in? Did it invite a golfer to give a bit more thought to club selection and course management? If it met the criteria, it made the cut.
What golfers will find more visually appealing—and more forgiving than on the previous course—are larger greens. On average, Bendelow's greens measured around 4,000 square feet. Greens in the new design range from around 5,000 to just under 7,000 square feet. Gone are Bendelow's circular greens, replaced by ones with oblong and kidney shapes with most having significantly more contouring.
"We spent a lot of time on strategy with each hole and green complex," says Schoeder. "Early on in the design process we go through every characteristic for how the course plays. The new greens are very different, they have more movement and there is an opportunity for more interesting pin placements."
Golfers can look forward to the new greens having a more favorable stimp rating. The old greens—specifically on 3, 9, 10, 11 and 12—were infuriating. If you started a putt at the back of those greens it wouldn't stop rolling until it was off the front of the green. Except for tournament play, the stimping will be friendlier now.
THE FIRST TEE


Of Hale Irwin's participation in the redesign, perhaps his most heartfelt is with the creation of The First Tee Denver complex. Irwin, who as a youth played one of his first tournaments at City Park, shared his insights with Schoeder on the layout. The result is a challenging, instructional course of four holes ranging from around 55 yards to 100 yards.
"He's a good friend, a great advisor and a big supporter of The First Tee program," Schoeder says of the World Golf Hall of Famer. "From a routing and playability stand-
point, and how The First Tee Denver wantedthe course to work, Hale's input was invaluable."
With The First Tee Denver having its own space in the new clubhouse, it is easy for parents to drop off their kids, who can then walk out the west doors to the short course. Just east of the clubhouse will be a new driving range. Unlike the old practice facility, where players could only hit irons off mats, the new range invites the use of every club.
KEEPING IT REAL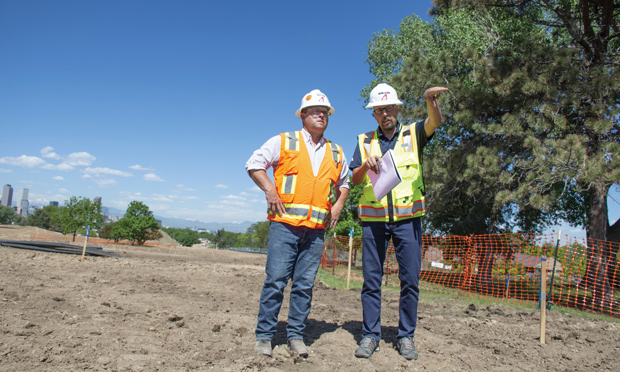 A busy man, Schroeder knows even playing nine holes can take more time than he can spare. So his team came up with a solution.
"We have three courses within the main course—the Bendelow, the Lind and the Speer," says Schoeder. "Let's say you have time to play five or six holes in the morning before going to the office. Or you have family commitments where playing 18 or nine isn't feasible. We have routings for that. And they're not tricked up. You play the same holes with the same conditions playing 18 holes, but it's a shorter time duration."
My course tour over, I've returned to the site of the new clubhouse, taking in that spectacular vista Schoeder pointed out at the beginning of our walk. A year from now those massive mounds of dirt will be long gone, replaced by gorgeous fairways, clusters of trees and photogenic green complexes.
"I think golfers are going to find a lot of similarities in that over half the holes follow the exact corridors that previously existed," explains Schoeder. "It's going to feel very déjà vu. However, we've modernized the golf course, making it more strategic, interesting and engaging. But it's always going to be enjoyed for its visual beauty."
---
CAG contributor Kim D. McHugh is a Lowell Thomas Award-winning writer. To follow the progress of the City Park Golf Course project, visit cityofdenvergolf.com/golf-course/city-park
Colorado AvidGolfer Magazine is the state's leading resource for golf and the lifestyle that surrounds it, publishing eight issues annually and proudly delivering daily content via coloradoavidgolfer.com.