With the PGA Merchandise Show imminent, announcements and introductions of new hardware are coming thick and fast. Here are five new irons (and siblings) that could make 2021 a year to celebrate.
Callaway Apex
Seems like only yesterday we were covering a new Callaway Apex iron – October 21st actually. That time, the model in question was the updated and very attractive muscleback, the Apex MB. This week's iteration is the latest version of the mother club born as a Ben Hogan club in 1972 (Callaway bought the Hogan brand from Spalding in 2003, then sold it to Perry Ellis in 2012 but retained the rights to the Apex name). Callaway's first Apex appeared in 2013 and was updated in 2016 with the Apex CF (Cup Face). In 2019, it took on a third guise when Callaway incorporated its urethane microspheres (over a million tiny air pockets designed to absorb vibration) in a forged iron for the first time.
The 2021 club retains the soft 1025 carbon-steel forged body, and features a thin, forged, steel Flash Face Cup designed using Artificial Intelligence (AI). Last year's Mavrik irons benefitted from AI, the 2021 Apex, however, is the first forged iron to use supercomputers to build a face that seeks to improve ball speeds from all points on the face.
There's another significant difference between the 2019 and 2021 versions. While both use tungsten to shift the Center of Gravity (CG) and increase the club's Moment of Inertia (MoI), the new club has more, a lot more…five times more, in fact (it's called the 'Tungsten Energy Core'). There's a whopping 64g in the 9-iron with the number descending to 34g in the 3 and 4-iron. That may sound upside-down as most players need that extra weight in the bottom of the club to help get the ball up, but really 34g is plenty and the huge chunk in the 9-iron isn't there to help get the ball airborne, of course, but regulate spin and create a flatter, more piercing trajectory. The position and amount of tungsten in the head and the characteristics of the AI-built face are tuned for each club, says Callaway, to give the optimal balance of launch angle, spin rate and ball speed.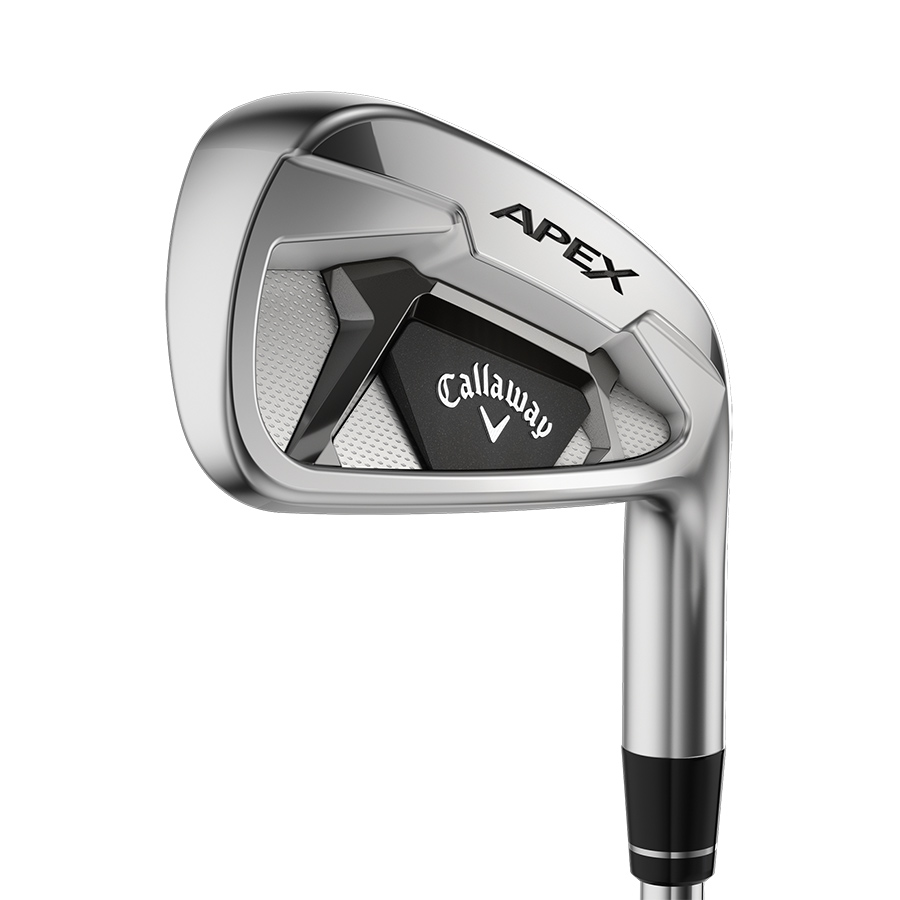 $185 per club (steel), $200 (graphite)
Shafts – Steel – True Temper Elevate ETS (Enhanced Tip Stability) 95
Graphite – UST Mamiya Recoil Dart 75
Right and left-hand.
3-iron – 19˚, 7-iron – 30.5˚, PW – 43˚
Order online – Jan 26, general retail – Feb 11.
Callaway Apex Pro
While the tech differences between the 2019 and 2021 Apex are significant, the two clubs are clearly related. The '19 and '21 Apex Pro irons, however, appear to have a very different provenance. Yes, they are both more compact, have thinner top-lines, and feature less offset than the standard Apex, but otherwise they couldn't be less alike. The newer model looks altogether more sophisticated, but more than that it is hollow (meaning greater face-flexing), the 3-7 irons feature the Tungsten Energy Core with up to 90g of tungsten (higher in the heads than in the '21 standard Apex to effect a flatter trajectory and better spin consistency).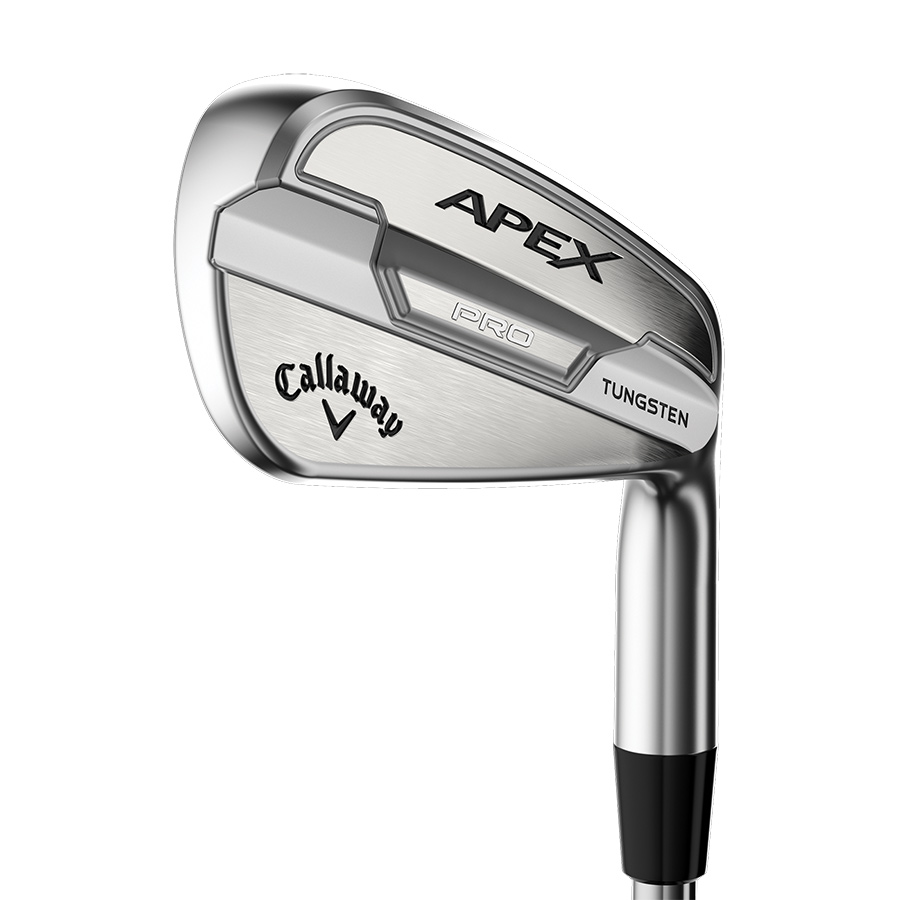 $185 per club (steel), $200 (graphite)
Shafts – Steel – True Temper Elevate ETS (Enhanced Tip Stability) 115
Graphite – Mitsubishi MMT 85/95/105
Right and left-hand
3-iron – 20.5˚, 7-iron – 33˚, PW – 45˚
Order online – Jan 26, general retail – Feb 11.
Callaway Apex DCB
All the feel of the standard Apex with extra forgiveness. DCB stands for 'Deep Cavity Back', and with a broader sole, thicker top-line, and more offset, this club is obviously meant for the mid to high-handicapper. It is forged from 1025 soft carbon-steel like its fellow Apexes, and likewise features the Tungsten Energy Core and urethane microspheres. The lofts are a little stronger but you should have no trouble elevating the ball with a CG so low and back in the head.

$185 per club (steel), $200 (graphite)
Shafts – Steel –True Temper Elevate ETS (Enhanced Tip Stability) 85
Graphite – UST Mamiya Recoil Dart 65
Right and left-hand
4-iron – 20˚, 7-iron – 30˚, PW – 43˚
Order online – Jan 26, general retail – Feb 11.
TaylorMade SIM2 Max
Read the details on how the SIM2 Max irons draw on tech found in the M5, M6, and its immediate predecessor the SIM Max, and then goes multiple steps further with some breakthroughs of its own and you grow ever-more impressed with how such an innovative iron can cost so little – relatively speaking, of course.
The Speed Bridge introduced in the M5 connected the back of the club with the topline stiffening the head while also allowing the face to flex a little more. The original SIM Max advanced that technology and the SIM2 takes it even further with Cap Back.
Whereas the Speed Bridge connected the back of the clubhead with a central portion of the top-line, Cap Back is designed to connect the back with the entire top-line from heel to toe with a multi-material construction made primarily from a lightweight polymer. That makes the upper part of the face more rigid and the lower part comparatively more flexible. The polymer Cap is 7.5 times lighter than steel which enables TaylorMade to lower the CG. That all means greater ball speeds and a higher launch – music to the mid-high handicapper's ears.
Because the new Cap badge technically created a hollow-bodied club, it allowed TaylorMade to 'hide' the Echo-Dampening System which had been visible on the original SIM. And that, because of a little-known Rule of Golf regulating how soft visible material on a clubhead can be, then allowed TaylorMade to introduce an even softer polymer for the purpose of absorbing impact vibration. The result, says TaylorMade is a game-improvement iron that feels and sounds as good as a forged club.
The face is a thin, strong, but flexible 450 Stainless Steel, and features progressively-positioned Inverted Cone Technology (ICT) to ensure optimal forgiveness through the bag. The 'Thru-Slot Speed Pocket' on the sole enables the lower portion of the face to flex efficiently on shots struck below the sweet spot.
Looks-wise, the SIM2 Max is no cruder or more elegant than previous TaylorMade game-improvement irons – the top-line is invitingly thick and there's plenty of offset. Really, what more could a 15-20 handicap want?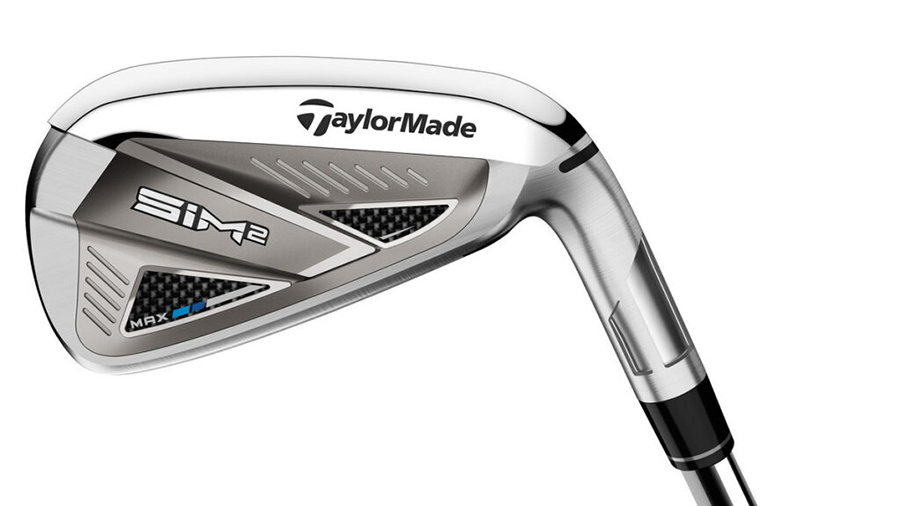 $800 (steel 4-PW), $900 (graphite 4-PW). Optional gap, sand, and lob wedges available.
Shafts – Steel – KBS Max MT (micro-taper) 85
Graphite – Fujikura Ventus Blue  
Right and left-hand
4-iron – 19˚, 7-iron – 28.5˚, PW – 43.5˚
Order online now, general retail – Feb 19.
TaylorMade SIM2 Max OS
Bigger, wider, more forgiving, more inviting…basically even player-friendlier than last year's SIM Max OS (oversize) iron. There's 1.5mm more offset, and also progressive face heights – OS long irons are shorter than standard SIM2 Max long irons meaning the CG is even lower. OS short irons are taller than SIM 2 Max short irons.
All the SIM2 Max technologies are present – Progressive ICT, Cap Back Echo-Dampening, Thru-Slot Speed Pocket.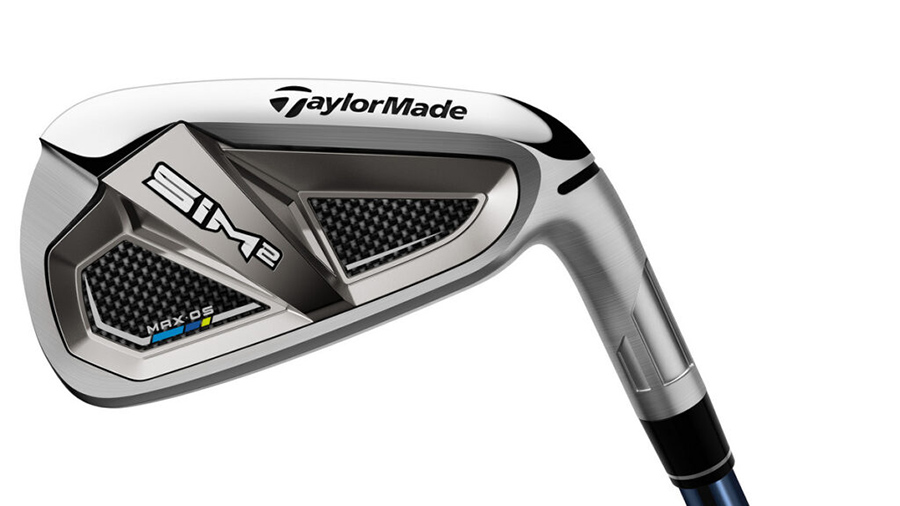 $800 (steel), $900 (graphite). Optional gap, sand, and lob wedges available.
Shafts – Steel – KBS Max MT (micro-taper) 85
Graphite – Fujikura Ventus Blue  
Right and left-hand
4-iron – 18˚, 7-iron – 27˚, PW – 42˚
Order online now, general retail – Feb 19.
Ping G425
The original plan was to cover the G425 iron along with the metalwoods last week, but that was becoming a mega-post so we held off. As we mentioned with the metalwoods, forgiveness was the overriding message, and it's no different with the irons whose blade length is shorter than that of the G410 but thanks to technical advances still has an increased MoI. The variable-thickness face and internal geometry are designed to increase ball speed and flexing for higher-launching shots that carry further and stop quickly on the green. Ping says expanded perimeter weighting in the smaller head 'sets a new standard in forgiveness for an iron its size'.
Ping says additional features and benefits include:
Perimeter Weighting
A tungsten toe screw and hosel weight expand the perimeter weighting. The resilient hydropearl chrome finish repels moisture to improve performance from wet conditions.
Speed-Generating Face
A stronger, variable-thickness, Hyper 17-4 stainless steel face in the metal-wood-style design delivers our fastest ball speed ever in the G-Series for generating higher, longer results with stopping power.
Stopping Power
A patented cascading sole and top-rail undercut combine to perform like a hinge, flexing to launch the ball faster and higher with green-holding precision consistently and predictably.
Multi-Material Badge
A three-piece, multi-material cavity badge dampens frequencies for 'superb feel and sound'.
Smart Grips
Arccos Caddie smart grips come standard (pair with Arccos Caddie app).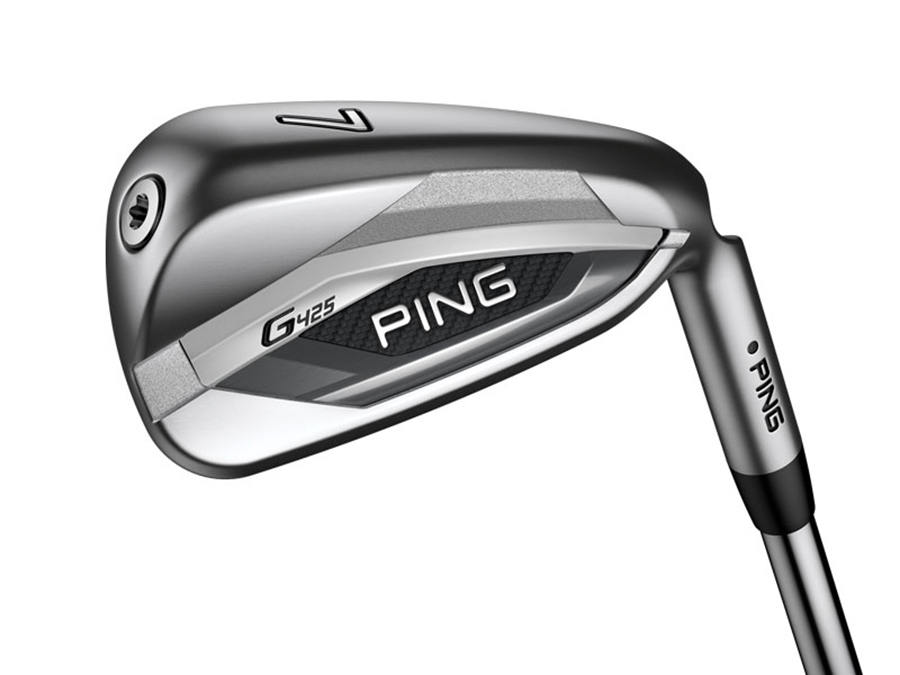 $138 per club (steel), $150 (graphite)
Shafts – Steel – Ping AWT 2.0
Graphite – Ping Alta CB Slate
Right and left-hand
4-iron – 20.5˚, 7-iron – 30˚, PW – 44.5˚ (Power Spec and Retro Spec lofts available)
Order online now, general retail – Feb 4.
Ping G425 Crossover
Extreme tungsten toe and hosel weights expand perimeter weighting and increase MOI by 6.5%. The thin, maraging steel face and internal geometry deliver the ball speeds to hit high-flying shots that land softly. Resilient stealth hydropearl finish helps repel moisture. Arccos smart grips fitted as standard.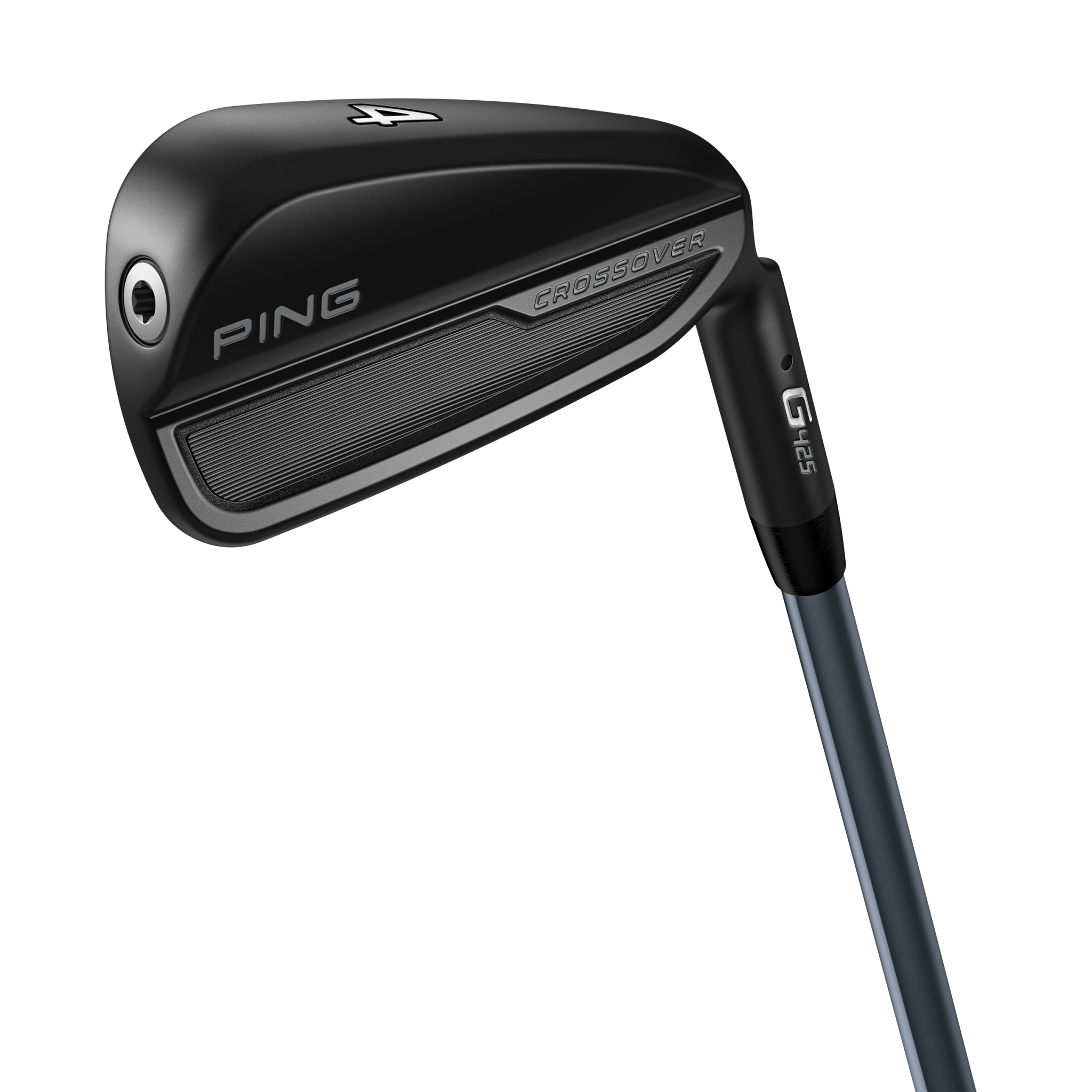 $250 per club (graphite only)
Shafts – PING Alta CB Slate, Aldila Rogue Black 95 Hybrid, Mitsubishi Tensei CK Pro Orange 80
2-iron – 18˚, 3-iron – 20˚, 4-iron – 22.5˚
Right and left-hand
Order online now, general retail – Feb 4.
PXG 0211
Golfers attracted to the PXG story and by the look and feel of its clubs but unable to afford the premium 0311 irons were able to buy in two years ago when the company introduced the 0211 iron at half the price.  It lacked the familiar PXG weight screws, but did include a number of the 0311's features that made it so popular.
The most compelling feature of the new 0211 is the DualCor polymers inside the hollow 431 Stainless Steel body that dampen vibration. DualCor debuted in the 0311 Gen3 last year and features a soft polymer encased by a firmer one. There is more of the soft variety in the longer irons to facilitate adding distance, and more of the firm in the shorter irons to enable greater control. The results, says PXG, are greater distance and better sound/feel. It adds that ball speeds off the HT1770 Stainless Steel face increase while spin decreases, and that the new long irons can fly 12 yards further than the original 0211.
The new club has a thin-ish top-line giving it the look of a better-player's iron, but the sole is wider than on most players' models. And there is some offset (moderate in the long-irons decreasing as the iron gets shorter).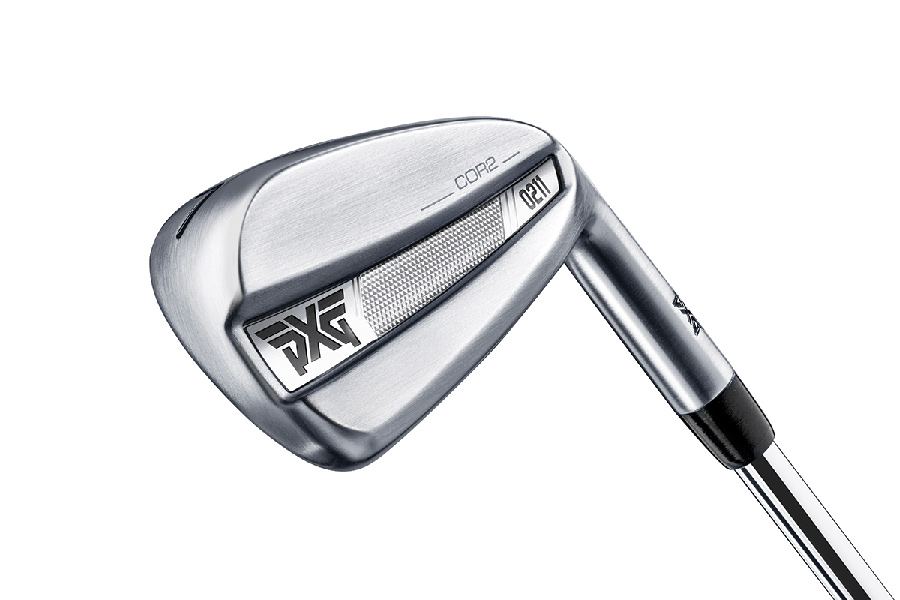 $195 per club
Shafts – too many to list. See website.
Right and left-hand
4-iron – 19˚, 7-iron – 28˚, PW – 42˚
Available now.
Cobra RadSpeed
If you thought the 'Rad' in RadSpeed was short for 'radical', you were right…partly. It also stands for Radial, as in radial weight, but perhaps most significantly Radius of Gyration which the ever-reliable Wikipedia defines as 'the radial distance to a point which would have a moment of inertia the same as the body's actual distribution of mass, if the total mass of the body were concentrated there."
Chances are that means about as much to you as it does us, but to all intents and purposes it basically boils down to positioning weight well away from the CG to effect performance benefits. That sounds a lot like perimeter-weighting and increasing MoI. That may be a little simplistic, but let's go with it.
With its SpeedZone and F9 irons, Cobra pushed the CG lower than any of its competitors which made those clubs very attractive to game-improvers. What didn't help their cause though was that many regarded them as, er, a little unsightly with a wide sole whose back hung out unflatteringly at address.
Cobra wanted to retain its status as the low-CG king, but needed to do so in a significantly more fetching iron. But how?
Easy, start by losing the unlovely sole width – at address, the RadSpeed is significantly better-looking than its predecessors. But by losing that girth, the CG inevitably rose up the club. So Cobra leveraged its growing ability to 3D print alongside partner HP in creating a 3D printed polymer medallion which when applied to the back of the club helps it retain structural rigidity but push the CG down. It replaced steel with carbon-fiber in the top-line (like on the Speedzone) and pushed the CG lower still. And by saving so much weight, it was able to add weight to both the toe and heel – 3g in the heel and 10g in the toe in the form of a screw-in weight thus increasing MoI.
The top-line is pretty thick and there's plenty of offset. Arccos grips come standard. A 37.5" one-length version is available.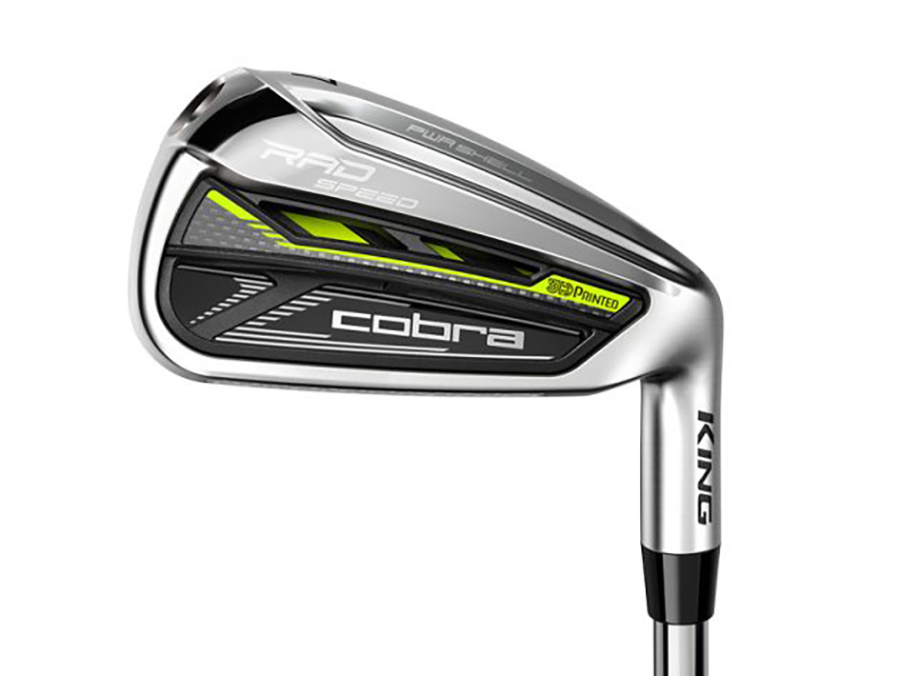 $900 (steel 5-GW), $1,000 (graphite 5-GW)
Shafts (standard) – Steel – KBS Tour 90
Graphite – UST Recoil 460 ESX
Shafts (one-length) – Steel – KBS Tour 80/90/100
Graphite – UST Recoil 460/480 ESX 
Right and left-hand
4-iron – 19˚, 7-iron – 27.5˚, PW – 42.5˚
Available online and at retail on Jan 29.
---
Want to read more gear articles like this one? Visit our GEAR page.
Colorado AvidGolfer Magazine is the state's leading resource for golf and the lifestyle that surrounds it, publishing eight issues annually and proudly delivering daily content via coloradoavidgolfer.com.