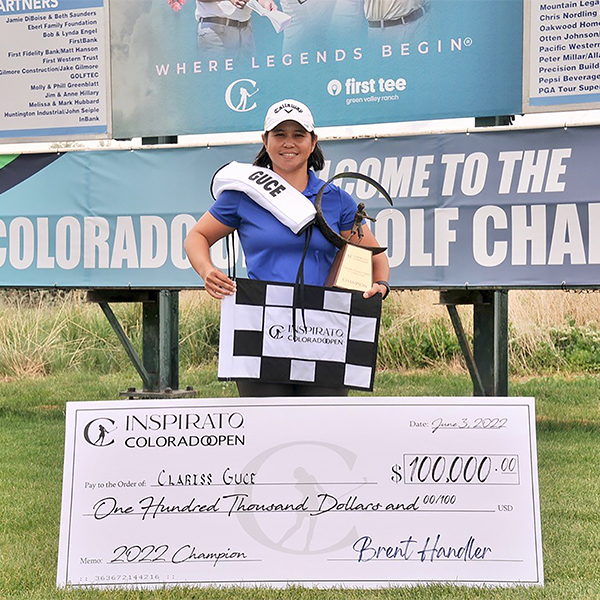 For the second year in a row, an Epson Tour player from SoCal captures Colorado golf's premier women's event.
 By Jon Rizzi
When Clariss Guce's two-foot par putt on the 54th hole sealed her victory in this year's Inspirato Colorado Women's Open, one of the first people to charge the green to congratulate her at Denver's Green Valley Ranch Golf Club was last year's champion, Savannah Vilaubi.
"We live five miles from each other," the 32-year-old from Artesia, California, says of Vilaubi, who grew up in Downey. "We competed in junior golf, in the same college conference (Big West) and on the Epson Tour."
"She jokes that my parents have seen her play more than hers have," Vilaubi said while standing greenside next to her mother, Val.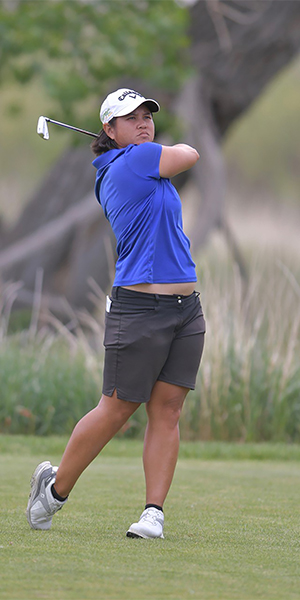 Guce's parents would have been quite proud of their daughter, who birdied four of her final seven holes en route to a bogey-free round of 67 and a 14-under 202 total. She finished five strokes ahead of runner-ups Brittany Fan of Hawaii and 2016 champion Lauren Coughlin of Virginia. Vilaubi, who clawed back from a first-round 75 in the wind and rain to shoot rounds of 66 and 67, tied for fourth with fellow Californian Haley Moore at 8-under.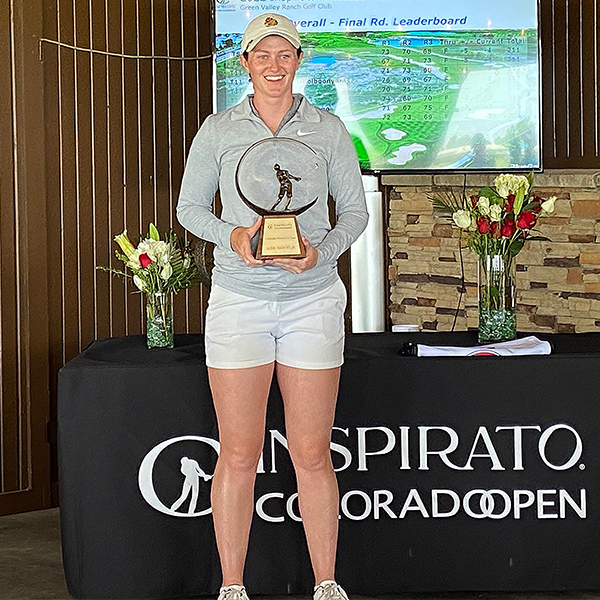 Low-amateur honors went Boulder's Kelsey Webster, an Oregon State University senior who tied for sixth with a 6-under 210.
Guce led at the end of each of the three rounds, shooting a 66 on the opening day after a 4 ½-hour rain delay forced many in the field to finish their rounds the following morning. "I got lucky on the first day and was able to finish 18, which was huge for me," she says. "When you're rolling it well, and have your rhythm, you want to wait until the next day to complete your round."
Guce's putter stayed hot all three days. "My putting took the pressure off my ball-striking, which gave me the luxury of swinging more relaxed," she says. She also benefited from the counsel of her pro-am partner Butch Carlson of Boulder, a former University of New Mexico golfer who, she says, "kept me focused."
During the last round, Guce never wanted to know her position, not that Carlson would tell her, despite checking his phone app. "My goal is always to shoot as low as I can, so most of the time I didn't look at any leaderboards. I never processed that I was leading because any girl in that field can go very low."
Guce didn't know, then, that Fan's birdies on 10 and 12 had put her two strokes ahead. By the time Guce had birdied the 12th, however, Fan had double-bogeyed the 13th, surrendering the lead for good.
"After I made the birdie on 14, I saw Butch glance at the leaderboard on his phone," Guce remembers. "All he said was, 'You're still in the mix; but you might need a couple more.' In the back of my mind, I'm thinking, 'There are so many good players. It's entirely possible someone could have gone 9-under par or 10 under par."
Guce birdied the par-4 15th and followed on the par-3 17th with a fist pump. "As we got to the 18th tee, I said, 'Ok, now I gotta know where I stand.' He said, 'You have a five-shot lead."
Five crisp, safe shots later, she was the event's all-time money winner, vaulting from 50th to first thanks to the record-setting $100,000 winner's share—double the amount Vilaubi won last year—and the $2,800 she received for winning the pro-am with Carlson. Their Team Lobos carded a 25-under total of 191.
"If I come back, you want to be my partner?" she asked, already knowing the answer.
Guce's previous best performance in the Inspirato Colorado Women's Open came in 2015, when she tied for the first with Allison Emrey. "I lost to her in a playoff but now she is one of my best friends," Guce says. "She texted me right after I won."
Emery currently plays on the LPGA Tour, as does Vilaubi. Guce would like to join them and her other friends next year. Although she now has more than enough money to pay for every stage of Q School, Guce hopes the momentum from Colorado will eventually carry her into the top 10 on the Epson Tour money list, earning an automatic LPGA Tour card. Even a top 25 will give her an express ticket to the final stage of Q School.
Her quest is already well underway. "It's nice that Colorado Open ended on a Friday, so I had a weekend to process it," she says from Kinston, NC, where the first of three consecutive events on the Epson Tour schedule begins this Friday.
Click for the results in the 28th Inspirato Colorado Women's Open.