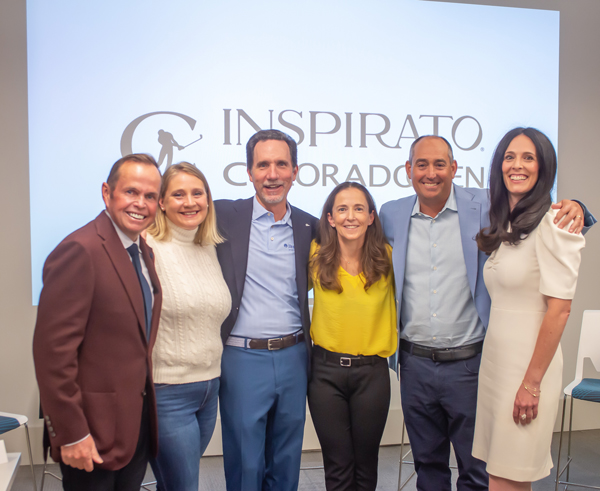 The Inspirato Colorado Open makes history by matching prize money for men's and women's championships.
By Jon Rizzi
On the 22nd day of Women's History Month, the Colorado Women's Open made some history of its own.
At a press event to introduce Inspirato—the innovative, Denver-based luxury travel subscription brand—as the new title sponsor of the three-event Colorado Open Championships, the Colorado Open Golf Foundation announced that, as of this year, the Inspirato Colorado Women's Open and the Inspirato Colorado Open would have identical $250,000 purses, with each of the winners receiving $100,000.
This makes Colorado Open Championships the first state golf tournaments in the country to have equal payouts for both its men's and women's events. "And, we believe, it's the first professional golf tournament in the world with equal purses," Inspirato Executive Vice President Michele Delman said. "I couldn't be more proud to be part of a company that made this a reality."
Delman is one of the 550 women who comprise 70 percent of Inspirato's global workforce.
"We don't just have a lot of female employees; we have a lot of female executives and female leaders," Inspirato Co-founder and CEO Brent Handler said. "We felt like it was a good brand fit for us, and it felt like the right thing to do."
Doing the right thing will cost Inspirato $2 million over the course of a five-year sponsorship originally priced at $1.5 million. During negotiations, Handler said "the Colorado Open Golf Foundation brought it to our attention that if we raised it from $300,000 to $400,000 per year, it would make the men's and women's purses equal. We were immediately drawn to that. It made a lot of sense."
In addition to pay equity, Inspirato also supports numerous organizations that serve underprivileged youth, which made the 501(c)(3) Colorado Open Golf Foundation and its beneficiary, the First Tee Green Valley Ranch, an attractive partner.
A life-changing event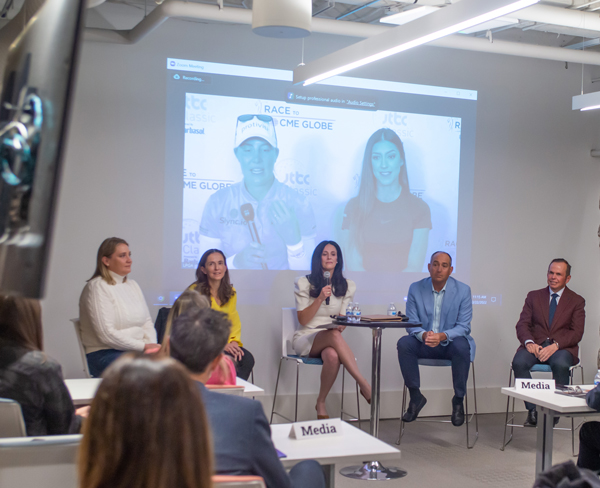 In the same way that First Tee is both a game- and life-changer for kids, a $100,000 check can be just transformative for an aspiring golfer, as previous champions Erin Houtsma (2005), Jennifer Kupcho (2020) and Savannah Vilaubi (2021) acknowledged.
"In 2005, I got a check for $10,000 and it changed my life," Houtsma recalled. "I bought a car and I lived in it while playing throughout the country on the Futures Tour." Houtsma, who has returned to competing as an amateur, gathered herself before continuing. "To have the winners going forward making ten times that amount…I get emotional just thinking about it."
Joining with Vilaubi via Zoom from California, where they'll be competing this week in the Kia Classic in Carlsbad, Kupcho took obvious pride in Colorado—and the site of her first professional victory—being a trailblazer in pay equity. Now full time on the LPGA Tour, she shared that a good caddie would run her $100,000 for the year. "Every week is probably $3,000, so, depending on how many tournaments you play, it's a very costly lifestyle but very rewarding to have the impact we have when all the eyes are on us."
"You learn how to win at the Colorado [Women's] Open," said Vilaubi, who last year went on to qualify for the LPGA Tour through Q-School. "The 50K was a really big deal. It was life changing. The money let me play a little more freely, and inspired me to go after the next big check. I can take this into my own two hands and change my life here. I can't imagine what 100k would be like. Double the life changing impact? I can get twice as much ramen now?"
The Path to Purse Equity
The Colorado Open Golf Foundation has a strong track record of increasing purses and creating what Colorado Open Golf Foundation Chair Molly Greenblatt calls "the absolutely best tournaments in the country for men, women and seniors." In 2016, with CoBank as its title sponsor, the men's purse doubled from $125,000 to $250,000, and the winner took home $100,000. The following year, its women's purse went from $75,000 to $150,000, with $50,000 going to the champion. The seniors got a raise from $50,000 to $65,000 in 2020.
Greenblatt, an attorney and golfer who was low-am the 1999 Colorado Women's Open and is now in her fourth term as COGF chairperson, said she was happy in 2016 and '17, "but I remember thinking to myself, 'Why isn't it the same as the men's?"
Having set her goal, she put "a First Tee word—perseverance" to good use and advocated. "Without fail the board supported me in pushing for this," she said, singling out COGF Founder Pat Hamill's leadership, "and we were able to accomplish this with Inspirato. I am so proud to be a part of it. But I didn't do it by myself and I will never take full credit."
"I'm pinching myself," a beaming Hamill said.
The Inspriato Colorado Women's Open will take place June 1-3, 2022, at Green Valley Ranch Golf Club. The event will coincide with the U.S. Women's Open in the hope that LPGA players who do not happen to qualify for that event will come to compete in Colorado. With an equal purse comes the equal entry fee of $600. The popular pro-am format from previous years, currently priced at $4,000 per team, remains in place.
The Colorado Open, in which Kupcho and Sherry Andonian-Smith have previously competed, is July 21-24.
Players in the Inspirato Colorado Senior Open (Aug. 24-26) will now play for the highest purse in a state open: $90,000. That's up from $65,000, with the winner's share jumping from $12,500 to $18,000.
---
For more of the latest Colorado golf news, visit our NEWS & PROFILES PAGE.
Colorado AvidGolfer Magazine is the state's leading resource for golf and the lifestyle that surrounds it. CAG publishes eight issues annually and delivers daily content via coloradoavidgolfer.com.