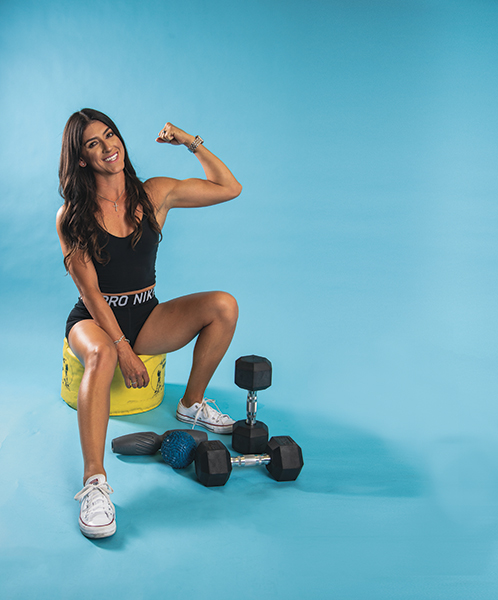 Savannah Vilaubi has the moves, muscles, game and grit to compete at the highest level.
by Jon Rizzi
Last June, after winning the Colorado Women's Open by five strokes with a 15-under 201, Savannah Vilaubi received not only the biggest paycheck in her five years as a professional golfer, but also a huge surprise from her free-spirited fellow Epson Tour competitor, Daniela Iacobelli. Using golf tees, the pair punctured the sides of two Corona tallboys and chugged the contents in a spontaneous celebration beneath the scoreboard at Green Valley Ranch Golf Club.
The moment served as a shotgun start to a season in which the now 27-year-old golfer from Downey, Calif., would play well enough qualify for the 2022 LPGA Tour. However, the training program partially responsible for helping her achieve that level proscribes alcohol and involves more advanced movements than 16-ounce curls.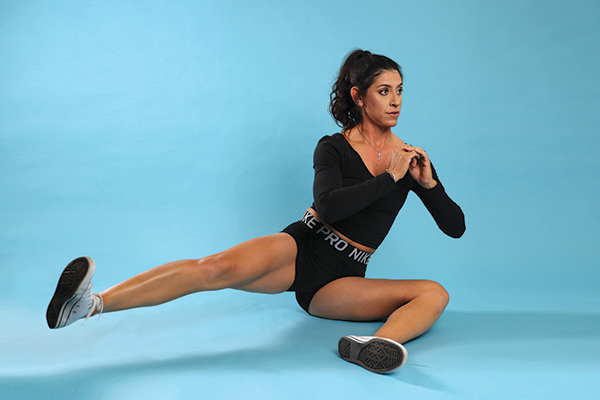 "It's called 75 Hard, and my brother, who has 8 percent body fat, inspired me to do it during the pandemic," Vilaubi explains. The popular, somewhat draconian mental-toughness program works in conjunction with an individual's personal fitness and nutritional routine to develop such qualities as confidence, fortitude, discipline and grittiness by completing five "critical tasks" every day for 75 straight days.
So, in addition to meeting her 1,800-calorie intake with no alcohol or cheat meals, each of Vilaubi's 75 days consisted of two 45-minute workouts (one indoors, one outdoors), drinking a gallon of water, reading 10 pages of a self-improvement book and taking a daily progress photo. Failing to complete even one of these tasks on any given day—like sneaking a peanut-butter egg on Easter—meant going back to day one.
"That's the rule," she says. "The plan is self-directed, and, like golf, you're the only person who knows what you're not doing, so you're not going to cheat. At first, I was always hungry, and needed sustenance to play golf, so I tweaked the diet. But the gallon of water pretty much takes care of everything, and the workouts suppress the ghrelin hormone that signals hunger. After 6 weeks, I was like, 'I got this.'"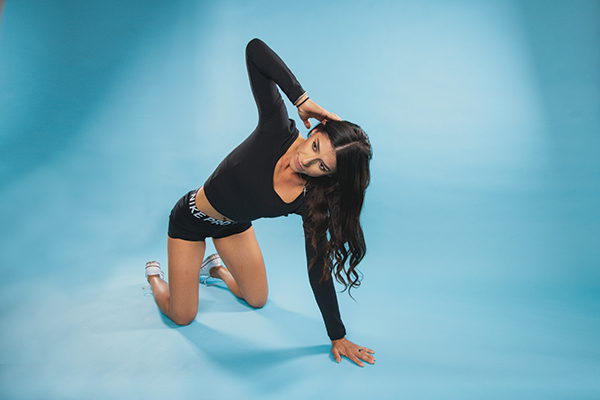 By day 75, her body fat had dropped to 12 percent and her metabolism was going so fast, she found herself consuming close to 3,000 calories a day. "There's so much freedom that comes with discipline," she explains. "The discipline becomes part of you. It was the most incredible thing to get my mentality and physicality to where I wanted."
Vilaubi has integrated many of the 75 Hard requirements into her daily routine, which has included stretches, strength and mobility moves and recovery rollouts given to her long-time trainer Kevin Duenas at Dynamic Fitness HPK in Murietta, Cal.
The routine doesn't require a gym, just pair of 25-pound dumbbells, small massage ball and a muscle roller—all of which she brings on the road. Vilaubi rolls out before and after each session.
Those sessions include "a lot of legs, a lot of upper body, stability. Squat with a military press, a double snatch. Lateral lunges, renegade rows. Pull-throughs. Anything that's a unilateral movement is great for golf."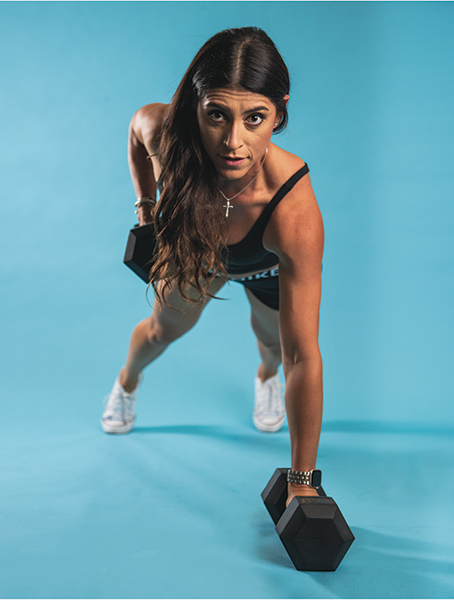 As is anything that promotes mobility and core strength. Among her go-to floor moves are the windshield wiper, the quadruped T-spine rotation, quadruped fire hydrant with extension and the active 90/90 internal/external hip mobilization.
"The golf swing in general relies on separation between the top and bottom of your body," she explains. "So, if everything gets tight all the muscles hang back don't fire and you don't have any torque. When I take the club back, if I don't have enough stability to resist, then I have no resistance to bring power to the swing. My routine gets my top and bottom halves in synch. It's nice to feel the separation."
It's also nice to feel at home on the LPGA Tour, although she missed the cut in her two early-season events, and in Colorado, where she appeared, via Zoom, at the press conference announcing the Inspirato sponsorship of the Colorado Opens would raise the women's purse and winner's share to the same levels ($250,000 and $100,000, respectively) as those in the men's event.
"How in incredible is that?" she asks. "Equal pay for golfers. What a concept!"
Will she return to defend her title in June? The Inspirato Colorado Women's Open conflicts with the U.S. Women's Open. "Obviously I want to play the U.S. Open," she says, "but I don't feel like I have to. I know that's not healthy for the qualifying process, but I really want to come back and play in Colorado."
---
This article can also be found in the May Issue of Colorado AvidGolfer.
Colorado AvidGolfer is the state's leading resource for golf and the lifestyle that surrounds it, publishing eight issues annually and proudly delivering daily content via coloradoavidgolfer.com.