Topgolf and Blackstone raise the bar on Colorado golf cuisine.
By John Lehndorff/Topgolf photographs courtesy of Topgolf/Blackstone photographs by E.J. Carr
There are no club sandwiches on the menu at Blackstone Country Club or at Topgolf. These are not your grandfather's golf facilities and they do not serve the same old roster of dishes that have defined "golf food" forever.
Your votes in the 18th annual CAGGY Awards earned Topgolf (in Thornton and Centennial) top honors for the best food at a Colorado public golf facility. Aurora's Blackstone Country Club took top honors for the best served at a private golf club.
After tasting the fare at both places, it's obvious that the future of dining for golfers of all persuasions is bright. These are very different venues and experiences, but each offers a refreshing approach—from Topgolf's injectable doughnut holes to Blackstone's almond-crusted halibut with shrimp and chorizo risotto.
Home Cooking on the Front Range
Topgolf is an eye-opener for any first-time visitor. The three-story, high-tech driving range makes it easy to enjoy golf with climate-controlled hitting bays that come with music, clubs to use and a video screen providing detailed results from micro-chipped golf balls.
One of the biggest surprises is just how good the food, drink and service is at Topgolf's facilities across the nation. The chef-prepared fare made with non-institutional ingredients attracts golf fans who sometimes stop in for a meal and never actually pick up a club.
I visited the recently opened Thornton Topgolf facility, but the four-year-old Centennial location features the same menu with a few tweaks. The complexes have common areas with full-service food and drink on each level. Bays seat eight comfortably (six players plus two spectators) with a large communal table looking out on the huge netted range. An attentive bay host tablets orders and delivers food and drink rapidly—a plus since golfers rent the bay by the hour.
Maria Galan, Topgolf's executive chef in Thornton, says that the goal from the start was to serve restaurant quality fare. "The dishes on our menu are cooked from scratch, not pulled out of a freezer. Almost everything is made to be shareable, not fork-and-knife entrées," she says.
The coolest platter is the meat-and-cheese board surrounded by a huge freshly baked soft pretzel. Spilling out of the middle are slices of Genoa salami, grilled jalapeño sausage and prosciutto with pepperjack and Cheddar chunks plus fruit, berries and candied pecans. Dipping joy is provided by ramekins of horseradish Dijon and warm, house-made Pabst Blue Ribbon cheese sauce.
Other great shareables include farmhouse flatbread pizzas on chewy naan bread, some well-constructed nachos and the truly exceptional Backyard Wings. The kitchen takes plump chicken wings—dry-rubbed and citrus-brined for 24 hours—roasts and then grills them until fall-apart tender and infuses them with garlic vinaigrette. Wing sauces from savory to fiery top them off.
You can tell a lot about a sports eatery by how seriously they take sandwiches, the perfect golf-watching meal. Topgolf's burger is a fresh grind of different beef cuts that yields a nicely juicy patty with stellar toppings. The Sunrise is crowned with thick bacon, Cheddar and a fried egg.
The cocktail program would be at home in many downtown Denver bars. Signature cocktails—like the pineapple punch powered by Captain Morgan Rum and Malibu Coconut Rum—pour from pitchers shaped like golf bags (or divot-mix containers). Besides a roster of local brews like Wibby IPL and Blue Moon Belgian White, Veuve Clicquot Yellow Label Champagne is always available for those hole-in-one moments.
Mornings are busy here. Breakfast offerings start with a steady supply of good coffee, superfood bowls boasting acai, berries and bananas, granola and chia, and a substantial griddled breakfast burrito. Weekend mimosa brunches add fried chicken and Belgian waffle sliders and ahi and avocado toast plus an eggs Benedict atop crispy zucchini cakes.
Some families "golf" here just for the cake doughnut holes with plastic injectors of chocolate, raspberry jelly and Bavarian cream filling. Kids and others have been known to just squirt them directly into their mouths.
Topgolf Thornton
16011 Grant St., 303-785-6350
Topgolf Centennial
10601 E. Easter Ave., 720-880-3151;
Blackstone Cooks Up Magic
While The Fireside is located at Blackstone Country Club and surrounded by a 7,313-yard Jay Morrish-designed course, it is nothing like a standard seasonal golf grill.
Besides serving golfers lunch and dinner fare and cocktails on the spacious patio, this is a year-round restaurant and watering hole for members whose families call the neighborhood home.
This private eatery sees many of the same customers week after week all year long. "We're here to cook what they want. We survey them and we have a feedback committee that tell us how they feel about potential menu items—and they aren't shy about it," says Executive Chef Scott Ballard. He attributes the eatery's success to the fact that the staff actually listens to members.
You enter Blackstone's expansive stone Tudor-style clubhouse under a towering wooden arch into The Fireside bar and restaurant. Boasting tons of natural light and roaring fireplaces, it has the potential to be clubby and stuffy, but the facility and menu have been designed to be comfortable and casual. Members enjoy everything from a quick Tuesday night burger with the kids to celebrations of major life events here, but nobody feels obliged to wear uncomfortable clothes.
The names of the lunch and dinner dishes are not exotic, but the ingredient sourcing, preparation and plating elevates them significantly. "We call it familiar but refined," Ballard says.
Dinners can start with crowd-pleasers like Buffalo chicken wings and Asian potstickers. I lift a toast to the grilled crostini, which was born to snag a bite of creamy burrata cheese with pestolike walnut pistou sprinkled with black salt. Even die-hard Brussels sprouts haters are likely to get seduced by the sweet, salty, crunchy melding of fried sprouts with crispy candied bacon, Granny Smith apple and pistachios.
Per members' requests for health-conscious—but not boring—cuisine, The Fireside's menus showcase many main-dish salads. Vitamin Greens are layered with roasted beets, watermelon radish, tomatoes, apple, toasted pumpkin seeds and blood orange vinaigrette. The Power Salad combines quinoa, goat cheese, dried blueberries and grilled lemon vinaigrette. Either can be dressed with grilled shrimp, salmon or chicken.
The diverse specialty entrées have earned their way on to the menu, often after auditions as nightly specials. One flavor winner is the almond-crusted halibut. The firm-fleshed fish sits atop sautéed spinach and creamy shrimp-and-chorizo risotto. The most popular entrée is Asian beef tenderloin tips stir-fried with sesame oil, snowpeas, sweet chile oil and chewy soba noodles.
On Saturday nights, The Fireside becomes a classic prime steakhouse that grills big steaks and lobster tails with a full salad bar. The prime rib has its own devotees as does the craveable buffet of serve-yourself sides: roasted asparagus, baked spuds, sautéed mushrooms and onions and cavatappi mac with cheddar, Asiago and Parmesan.
The establishment eschews the steakhouse-sized wine libraries and focuses on good wines (including affordable reds and whites) not typically found in liquor stores. The Fireside's mixologists concoct an array of cocktails such as the signature Smoked Manhattan served in a chilled, oak-smoked glass.
The lunch menu includes the starters and salads and well-crafted sandwiches such as the prime rib French dip and the best-seller, a peppercorn-crusted Black Angus bleu cheeseburger with Balsamic onions on brioche.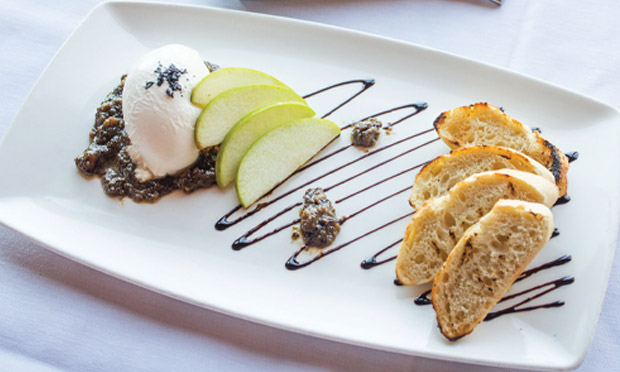 Chef Ballard says he studiously avoided putting a conventional club sandwich on the menu. Instead he proudly points to the Caddy Master, a "gooey grilled sourdough sandwich" middled with turkey, ham, bacon and Cheddar–best served with beer-battered onion rings.
Ballard's newest addition is a schnitzel-thin chicken fried ribeye steak with skin-on Colorado mashers and gravy. Pounded thin and lightly crusted, the steak overfills The Fireside's biggest plates and exceeds expectations.
Ballard and his staff obsess about culinary details that regulars take for granted. For instance, taco meats are smoked in-house and the soft corn tortillas are handmade. All the baguettes and other breads are baked on premises because they simply taste better.
Ballard says he also wants to pass along skills to his young staff. "We try to always put some heart into what we cook," he says.
Blackstone is part of the ClubCorp family of clubs. Members have privileges at the nearby
Black Bear Golf Club in Parker (which serves a casual gastropub menu) and they can also play golf at more than 200 courses nationwide.
Finally, I'm glad to see that both our reader favorites still pour sterling versions of my favorite golf-watching beverage: The Arnold Palmer.
Blackstone Country Club
7777 S. Country Club Parkway,
Aurora. 303-680-0245; clubcorp.com
---
CAG Contributor John Lehndorff is the former dining critic of the Rocky Mountain News and food editor of the Daily Camera. He writes Nibbles for the Boulder Weekly and hosts Radio Nibbles on KGNU.
---
This article was also featured in the Spring 2020 issue of Colorado AvidGolfer.
Colorado AvidGolfer is the state's leading resource for golf and the lifestyle that surrounds it, publishing eight issues annually and proudly delivering daily content via coloradoavidgolfer.com. Follow us on Twitter, Facebook and Instagram.