The Alfa Romeo Stelvio Quadrifoglio, BMW X3M and Mercedes-AMG GLC 63 square off.
By Isaac Bouchard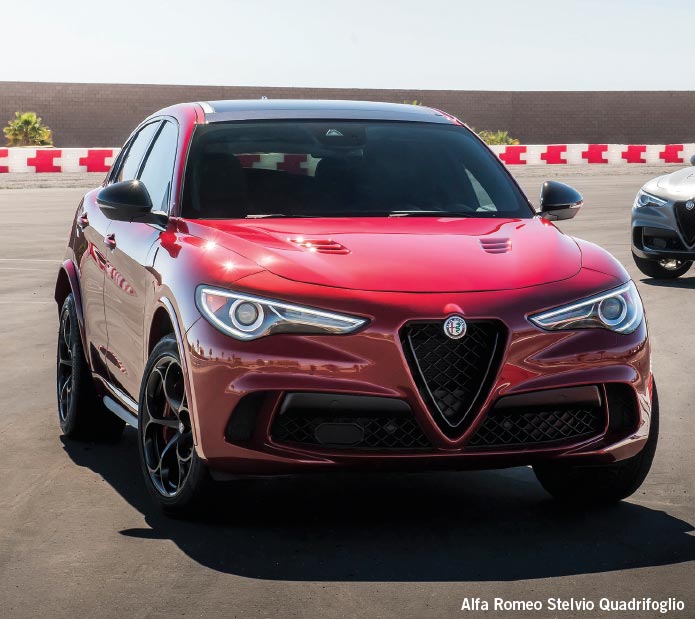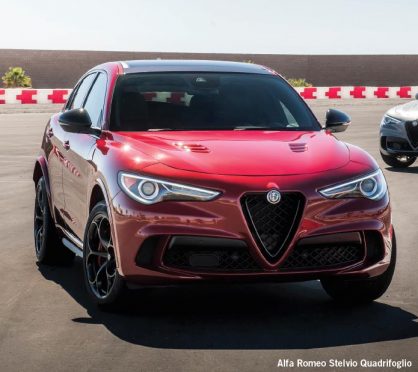 Once upon a time, the compact sports sedan segment was where premium companies battled most fiercely. For generations, the BMW M3 would line up against various hot-rodded Mercedes-Benzes and occasional interlopers from companies like Cadillac, Jaguar and, lately, Alfa Romeo. Now that SUVs and crossovers rule, the combat zone for these prestige players has shifted to higher riding AWD hatchbacks.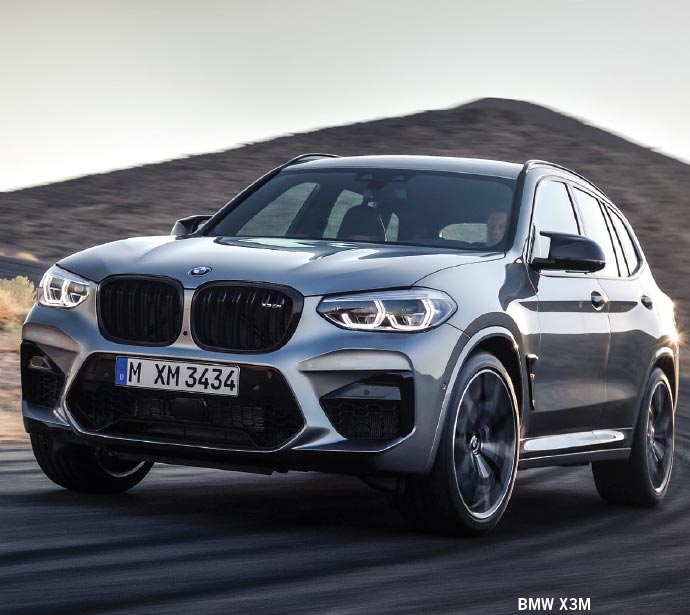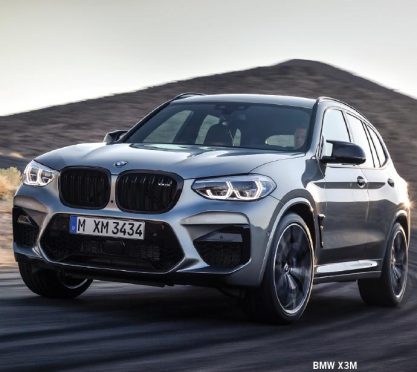 Since its debut, the Alfa Romeo Stelvio has been regarded as the finest driving compact crossover—better, in fact, than the Porsche Macan. In its ultimate, 505hp Quadrifoglio form, it makes a compelling candidate, with the sharpest steering, most incisive handling and an amazingly absorbent ride quality.
Up against it, Mercedes-AMG refreshed the GLC 63 for 2020 with the latest electronics, including Benz's AI-enhanced, cloud-based MBUX interfaces and tweaked driving modes for various conditions. A standard new locking rear diff aids in making the Slippery mode more useful during Colorado winters and in extreme track use.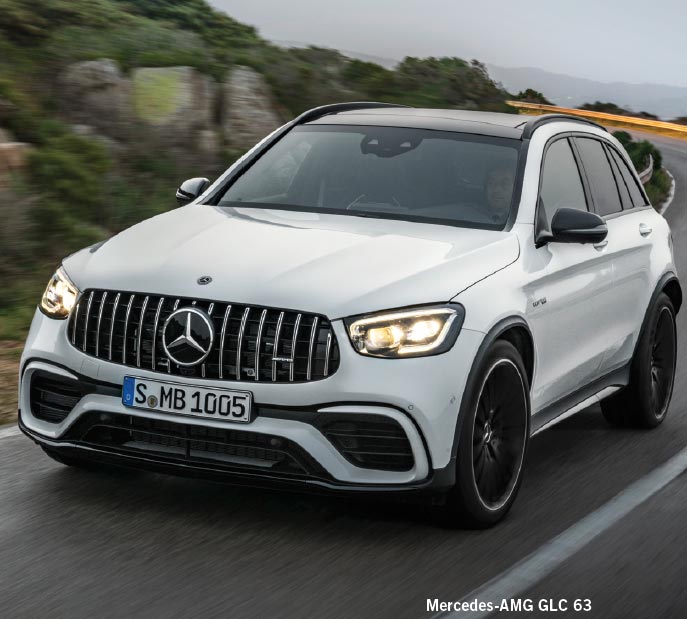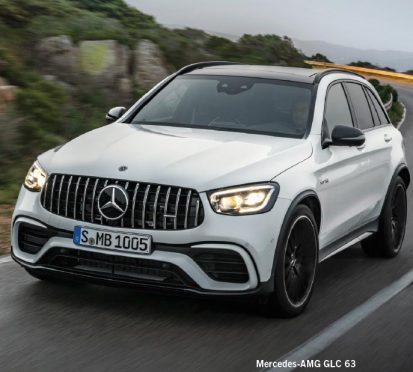 BMW's X3M is an all-new offering, coming in priced and sized like the original X5M. Running a new inline, twin-turbo six-cylinder dubbed S58 that will power the new M3, it makes good on the promise of the latest BMW's great bones.
Speed and Power
In standard SUV guise the Benz "only" comes with a 469hp version of the hand-built (by one person and one person only) AMG 4-liter "hot V" engine. But its 479lb-ft, channeled through a slick 9-speed box, allow it to keep up with the other two, while outperforming them in aural theatrics. Its bellowing V8 soundtrack lords it over the Alfa's flatulent V6 and even the Bimmer's smooth, sizzling, inline six. All three will hit 60 mph in the low 3-second range—which, frankly, is insane—and run mid-11-second quarter-mile times. (Note that the X3M that does this is the more expensive, 503hp, Competition version.)
Noise
The BMW feels the most quiet and refined, as well as the best put together. Even though Mercedes has upgraded the GLC, it still allows more road and wind noise to intrude, and its interior materials feel a step down. But they're still better than what the Stelvio has to offer (though, to be fair, Alfa has upgraded many interior parts and many of the electronics for '20).
Comfort
In normal, utility-vehicle duty, all three do well, with comfortable, supportive seats in front, decent-sized back benches and well-sized cargo holds. The Stelvio Quad's excellent ride quality is a boon in urban use, where the Benz can seem a bit flat-footed. The BMW splits the difference, as it does in many other respects. Its iDrive interface combines better ease-of-use than Mercedes MBUX yet does more than the Alfa's antiquated setup.
The Verdict
While some may make a decision purely based on image, styling and other intangibles, rarely have three competitors been so evenly matched in performance or pleasure for the driver.
If the roads are empty and there's a chance to really get after it, nothing beats the Alfa Romeo. Its sheer verve and interactive nature mark it as a truly great driver's vehicle—not just a great SUV. Slide its configurator to "Race" and revel in the kind of reflexes only the finest cars can rival.
Those times are rare, however, and when it's used in a more sedate manner, the Alpha's turbo lag, cheap cockpit and anodyne exhaust don't compare. Here's where the AMG GLC 63 really shines, with its bombastic noises and sense of fun. Combining these attributes best is the BMW X3M Comp, whose virtues are more evenly spread and accessible more of the time.

How the SUV Saved the Sports Sedan
The savior of the sports sedan might just turn out to be the SUV. While the latter has decimated the former's sales, the all-wheel drive hardware and common platforms upon which both are now built make it possible for low, sleek and sexy four-doors to deploy the outrageous amounts of torque and horsepower anywhere, any time of year. No matter the road conditions, cars like the latest Benz E63S and BMW M5 can put down 600 hp, formerly the providence of only the most outrageous hypercars. Even the forthcoming M3 will have 500 ponies in its stable, and—you guessed it—standard AWD.
---
Automotive Editor Isaac Bouchard owns Denver-based Bespoke Autos ([email protected]; 303-475-1462). Read more of his automotive writing, reviews and recommendations on bespokeautos.com.
---
This article was also featured in the Spring 2020 issue of Colorado AvidGolfer.
Colorado AvidGolfer is the state's leading resource for golf and the lifestyle that surrounds it, publishing eight issues annually and proudly delivering daily content via coloradoavidgolfer.com. Follow us on Twitter, Facebook and Instagram.