By Isaac Bouchard
I was blown away by how good the new, DT-series Ram 1500 series was when I was first exposed to it about a year ago. It was so refined and luxurious that it even made me question whether a higher-end SUV best suited my needs anymore, especially as I have a 6,000lb trailer to haul throughout the year. That original one (reviewed here) also impressed passengers, including friends who have a loaded Jaguar F-Pace. Their opinion was that the Ram was finished nicer, had a more pleasant back seat and road better. So I was excited to try a different model as 2019 came to a close, one with the eTorque engine option.
This uses a 48-volt electrical system (the future as far as electric cars go) and a small motor sandwiched between the 5.7-liter Hemi V8 and the 8-speed transmission to boost low speed torque and make for smoother automatic start/stop operation. It is claimed to net 2mpg improvements in the EPA ratings and should—in theory—make up for some of the 17 percent power and torque drop from the rated 395hp and 410lb-ft that the engine experiences at Denver's altitude.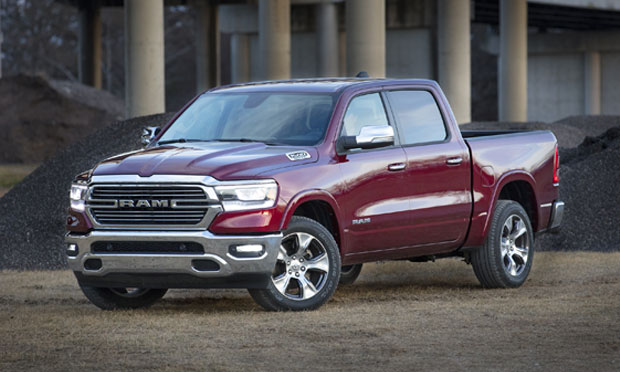 With months elapsing between tests of these two examples, I couldn't definitively tell if it felt much faster. I can say the eTorque-equipped 1500 had no low-end lethargy, which my own Jeep Grand Cherokee Hemi had suffered from. It was seamless in operation, too. The fuel economy readings I saw on the Ram's trip computer came in quite close to its ratings, so I believe we can confirm e-Torque does what it is supposed to. Whether it is worth its $2,695 retail cost is an open question, though.
As may be; either way the Ram 1500 is still one stellar truck. Its interior is—with the exception of not having a powered tilt/telescope steering wheel nor massaging seats—in a class of its own. I found the combination of innovative trim (antiqued metal with the kind of incisions seen on saddles and horse bridles, barn wood and two tone, buttery leather that comes with the Laramie Longhorn to be captivating. While much more "cowboy" than the more modern and urban influenced Limited model, it suited the Ram perfectly and I honestly think I would gravitate to it just because it is so unique.
The 19-speaker Harmon Kardon sound systems tends towards bass heaviness when the tone controls are set to neutral; the fix is to move the balance selector towards the front speakers and away from the rear subwoofer. Lane assist, adaptive cruise and all the other safety systems work superbly and there is a wonderful place to while away the miles, whether it is a long highway slog or in town. On the former, the big windows, panoramic roof, copious stretch-out room and lovely furnishings make for delightful progress; in town the punchy eTorque V8 can scoot around the traffic that isn't intimidated the Ram's massive frontal aspect.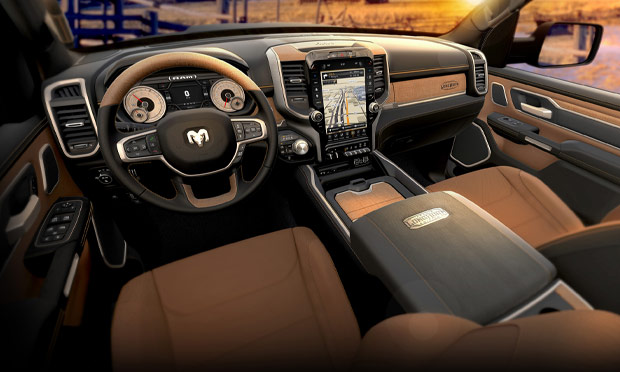 Another unique feature of the Ram that I adored was the 4-wheel air suspension. Equipped thus, the 1500 rode better than most vehicles made, luxury cars included. It also made it possible for this short-statured reporter to easily climb into the bed; combined with power running boards and large door apertures, it is more effortless than most vehicles in terms of ingress/egress, since you can lower it a few inches when you park.
Of course something this big can be a challenge to park in the city; Ram helps with parallel and perpendicular assist and surround view cameras—unless you go for the trailer tow mirrors, that is. The trifold cargo cover is wonderfully simple to use and adds the kind of secure storage an open bed lacks. The Ram boxes that can be had are rather more divisive. While ideal for certain objects, to me they ate into the bed's capacity too much and have a negative impact on the otherwise gorgeous styling; at least they are optional.
Ram 1500 models can tow up to 12,750 pounds; crew cab models like the test Longhorn Crew Cab slightly less at 11,500. Either way they will easily handle the kind of luggage that used to be the preserve of a heavy duty rig—none of which ride nearly as well and most of which are bigger. It is quite amazing to think that pickup trucks have now reached the point dynamically and in terms of interior presentation and class that one might consider them instead of a luxury sedan or SUV, but in the Ram they have.
EPA Ratings: 17/22/19mpg
0-60mph: 6.1sec (indep test)
Price as tested: $71,025
4.5/5 stars
---
For more auto reviews, visit our LIFESTYLE PAGE.
Colorado AvidGolfer Magazine is the state's leading resource for golf and the lifestyle that surrounds it, publishing eight issues annually and proudly delivering daily content via coloradoavidgolfer.com.