The 2019 Mercedes CLS53 fits its niche just fine: fast yet refined, stylish yet understated.
By Isaac Bouchard
When Mercedes brought the concept of a svelte, four-door coupe labeled CLS to the market in 2004, sedans were generally staid, upright vehicles and SUVs were mostly wallowing, truck-based machines with a small market share—especially in the high end.
But the third generation debuts into a very different reality; crossovers and SUVs drive in a car-like way, two-door coupes are a dying breed and many remaining sedans have become sleeker, with fastback rooflines. Compounding the challenges this CLS53 must face, Mercedes' performance brand AMG now has a four door version of the sportscar, nor will they offer their most powerful V8 engines in the CLS. Talk about middle child syndrome!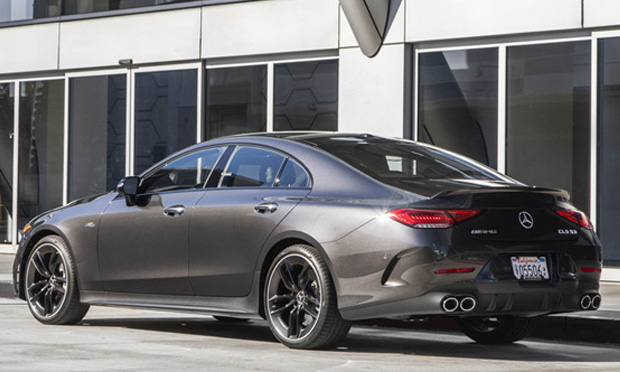 The CLS53 makes a noble attempt to thread these obstacles and in many ways succeeds. Its shape, if not as compelling in context as its grandsire's, is svelte and boasts that terrific Mercedes front grill. Its interior is cleanly styled and exudes a high tech vibe thanks to large, horizontal plinth of screens arrayed across the dash. Seating is low in the classic coupe tradition, which seems unusual in these days of gravity-defying SUVs. The forms surrounding those interfaces flow like liquid metal and are punctuated by lovely, turbine-style vents. All-in, this Benz has an alluring cockpit with enough room for a quad of folks and almost enough room in its long, wide trunk for all their luggage.
The CLS53 drives in an extremely competent, if aloof, manner. It M256 engine is a turbocharged and electrically supercharged inline six; its rated 429hp and 384lb-ft of torque is supplemented by an additional 21 ponies and 184lb-ft by the Mercedes EQ Boost system, comprised of an electric motor, small battery pack running 48 volt architecture. Independent tests show the CLS53 can run to 60mph in 4 seconds and complete the quarter mile in a rapid 12.5 seconds at 111mph. Stretched, it sounds suitably cultured yet angry and pairs nicely with the 9sp auto and rear-biased AWD system. However, when it's not having its neck wrung, the M256 sometimes seems flat and unresponsive, despite all these systems meant to fill in the lower end of the power spectrum.
It's similar feeling with the chassis. The CLS53 has direct, accurate steering that is better than that in a modern performance BMW, yet still lacks connection to what the tires are doing, and though the air suspension allows this heavy beast to generate great skidpad and slalom numbers, it never feels as involving as a performance car should. Not helping matters is a structure that's a bit of a limp noodle over certain bumps, with unbecoming shivers reverberating through the shell. The brakes are stout and fade-free in hard road use, rounding out the dynamics. The Mercedes is very quiet at a speed and on smoother pavement is an epic cruiser, and it can also can return almost 30mpg on a light throttle.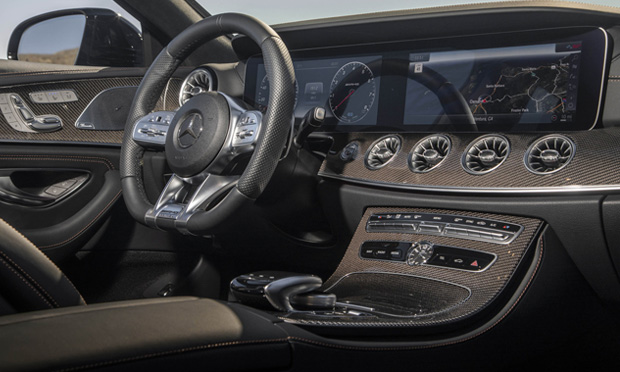 The CLS53 lacks the practicality of Mercedes own, less expensive E53 sedan and the show car looks of the AMG 4-Door; it doesn't drive better, either. It seems like the product planners have intentionally held it back, so as to give breathing room to the other two, and that works against it. The Benz presents a better case against rivals. Audi has yet to release an S7 fastback to compare it to directly, and it actually begins to look like good value against a loaded A7, the closest thing in their arsenal. BMW dropped the 6 series; the new 8 series is substantially more. Perhaps the CLS53, in the final analysis, fits its niche just fine: fast yet refined, stylish yet understated. And certainly a welcome alternative for those of us who still love something low and sleek yet able to carry more than two people.
0-60mph: 4.0sec (indep test)
EPA Ratings: 21/27/23mpg
Price as tested: $87,205
Here is what Mercedes has to say.
3.5 Stars
---
For more auto reviews, visit our LIFESTYLE PAGE.
Colorado AvidGolfer Magazine is the state's leading resource for golf and the lifestyle that surrounds it, publishing eight issues annually and proudly delivering daily content via coloradoavidgolfer.com.