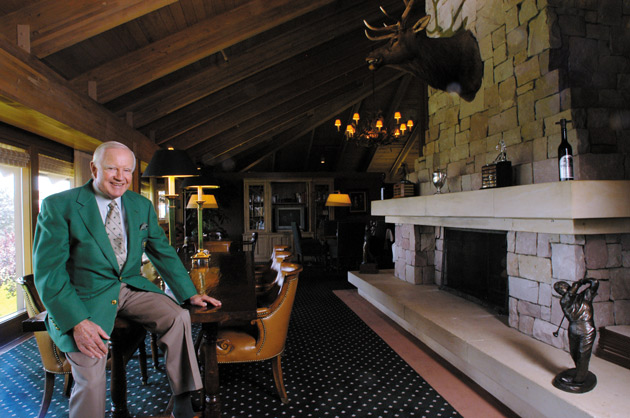 The creator of The International, an annual PGA Tour stop, was 93
By Jon Rizzi
The flags at Castle Pines Golf Club and Sanctuary Golf Course will fly at half-staff this week in honor of Jack A. Vickers, Jr., who died September 24 at the age of 93.
In 1981 Vickers founded Castle Pines, where he would stage The International, a regular PGA TOUR event from 1986 to 2006. After the demise of the event in 2007, the club annually hosted the Jack A. Vickers Invitational, raising more than $6.5 million for Boys & Girls Clubs of Metro Denver.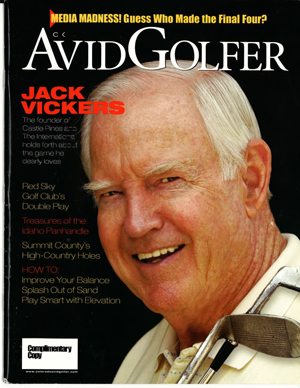 The annual event takes place this Tuesday through Thursday (Sept. 25 – 27), but with Castle Pines' clubhouse currently undergoing a major expansion, Sanctuary owners of Gail and Dave Liniger will host the players at their award-winning course in nearby Sedalia.
"Each player will get a glass with an ounce of J&B Scotch—Mr. Vickers favorite—as we propose a toast to him at the opening-night welcome dinner," Tournament Director Kevin Laura said on the morning of the event. "It will be bittersweet, of course, but I'm optimistic it will be a happy occasion."
Laura, who worked as the caddiemaster at Castle Pines in 1983, before the original clubhouse opened, said working for Vickers "changed the trajectory of my life."
"I was a punk kid on an Evans Scholarship," he joked, "and right away he made sure I was oriented to the service level of the club. We were in a double-wide trailer at the time, and he said he wanted the members to feel like they were on a red carpet, not gravel. It was eye-opening to me."
The eldest of the five sons of a Jack A. Vickers, Sr.—a prominent Wichita oilman who with his sons had built a nine-hole golf course on their property—Jack Vickers, Jr. became president of Vickers Petroleum at age 15, when his father died in 1940. By 1950, the young executive and Coast Guard veteran was competing in the finals of the Trans-Mississippi Championship.
He expanded his business interests in the energy sector and got involved in real estate and other ventures, including majority ownership of the NHL's Colorado Rockies. As many as 15 private clubs—including Augusta National and Denver Country Club—counted him as a member.
One club to which he didn't belong was Jack Nicklaus' Muirfield Village, even though Nicklaus invited him shortly after it opened in 1974 and Vickers aced the 16th hole.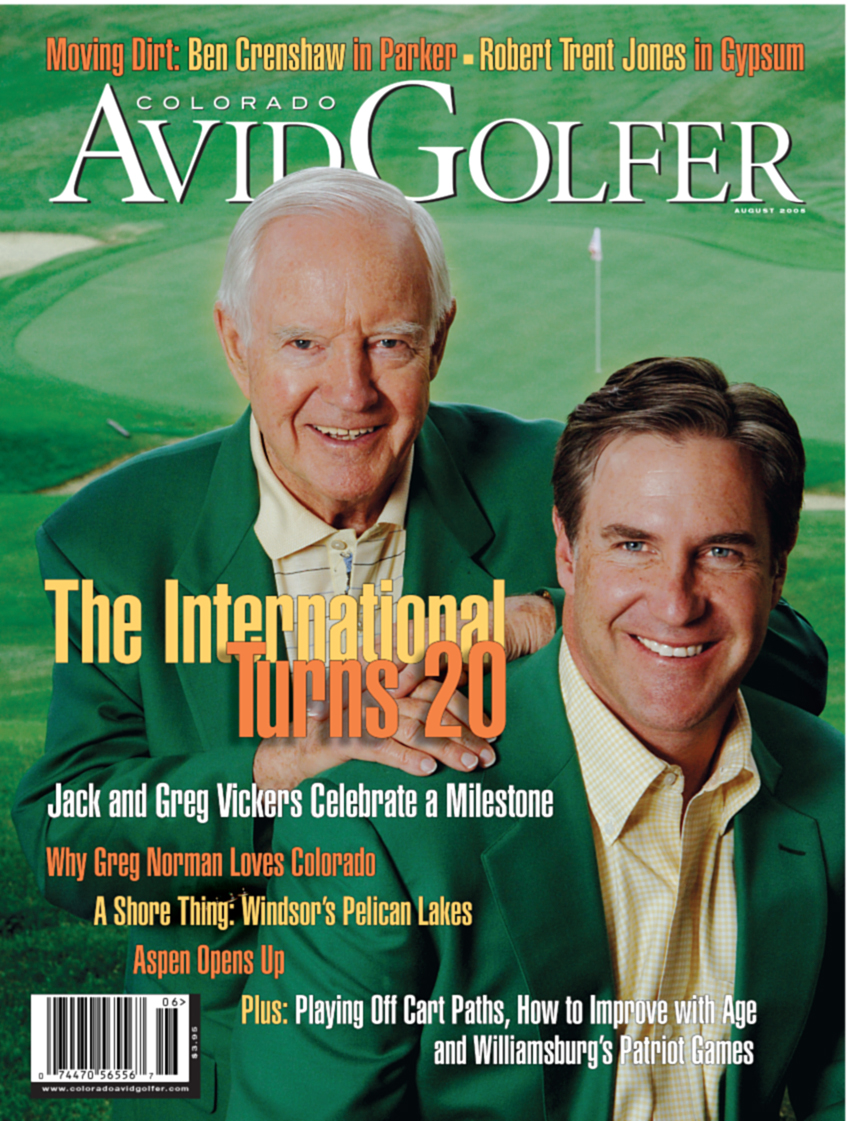 Vickers, however, would later ask Nicklaus to design a course on 3,000 wooded acres south of Denver. That course would become Castle Pines Golf Club, the "Augusta of the West," with green-jacketed members from all over the world.
And by 1986, the world's best players were coming to Castle Pines to compete in The International, which pampered them with first-class amenities and rewarded them with the PGA Tour's first $1 million purse.
The International introduced America to Ernie Els, among other international players, as well as to the Modified Stableford Scoring System. Winners of the event included majors champions Els, Vijay Singh, José María Olazábal, Greg Norman, Retief Goosen, David Toms, Lee Janzen—and Davis Love III and Phil Mickelson, both of whom won twice.
But by February 2007, a number of forces conspired to put an end to the event: lack of a title sponsor; regular absences by Tiger Woods; and Vickers' refusal to move the tournament to September as part of the newly created FedEx Cup because he knew golf couldn't compete with football.
Colorado wouldn't host another PGA Tour event until 2014's BMW Championship at Cherry Hills. The night before the first round, PGA Tour Commissioner Tim Finchem—at whom Vickers had glowered during their 2007 press conference announcing the International's demise—presented Vickers with only the 11th Lifetime Achievement Award in the organization's history. The only other non-PGA Tour players to receive the honor are former President George H.W. Bush and Course Designer Pete Dye.
The year following the demise of the International brought the first Jack A. Vickers Invitational hosted by John Elway, benefiting the Boys & Girls Clubs of Metro Denver. Over the next 10 years, the event averaged $650,000 in donations, and in recognition of these contributions, the Jack A. Vickers Boys & Girls Club opened at the Nancy P. Anschutz Center in October 2013, serving hundreds of youth and families in the Northeast Park Hill neighborhood.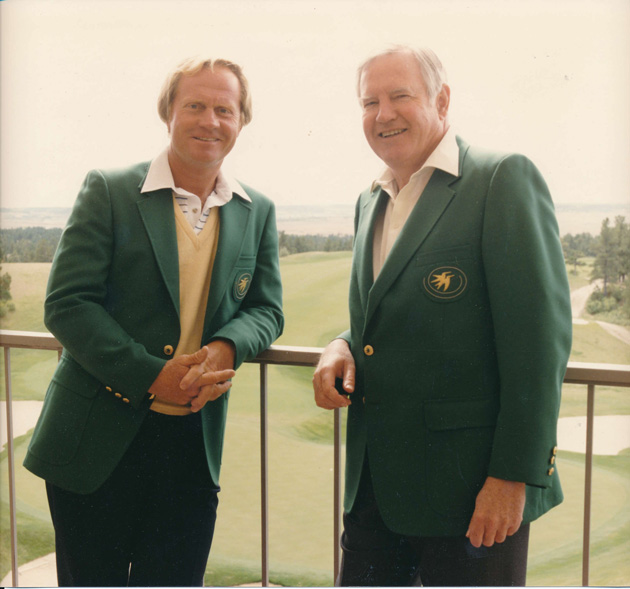 As philanthropic as he was entrepreneurial, Jack Vickers always took care of his members like they were his family, and their guests like they were members. He trained and treated his staff the same way.
"He always had more than enough personnel to take care of the members," Kevin Laura said. "And the members in turn took good care of the staff." As a result, few staffs in golf have seen the low personnel turnover that Castle Pines has.
"He was very fatherly and mentoring at the same time," Laura continues. "He had a unique touch—the kind of approach that made you want to put your head into a brick wall for the guy."
"If we came in and worked hard and we adopted Jack and (his wife) Cally's vision, we became family," General Manager Keith Schenider, who has worked at Castle Pines since it opened 37 years ago, said earlier this year. Schneider now has his 28-year-old son Drew—who basically grew up at the club—as his right-hand man.
"I've told him this already, but my last words to Jack Vickers will be, 'Thank you for letting me include the family as part of Castle Pines,'" Keith Schneider continues. "That is probably the greatest thing Jack Vickers has done for me."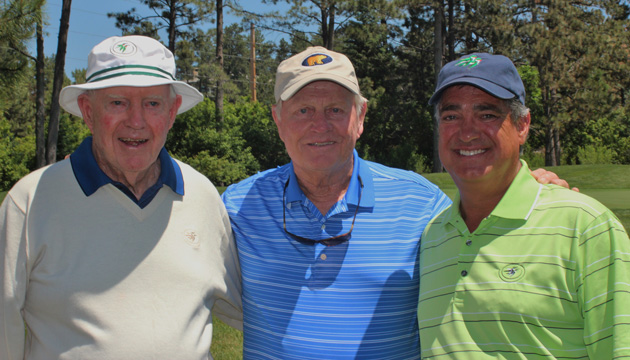 In that spirit, perhaps the most fitting tribute came yesterday on Facebook from Jack Nicklaus: "Simply put, Jack Vickers was very good for the game of golf.…Jack always handled himself incredibly well, and always with integrity. He was a very good man, and I'm blessed to say he was my friend… I know that through Castle Pines, a wonderful relationship with Jack Vickers only grew. He was involved from day one and until his passing. Everyone at Castle Pines loved Jack Vickers."