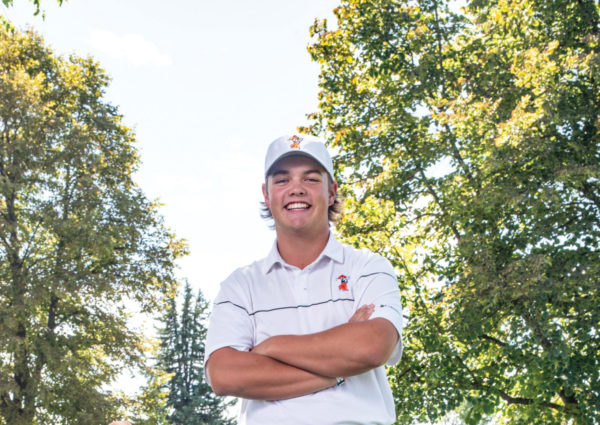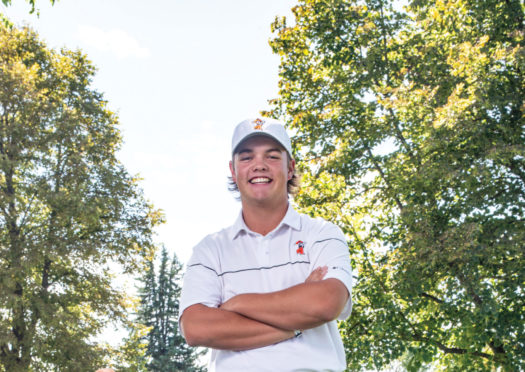 Playing his own brand of golf, JGAC Player of the Year Dillon Stewart is crushing it as he chases his dream
By Jon Rizzi
WHEN THE JUNIOR Golf Alliance of Colorado's Player of the Year Dillon Stewart says he can't wait to play at the next level, he literally means it.
On December 21, a month after signing his National Letter of Intent to attend Oklahoma State University in 2019, the Fort Collins native will graduate early from Fossil Ridge High School. His reason? "To play in national and worldwide amateur tournaments and get used to playing against those fields."
The 5-foot-6, 165-pound Stewart, who turns 18 in May, got a taste of that quality of competition this year.
On the positive side, he won two American Junior Golf Association (AJGA) events—the Hale Irwin Colorado Junior in June and the AJGA Junior at Big Sky in September. In between, and most impressively, he took first place in the Junior America's Cup—an elite three-round, 18-team collegiate-style event featuring the top four boy golfers from 12 western states, two Canadian Provinces and Mexico. Stewart's 16-under-par medalist performance in Montana propelled Colorado to its first team victory in the event's 46-year history.
On the not-so-positive side, the week before the America's Cup, Stewart failed to make it out of the stroke-play portion of the US Junior Amateur at Baltusrol. Then, at October's Ping Invitational— a highly selective AGJA event at OSU's Karsten Course in Stillwater—Stewart tied for last place in a field of 40 on his future home course just days after winning the Colorado State High School 5A championship.
These less-than-stellar showings came in the presence of his future OSU head coach Alan Bratton, who led the Cowboys to their 11th NCAA National Championship in June.
"At the Ping Invitational, Coach Bratton said I was getting a little ahead of myself," Stewart says. And at Baltusrol? "You deserve to be out there," Bratton told Dillon as they followed fellow OSU recruits Hazen Newman and Rayhan Thomas. "He also told me, 'You need to be a dream crusher. When you play against someone, you have to beat them by so much that they don't want to play anymore.'"
Stewart chuckles a bit at the memory, but he understood, as Jack Nicklaus did, that when you get an opponent down you keep him there with your foot on his throat.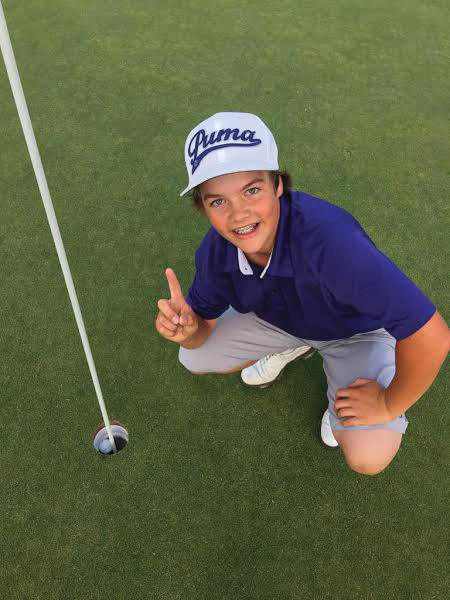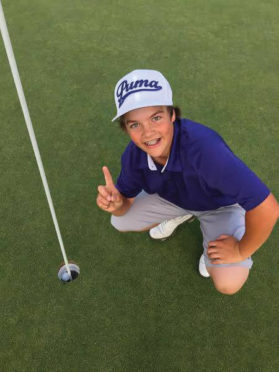 The thing is, nothing—not even a DFL at the Ping Championship— can crush Dillon's dream of becoming a professional golfer. "He doesn't need to be more competitive, and there isn't a shot he doesn't have," says Michael Riggs, a Windsor-based sports psychologist who counsels Dillon. "He doesn't just want to play on the TOUR; he wants to wear the green jacket—and not the kind you buy at Men's Wearhouse."
Inspired initially by his father, Scott Stewart, a PGA professional now working as a bank loan officer, Dillon caught the golf bug early, tooling around Pelican Lakes Golf Club with his dad. By age three, he had a set of Snoopy beginner clubs. By six, he dressed up as Payne Stewart for Halloween.
By 10, he was winning Rocky Mountain Golf Tour events. "We did that until the Junior Golf Alliance (of Colorado) came along," Scott says. "His trajectory has gone pretty high ever since. He was a better golfer at 14 than I've ever been. He hits the snot out of the ball."
But Dillon's physical skills as a golfer had outpaced his emotional maturity to deal with a game that, as sports psychologist Bob Rotella famously said, is not about perfect. "And I used to try to be perfect," Dillon says. "I didn't accept a bad shot." This would lead to anger, which led to inconsistent play—an execrable cycle.
"Dillon would get angry really fast on the course," explains Riggs, to whom Scott entrusted his son's mental game two years ago. "You can channel anger in the NFL, but in golf, if you get pissed because you don't make a birdie, you're going to tighten up. You have to recognize emotional stress and how to control it."
A former graduate student of Rotella's at the University of Virginia, Riggs has worked with Dillon for the last two years. "He's a great student and totally dove into the process," Riggs commends. "He understands that talent only takes you so far. You need tools, strategies and plans. Scoring lower is a byproduct of maturity, of taking ownership of everything you do."
"Mike has really helped me," Dillon says. "Last year he showed me a pie chart and asked me to draw slivers who I played for. I think I did 70 percent me, 20 percent family, 10 percent coaches. 'No,' he said. 'You play 100 percent for you.' That gave me a different perspective. In high school you want to fit in and have social status. Things will follow if you are yourself."
Working with Riggs, Highland Meadows Golf Club PGA Professional Brian Lindstrom and fitness coach Kelly Allen, Dillon this season blossomed into a supremely mature and confident player. Not only could he drive it 300 yards, hit 15 greens in regulation and get up and down from a manhole, but he didn't make excuses or get angry when he struggled.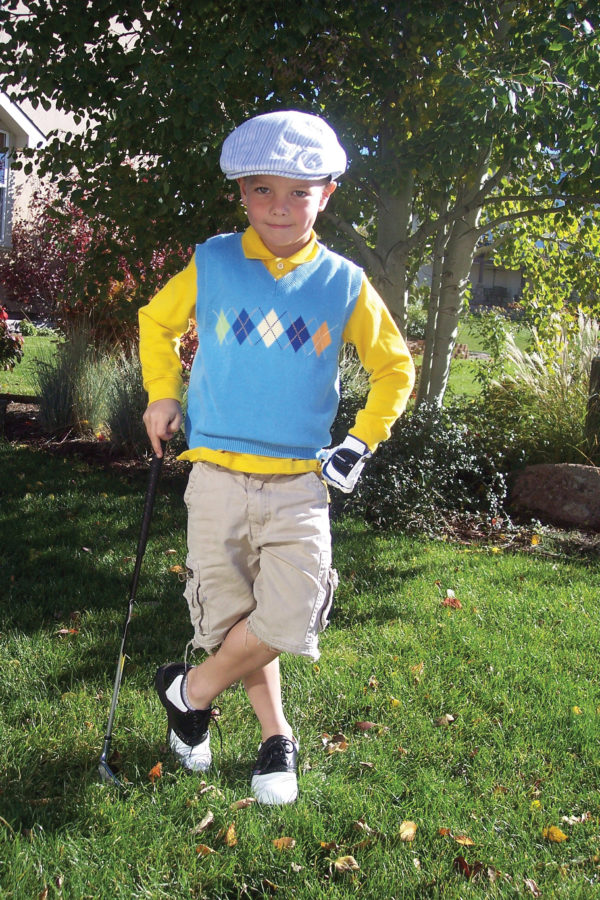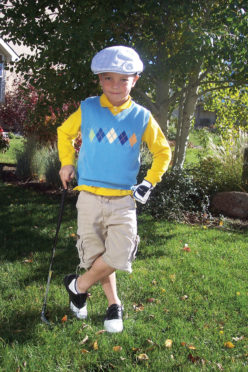 "It's not being arrogant or cocky," he says. "It's knowing you've done the work and that if you execute, everyone else in the field is going to be competing for second place."
"For Dillon, it's about the four Cs—commitment, confidence, composure and concentration," says Riggs.
Or what Scott and his son call "Dillon Golf— going out there and being yourself and not needing to prove anything to anyone else."
"Dillon Golf" showed up numerous times this summer. One exception was the first day of the Colorado 5A High School Championship—the same tournament he'd lost in 2017 despite leading after the first round.
"I put too much pressure on myself and didn't putt well," he says of this year's opening round at Colorado Springs Country Club. This resulted in a 2-over 72 that left him tied for third, four shots back.
The next morning, Dillon told Scott, "Dad, I need to care less but not be careless." He then fired a 66 to win the event by two strokes. Dream Crusher? Maybe. Dillon Golf? Indeed.
Unlike many elite junior players, Dillon has a regular job. He works in the kitchen and buses tables at Ptarmigan Country Club. "He's not a silver-spoon rich boy," Scott says. "He gases his own car and buys his own lunches. He has great time-management skills and is friends with everyone at the club. Some members have even offered to sponsor him if he goes pro."
For Dillon, there's no if, just when, and college comes first. He's consulting with Coach Bratton and Assistant Coach Donnie Darr about which events to enter over the next seven months. During that time, for eight hours every day, he'll practice golf like it's his livelihood— because that's what he wants it to be.
"He's so driven," Scott says with admiration. "But he's fun-loving, too. I don't see him getting burned-out."
---
Colorado AvidGolfer Magazine is the state's leading resource for golf and the lifestyle that surrounds it, publishing eight issues annually and proudly delivering daily content via coloradoavidgolfer.com.