Best in Class?
Infiniti's QX80 Limited luxury SUV and Ford's F150 Raptor truck make compelling cases.
By Isaac Bouchard
---
2017 Infiniti QX80 Limited
EPA ratings: 13/19mpg; 15mpg combined
0-60mph: 6.5sec
Price as tested: $90,445
---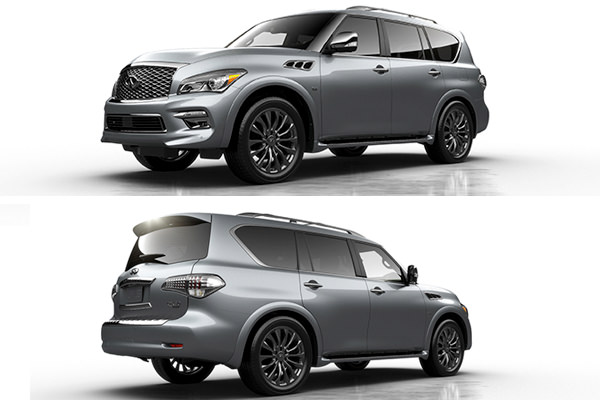 ---
After spending decades seemingly lost in the wilderness while Lexus basked in mainstream acceptance, Infiniti has finally found its way to sales success. Most all its cars and SUVs have been robust, reliable and fun to drive; if not always best in class, they were characterful, distinctive efforts that often pushed the leading edge of trends. The QX80, nearing the end of its second incarnation, remains a compelling alternative to the more obvious Cadillac and Lexus body-on-frame offerings. Its beefy guts come from the Third World-proven Nissan Patrol and its serious underbody hardware and multimodal all- and four-wheel drive systems mean it's up for anything. The Infiniti looks beefy and imposing, and if the voluptuous forms that define the company's visual identity don't always sit well on the upright form, the Limited's dark chrome accents and special 22-inch wheels keep its stance and overall presence suitably upscale when parked next to six-figure SUV alternatives. Its interior—especially in the top shelf Limited model—is a wonderful place to spend time sitting out congested rush hour madness or on a Continental Divide-crossing journey through any weather or over most any terrain. The car features buttery, quilted leather, stunning open-pore wood trim and an Ultrasuede headliner that begs to be stroked—and shows the finger tracks to prove it. While the infotainment system is graphically dated and limited in functions, it is fast and robust, unlike many cutting-edge setups that crash or confound on a regular basis. The QX80's seating comfort is better than the Escalade's, and its cargo room is on par with the Caddy's—and better than that of the jump seat-equipped Lexus LX570.
---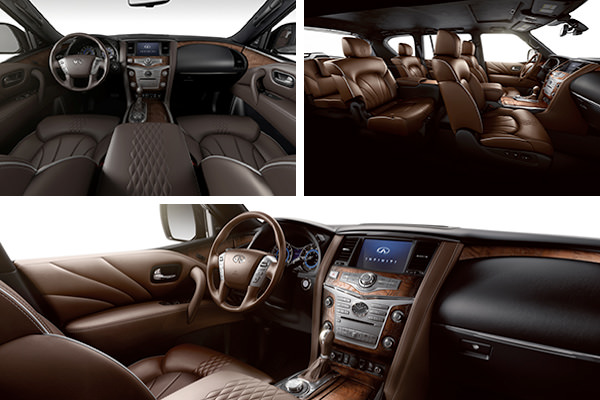 ---
The QX80's dynamic balance was best in class when introduced, and it continues to even out decent ride comfort and competent handling, thanks to its automatically adjusting hydraulic suspension. Steering is linear and accurate, and the powertrain—comprised of a 5.6-liter, 32-valve V8 with outputs of 400hp/413lb-ft and a seven-speed transmission—delivers the goods, with a throaty, sophisticated soundtrack, broad spread of power, 8,500-pound tow rating and mid-6s 0-60mph performance. Shifts are smooth and intuitive and the fuel economy is class average. Infiniti was the initiator of much of the tech that has now found its way to broad industry usage, such as composite-view cameras, and the QX80 has most every active safety system available. The Infiniti has always been a good value, since it is superior to the Lexus to drive and costs roughly seven to ten grand less, option for option. While the Limited reaches into new pricing territory, it is still less than its fellow Japanese rival. It has also historically been a more reliable long-term proposition than the Cadillac, which it also undercuts on price.With sales continuing to rise, it appears as though more people are recognizing Infiniti's value.
---
2017 Ford Raptor
EPA ratings: 15/18mpg; 16mpg combined
0-60mph: 5.2sec
Price as tested: $63,245
---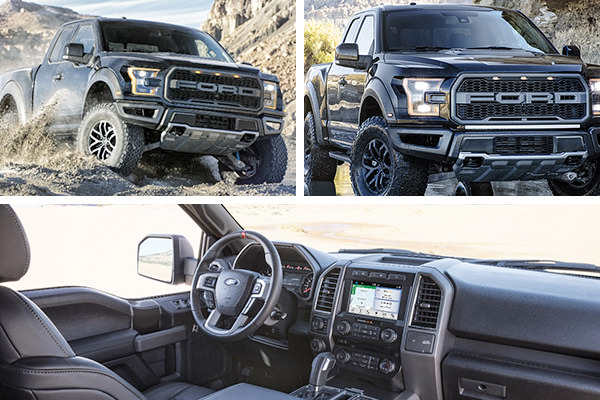 ---
Credit Ford with keeping the dream of a high performance pickup alive. That dream started with the 1993 SVT Lighting, which attempted to be a track-worthy truck. Although none of its various incarnations really bottled the energy inherent in its namesake, in a roundabout way these street-focused machines led to the first Raptor in 2008. By embracing a dune-busting, Baja-focused ethos, the Raptor exceeded all sales expectations. This new, second generation aluminum supertruck follows the same formula. Since there are myriad articles and YouTube videos about the Raptor's prowess in the dirt, I decided to focus on its daily usefulness and desirability. The aggressively wide body and unique grill and trim make the Ford—especially in the more off-road-oriented SuperCab configuration—one of the most attention-generating vehicles currently on the market. The F150 interior design is very modern and attractive, even if some plastic moldings aren't worthy of the mid-60s sticker price. The seats are supportive and the heating and cooling features are genuinely nice, as is the superb, Sony audio system and excellent Sync 3 interface. Raptor enhancements include magnesium paddle shifters that are almost redundant, thanks to the new 10-speed transmission, and a sports steering wheel with a red leather band at 12:00 clock to remind you which way is straight as you dial in massive corrections while drifting it sideways in the dirt. While the tall sidewall, reinforced BFG tires keep ultimate lateral grip lower than many newer vehicles, steering precision is amazing and roll angles (along with dive and squat) are well contained. Ride quality suffers as a result. Despite the über-cool, remote reservoir Fox dampers—which contribute to over 13 inches of ground clearance—the Raptor experiences a measure of shuddering and banging over typical urban road blemishes. Ironically, however, the bigger the disturbance, the better it deals. The Raptor is perfect for many of the state's 4×4 rec areas and for towing toys and trailers.
---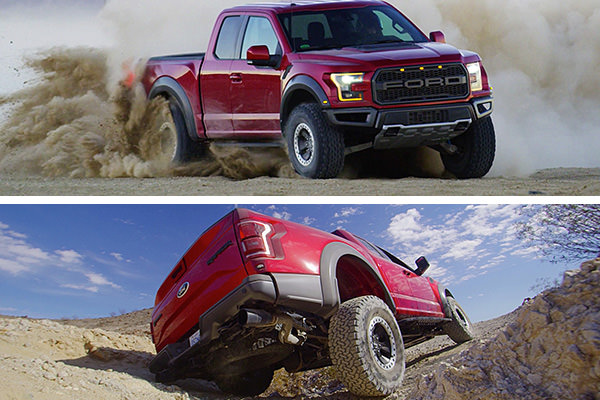 ---
Ford injected the Raptor with better reflexes, and its accurate steering makes highway drives a more relaxing affair, especially when towing, thanks to a suite of amazing electronics. Program in your trailer's dimensions and apply a special sticker to its tongue for the truck's camera to read. Not only does the Raptor buzz the wheel when the trailer's tires cross a lane marking, but it also allows neophytes like me to become masters at reversing a laden rig. The new twin turbo "high-output" EcoBoost engines are among the Raptor's best features, with reinforced internals allowing for 18psi of boost and outputs of 450hp and 510lb-ft. Going 0-60 mph takes just a tick over five seconds, and all that torque, neatly sliced up into bite-sized chunks by the fast and intuitive 10 speed tranny, make dispensing with dawdlers—even while pulling loads—and mountain passes a breeze. One caveat is the Ford's ultimate tow rating is based your choice of cab, and only if you use a load-equalizing hitch can you get up to a max 7,000-pound capacity. But for a machine that is as focused off-road as a Mustang GT350 is on a racetrack, the Raptor's breadth of real world usefulness and comfort are more than adequate. One final note on the Raptor's terrific suitability for our unique climate: In early May, its aluminum body, which withstood hail hard enough to set off its alarm, showed nary a ding afterwards. Meanwhile, the cars parked around it resembled ProV1s.
---
Automotive Editor Isaac Bouchard is the owner of Englewood-based Bespoke Autos (303-475-1462). Read more of his writing on coloradoavidgolfer.com and bespokeautos.com.
---
Colorado AvidGolfer is the state's leading resource for golf and the lifestyle that surrounds it, publishing eight issues annually and proudly delivering daily content via coloradoavidgolfer.com. Follow us on Twitter, Facebook and Instagram.