Brews with Views
A spirited excursion to Estes Park.
 By Cody Gabbard
---
Arriving in Estes Park via US-36 offers one of Colorado's most iconic views. As you descend into the valley each piece of scenery reveals itself as if on cue—the foothills and peaks of Rocky Mountain National Park…the bright, white facade of the Stanley Hotel … the verdant fairways of the 9-Hole Lake Estes Golf Course… and Lake Estes itself reflecting it all.
The city finally has a handful of new breweries and a distillery taproom to catch the views while enjoying a tipple or two. These venues may be the new kids on the block compared to others in the area, but they are definitely raising the bar on quality and variety.
---
Dancing Pines Distillery Tasting Room
Nestled on a side street between the Stanley and downtown lies one of Dancing Pines' two Colorado tasting rooms (the second is in Breckenridge). Although its spirits and liqueurs are made in small batches in Berthoud, the tasting rooms allow more customers to savor these special libations in apposite settings as opposed to an industrial park. The Estes Park location has a relaxed, speakeasy vibe, replete with comfortable couches, sleek chairs and an erudite bar manager—the ideal atmosphere to enjoy a handcrafted cocktail or sample flight.
Dancing Pines spirits distinguish themselves by their smooth drinkability and minimal harshness. Not much of a clear-spirits consumer, this avid beer drinker was delighted with a sip of vodka triple distilled from Chardonnay. 
It has a sweet aroma and a clean flavor bolstered by a full and creamy body with very little hot alcohol.
Spice, a spiced-rum, is distilled from blackstrap molasses and aged on cinnamon sticks, nutmeg and vanilla beans inside used bourbon barrels. Although there isn't any added sweetness, the spice additions give it an aperitif-like drinkability, with aromas of vanilla and baking spices and flavors of butterscotch and caramel.
Dancing Pines' uniquely infused liqueurs also set it apart from other distilleries. A bourbon-based liqueur, aged on black walnut husks for one year inside used bourbon barrels and sweetened with cane sugar, Black Walnut rated 90 points from Wine Enthusiast. Black Walnut is dessert in a glass, with chocolate and earthy aromas melding with smooth vanilla and roasty flavors for a rich, espresso-like character.
207 Park Lane, 
dancingpinesdistillery.com
---
Lumpy Ridge Brewing Co.
After a long drive or scenic hike, there's no better place to sit by a fireplace with a pint—and even your dog—than the breezy patio of Lumpy Ridge Brewing Co. Situated a few minutes from downtown along South Vrain Avenue, the multitiered outside space overlooks Lake Estes Marina and the mountains behind the Stanley Hotel.
A great introduction is Ogg's FM Altbier. Altbiers, Germany's answer to less-complex American Ambers typically have a rich maltiness and clean yeast characteristics derived from cool-fermented ale strains. Lumpy Ridge's version has an understated caramel character that's more complex than American ambers with less roast and a lighter body than a brown ale. Despite the complexities, the beer is highly drinkable, with some sweetness and a rye-like spicy finish.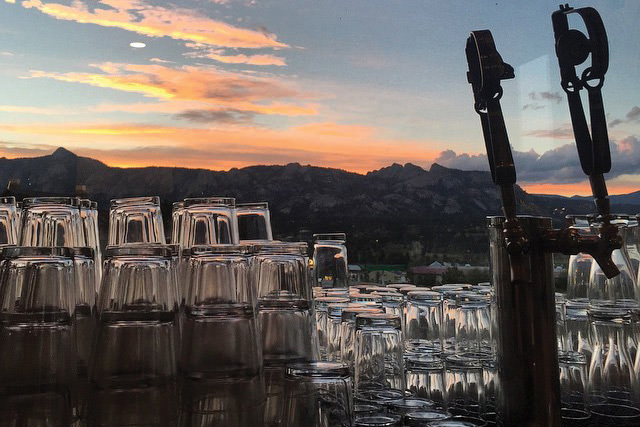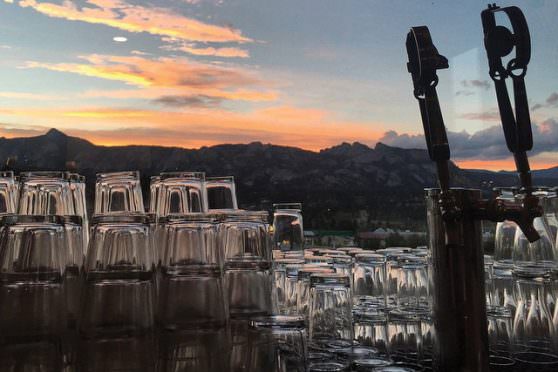 One of the more whiskey-forward beers I've had in awhile, Bourbon Oak Red isn't like many heavily malty, barrel-aged beers. There isn't much of a barrel character and the full flavor of whiskey outshines any barley-derived flavors. It's full-bodied without being chewy and although there isn't much alcohol heat it drinks like a smoothed-out whiskey.
Another chilly evening beer to go alongside Bourbon Oak Red is the Irish Stout. Creamy and as velvety as satin, this ale has hints of roast and is less rich and bitter than Americanized versions. This is a nice-drinking medium ABV beer that doesn't compromise on flavor and is light enough to enjoy several glasses.
531 S. St Vrain Ave., lumpyridgebrewing.com
---
Rock Cut Brewing Company
For larger groups and a wide range of flagship and specialty beers Rock Cut is your best bet. There's a good mix of locals and tourists alike with plenty of room at the wraparound bar, taproom and sizeable patio that also includes regular food trucks. The regular lineup of beers is what you'd expect with an IPA, Amber and Porter, but also a spin on Brown Ale—Smoky Burnett.
A medium-strength Smoked Brown Ale, Smoky Brunette has a big, smoky, campfire aroma, fresh smoke flavor without acridity, and a lighter body that gives it a mouth-watering quality. The malt is a bit sweet to balance the smoke with toffee and caramel flavors and little to no bitterness.
Enos Pils, another flagship, is a Pilsner that strays a bit from hoppier versions, so drinks a bit more like an amped-up Blonde. Pleasant grain aromas and some yeast character open up to flavors of crushed grain and additional toasted cracker malt complexities as it warms. Some residual sweetness is also a bit different from most Pilsners for a new take on an old style.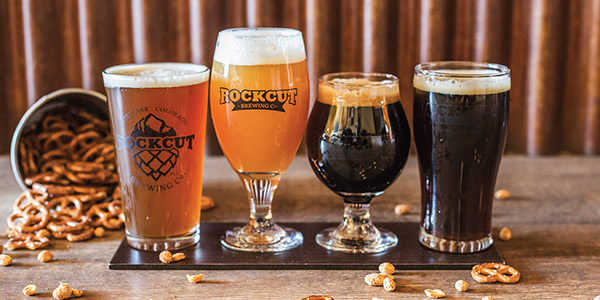 390 W Riverside Dr., rockcutbrewing.com
---
Read more of Cody Gabbard's Tapping In columns at coloradoavidgolfer.com.
This article appears in the July 2017 issue of Colorado AvidGolfer. Subscribe today!
Colorado AvidGolfer is the state's leading resource for golf and the lifestyle that surrounds it, publishing eight issues annually and proudly delivering daily content via coloradoavidgolfer.com.Follow us on Twitter, Facebook and Instagram.