Anyone for Tennyson?
Block & Larder headlines an impressive menu of restaurants along one of Denver's hottest gastronomic gauntlets.
By Gary James
---
I've always been enchanted with the "family-owned" restaurant concept. One of my favorite all-time movies is Big Night—Italian brothers running a struggling restaurant. A great food movie (I had an insatiable urge to gnaw on a pound of prosciutto after viewing it) and a great brother movie to boot—that nearly silent final scene, the brothers making and sharing breakfast together, each with his arm around the other after a night of rage and despondency, is a classic of eloquence.
Which brings us to Block & Larder, one of the rocking restaurants—among them Brazen, El Chingón, Vital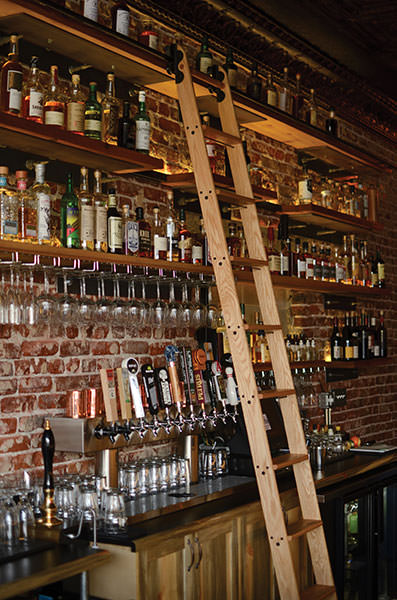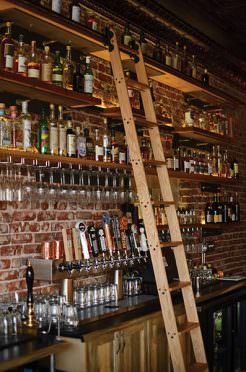 Root, DJ's Berkeley Café, Cozy Cottage—within walking distance of Willis Case Golf Course on the stretch of Tennyson Street between 38th and 46th Avenues in Denver's Berkeley neighborhood.
Block & Larder is owned and operated by Jason, Aaron and Lucas Forgy, the band of Iowa brothers behind Freshcraft, which opened in LoDo in 2010.
"Over the years we've learned to give each other space," Jason admits. "Having two restaurants helps, as well as clearly defined scale and scope of responsibility. Lucas runs the kitchen, Aaron has final say on the bar and I handle the other stuff—marketing, finance, making sure the broken toilet gets fixed…"
Behind the scenes, they could be the Three Stooges or the Baldwin brothers for all I care—I come to eat. Block & Larder (as in a butcher block and an old-fashioned pantry) is the Forgys' take on a neighborhood bar and grill, an old building on Tennyson Street with a pressed tin ceiling, exposed brick walls, large open-glass panes and hardwood floors. The food centers around Lucas' in-house butchery, while Aaron and his knowledgeable bartenders curate the drink, overseeing pages and pages of wines, craft beers, custom cocktails and 200-plus whiskeys available for enthusiasts.
"We were having some success with Freshcraft, and we wanted to grow a business," Jason explains. "We'd fallen in love with distilling, but you run up against some prohibitions being a retailer of alcohol. We didn't have it in us to jump those hurdles, so we went back to the drawing board and decided to do a casual restaurant where we'd want to hang out. We like beer and meat and whiskey. The direction had a lot to do with the products we were going to serve, not a concept."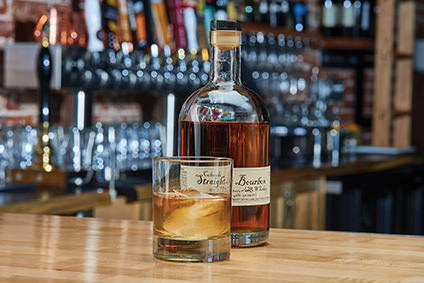 Prices run a little high at Block & Larder, which opened two-and-a-half years ago, but the value is there. On a recent visit, we perused the studied craft cocktail menu and found ourselves intrigued by a litany of drinks inspired by The Big Lebowski: the Bunny Lebowski, the Maude Lebowski, etc. I couldn't resist a rum concoction named That Rug Really Pulled the Room Together.
The smooth, creamy Carrot & Ginger soup with mint pesto exploded with flavor, as did the Potato & Caramelized Leek soup with crème fraîche, chives and topped with a rich, tender brioche crouton. To share, our palates headed south with sweet and savory Corn Fritters (with raspberry pepper jam and honey butter) and Pan Roasted Vegetables (served with marinated tomato, candied pecan and smoked grits).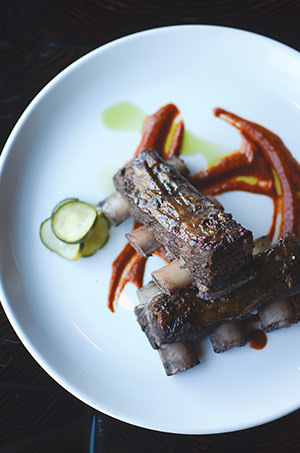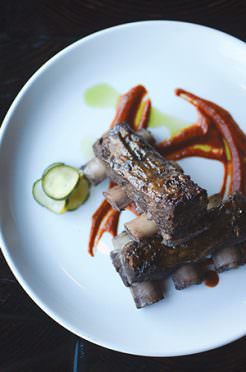 In addition to the regular menu's Smoked Bison Short Rib with smoked grits, BBQ sauce and haystack onions, Block & Larder featured two bison specials that evening—Pulled Bison Short Rib, served with fettuccine, cast-iron pomodoro and pesto puttanesca; and a Bison Tri-tip, served with roasted pasilla chiles and corn and seasoned with cumin, oregano and oyster chili butter. Both were exquisite. Lower in fat and higher in moisture than beef, Bison meat cooks more quickly. Lucas has mastered the process.
"A lot depends on getting a good product—we work with a local rancher and then treat it simply and properly," Jason notes. "After screwing it up enough times…the first time we tried to cook bison brisket, we wound up with an expensive piece of black leather."
Lucas believes in authenticity. "I don't hear from him for weeks, and then he pops up with something like hanger steak," Jason marvels. Many restaurants are passing off mystery meat as this much pricier steak, but Block & Larder's finish cut—from the area between the diaphragm and the last rib from the cow's underside—is properly butchered and beautiful.
The outlier on the meat-centric menu is a seafood entrée, Crab Agnolotti—stuffed pasta squares filled with roasted mushrooms and arugula and dressed in a lemon and white wine sauce, tomato and herbs. We overheard a regular raving about the Fried Chicken, served with hot honey, steak fries and pickles.
For dessert, the Chocolate Raspberry Cheesecake with raspberry agave jam was a unanimous choice. Everyone agreed—brotherly love has landed in a place of great food.
"Lucas got in the business because he wrecked a car so he started working in kitchens to pay damages—and eventually he got the culinary degree," Jason says. "I had a corporate job, but I didn't have any direction when the company was sold; I had some investment money and approached Lucas. When we found out we'd bitten off more than we could chew, Aaron moved out to help and not get paid for a while.
"Having a restaurant/bar was a dream we had when we were kids. Maybe we've figured it out." They most assuredly and appetizingly have.
---
4000 Tennyson St. Ste 101 blockandlarder.com; 303-433-4063
Read more of Contributor Gary James' Fareways columns on coloradoavidgolfer.com.
---
Colorado AvidGolfer is the state's leading resource for golf and the lifestyle that surrounds it, publishing eight issues annually and proudly delivering daily content via coloradoavidgolfer.com.