America's Big Three proudly keep producing trucks with plenty of size, power and room for gear galore.
---
By Isaac Bouchard
FOR DECADES NOW, America's Big Three have specialized in trucks, SUVs and crossovers. Today, these vehicles comprise three-quarters of all new automobile sales. Into this burgeoning market General Motors and Ford have plunged, and while Dodge's pickups now muster beneath the Ram brand, that hasn't stopped that venerable division of Fiat-Chrysler from having a dog in the fight.
2019 DODGE DURANGO SRT
FCA, the parent company of Dodge, has done a masterful job of finding a sweet spot for the Dodge brand after it turned the trucks into Rams ten years ago. Re-integrating SRT (they'd tried to make Street & Racing Technology stand alone) certainly helped. As did those silly yet spot-on Ron Burgundy ads for the Durango R/T that goosed sales over 40 percent. All this helped reposition Dodge into a company that represents attainable performance.
The seven-passenger Durango SRT exemplifies this. With 0-60 runs doable in under five seconds, it has the kind of performance only six-figure German machines offer and can tow more than most full-size competitors, thanks to its 8,700-lb. rating.
Oh, and it is simply terrific to drive. It rides well, cuts corners like vehicles half its heft and its Brembo brakes will stand it on its nose, time after time. Quality materials finish the Durango's interior; it's quiet and refined— unless you uncork it and let its 392ci, 475hp Hemi rip—and it looks terrific. Dodge has trickled down its coolest styling tropes, too, such as the hood scoop and multiple 20-inch wheel options, to more pedestrian models, meaning that even the V8 R/T and V6 GT now look menacing enough for Mom to feel mean behind the wheel.
EPA ratings: 13 city / 19 highway
0-60mph: 5.2 sec
Price: From $62,995
2019 GMC SIERRA 1500 DENALI
The new Sierra Denali is huge. Parked between two last-gen 2500s, it stands almost as tall as those .-ton machines and its grill is simply massive. It looks different than the Chevy Silverado, which is a good thing as GMC distances itself with offerings distinct from its sibling's.
Among those are a brilliant six-position tailgate called MultiPro and a less useful but intriguing carbon fiber bed. The ability to pop down the upper-middle part of the 'gate and lean in to move or retrieve items loaded in the bed is very helpful, offering those of us with creaky joints more in-and-out options than Ford's tailgate step.
GMC has executed well for those who tow midsize loads (say, 5,000-8,000 lbs.). Cameras and sensors check the trailer lights and automatically adjust parking guidelines and blindspot monitors. The Denali also will accept a camera feed from enclosed trailers and display it on the infotainment screen. Combined with the great low-end torque of the 420hp/460lb-ft 6.2-liter engine, the terrific shift programming of the 10-speed auto and the better real-world fuel efficiency of a normally-aspirated engine over the turbo Ford EcoBoost, and you have an ideal half-ton truck that will easily handle that big boat, horse trailer or car hauler.
The GMC's design and small infotainment screen don't compare to those in the Ram. Nor are GMC's nicely trimmed, two-tone leather seats nearly as comfortable nor configurable as those in the Ford and Ram. The GMC rides slightly smoother than the Ford and nearly as soothingly as the Ram. Its steering, handling and brake-feel are as good as the others and it has better body control than its Chevrolet brethren. In the fiercely competitive full-size truck segment, the Sierra Denali is compelling enough to carve out its own niche at the upper-end of the class.
EPA ratings: 15/20/17mpg
0-60mph: 6.0 sec
Price as tested: $68,535
2019 FORD RANGER
After the recession, the domestic automakers abandoned smaller pickups, including the Ford Ranger. This ceded the class to Toyota. Then, when the smaller pickup regained popularity, Ford, which had continued building Rangers for overseas markets, updated its 2011 model and tossed it into the fray.
The result is an interesting blend of attributes that no doubt will suit many buyers well,but might leave others wanting. The Ranger has the best powertrain in the class, especially for us here in Colorado. Comprising a 2.3-liter, turbocharged four- and 10-speed automatic, it is punchy, powerful and responsive. While others can beat its 270 hp rating, the Ranger's 310lb-ft of twist runs hard and effortlessly.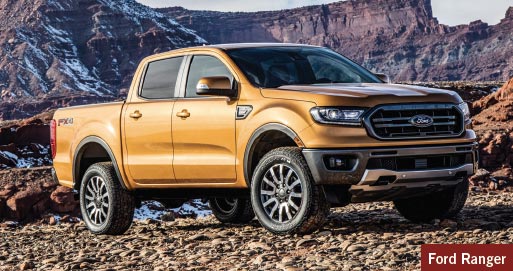 The Ranger has slightly higher tow and cargo ratings than anything in the class, and its bed is four inches wider than GM's Colorado/Canyon twins. But the demerits of a near decade-old chassis manifest themselves with little jitters and flutters on even smooth pavement and almost comically poor reactions to big bumps. It wallows around corners and rarely settles down.
The Ranger's interior likewise mixes old and new: the small, flush mounted climate control buttons are hard to find, being the same color as their surroundings, yet the Sync3 infotainment system is best in class. The backseat neither splits or even folds flat, but all the modern driver aids are either standard or optional. The Ranger has WiFi, 110v outlets and more USBs than the competition does. It is the only truck in the class whose blind-spot monitors can be configured to include a trailer's width.
Outside, Ford's styling team has done a great job of keeping the Ranger from looking its age, and it should grab a decent share of the midsize truck market.
EPA ratings: 20/24/22mpg
0-60mph: 6.8sec
Price as tested: $44,375
---
Want to read more auto reviews? Visit our LIFESTYLE PAGE.
Automotive Editor Isaac Bouchard is the owner of Denver-based Bespoke Autos ([email protected]; 303-475-1462).
Read more of his automotive writing on coloradoavidgolfer.com and bespokeautos.com.