At Vail Golf Club, Chef David Sanchez puts some smoke and spin on the golf-grill classics.
By John Lehndorff | Photos courtesy of Vail Recreation District & David Sanchez
THE VAIL GOLF CLUB sounds like it should be very private and exclusive, with an overly expensive onsite eatery. After all, the club does occupy precious real estate in one of the state's priciest municipalities. In actuality, that elite name is a little tongue-in-cheek joke.
Since opening in 1962, the club has welcomed all golfers and consistently rates as one of the best public courses in the mountains. And since opening in 2016, the magnificently renovated Vail Golf & Nordic Clubhouse has featured Grill on the Gore, a restaurant boasting tall ceilings and picture windows that frame a stellar view of the Gore Range that's unavailable at any other eatery in the valley. From tables on the large terrace, diners can watch players from all over the world finish at the 18th hole. It's the quintessential spot for summer sunset cocktails.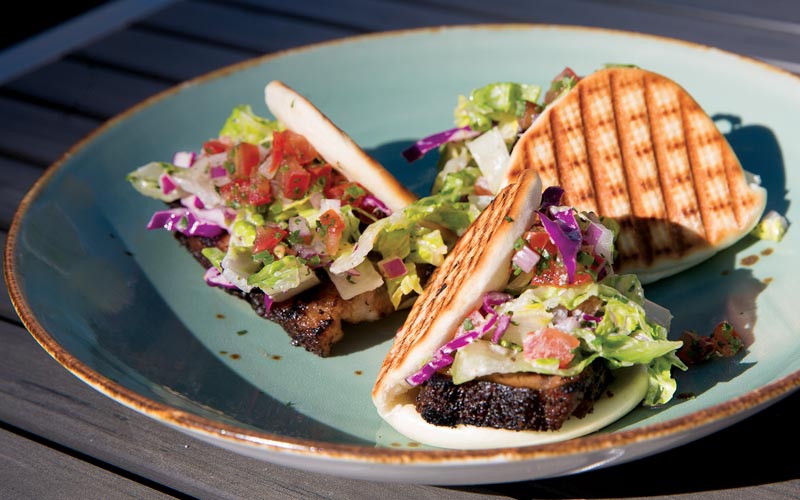 Yet, Grill on the Gore is neither stuffy nor clubby and is shockingly affordable. Overturning expectations about the food at golf courses—both public and private—is what David Sanchez loves to do.
The Grill's executive chef was born in Texas and raised in Tampa. His Florida influences brighten the Grill's summer menu in various dishes including black beans with sofrito and his take on the iconic Cuban sandwich made in a panini (or plancha) press with smoked mojo pork and ham. "I probably eat that sandwich twice a week myself," Sanchez says with a broad smile.
FLAVORING THE FAMILIAR
Open from 11 a.m. to dusk, the all-day menu's stars include fresh fish tacos and the Grill's signature salad: Greens with strawberries, avocado, toasted pecans and Colorado goat cheese.
"I'm not trying to create novel new dishes," the chef explains. "I take comfortable, recognizable dishes and elevate them with great ingredients and techniques," For instance, the menu's Crab Louie variation adds fried panko-crusted avocado to the snow crab. His gyro "slider" is cooked-to-order Colorado lamb tucked into a soft Chinese rice bao bun.
A longtime culinary instructor, Sanchez lets his passion for teaching shine when he's talking about attention to detail in his kitchen.
"If we're serving a burger it needs to be the best meat, a great bun," he emphasizes. "In this kitchen the tomatoes are cut as needed, to order, not a bunch of them ahead of time. Our chicken sandwich is spread with our house-smoked bacon jam with coffee."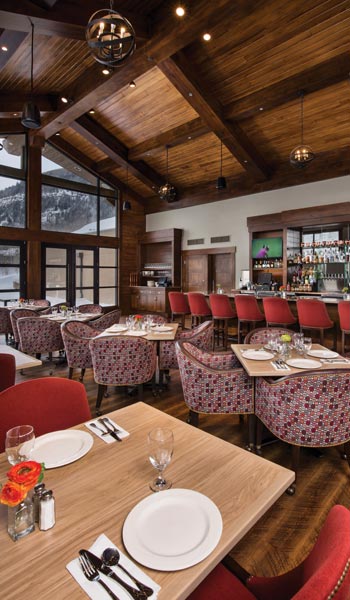 COLD SMOKE WITH A VIEW
The bacon for the jam is literally smoked in the backyard at the Grill on the Gore. Sanchez designed a gleaming smoker custom-built in Texas, which he fills with aged peachwood from Palisade for sweetness and Texas post oak for heat.
Sanchez says he wants to "bring back some of the old Colorado food techniques like smoking, pickling and curing." So into the smoker go pork bellies for bacon, brisket (which gets a 14-hour smoke), trout and even parsnips. One of the Grill's most popular dishes is large, juicy, smoked chicken wings.
Local Colorado cheeses, meats, trout, fruit and honey as well as spirits and craft brews appear on the menu because it's part of the mission, along with sustainability. "Our whole focus is on creating a true Colorado environment here, but we don't use something just because it's local," he explains. "It's has to be the highest quality."

The Vail Golf & Nordic Clubhouse houses four kitchens that supply the Grill on the Gore, a banquet space and food for the Vail Recreation district's other facilities including neighboring Ford Field. Sanchez and his crew also prepare grab-and-go foods and beverages including breakfast burritos for the club's new starter building. Located near the driving range, it has a patio where groups and family can gather.
CHEF-GROWN EDIBLE FLOWERS
Sanchez, who arrived in Vail in 1993, decided to pull out the ornamental shrubbery behind the Grill's terrace and plant vegetables, herbs and edible flowers for his kitchens. He is a latecomer to gardening but has embraced it wholeheartedly in the past few years.
"I'm the gardener," he says. "I started the plants, did the tilling. I come out here in the morning and do weeding and harvesting. I really like it. Next year, maybe we'll get honeybees," he said.
He figures all he is doing is maintaining long-standing local tradition. "Long before there was skiing here, Bachelor Gulch was known as a great lettuce-growing and sheep-raising area," Sanchez said.

With its great solar exposure, this year's garden is expected to yield herbs for cocktails and cooking, lots of lettuces and tomatoes for salads, as well as parsnips, carrots and kohlrabi.
Sanchez boasts that his 2018 gardening efforts produced "summer squashes this big." He holds his hands wide apart, like a fly fisherman telling a friend about a catch he had released into nearby Gore Creek.
INFORMATION
The Grill on the Gore
Vail Golf & Nordic Clubhouse,
1775 Sunburst Drive, Vail
970-477-5277;
grillonthegore.com;
vailgolf.com
OTHER MUST-TASTE DESTINATIONS IN THE NEIGHBORHOOD
MINTURN
Easy-to-miss Minturn is home to two surprises hidden in a forgettable retail complex. One is Mangiare Italian Market, a small shop packed with an unexpected bounty of first-class imported Italian grocery items.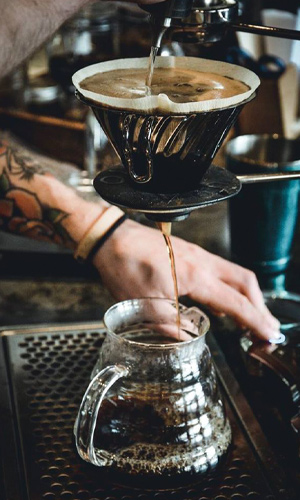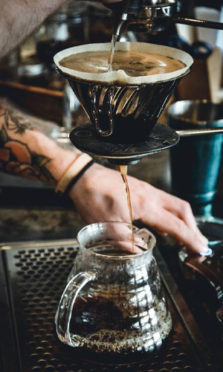 The other is the place to taste coffee in the mountains (pictured): The Vail Mountain Coffee and Tea Company (vailcoffee.com). The green beans are roasted yards away in the back of the building. This is coffee-nerd nirvana with serious baristas equipped with an arsenal of beans, roasts and brewing techniques. Sign up for a cupping session to learn how to truly taste coffee. Musttaste caffeine combo: The Sip & Slide—an espresso shot there with a drip coffee to go.
EDWARDS
An unexpected concentration of good food appears around one intersection in the town of Edwards near Beaver Creek. On one corner is the landmark Gashouse game eatery. The award-winning Gore Range Brewery brewpub occupies another.
The third corner is wrapped with a remarkable collection of food attractions including the food shops Cut! and Eat + Drink—for meat and seafood, and wine and cheese, respectively. Stop by sundae (sundaeicecream.com), makers of densely super-premium ice cream. Must-taste flavor: Espresso ice cream laced with finely ground dark-roasted coffee beans.
Next door is Craftsman (craftsmanvail.com), a counter-service casual bar with bites from some fine-dining veterans who've built the perfect spot to hang out after a round. Must-taste beverage: Barrel-aged Manhattan. The final corner of the intersection is home to many eateries but anyone who cares deeply about fried chicken in its various, glorious forms will make a beeline to The Rose (theroseedwards.com), a small, quirky eatery/bar in Edwards' Riverwalk complex. Must-taste appetizer: What else? The boneless fried chicken, which is first cooked slowly—sous vide with herbs—before being fried in a light, crisp coating. It More Must-Taste Destinations in the Neighborhood comes infused with warm honey-sage syrup, counterpointed by crunchy, spicy pickled celery.
The crown jewel of this little beehive of tasty activity is Hovey & Harrison (hoveyandharrison.com), a farm-totable café with a full bar and a sourdough bread bakery. They bake macarons, fine soft pretzels and giant English muffins, and offer fresh local produce along with grab-and-go foods from local makers. Must-taste dishes: The fried green tomato sandwich, with fried slices on a toasted buttered sourdough bun with cheese. Arugula is a craveable upgrade on the iconic eggplant Parmesan sub. For dessert, a near-perfect cherry turnover with buttery pastry enveloping tart fruit with no sweet goo.
Down the street is the rarest find of all: Legit, chewy bagels from a New York native. The Village Bagel (villagebagel.co) produces onion, sesame, egg and other water bagels with all the shmears and spreads and cold smoked salmon. Must-taste sandwich: Corned beef Reuben with Swiss and sauerkraut on a toasted, buttered pumpernickel everything bagel.
John Lehndorff is the former Dining Critic of the Rocky Mountain News and Food Editor of the Boulder Daily Camera.
---
This article appeared in the 2019 July Issue of Colorado AvidGolfer.
Colorado AvidGolfer Magazine is the state's leading resource for golf and the lifestyle that surrounds it, publishing eight issues annually and proudly delivering daily content via coloradoavidgolfer.com.