A gasoline/electric vehicle at a reasonable price point for the adventuresome Coloradan.
By Isaac Bouchard
We must all credit Toyota with bringing hybrids to the masses. However, as the company has spread its gasoline/electric tech throughout its lineup of cars and crossovers, sales of the signature Prius have slowed dramatically.
One way to ratchet them back up is to offer all wheel drive (already available in Japan) to the American market. The Prius AWD-e packages a small, 7hp electric motor into the rear suspension; there is no mechanical connection and it only works in a full-time mode to provides assistance when moving off from a stop. Above 6mph it goes to part-time mode and it wont work at all over 43mph. But for those in wintry climes it could be the perfect solution to having a 50mpg machine (almost 20mpg better than the more expensive RAV4 Hybrid) that can get through most any weather.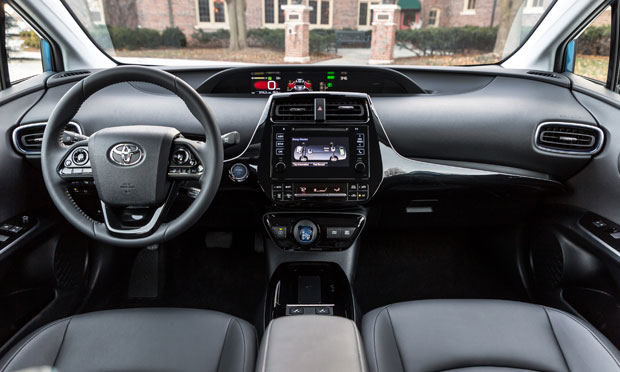 The AWD system is completely transparent in operation; while thus equipped the Prius is slightly slower in acceleration, no one buys one for stoplight drag races. And since batteries and electric motors don't loose power at higher elevations, the Toyota feels adequately fast most of the time. This generation machine is also much more fun to drive than earlier models, as it is based on the company's more driver-focused TNGA platform. Steering is precise, handling biddable and ride quality excellent, on the tiny 15-inch wheels. This is also a much more refined Prius those that came before, though highway speeds do pass through a fair amount of road roar.
The other big change for 2019 is that the 4th generation Prius' only-a-mother-could-love looks have been toned down a notch or three. The 2016-18 model's bizarre snout and tailfins are less obvious than before and the interior trim switches from white to piano black for a more timeless vibe. Seating is very comfortable and space efficiency is excellent. There is updated tech in the form of a color head up display (HUD) but the Entune infotainment system still doesn't offer Apple CarPlay nor AndroidAuto. There are all the latest drivers aids like adaptive cruise and lane assist and Toyota has made them more smooth and transparent in use. All in, the Prius AWD-e makes complete sense for those who love the idea of a vehicle that gets a real-world 50mpg, costs less than the average vehicle and has the tractive ability to handle most everything Colorado can throw at it.
EPA Ratings: 52/48/50mpg
0-60mph: 10.8sec (indep test)
Price as tested: $32,146
Here is what Toyota has to say.
4.0 Stars
toyota.com/prius/
---
For more auto reviews, visit our LIFESTYLE PAGE.
Colorado AvidGolfer Magazine is the state's leading resource for golf and the lifestyle that surrounds it, publishing eight issues annually and proudly delivering daily content via coloradoavidgolfer.com.