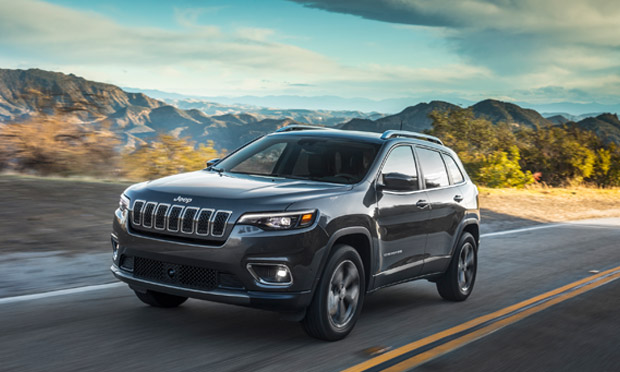 Building on the excellence of the Grand Cherokee and iconic Wrangler, Jeep has done a brilliant job of climbing upmarket, into the semi-premium space occupied by Acura, Infiniti, etc. Sometimes that can create cognitive dissonance, as when one of its SUVs doesn't live up to expectations.
Case in point was the Cherokee, released in 2014. Plagued by multiple recalls and styling some found odd, it didn't achieve quite the success it could have had. A refresh for '19 grants it a more conventional exterior and many mechanical and electronic refinements. One of the biggest improvements, a 2-liter turbocharged engine with 48-volt, mild-hybrid system, didn't feature on the review Cherokee Limited, however. This one was motivated by the 3.2L, 24-valve V6 engine, with outputs of 271hp and 239lb-ft.
Smooth and refined, its ability to provide class-competitive performance and economy are undermined by the Jeep's heavy structure. At over 4,700 pounds, the Cherokee weighs up to half a ton more than some. While 0-60mph in 7.2 seconds isn't bad, it is over a second off what others can do with similar power, and fuel economy rarely moves out of the high teens in normal use. What also hampers it is the 9-speed transmission, which doesn't like to accept commands for downshifts with any sense of alacrity and still gets confused as to what ratio to be in. That said, the rest of the Jeep's dynamics are quite pleasing. Steering has good heft (matched by the brake pedal's pressure and that of the other controls) and decent accuracy. The ride is compliant, yet handling is pleasing. The Cherokee is also quite and refined.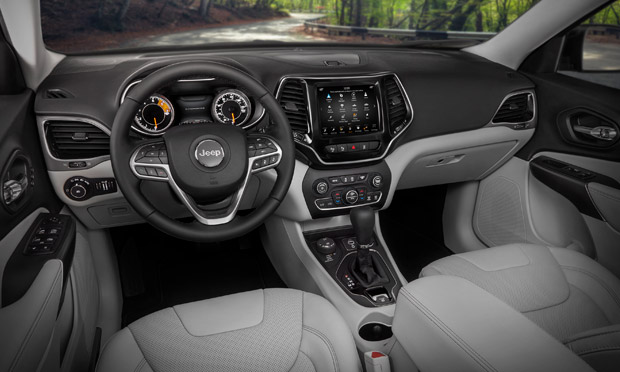 Another area where it excels is in its logical, clean interfaces and easy to fathom electronics. Controlled through an 8.4in touch screen, UConnect is amongst the best infotainment systems extant. And if you don't like it, there is Android or Apple mirroring instead. There's also a 4G Wifi hotspot, all the modern driver aids, an (optional) panoramic moonroof and most everything else one could want. Except, that is, interior space to match the Cherokee's exterior dimensions. Despite a much bigger body—it's 10in longer—than the Jeep Compass, the Cherokee has the same cargo volume (a bit more with seats folded) and room for passengers.
Since it now looks so much more like its little brother, the biggest differentiator for the Cherokee is its engines, since the Compass is saddled with a gutless, normally aspirated 2.4L lump. The Cherokee also is built of higher quality materials inside. Perhaps comparing it to its sibling is unfair, though. The real competitors come from the likes of Acura RDX and the Mazda CX-5 turbo. As equipped, the Cherokee's sticker price places it between them. While it doesn't have the on road dynamic acumen nor sportiness of either, it does have off road chops and an adventurous image.
EPA Ratings: 19/27/22mpg
0-60mph: 7.2sec (indep testing)
Price as tested: $41,620
Here is what Jeep has to say: jeep.com/cherokee.html
---
Automotive Editor Isaac Bouchard owns Denver-based Bespoke Autos ([email protected]; 303-475-1462). Read more of his automotive writing on coloradoavidgolfer.com and bespokeautos.com.
For more auto reviews, visit our LIFESTYLE PAGE.
Colorado AvidGolfer Magazine is the state's leading resource for golf and the lifestyle that surrounds it, publishing eight issues annually and proudly delivering daily content via coloradoavidgolfer.com.