A Bright Spot in an Otherwise Dark History
By Isaac Bouchard
Infiniti has almost never had an easy go of it. Upon the brand's debut in 1989, a high-concept ad campaign used pictures of rocks and zen-like backgrounds to emphasize Japanese luxury instead of pictures of actual cars. Their flagship car itself, the Q45, did without a grill or wood trim inside. Both failed to connect with consumers in the way Lexus did. I myself owned two examples of that superbly executed luxury sedan and would still contend it was one of the best-driving cars of its era. But sales never took off for long, and ongoing attempts to create a consistent brand image that would connect never did. Statistically, Infinitis are amongst the most reliable vehicles made, and buyers rate the experience they receive on the sales and service sides to be excellent as well. But their stores are full of sedans and coupes (which are out of fashion) and aging crossovers and SUVs.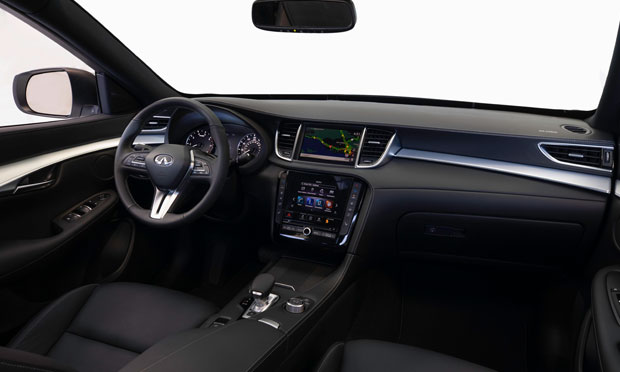 The one really bright spot has been the QX50. But here too Infiniti fumbled the ball, with production delays meaning that there weren't enough to sell, and ongoing issues with figuring out what trim packages and colors to stock their dealers with. All this is a real shame; I've always found my auto brokering clients to come away very happy with having owned or leased an Infiniti product. So what would it take to get things to really crank, and how can Infiniti better leverage the QX50's myriad talents? That is a question I have asked myself when I have spent time in them; for my previous comments on the Infiniti you can look here.
There's not much wrong on the outside of the QX50; the styling is a big part of its appeal, and it doesn't compromise interior packaging at all, for this crossover is roomier than competitors of similar size, both for occupants and cargo. One trick to increase sales might be to built more on the biggest, 20-inch wheel size, so they look as appealing as possible. Another would be to offer more interior options in terms of color and trim. Twice, while trying to find anything but Graphite gray cockpits for clients, we found that vehicles with the lighter interior colors were almost all being shipped to southern state. While the QX50 has one of the highest-quality interiors in the class, it isn't as apparent in the gray—at least based on the feedback I get from those who ride in the test vehicles and from prospective buyers.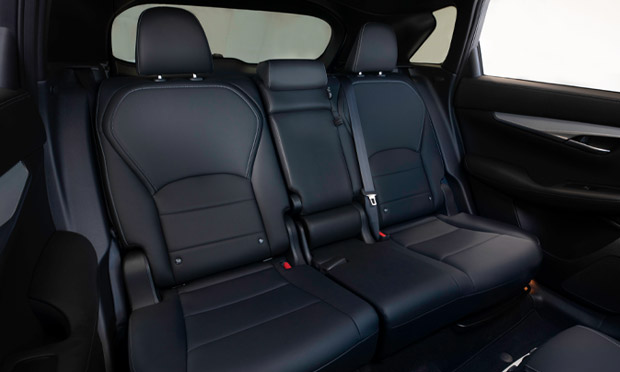 The most critical thing to do, however, is update the interfaces. Simply put, people don't want to pay $50,000 to $60,000 for a navigation system that looks like it came from a decade ago, nor for a touch screen buried low and in front of the shifter. That the various displays' fonts and graphics, nor the way you interact with them—touch for the lower, a twist knob for the upper—match up is annoying and potentially unsafe. Changing interfaces and software to implement such changes isn't inexpensive, however. But allowing Apple and Android's mirroring software to supplement Infiniti's (as Mazda has done) would certainly buy some time. Finally, the screen between the instruments has a dull, low resolution screen. Since you see it every time you drive the car, it detracts from the premium experience. And most of the that experience is quite pleasant. The QX50 is fast, smooth and quiet. It handles well, riding as it does on a very sophisticated set of dampers, and flows along the road in a generally serene manner.
The Infiniti is very good value when leased. Payments on it consistently come in between $100 and $150 less than European rivals, and roughly $50 to $75 less than on the Acura RDX, which, while a worthy rival, isn't that much more special than the QX50. But that alone may not be enough in its segment, which is amongst the most competitively fought in the industry. As a longtime fan of the brand, I really hope Infiniti finds its way through to greater success, and with some honing, the QX50 can be in the vanguard.
EPA ratings: 24/30/26mpg
0-60mph: 6.3sec (independent test)
Price as tested: $59,085
Here is what Infiniti has to say.
3.5 Stars
infinitiusa.com/vehicles/crossovers/qx50.html
bespokeautos.reviews/2019-infiniti-qx50-second-drive-review
Automotive Editor Isaac Bouchard owns Denver-based Bespoke Autos ([email protected]; 303-475-1462). Read more of his automotive writing on coloradoavidgolfer.com and bespokeautos.com.
---
For more auto reviews, visit our LIFESTYLE PAGE.
Colorado AvidGolfer Magazine is the state's leading resource for golf and the lifestyle that surrounds it, publishing eight issues annually and proudly delivering daily content via coloradoavidgolfer.com.