The 2019 Rolls-Royce Ghost Series II floats on rarefied air.
By Isaac Bouchard
How does a member of the fourth estate, such as your humble reporter, give objective feedback when considering a machine as lavish as the Rolls-Royce?
That was a question I struggled at times to answer over four glorious days piloting a Ghost Series II across New England this fall. Some conclusions were obvious—such as that the styling of the historic firm's smaller (that's a relative term) sedan was spot-on. One immediate benefit: The Rolls' properly intimidating frontal aspect helped moved the ubiquitous "leaf peepers" from their habitual left-lane dawdling. Another: The sculpted sides, tapering greenhouse and pert tail imbue the Ghost with an understated decorum that had people zooming up alongside to see more and to offer commentary that was invariably positive.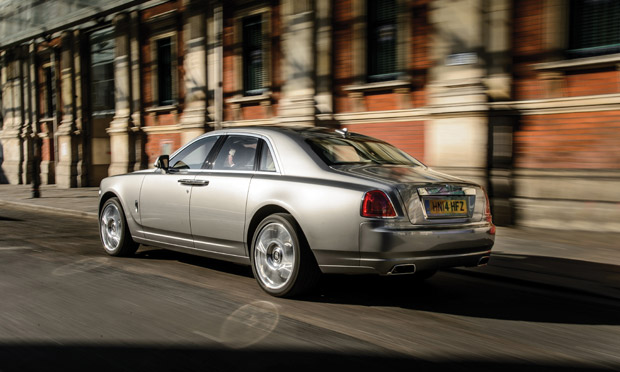 That the Rolls-Royce was so approachable came as something of a surprise, as piloting it could feel otherworldly at times.
One sits very upright in the sumptuous driver's seat of a Ghost; the architecture of the dash, A-pillars and vast hood evoke a modern SUV. The thin-rimmed steering wheel is more tactilely pleasing than any tiller these obliging hands have ever grasped—or fondled, caressed and squeezed—with its reversed, hidden stitching and red and black hides. That should shock no one, given that takes more than 60 veteran craftsmen some 450 hours to create an interior that is beyond—well, just beyond.
Every single interior surface in the Rolls-Royce is covered in buttery, luscious hide or piano black wood that is so finely lacquered and so deep and lustrous that it would befit a Bösendorfer Imperial Grand. The rear passenger area is almost boudoir-like; you access it via rear-hinged apertures—do not be so gauche as to refer to these portals as "suicide doors."
Once ensconced within, an air of well-being descends as you scrunch your toes through the (literally) inch-thick lambswool foot mats, making even the humblest feel as if they have joined the ranks of the plutocracy. Machined, chromed switches all operate as one would expect at the price point, and the modern tech retreats to the background until needed, much like the staff in Downton Abbey.
It isn't necessarily the way the Ghost drives that leaves the most lasting impression, though the way it wafts over good roads on its height-adjustable air suspension did indeed redefine the ride quality standard. And it's not just how its 563-horsepower, 6.6-liter, twin turbo V12 engine allowed the Rolls-Royce to really "shift," as those from the UK might say—there are plenty of fast sedans.
What resonates with me are the lovely nuances. The GPS-based shift strategy has the eight-speed auto seamlessly selecting lower gears so as to provide just the right amount of engine braking on hill descents or when entering intersections. The double RR logos in the forged and polished 21-inch wheels never rotate, remaining perennially upright. The coveted Spirit of Ecstasy ornament vanishes behind the aluminum grill when the car is locked.
Then there's the power close for those coach doors which ensured that passengers didn't have to stretch forward in an undignified manner, even if their driver forget to shuts them.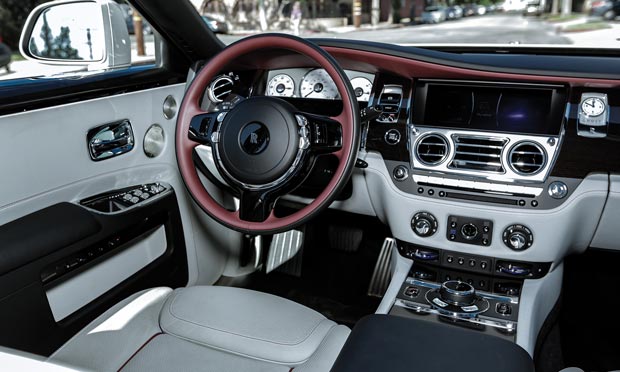 And while the masses have embraced their phone's navigation capability, Rolls-Royce occupants are treated to voice commands that are so thoughtfully phrased and delivered in such a cultured, properly intonated British accent as to tempt one to get lost—just to hear them said again. Forevermore an upcoming 45-degree turn will have me remembering to "Please prepare to make a half-right" or "half-left" course change.
That one never needed to type in an address—merely ask the Emily Blunt soundalike in charge of infallibly guiding us brought up our destination—defined the epitome of service. The high-def screen displaying the journey appears from behind a sliding wood panel that vanishes into the Ghost's dash. Passengers can also follow the route via twin rear monitors—that is, when they aren't dining on the perfectly counterbalanced, swing-out picnic tables.
The crowning touch is the Starlight Headliner, a hand-crafted leather roof whose thousand-plus perforations house fiber optic strands, attached at different depths and angles so as to create the most serene ambiance one might ever experience in a motor car. This was the essence of traveling by Rolls-Royce and a constant reminder that, while there was no objective justification for such an expensive vehicle, there was every reason in the world to desire one.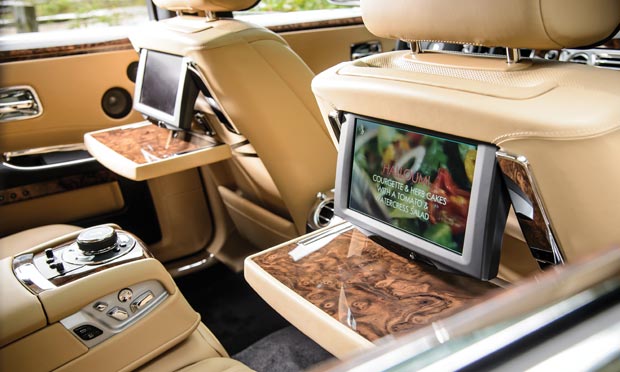 2019 Rolls-Royce Ghost Series II
EPA Ratings: 12/18/14mpg
0-60mph: 5.3 sec (estimate)
Price as tested: $371,800
Rolls-Royce & BMW: A Postwar Alliance
Some people know that BMW owns Rolls-Royce. But how the two companies became one is a wonderfully twisted tale. During World War II, the two were literal arch enemies, with the skies over London filled with German Heinkel bombers, powered by the BMW 801 radial engine, and British Spitfires and Hurricanes, powered by the Rolls-Royce Merlin V12. Long after the war ended, the aero engine divisions of Rolls-Royce and BMW joined forces, leading to the creation of the BR700 family of turbofan engines for regional and business jets. While BMW gradually reduced its stake in this endeavor, it became crucial to the future of Rolls-Royce automobiles.
In the luxury-auto-company acquisition-crazed 1990s, firms like Ford, GM, BMW and Volkswagen Group gobbled up most of the world's top marques. The latter two battled for the rights to Bentley and Rolls-Royce—which were now part of one company, owned by a British holding firm, Vickers PLC. VW outbid BMW and ended up acquiring the two venerable English companies for $780 million in 1998. The victory would prove short-lived, however, as it turned out the rights to the actual name Rolls-Royce and its famous Spirit of Ecstasy mascot belonged to the aero engine division, which was partially owned by BMW.
VW sold the mascot and name to the BMW passenger car group for a comparative pittance of $65 million that same year. Faced with its own missteps, Volkswagen agreed to let BMW take over building a new generation of Rolls-Royce motor cars starting in 2003. Henceforth, VW would produce Bentleys only, making Rolls-Royce and Bentley upper-crust competitors again for the first time since 1931, when Rolls-Royce had bought Bentley out of bankruptcy.
Automotive Editor Isaac Bouchard owns Denver-based Bespoke Autos ([email protected]; 303-475-1462). Read more of his automotive writing, reviews and recommendations bespokeautos.com.
---
This article appeared in the 2019 Winter Issue of Colorado AvidGolfer.
Colorado AvidGolfer Magazine is the state's leading resource for golf and the lifestyle that surrounds it, publishing eight issues annually and proudly delivering daily content via coloradoavidgolfer.com.