In the golf equipment industry, it's a sad but undeniable fact that player performance breakthroughs are few and far between. Over the last two decades, USGA- and R&A-mandated limitations on component designs have resulted in fewer and fewer golf club innovations, much to the chagrin of avid players.
There has been one extraordinary exception: the resurgence of single-length irons, a 1980s "concept club" that never caught on because they were under-marketed and considered too radical compared to incremental length sets.
What has caused this resurgence? Two things:
A year ago, we had a peek into Bryson DeChambeau's golf bag and discovered the Division 1 and U.S. Amateur champion was playing an updated set of single-lengths. After an impressive 21st finish at last year's Masters Tournament and winning as a pro the DAP Championship, the Texas sensation was signed to a heady contract with Cobra, which this month rushed to market two versions of single-length irons.
The other was a fortuitous meeting nearly three years ago, when New York golf professional Jaacob Bowden visited the Durango-based R&D studio of famed golf equipment designer Tom Wishon and asked: Could single-length irons be successfully reengineered and be crafted with new materials and specifications?
"It was a compelling 'a-ha' moment," said Wishon, who brings with him more than 40 years of golf club innovation, multiple design firsts, 10 authored books and hundreds of published articles on the subject. "After studying the primary advantage of single lengths — greater and more consistent swing repeatability — it made enormous sense to try."
According to Wishon, the secret to "reinventing" single length irons was four-fold, beginning with building them with the same total length, the same total weight, the same head weight and the same balance point. Wishon says this allows golfers to execute shots with the same stance, the same ball position and the same swing plane, which translates into greater and more consistent swing repeatability.
Then, to address the demanding need to execute repeatable distances, Wishon crafted his iron heads with precise and bendable loft angles that enhance and hone in on a player's individual swing and physical characteristics.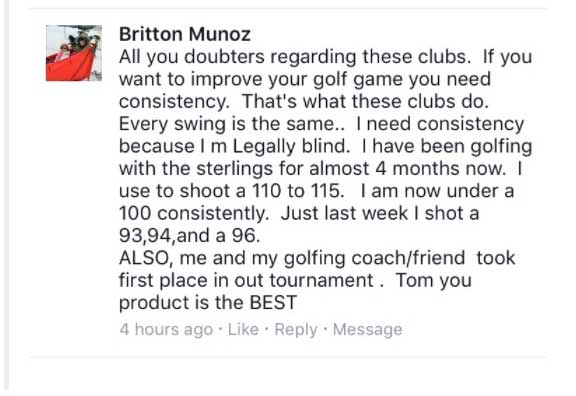 Then he engineered the heads with game-specific high performance materials to maximize shot distance control and feel. "The 4, 5, 6 and 7 iron heads feature a High COR face design, which effectively give back distance that ordinarily may have been lost. For the 8, 9, PW, GW and SW, we used pure cast carbon soft steel and engineered them with 5-degree loft increments," he explains.
Finally and perhaps more importantly, each iron is fashioned with 36.5-inch shaft lengths, which is equivalent in length to an average 8 iron versus the 6 iron lengths of the 1980s and those favored by DeChambeau.
"I would wager that most players have better directional control with an 8 iron versus a longer shafted club like a 4, 5, 6 or 7 iron," he says. "Sterling Irons offer repeatable feel and control that is very similar in the feel, swing tempo and control of an 8 iron."
But is the concept working? Apparently so, and way beyond expectations.
Wishon reports that sales since the March 2016 launch have been "a huge success." Plus, personal testimonials posted to the Sterling Irons website describe numerous success stories that are nothing short of remarkable, including one from Britton Munoz, a legally blind player that has eliminated 10 strokes from his scorecard.
A collection of testimonials about the single-length irons…
"The big pitfall with older single length irons has always been inconsistent output and control of shot distance," explains Wishon. "Previous single length irons tended to rob distance in the low loft irons, they hit the ball too far in the high loft irons/wedges, and they compress the distance gap between the irons.
"But Sterling Irons solve each of those issues. Plus, all the clubs have identical swing feel," he says.
Sterling Irons are available in right-hand models (left handed players will have to wait until next year) in a wide variety of shaft and grip components. All Wishon golf clubs are individually custom fit, are available worldwide and come with a two-year performance warranty. To find a clubmaker near you, click here.
Tom Wishon is credited with more than 50 design "firsts" including the first titanium driver introduced in the United States, and has designed clubs for many of the game's greatest names including Harvey Penick, Payne Stewart, Ben Crenshaw and Scott Verplank. He also was a technical advisory panel member for more than a dozen years with Golf Digest.
RELATED LINKS
Wishon Golf Launches Single Length Irons
Will Custom Clubfitting Rescue Your Game (Part One)?
Will Custom Clubfitting Rescue Your Game (Part Two)?
Chris Duthie is a Durango-based contributor to Colorado AvidGolfer, the state's leading resource for golf and the lifestyle that surrounds it. It publishes eight issues annually and proudly delivers daily content via coloradoavidgolfer.com. Follow us on Twitter, Facebook and Instagram.